You are in for a multi-dimensional voyage when you cruise on the Disney Wish, the newest ship to join the Disney Cruise Line family, with its maiden voyage in June of 2022. You'll get to explore the ship like never before with Disney Uncharted Adventure. This brand new, interactive experience will take you on an adventure from bow to stern to answer the question, "if wishing upon a star makes your dreams come true, what happens when that star goes missing?"
Adventure Awaits
Your Disney Wish experience starts right at home! With a Disney Wish reservation, you can access Disney Uncharted Adventure on the Play Disney Parks app (Tip: download the app ahead of time on all the devices you might want to use). Your smart device turns into an "enchanted spyglass" to unlock adventures, solve puzzles and conquer quests while sailing the open seas.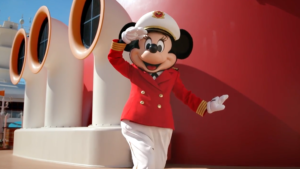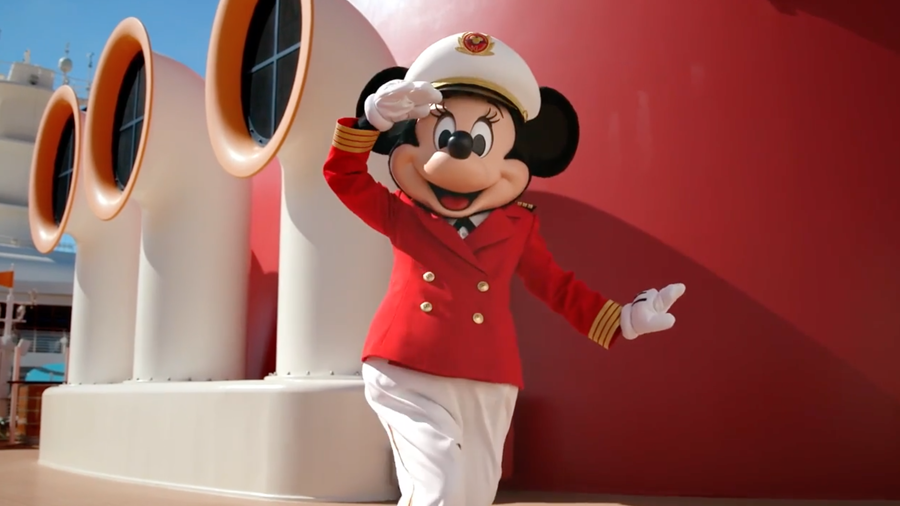 Before you set sail, Captains Minnie and Mickey will prepare you for the journey ahead by sharing the important role of the night sky in the ancient seafaring tradition of wayfinding. Just like Maui taught Moana on her journey to restore the heart of Te Fiti! Your hosts will also explain the "wishing star" and how it will light the way for the Disney Wish.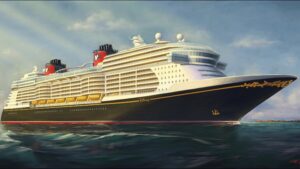 Once on board, Guests will use their enchanted spyglass to view the stars above, revealing enchanted constellations that take shape as beloved Disney and Pixar icons. When the wishing star shatters and its pieces are scattered, it's up to you and your family to complete quests to collect the pieces, reassemble the star, and return it to the night sky. Each piece lands in a different realm so Captain Minnie will need your help to navigate the ship to these uncharted worlds.
How To Play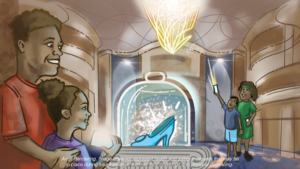 During your adventure, you'll be directed to different parts of the ship to find hidden enchantments with the use of digital screens, augmented reality and physical props. Digital menu boards and showtime displays transform into multi-dimensional digital games. Even pieces of art and chandeliers come to life.
Once a quest has been completed, the screen display, for example, then transforms back into a sign. The technology monitors and will control the flow of players, so guests may be sent to different spaces on the ship to complete the same quest.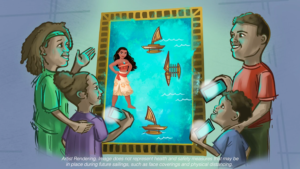 You could find yourself teaming up with Moana to navigate canoes beyond the reef; helping Tiana cook up the perfect pot of her father's favorite gumbo; summoning Tinker Bell to give the Disney Wish an extra dash of pixie dust; or even making an epic dive into the East Australian Current (EAC) with Nemo and friends. There's so much to discover!
The adventure will culminate in a one-time grand finale event hosted in Luna, one of the ship's entertainment venues. During this live interactive experience, you'll gather with other players to battle an infamous Disney villain (who's been pulling the strings all along). You'll work to restore the wishing star to its rightful place in the sky and ultimately save the day. This will be a unique, action-packed conclusion to your adventure that includes interactive media, special effects and a live host.
Disney Makes Family Time Fun
Storytelling is the heart of Disney. They've been doing it for nearly 100 years! One of the things that Disney does really well is keeping up with the evolution of technology. They are able to come up with different ways to infuse their storytelling and imagination as technology advances. Disney Uncharted Adventure is certainly going to be next level! A first-of-its-kind, multi-day adventure that takes Disney storytelling to new heights!
Unlike other mobile games, you won't be looking down at your phone – your phone will mostly be used as a controller. As Davey Feder, software product manager at Walt Disney Imagineering explains it:
"While guests will need a mobile device to play, this isn't a traditional mobile gaming experience. This is a heads-up, active experience that can be played with family and friends. The magic will happen all around the ship. The spyglass is not where the adventure takes place – it's just the tool that brings the ship to life, opening portals into new worlds and allowing guests to interact with them."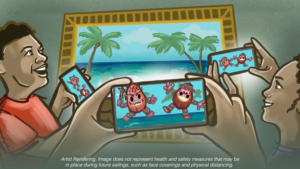 Disney made sure to incorporate ways for families to interact with each other while playing. Guests can connect up to six different devices at once, or can also team up on only one or two devices at a time. 
Disney Uncharted Adventure is flexible, replayable and customizable! Guests are in charge of their own adventure. Play individually or as a group whenever you like. You can complete all of the missions or just a few, you can also start and stop your quest anytime. According to Disney, some guests may not complete every quest but they can still enjoy the finale event. Others may choose to play again and again, discovering new surprises and rewards each time! 
Does This Seem Familiar?
I am getting major Sorcerers of the Magic Kingdom vibes, which was of my favorite non-ride attractions to do at Magic Kingdom. Of course, Disney Uncharted Adventure sounds like it will be more advanced than the (now removed) in-park game. As someone that also really enjoyed playing A Pirate's Adventure ~ Treasures of the Seven Seas, I cannot wait to get my hands on Disney's newest innovative tech. Who doesn't want to be the hero in a grand adventure on the high seas?
Have you booked your Disney Wish cruise yet? Let us know in the comments what you are looking forward to most about Disney's newest and most high-tech cruise ship.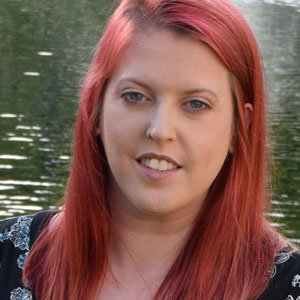 Written by
Sasha Watson
Contributing Writer
Sasha loves traveling, Sunday naps, cookie dough, Halloween and really good roller coasters. An admitted theme park junkie, she is always looking to book her next trip. More often than not, that trip is to Walt Disney World, which is a quick one-hour flight from her home in Georgia. Her favorite travel partner is her husband, Kyle. They've visited Disneyland, Walt Disney World and Shanghai Disneyland, hoping to someday visit all the Disney parks around the world.