Walt Disney World is a great destination for foodies. With dozens of Table Service or Sit-down options available at each park, there is something for everyone to enjoy. There is always a high demand for any Disney restaurant so it is important that your party make Advance Dining Reservations as soon as they are able to. With so many options and experiences to choose from, it can be difficult to decide which restaurant to make a reservation for. Here are my favorite Table Services at each Walt Disney World park and why I love them so much.
Liberty Tree Tavern – Magic Kingdom
Just inside Liberty Square at Magic Kingdom is Liberty Tree Tavern. This colonial-style restaurant serves classic American/Thanksgiving-style fare. My favorite thing about this restaurant is the food, and also the fact that it is served family-style and is all-you-care-to-enjoy. Liberty Tree Tavern is open for lunch and dinner, and is currently priced at 39 dollars per adult and 21 dollars per child. The meal includes salad, roasted turkey, pot roast, roasted pork, mashed potatoes, seasonal veggies, stuffing, and macaroni and cheese. For dessert, an ooey gooey toffee cake is served with vanilla ice cream.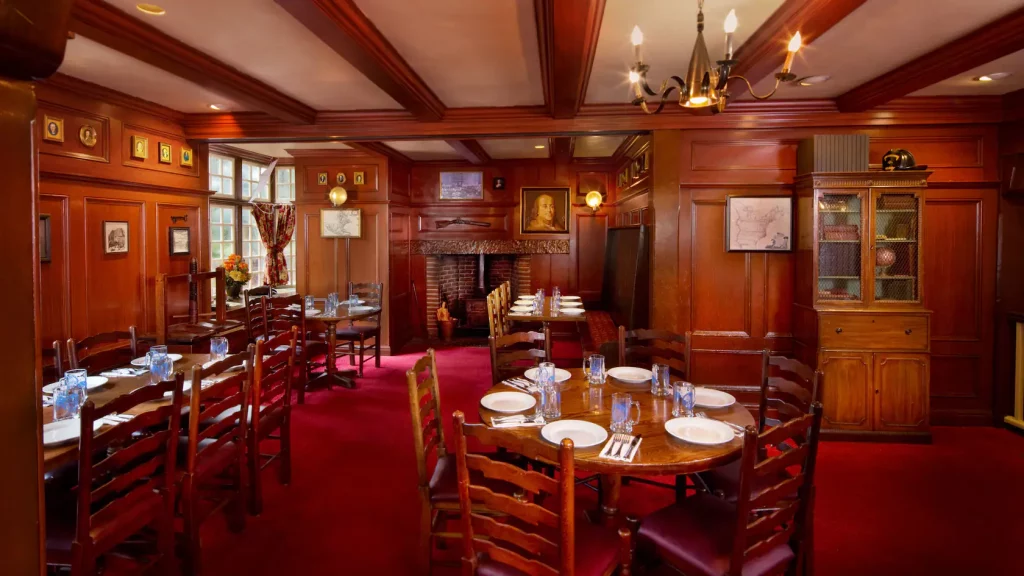 The setting of Liberty Tree Tavern being that of an inn from the days of the founding fathers gives this restaurant a special touch of Disney theming. There are many levels and seating in different nooks and crannies throughout the restaurant which gives it a quaint and quiet atmosphere.
Teppan Edo – EPCOT
Teppan Edo is located in the Japan pavilion in Epcot's World Showcase and is one of the park's best restaurants. Teppan Edo not only serves great Japanese dishes, but is also a fantastic show. The chefs here cook your meal using an grill integrated into your table and it is a pleasure to watch. You can enjoy Miso Soup as an appetizer and then choose from steak, chicken, salmon, or shrimp to combine with udon noodles. Choose from a variety of desserts such as ginger cake or green tea ice cream. There are also specialty drinks available, both alcoholic and non.
I love Teppan Edo because of its food, but my favorite thing about it is the atmosphere. The tables are long and you are seated alongside other guests if your party is less than 8 people. I love interacting with the chef and with the other guests. The traditional Japanese dining makes for a fantastic experience all-around!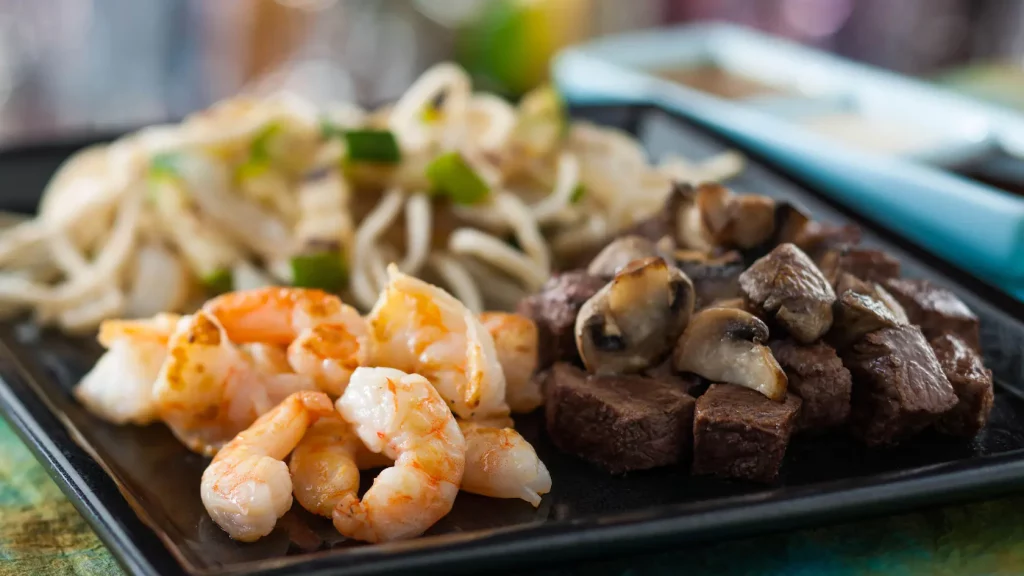 Sci-Fi Dine-In – Hollywood Studios
My favorite restaurant anywhere at Walt Disney World happens to be the Sci-Fi Dine-In at Hollywood Studios. I have been coming to the Sci-Fi Dine-In for years and it never disappoints. The atmosphere and theming cannot be beat. The restaurant is made to look like an old Drive-in movie theater. The lights are dimmed and it feels like you are outdoors. You sit in car tables and watch old Sci-Fi movie clips on a big screen. This is the best restaurant to go to if you have kids. Not only will they love sitting in cars to eat, but they have entertainment on the big screen as well.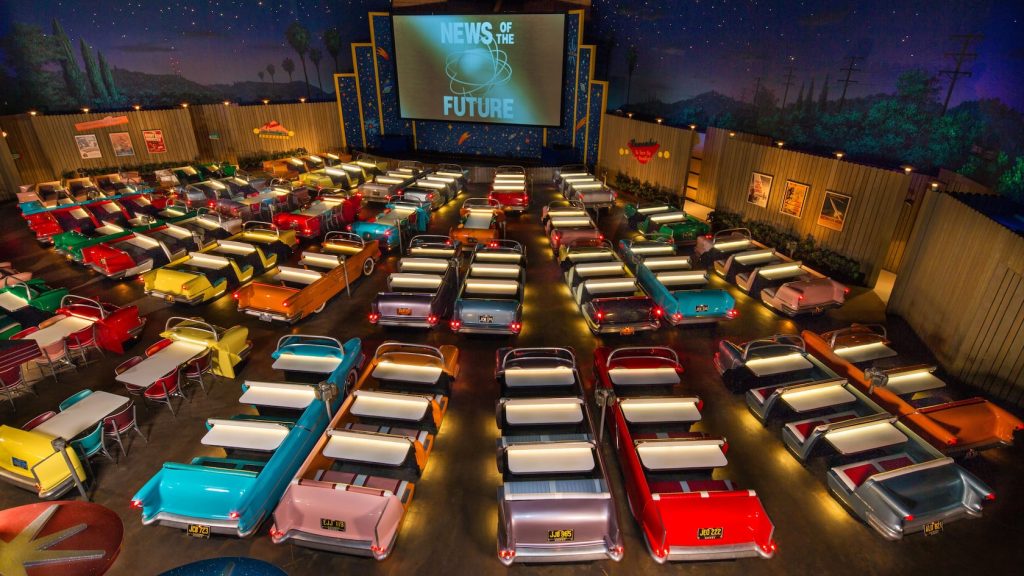 The menu at Sci-Fi Dine-In consists of classic diner food such as onion rings, fried pickles, cheeseburgers, milkshakes, and ice cream sundaes.
Tusker House – Animal Kingdom
One of the best character dining buffets lives in Animal Kingdom! Tusker House hosts Donald Duck and his friends, but also serves up African-inspired fare. For breakfast, you can dine on pastries and breakfast classics and meats. But for lunch and dinner, Tusker House serves a buffet with a wide variety of African foods. Enjoy breads, dips, salads, chicken, pork, shrimp, curry, and many desserts.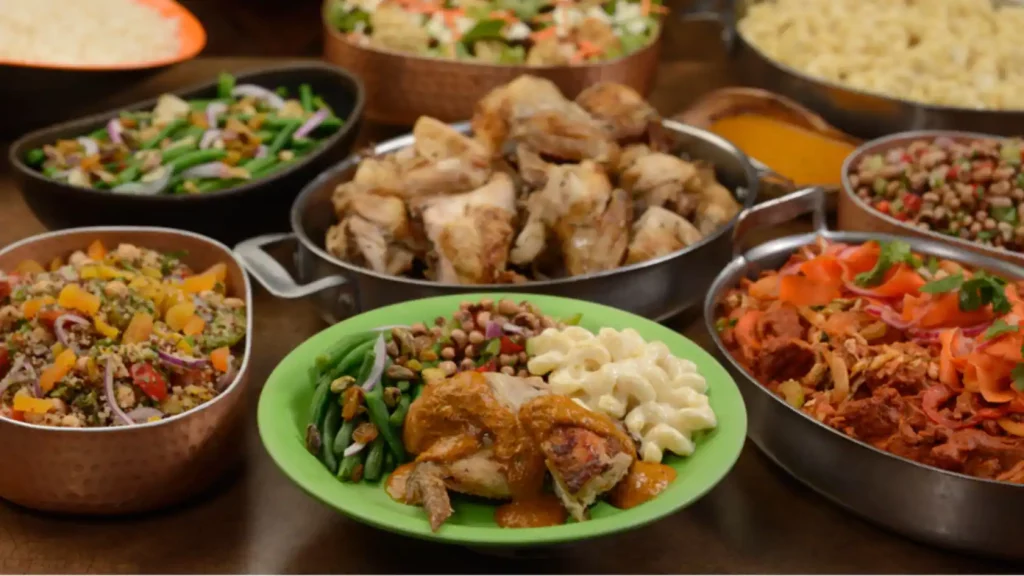 I love Tusker House because you can meet characters while you have authentic cuisine. This is a great pick if you have small children! Tusker House is currently priced at 59 dollars per adult and 38 dollars per child.
There are so many Table Services to choose from at every Disney park. What are your favorite restaurants?
Featured Photo: Emily Murray.
Written by
Megan Woodard
Contributing Writer
Megan was born into a Disney family. Her first trip to Disney World was when she was only 18 months old. Now as an adult, Megan loves to share the magic of Disney with her two toddlers. Keeping up with Disney news and Disney World knowledge is a fun hobby for Megan. Disney World is her favorite place to be and continuously brings back her childhood joy.