The EPCOT International Food & Wine Festival began last week and will be running until November 19th, 2022. As its name suggests, global food and drinks are the main component of this fun time at EPCOT. But this festival actually has a lot more to offer, including free concerts as part of the Eat To The Beat Concert Series. To commentate the EPCOT International Food & Wine Festival, you can find a wide selection of exclusive merchandise throughout the park at locations like Port of Entry, World Traveler, and Creations Shop! Read on for some of the EPCOT International Food & Wine Festival 2022 merchandise items.
Stemmed Glass – $19.99
Keep the EPCOT's International Food & Wine Festival fun going with this stemmed glass. The 2022 logo and the Spaceship Earth sphere design are featured on one side of this item. This glass can be purchased at EPCOT and on shopDisney.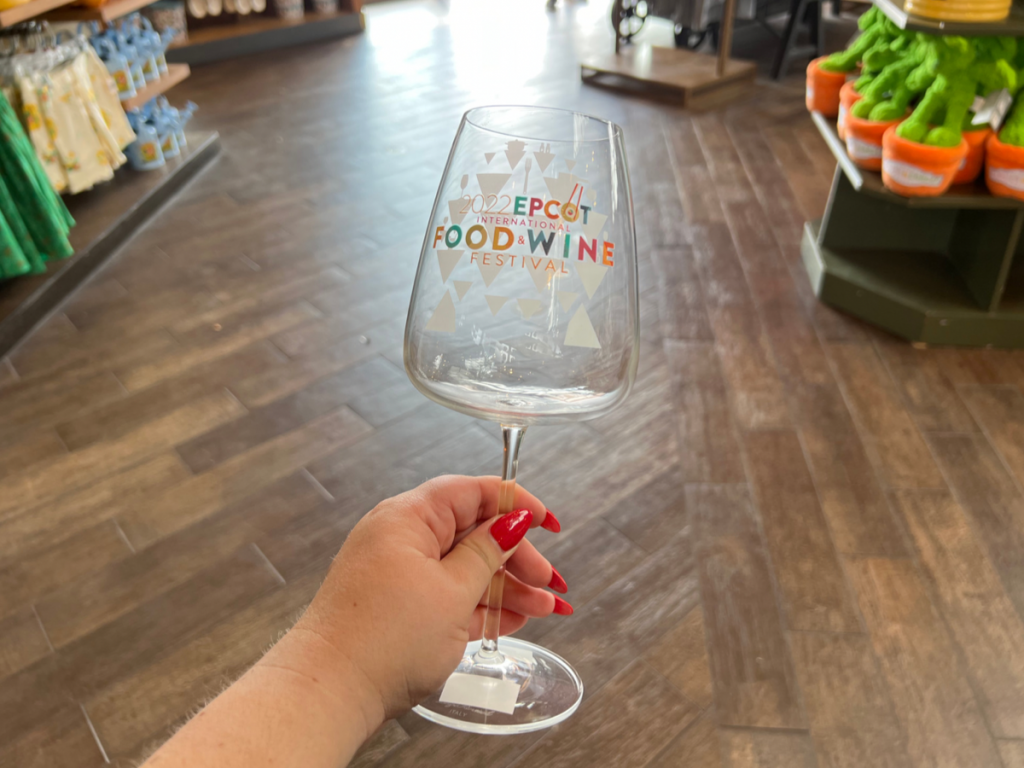 Mickey And Minnie Mouse Pizza Slice Plate – $29.99
Looking for a perfectly shaped pizza plate? You're in luck because during the festival you can find this set of 6 pizza slice plates! When put together, these 6 melamine Mickey and Minnie plates form the shape of whole pizza. This merchandise item can also be purchased on shopDisney.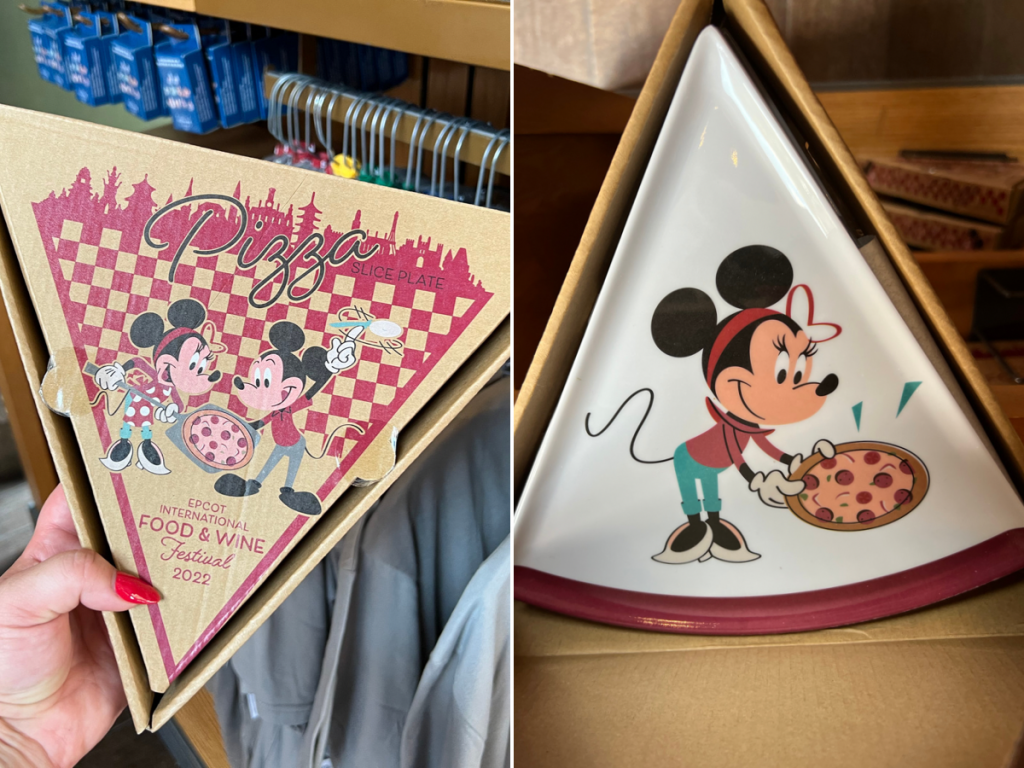 Spirit Jersey – $74.99
What would an EPCOT festival be without a new spirit jersey? This year's spirit jersey is navy blue with a pocket-sized festival logo on the front. The back of this shirt reads, "Food brings the world together". Look for this spirit jersey at EPCOT!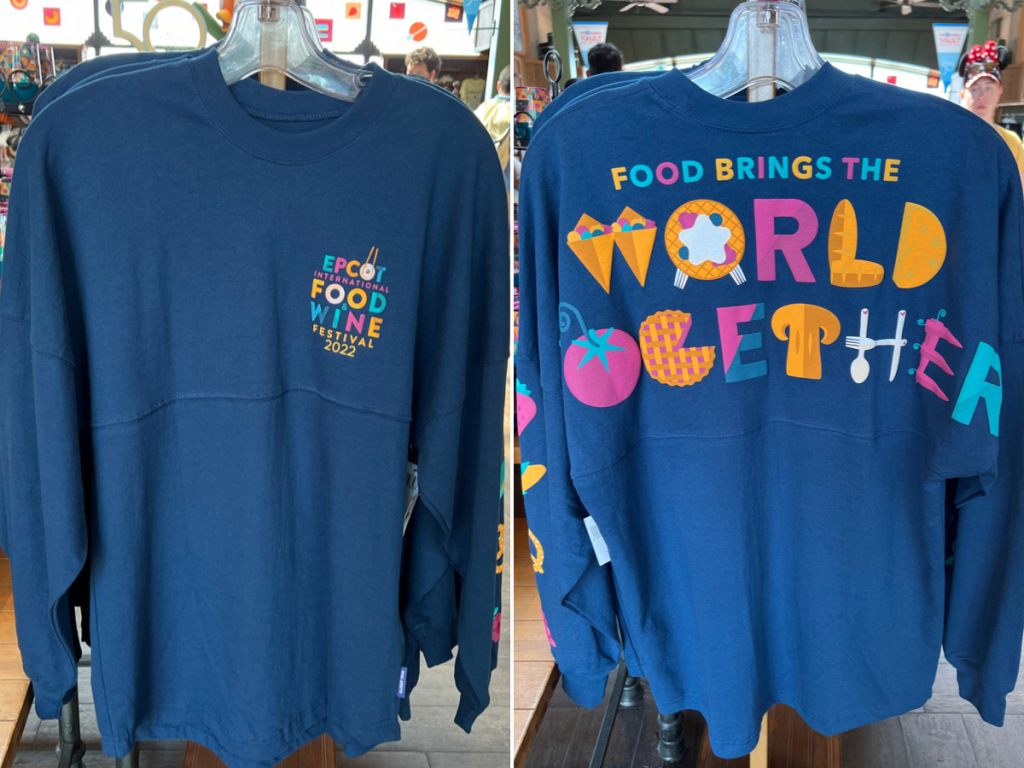 MagicBand – $39.99
The MagicBand for 2022's EPCOT International Food & Wine Festival is Figment themed! This purple MagicBand has small images of food items and, of course, Figment himself. You can find this exclusive MagicBand in the park!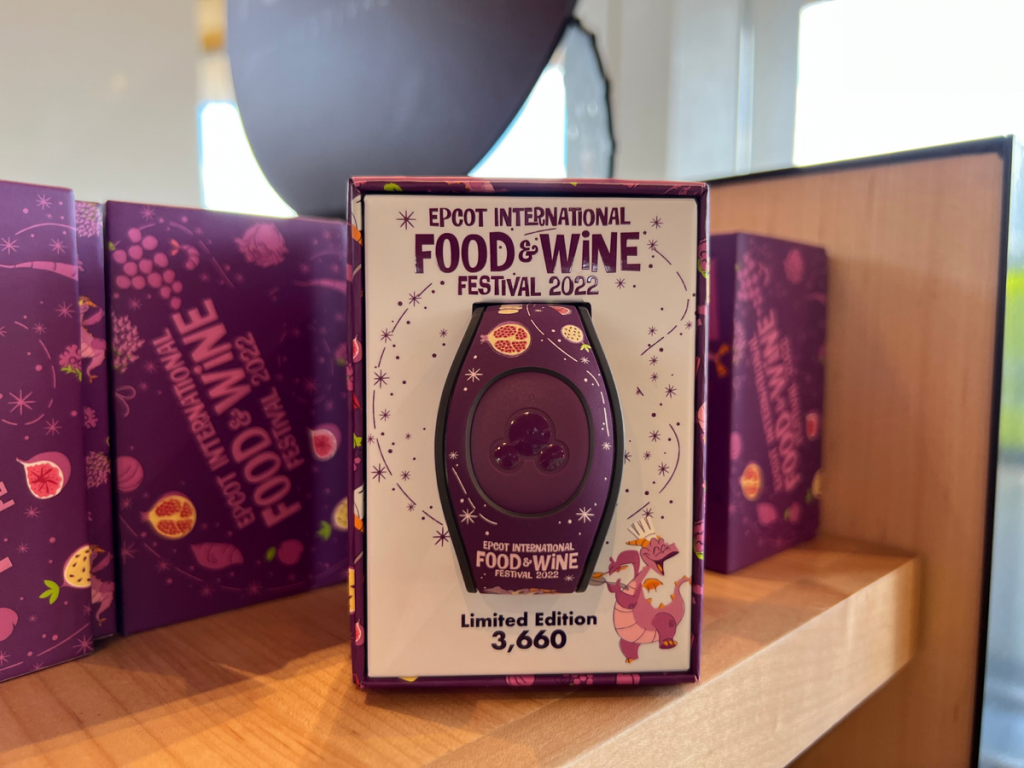 Ears – $29.99
You can also get the 2022 EPCOT International Food & Wine Festival logo on a pair of Minnie ears. The logo is printed on 1 ear while the other has food icon images. The middle bow is super colorful with even more small pictures of food and drinks.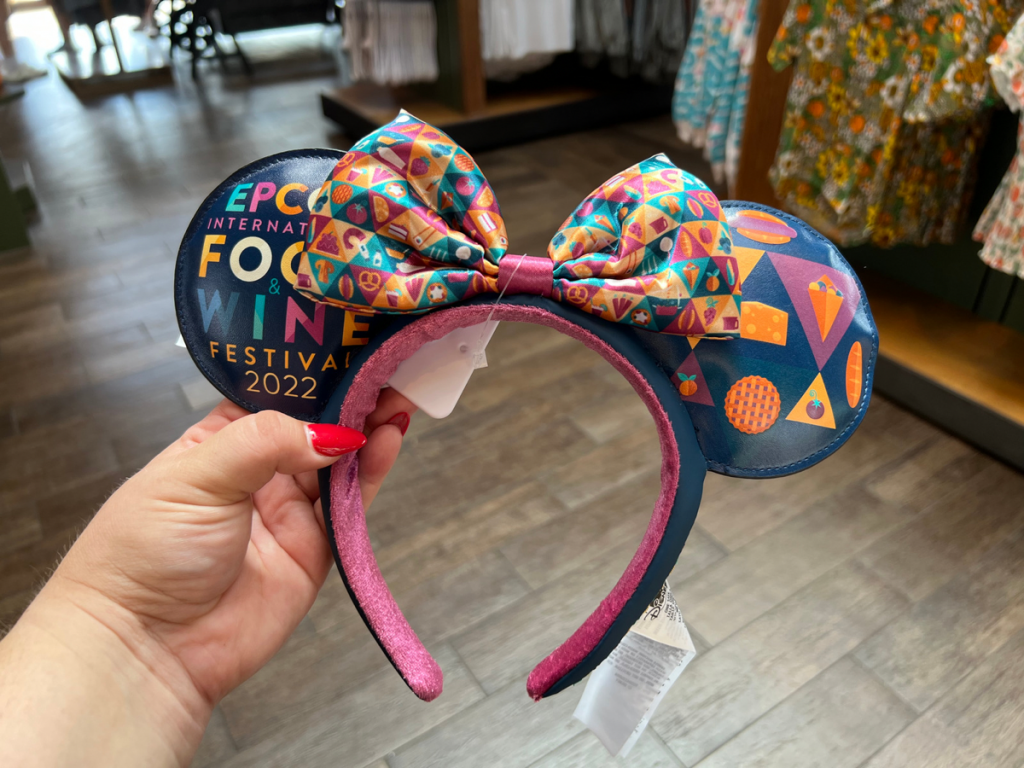 Dooney And Burke Bags – $248/$298
For the festival, Dooney and Burke has released a new collection of bags. Mickey, Minnie, and several of the World Showcase pavilions are featured on the bags in this collection. This print is available in a satchel, tote, and crossbody.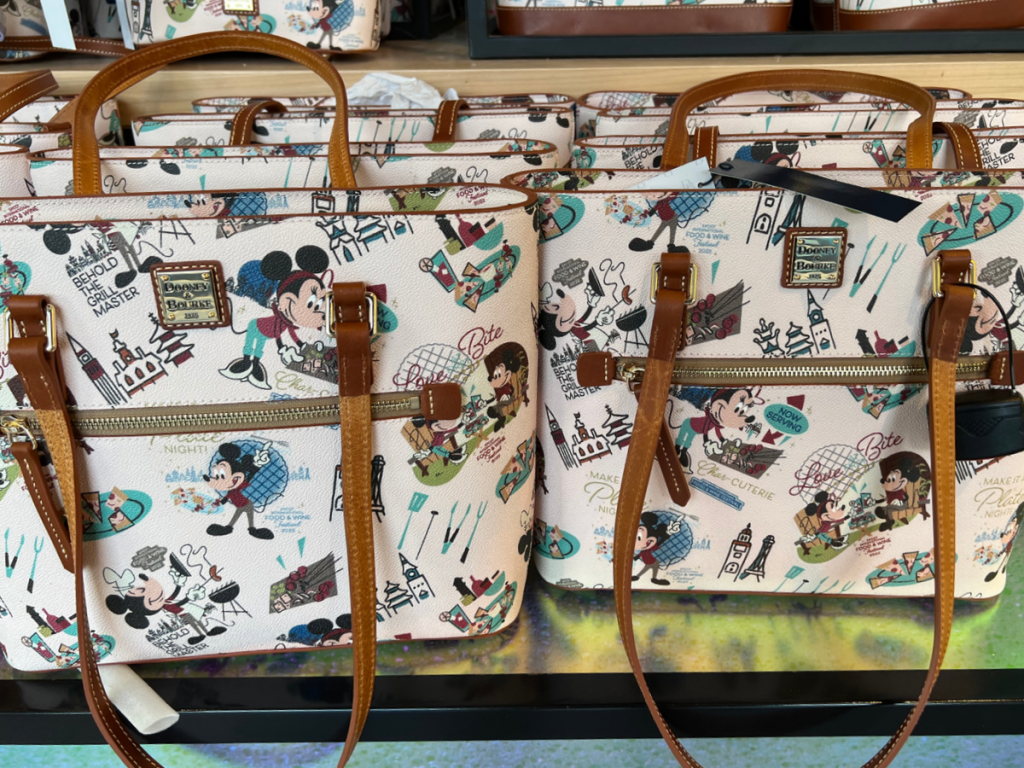 Mystery Pin Set – $24.99
If you like to collect pins, look for this mystery pin set! This pack includes 2 randomly selected pins. There are 10 possible pin designs that you could get. These designs feature either Minnie or Mickey making some tasty treats. In addition to the merchandise locations in the park, this mystery set can also be purchased online on shopDisney.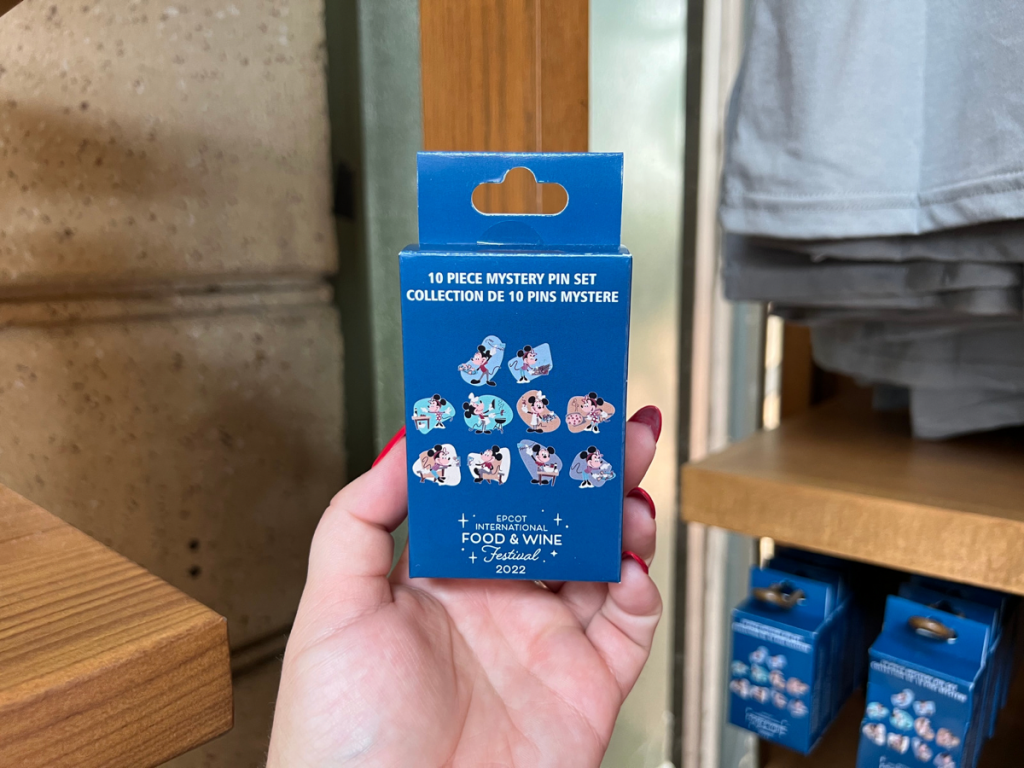 Gray V-Neck Tee
Show your love of food and wine with this gray v-neck t-shirt. The EPCOT International Food & Wine Festival logo is printed on the front of the shirt. Chef Mickey with Spaceship Earth in the background are on the back.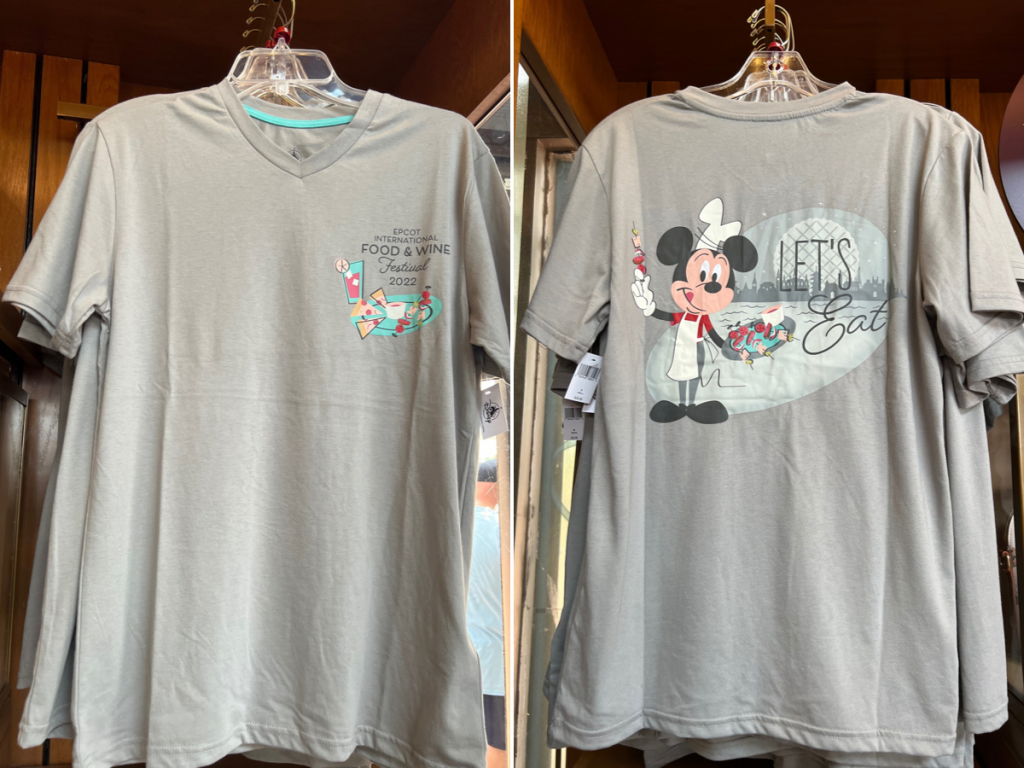 You can find these merchandise items, and many more, at EPCOT now and until November 19th, 2022. What is your favorite part of the EPCOT International Food & Wine Festival? Let us know in the comments!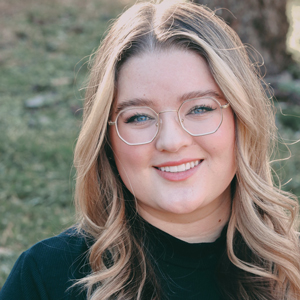 Written by
Emily Murray
Contributing Writer
For as long as Emily can remember, Disney has played a huge role in her life. Her infatuation with Disney resulted in many hours spent rewatching Toy Story and creating multiple powerpoints to convince her parents to book yet another vacation to the "Most Magical Place on Earth". In 2015, Emily followed one of her dreams and moved to Orlando, Florida where she spent just over five years working for the mouse in three separate roles. Emily is passionate about writing and using words creatively and concisely. She loves to make others laugh and hopes to sprinkle a little bit of magic into everything she does.