When guests walk into Disney's Grand Floridian Resort and Spa, they immediately feel the grandeur of the property. Each detail has been carefully chosen in the Victorian-inspired architecture from the tiled floors to the elegant light fixtures to the white color of the buildings. Walking through this property, indoors and out, makes you feel royal yourself! As you wind your way along the sidewalks and past the pool, Seven Seas Lagoon comes into view as does perhaps the most notable icon of Walt Disney World, Cinderella Castle, and the Grand Floridian's waterside restaurant, Narcoosee's. If you are not already convinced to walk inside to get a table for dinner, I invite you to keep reading as we explore the coastal cuisine of its menu in this beautiful setting.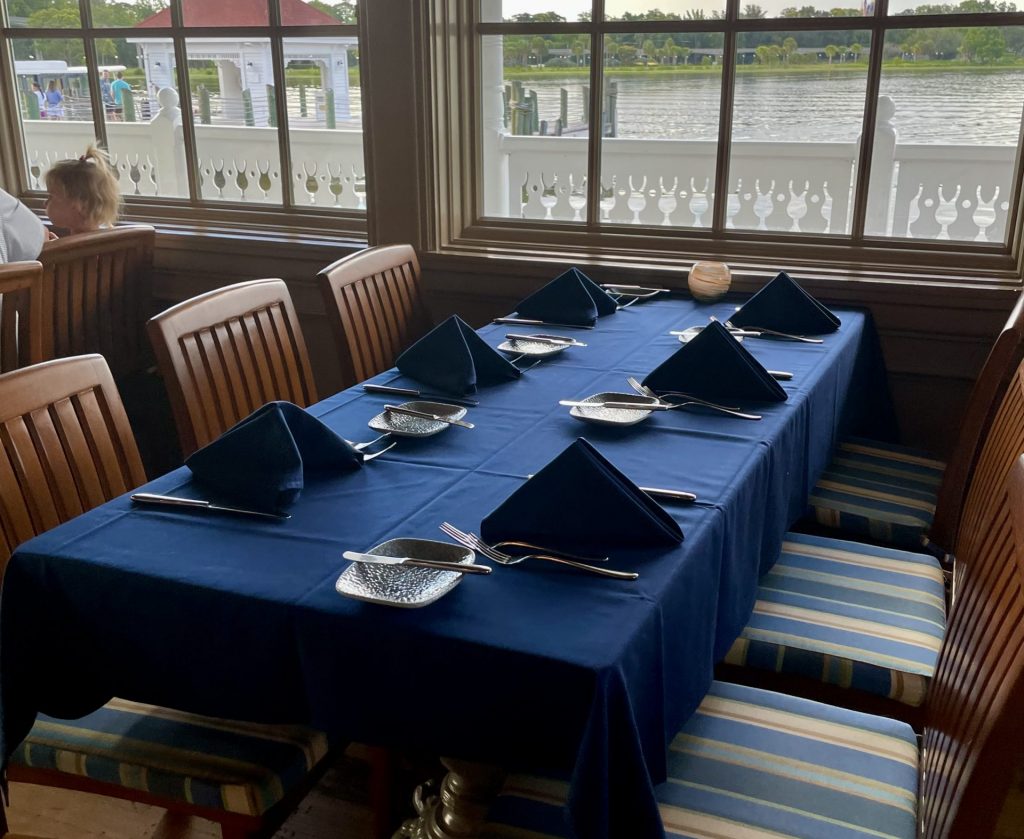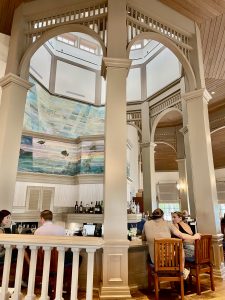 As you enter the restaurant adjacent to the open kitchen, you will notice the rich wooden tones and unique octagonal shape. A wall of windows provides panoramic views of the water, Magic Kingdom, and the Contemporary Resort as well as the passenger boats transporting guests to and from their destination. The bold blue tablecloths add a notable, but elegant contrast to this Disney Signature Dining experience. While most parties are seated at tables, there is also a bar area that can accommodate a limited number of guests.
After ordering our beverages, our server brought freshly baked sourdough rolls to the table.  We chose a light appetizer of artisanal cheeses which was also served with prosciutto and slices of baguette. The presentation was pristine and the variety of cheeses ranged from hard to soft. Other appetizers available to order are shrimp and grits, calamari, crispy eggplant, and a shrimp and crab cake along with lobster bisque or a Caesar or pear salad.

For dinner, we ordered the Filet Mignon and the blackened salmon. My husband could not stop raving about the steak, cooked to perfection, and claiming it was the best food he has ever eaten at Disney World! I enjoyed my salmon dish equally as much. I was curious how the spices of the andouille sausage would blend with the other light flavors, but it was chopped so small that I barely noticed it with the succotash and corn purée. Everything was so moist and expertly prepared and plated. We also added a side of loaded mashed potatoes. The taste was as expected and more, jammed packed with flavor from the potatoes, butter, sour cream, chives, and bacon. Besides steak and salmon, guests may order pan-seared boat scallops, mahi mahi, pork chops, shrimp scampi, and sweet potato gnocchi. Surf and turf dishes with lobster tail, scallops, salmon, or shrimp are also available.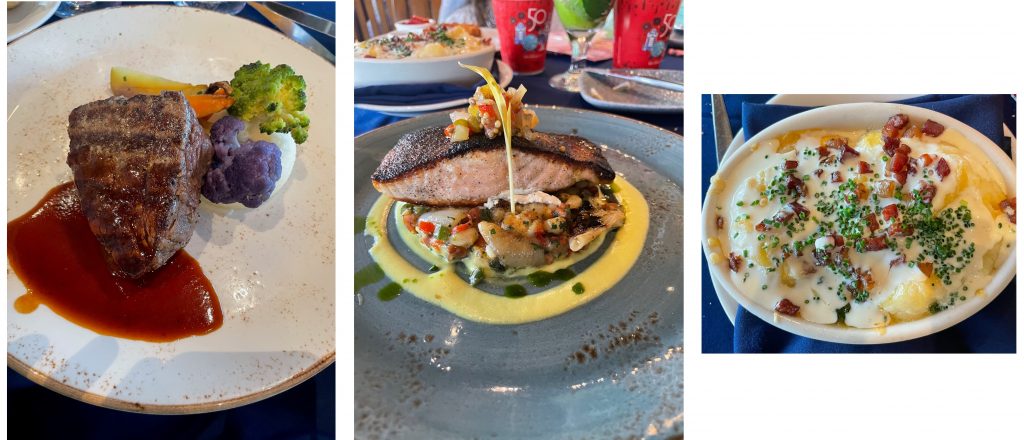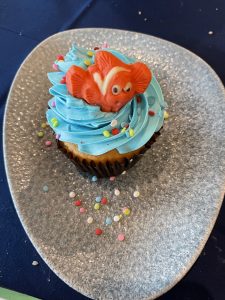 Narcoosee's is only open for dinner and reservations are strongly recommended. Book a table for later in the evening for an added bonus after dinner. Because of its close proximity to Magic Kingdom, the windows at Narcoosee's and its outdoor veranda provide the perfect setting to watch the nightly fireworks. If your reservation is earlier in the evening, take some time to explore the gift shops inside of the resort, such as Basin White, before heading to the beach area and docks to enjoy the show.
My children, ages 4 and 7, split a single kids meal with permission from the server. After dining at a few Disney restaurants the previous few days, I noticed that portions even for children tended to be large. They enjoyed hand-breaded crispy chicken tenders, grapes and strawberries, and a deliciously cute Nemo cupcake for dessert. I was prepared to order a 2nd cupcake in order to prevent an argument over splitting it, but the size of the cupcake was appropriately sharable for their ages and we simply split the chocolate Nemo medallion in two.
Narcooee's is part of the Signature Dining Experiences and they do request guests follow a dress code that asks that the clothing is "clean, neat and in good condition." While the atmosphere is more sophisticated, I would still liken it to be child-friendly, yet also appropriate for celebrating a special occasion.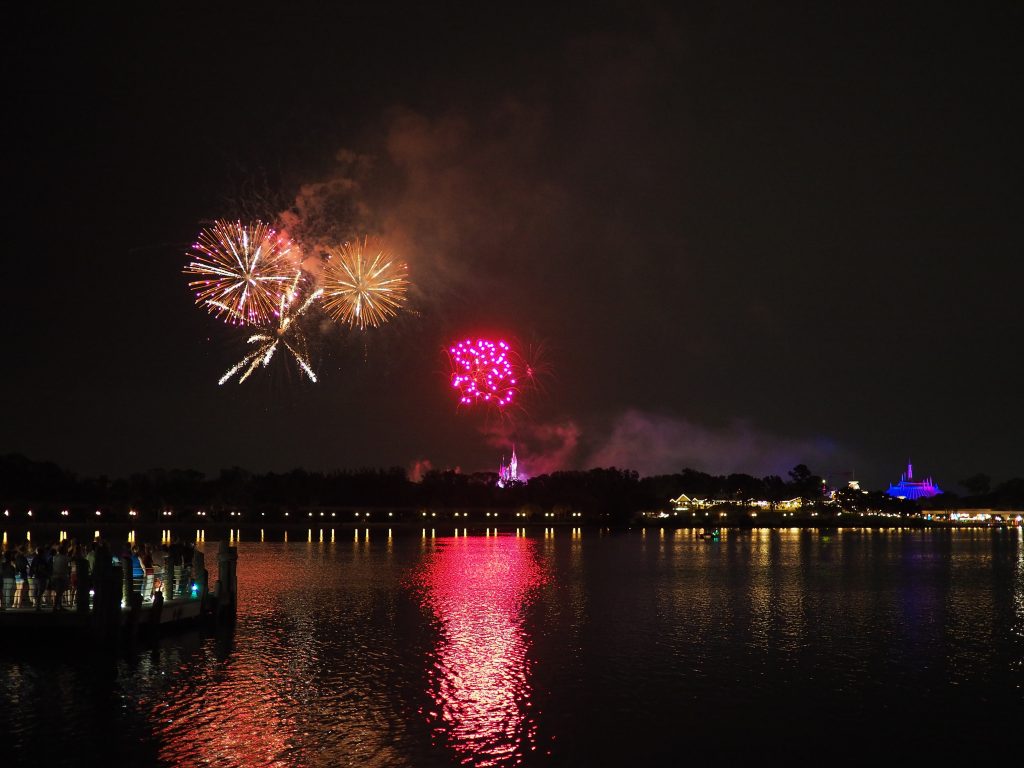 Whatever reason you choose to dine at Narcoosee's, I can promise that you will not leave disappointed.  The indoor atmopshere offering scenic views of the "Most Magical Place On Earth" coupled with the quality and taste of the food have now made Narcoosee's a part of our must-dos when visiting Walt Disney World. Have you ever dined at Narcoosee's? What is your favorite part about this waterfront restaurant? Let us know in the comments below!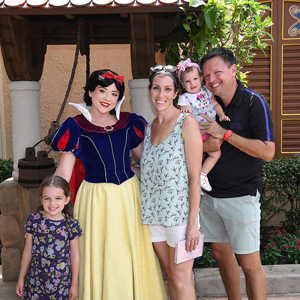 Written by
Shelley Wehler
Contributing Writer
Shelley is a stay-at-home mother of two girls living outside of Charlotte, North Carolina. Her love of all things Disney has grown even more as she sees the magic come alive through the lens of her young daughters. She spends her free time keeping up with the latest in Disney news and daydreaming of her next trip to the parks!