Walt Disney World has many dining locations across its 4 parks, 32 resorts, and 2 water parks. With each restaurant being a unique experience, it can be hard to choose where to dine. If magical views are important to you, read on to discover the dining locations with the most magical views in Walt Disney World.
California Grill At Disney's Contemporary Resort
If you are looking for high-class dining and a bird's eye view of the Magic Kingdom, look no further than California Grill at the Contemporary Resort. This restaurant is located on the 15th floor of Disney's Contemporary Resort. There are wall-to-wall windows overlooking The Seven Seas Lagoon and the Magic Kingdom. This dining experience is enhanced when you make reservations during the Magic Kingdom Fireworks Spectacular. The lights are dimmed, music is played throughout the restaurant, and guests are invited to step out onto the balcony for a view of the show.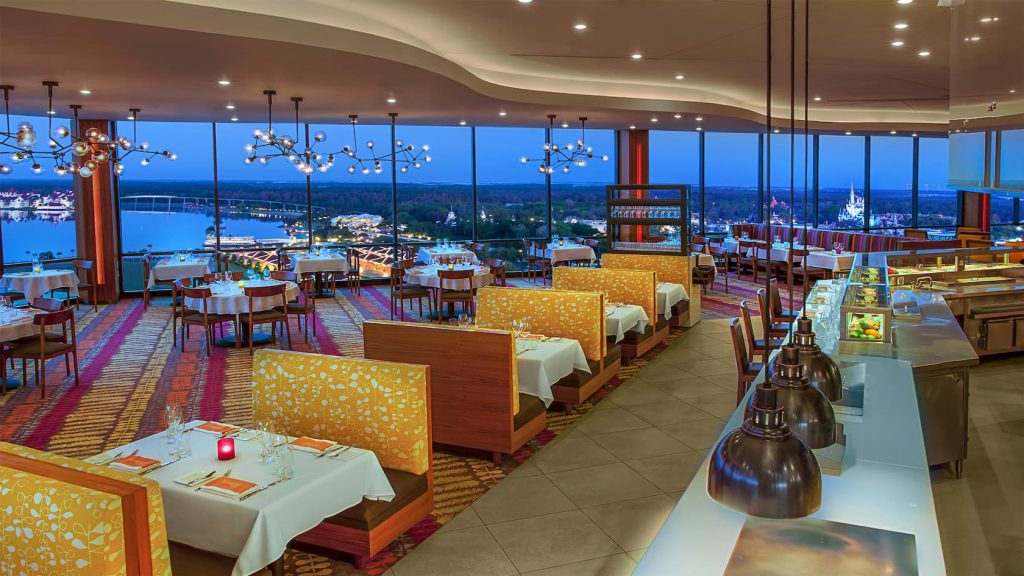 The food is a gourmet 3-course dining experience of Californian cuisine which celebrates the "melting pot" culture of the state.
Be sure to make your reservations as soon as you can (60 days prior to dining date or 60 days prior to arrival date for resort guests) as this experience books up quickly. This is a fine-dining experience. The prices for California Grill begin at $89 for adults and $39 for children. There is also a dress code: guests are asked to dress in clean and neat clothing that respects the restaurant's upscale aesthetic.
Sanaa At Disney's Animal Kingdom Villas-Kidani Village
Sanaa is a East African-inspired restaurant located at Kidani Village in Disney's Animal Kingdom Resort. Enjoy an Indian-style bread service as an appetizer while you gaze across the savannah and watch giraffes, zebras, ostriches, and more. Enjoy "African cooking with Indian flavors" while you have a magical view. This restaurant is great for kids; they will love watching the animals while you eat. Reservations are highly recommended for this dining experience. If you find yourself without a reservation, the Sanaa lounge is first-come, first-served.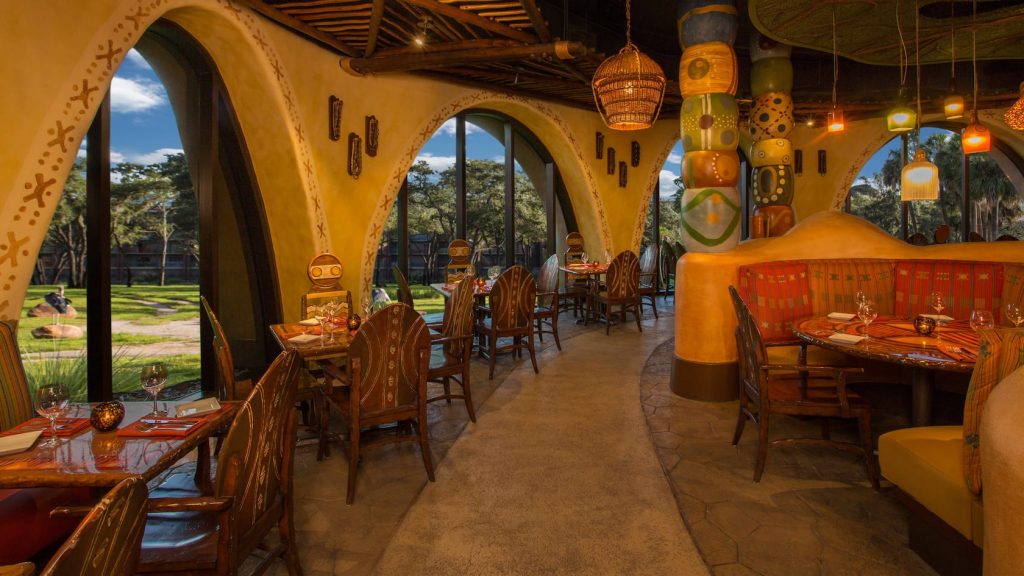 Don't have time for a sit-down meal? Stop by for breakfast when Sanaa transforms into a quick-service breakfast location. Stop by the grab-and-go and take your food out to one of the many patio viewing areas throughout the resort.
Coral Reef Restaurant At EPCOT
Seafood with an aquarium view…what more could you ask for? Coral Reef Restaurant at EPCOT is a dining experience with a magical view of one of the largest man-made ocean environments on the planet. This tank is big enough to fill 54 Olympic-sized swimming pools, and is home to approximately 2,000 sea creatures. Every view is a great view at Coral Reef Restaurant, as the floor-to-ceiling glass spans the length of the entire restaurant. Sharks, sea turtles, fish, and perhaps even scuba divers will entertain you and the kids while you dine.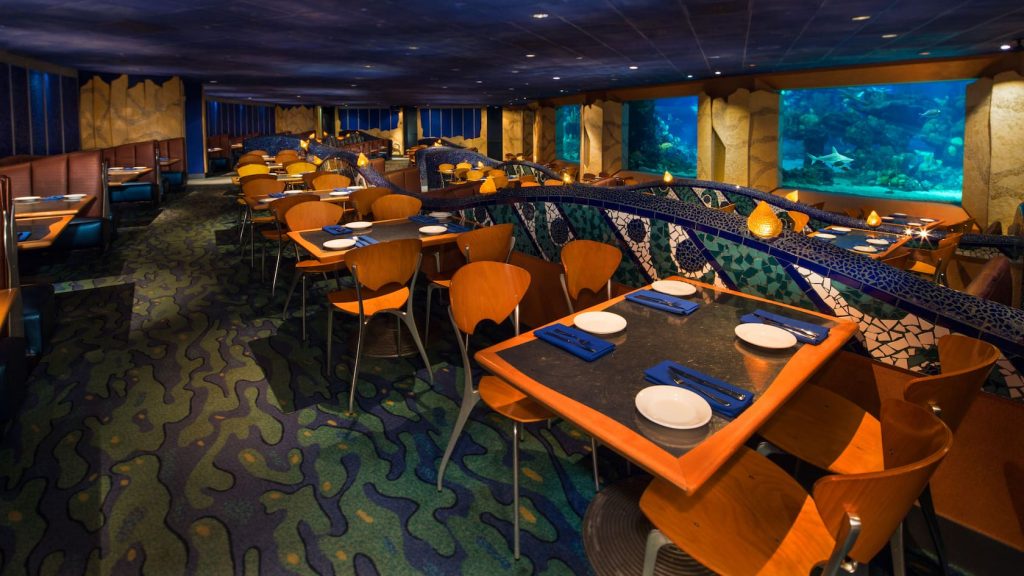 Coral Reef Restaurant offers ocean-fresh meals as well as some classic favorites. Reservations are highly recommended for this experience.
The Garden Grill Restaurant At EPCOT
Located in The Land Pavilion at EPCOT, The Garden Grill Restaurant contains multiple magical views. This is a rotating restaurant that takes you through scenes of the classic boat ride "Living With the Land". See the rainforest, farmhouse, thunderstorm, sandstorm, and prairie scenes from the ride while you dine on veggies grown in-house and classic American fare.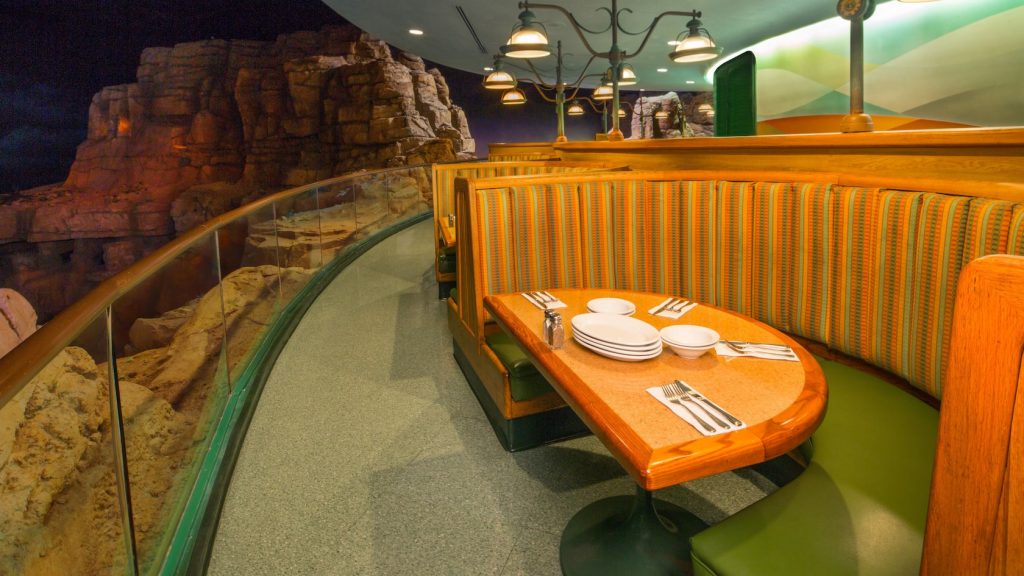 As if the views aren't magical enough, this restaurant is also a character dining experience. Meet Chip 'n' Dale and their pals during your meal.
Space 220 Restaurant At EPCOT
If you are looking for the most unique view in all of Walt Disney World, you will find it at EPCOT. Space 220 Restaurant is a fully immersive dining experience. Guests will enter a special space elevator to take them "to the stars" where they will have their meal in outer space. The entire restaurant is lined with virtual windows that give you a view of Earth from 220 miles up. This is an incredible interactive experience that you have to see to believe.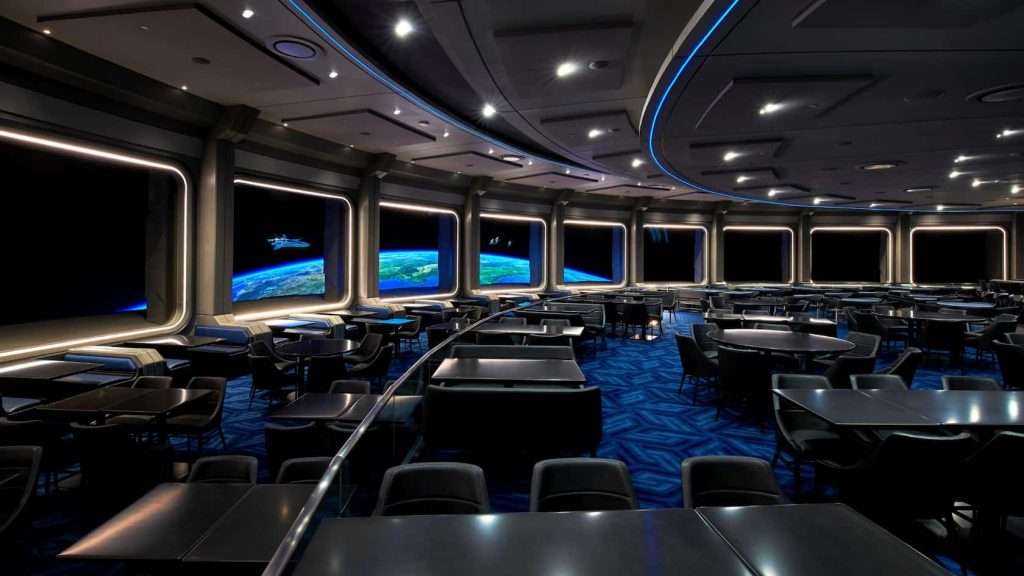 Space 220 Restaurant offers 2-course meals for lunch and 3-course meals for dinner. Enjoy space-themed food and drinks while you take in the "view". This is an extremely popular dining experience, so be sure to make your reservations as soon as you can.
Have you dined at any of the locations listed above? What other Disney World dining locations have magical views to you? We would love to hear about your experiences in the comments below!
Featured image by Disney
Written by
Megan Woodard
Contributing Writer
Megan was born into a Disney family. Her first trip to Disney World was when she was only 18 months old. Now as an adult, Megan loves to share the magic of Disney with her two toddlers. Keeping up with Disney news and Disney World knowledge is a fun hobby for Megan. Disney World is her favorite place to be and continuously brings back her childhood joy.