Disney's Polynesian Resort is a tropical paradise that offers a wide range of dining experiences. From traditional Polynesian fare to American classics with a tropical twist, this resort is a haven for food enthusiasts and a perfect location to find something that fits everyone's palette. Let's explore every dining option this enchanting resort has to offer.
Let's kick things off with a tour of the fantastic bars at the Polynesian. If you find yourself at the Lava Pool, you must visit the Barefoot Pool Bar, a charming tiki hut-inspired oasis.
Barefoot Pool Bar
Unwind on the pristine sandy beach, toes in the sand, and take in the picturesque Magic Kingdom views as you sip on Tiki-inspired beverages at the Barefoot Pool Bar. Take your pick from a delightful range of cocktails, refreshing beer, and delightful wine. If you're looking for something lighter, opt for a refreshing smoothie. Whether you're enjoying the sun by the Lava Pool or the beach, pair your drink with a selection of delectable poolside offerings, including fish tacos, chicken strips, cheeseburgers, and more, for a truly satisfying poolside experience.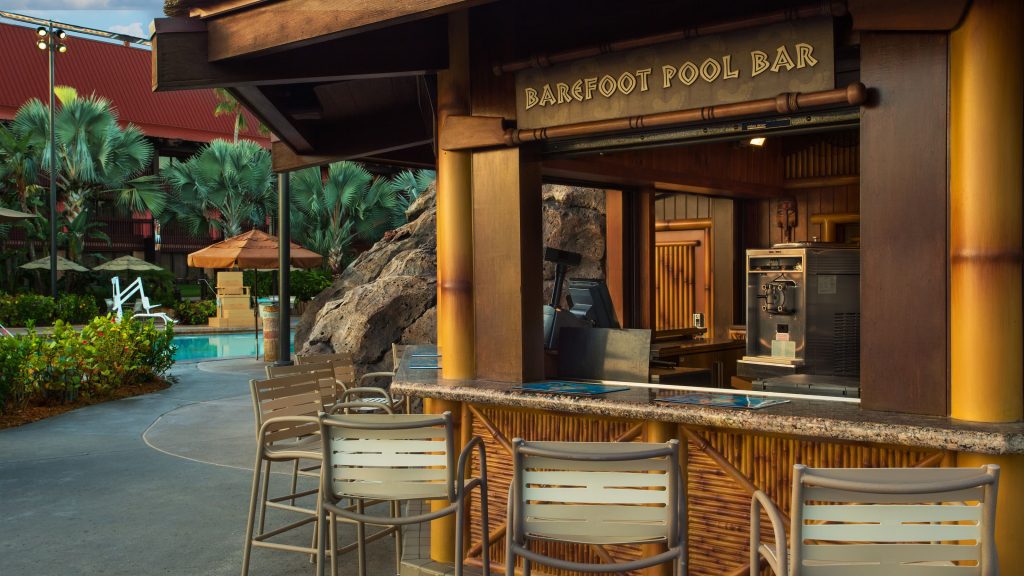 Oasis Bar & Grill
As you unwind at the Oasis Pool, don't miss the opportunity to explore the offerings at the Oasis Pool Bar and Grill. This venue presents a tempting array of dishes, including the Teriyaki-Glazed Angus Chuck Burger, Fried Wonton Chips, and Black Pepper-Parmesan Chicken Wings. Oasis also boasts an impressive selection of beverages. Indulge in the Frozen Margarita, expertly blended with the iconic Dole Whip Lime, or relish the Cucumber and Mint Vojito, a refreshing concoction featuring Ketel One Botanical Cucumber and Mint Vodka, Lime Juice, Pure Cane Sugar, and Soda Water. No matter your choice, it will serve as the ideal refreshment for a sunny day.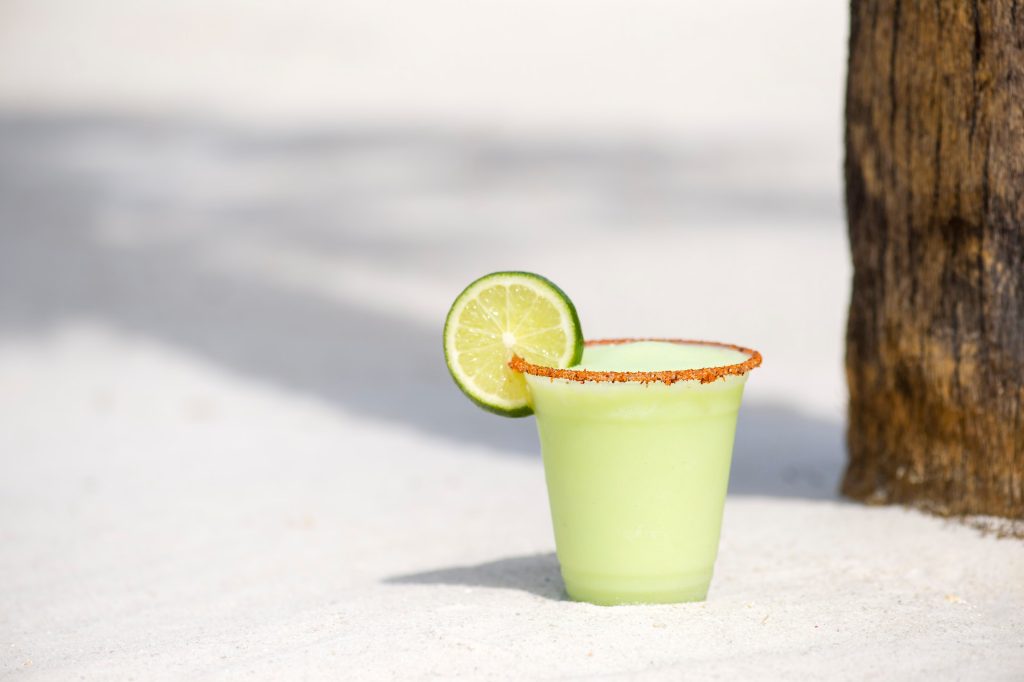 Tambu Lounge
If you desire a relaxing South Seas-inspired atmosphere, head to Tambu Lounge. It's the perfect spot for a pre-dinner drink.
Here you can indulge in the Lapu Lapu, a delightful concoction featuring Plantation Original Dark Rum and Tropical Fruit Juices, elegantly served inside a fresh Pineapple and crowned with Gosling's 151 Rum. Tambu Lounge also offers a diverse selection of tropical-inspired cocktails, such as the Polynesian Mai Tai.
For those seeking a quick and savory bite, the menu showcases options like a California Roll, Pot Stickers, Big Kahuna's Hot Wings, and Kaikane's Barbecued Pork Ribs.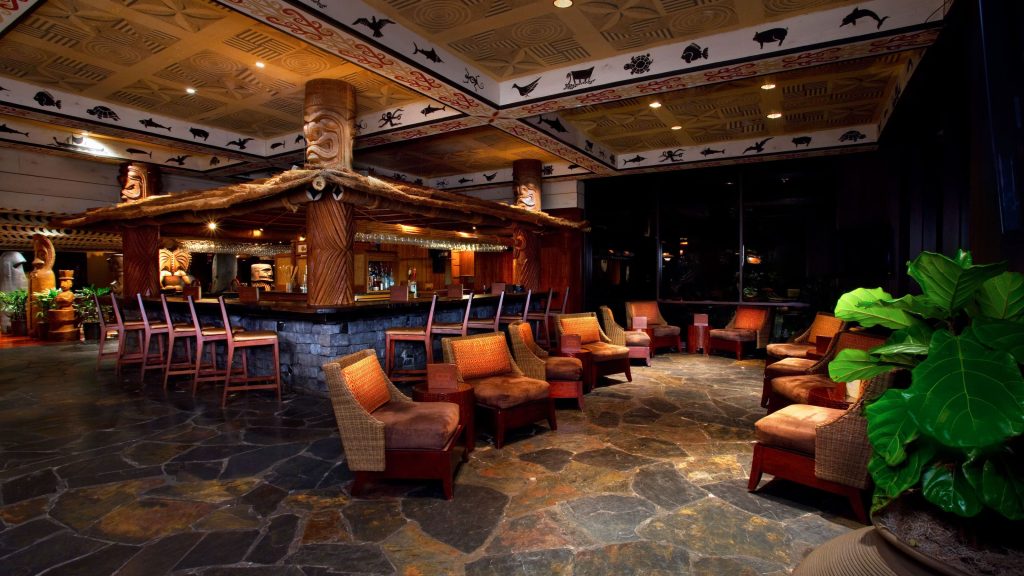 Trader Sam's Grog Grotto
Immerse yourself in the creatively decorated lounge, adorned with ancient relics and exotic treasures. Here you can relish in unique cocktails such as the Polynesian Pearl and Tahitian Torch, crafted by the renowned Trader Sam of Jungle Cruise fame. And, to make your experience even more delightful, indulge in delectable cuisine like the Thai Chicken Flatbread with bacon and peanut sauce, Pan-Fried Dumplings, or the Kalua Pork Tacos!
Please note that after 8 PM, this location becomes adults-only, admitting only guests aged 21 and above.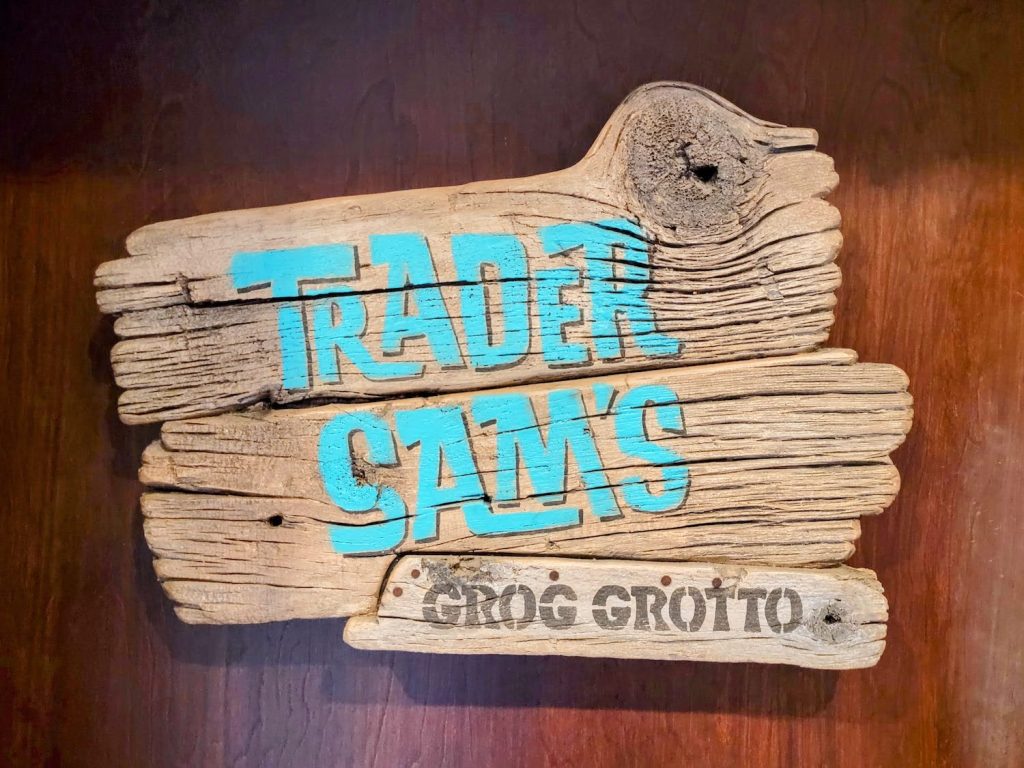 Trader Sam's Tiki Terrace
If you prefer to skip the wait at Trader Sam's but still want to enjoy its offerings, the Tiki Terrace is a fantastic alternative. Immerse yourself in the island ambiance of this open-air lounge, where live music sets the mood. You can also order most of the same food and drinks available at Trader Sam's, making it a convenient choice for those who wish to avoid long lines or just simply want to enjoy the night outside.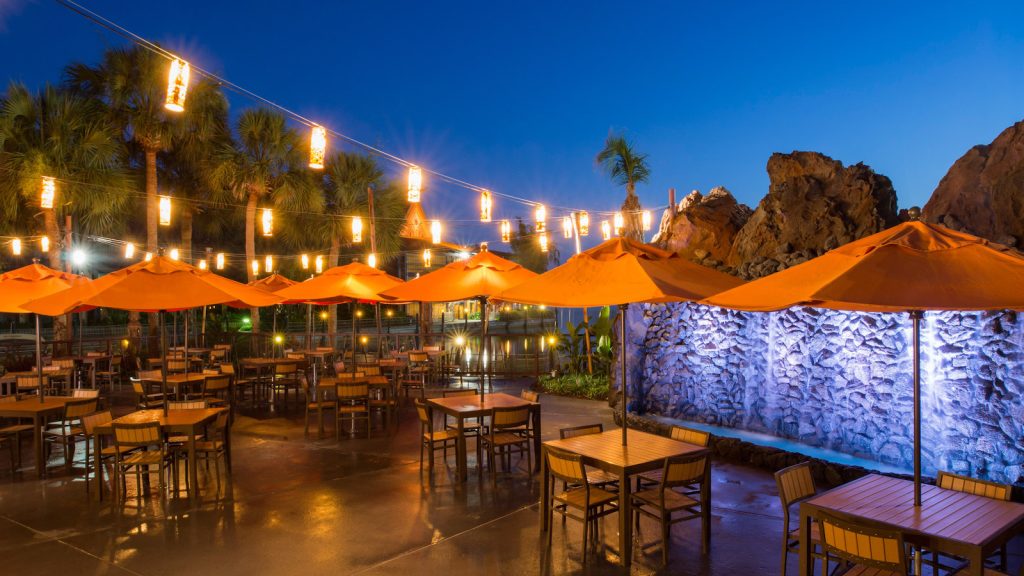 Capt. Cook's
This establishment offers both counter-service dining and the convenience of Mobile Ordering, providing you with a seamless dining experience. Their menu options span from breakfast to lunch and dinner, ensuring you leave feeling satisfied and prepared for your next adventure.
At breakfast, you can relish classic favorites like Mickey waffles, the hearty bounty platter, and the renowned Tonga Toast, a mouthwatering creation filled with banana, coated in a golden batter, deep-fried, and dusted with delectable cinnamon sugar.
For lunch and dinner, the menu presents a diverse array of dishes, including chicken strips, cheeseburgers, Thai coconut meatballs, and the ever-popular pulled pork nachos. Take a seat and immerse yourself in the delightful Polynesian ambiance, allowing you to fully embrace the island vibes of the resort.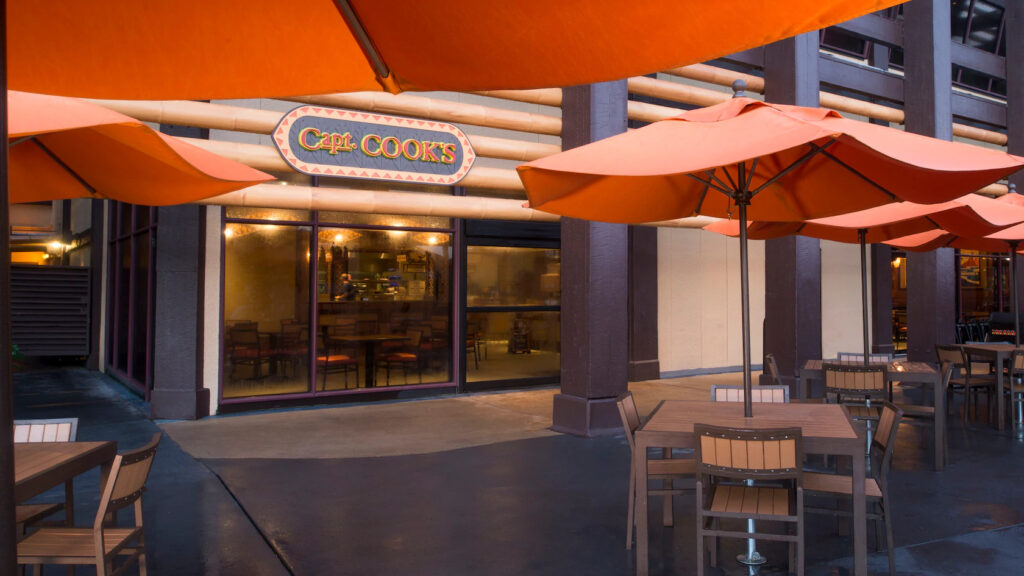 Kona Island
Adjacent to Kona Café you'll find Kona Island. This charming and versatile little spot boasts an impressive selection of specialty Joffrey's coffee beverages and delectable treats, ensuring it's the perfect choice for an on-the-go breakfast, lunch, or dinner. As you explore the bakery case, you'll discover unique offerings like the tantalizing Banana Macadamia Nut Loaf and the irresistible Chocolate-Covered Bacon. If you're here during lunch or dinner, don't be surprised to find sushi rolls to-go along with an array of delectable desserts, including Tiramisu, Key Lime Pie, and the indulgent Chocolate Dome Cake.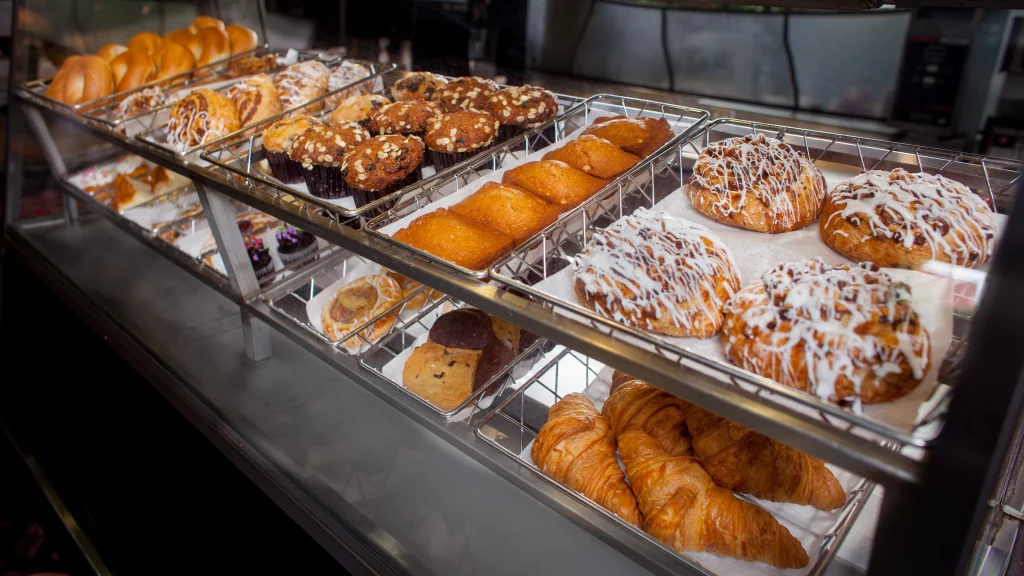 Pineapple Lanai
For Dole Whip enthusiasts, a visit to Pineapple Lanai is a must. This spot offers one of the most extensive selections of Dole Whip treats in all of Disney World. The menu typically includes the classic pineapple Dole Whip and a rotation of unique daily flavors. Don't miss the Dole Whip with Rum Floater for a delightful twist. Pineapple Lanai often surprises with specialty floats and Dole Whip creations that are worth stopping by for.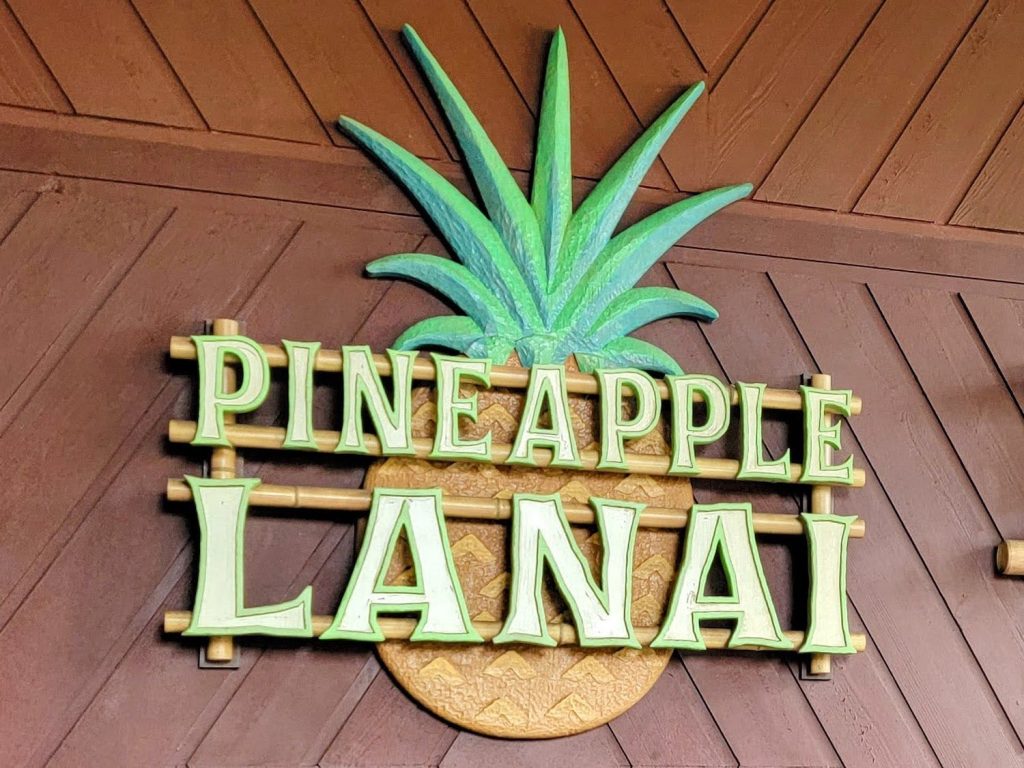 Kona Cafe
Kona Cafe is a delightful and often underrated dining gem. Following its recent remodel, the cafe exudes a charming island, tropical, and Moana-inspired ambiance that adds to the dining experience.
At Kona Cafe, you'll discover breakfast delights like the renowned Tonga Toast, Macadamia Nut Pancakes, Polynesian Egg Platter, and French Toast with luscious caramel-banana sauce. This breakfast menu is a true delight.
The lunch and dinner menus are equally impressive, offering an extensive selection that includes sushi rolls, poke' bowls, a variety of steak and chicken entrees, delectable stir-fry options, and the Big Kahuna burger. And don't forget to indulge in the famous Pineapple-Coconut Bread Pudding, a delightful conclusion to your meal.
Please note that Kona Café is a table-service restaurant, and you can make reservations up to 60 days in advance of the first day of your trip.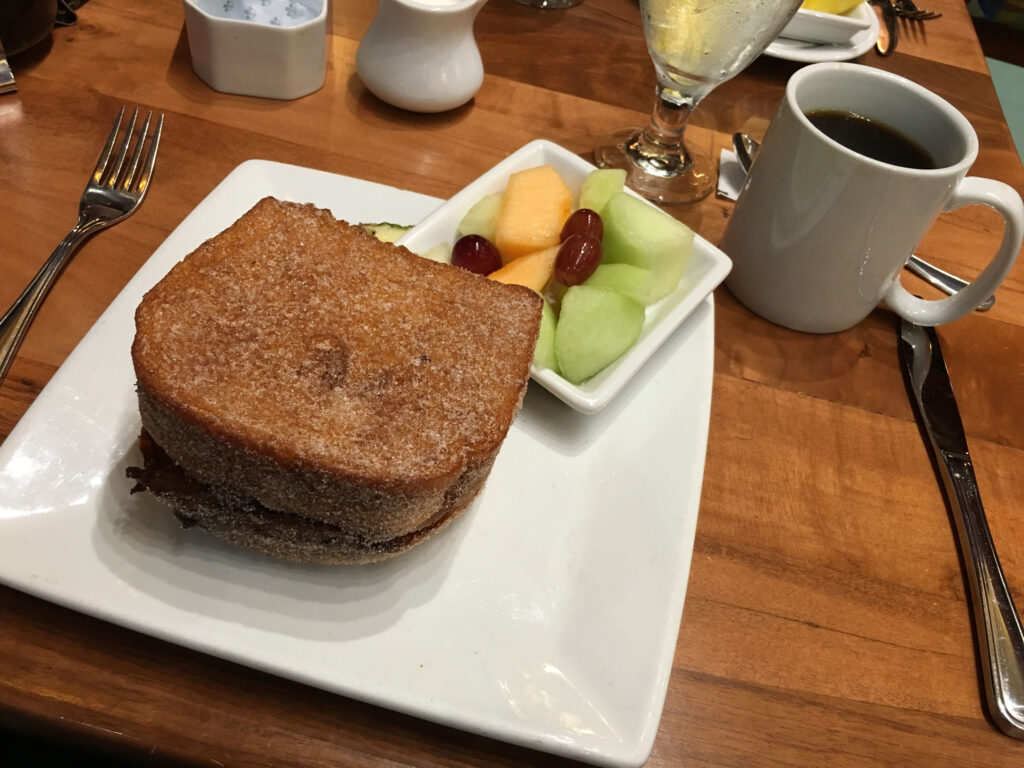 'Ohana
'Ohana, which means "family," embodies the essence of this immersive dining experience where you're welcomed as part of the family. Relish an all-you-care-to-eat breakfast or dinner served family-style.
For breakfast, indulge in a delightful spread featuring Mickey waffles, scrambled eggs, sausage, bacon, ham with pineapple compote, and, of course, the mouthwatering pineapple coconut bread. Breakfast also features character dining, with beloved Disney characters like Mickey, Pluto, Stitch, and Lilo!
In the evening, the dinner menu takes center stage with its extensive choices. Honey-Coriander Chicken Wings, Signature 'Ohana Bread with Honey Butter, Pork Dumplings Tossed in Garlic-Chili Sauce, 'Ohana Bread Pudding, and the 'Ohana Dinner Skillet featuring Wood-fire Grilled Teriyaki Beef, Spicy Peel-n-Eat Shrimp, Grilled Chicken with Polynesian-inspired Chimichurri Sauce, 'Ohana Noodles,  and Roasted Seasonal Vegetables.
Please keep in mind that 'Ohana is exceptionally popular, and making advance dining reservations is highly recommended. You can secure reservations up to 60 days in advance of the start date of your trip.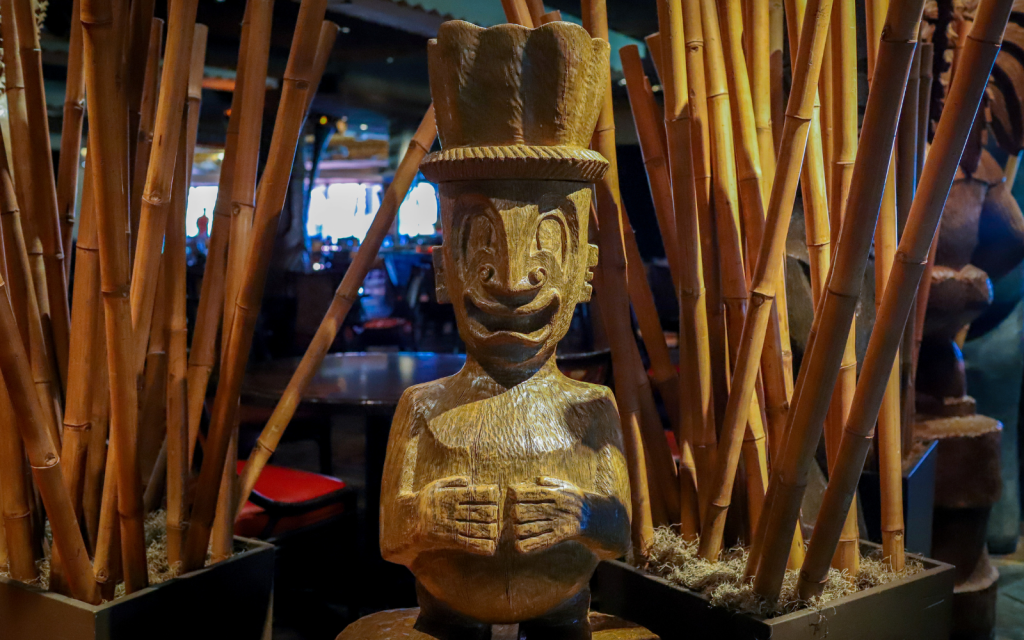 Whether you're a guest at Disney's Polynesian Resort or just passing through, there's a dining option to satisfy everyone's needs and cravings!
Featured Photo: Emily Murray.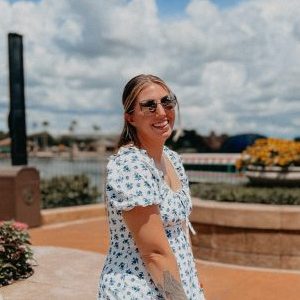 Written by
Marissa Coffta
Marissa's lifelong enchantment with Disney magic began in her childhood and has continued to flourish. She is a mom to 3, who frequently embarks on solo or family adventures to Disney World. Currently living out of state, she takes many modes of transportation to experience the wonder of Disney firsthand. Her fervent passion for writing fuels her with the hopes of bringing the world of Disney to life, making the magic a part of her world.