Come one, come all! ​​Big Top Souvenirs, located in the Storybook Circus mini-land of Fantasyland at Magic Kingdom, is welcoming guests under the big top once more! This Sunday, Big Top Souvenirs finally reopened… again!
You may remember that Big Top Souvenirs has been open intermittently over the past few years. The location closed abruptly in December 2019 due to a rumored fire. In late January 2020, the location closed again, this time due to flooding. When asked about the closure, Cast Members joked that they have to clean up after Dumbo's splashing! Silly elephant!
It had only been open for a short time before the COVID-19 pandemic caused the Walt Disney World Resort to close entirely in March 2020. After undergoing a refurbishment for the "World's Most Magical Celebration" that started in June 2021, Big Top Souvenirs is open once again!
But Something Is Missing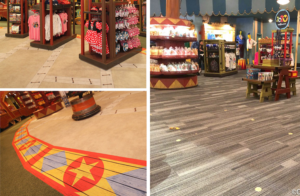 You'll immediately notice that a few big things are noticeably missing from this well-known shop. The beautiful marquee sign on the exterior and the iconic circus patterned carpet on the inside have both been removed. Unfortunately, the colorful carpet has been replaced with an industrial gray carpet. The new carpeting isn't quite as fun as the previous tent-themed carpet and doesn't exactly match the circus theming well. Many patrons have been vocal about wanting to see the themed carpet return in the future.
New Area To Cool Off, Same Delicious Treats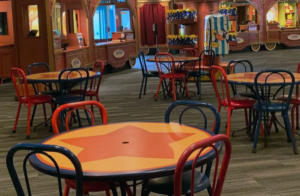 Just as the name suggests, guests can shop for souvenirs here, however numerous displays have been removed. While the store did reduce the amount of merchandise offered, they are using the extra space for something awesome! They've added an indoor seating area with circus themed tables and chairs so you can sit and enjoy "the world's tastiest treats" from Big Top Treats in air conditioning.
Big Top Treats is known for their confectionaries like cupcakes, cookies, cake pops, rice crispy treats, caramel apples as well as fruit, cookies and marshmallows dipped in chocolate. Who doesn't love a mickey shaped chocolate chip cookie dipped in chocolate?! Other offerings include cotton candy, house-made caramel corn, and Goofy's Glaciers (Disney's version of a slushie).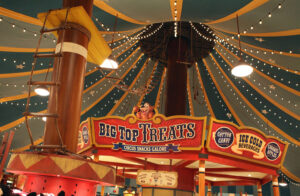 When you enter the "three-ring extravaganza" you can't miss Big Top Treats! There's a huge sign and menu boards smack dab in the middle of the tent. It's one of my favorite places to stop and get a Disney treat and now one of my favorite places to cool off from the Florida heat.
When you visit the one and only Storybook Circus, make sure to stop by ​​Big Top Souvenirs to shop, grab a treat, and cool off!
What's your favorite snack or treat to get while at the Magic Kingdom? Let us know in the comments below.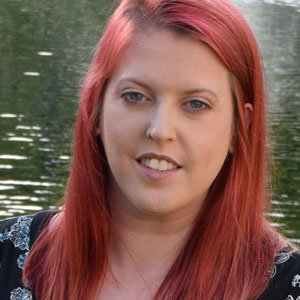 Written by
Sasha Watson
Contributing Writer
Sasha loves traveling, Sunday naps, cookie dough, Halloween and really good roller coasters. An admitted theme park junkie, she is always looking to book her next trip. More often than not, that trip is to Walt Disney World, which is a quick one-hour flight from her home in Georgia. Her favorite travel partner is her husband, Kyle. They've visited Disneyland, Walt Disney World and Shanghai Disneyland, hoping to someday visit all the Disney parks around the world.