When you enter Typhoon Lagoon water park, you walk through a lush trail that leads you to the main attraction of the water park, the Typhoon Lagoon Surf Pool. Before descending to claim lounge chairs in the soft sand, you pass a sign welcoming you to the park with today's weather and water conditions as well as the park hours for all of the Walt Disney World parks. On this sign, there is a space for "Big Kahuna of the Day." Have you ever wondered who is the Big Kahuna and how were they chosen?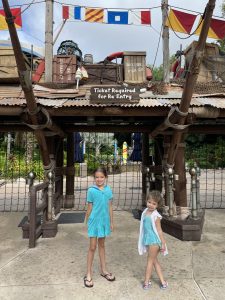 It was my family's first time visiting Typhoon Lagoon and, being early risers, we were happy to arrive before the gates opened to make the most of our day in the refreshing water. It was a welcomed break from the summer heat and humidity. We had rope dropped other parks, so why not rope drop Typhoon Lagoon? We put on sunscreen as the cast members made last minute preparations to officially open for the day. We were then approached by a cast member that we had not yet noticed before. We thought she was just being friendly and trying to distract our four-year-old who was more than ready to enter the park, so she allowed us to scan our tickets and follow her in. It was then that we realized that the people behind us were still being held at the gates and that our cast member, Charlotte, had a few surprises in store.
After confirming that we had not already reserved a cabana for the day, she led my daughters to the side and let us know that she had chosen them as the "Big Kahunas of the Day!" First up, was announcing to the rest of the cast members that "Big Kahuna is in the park." Using her walkie-talkie, my daughter spoke into the radio for all of the cast members to hear.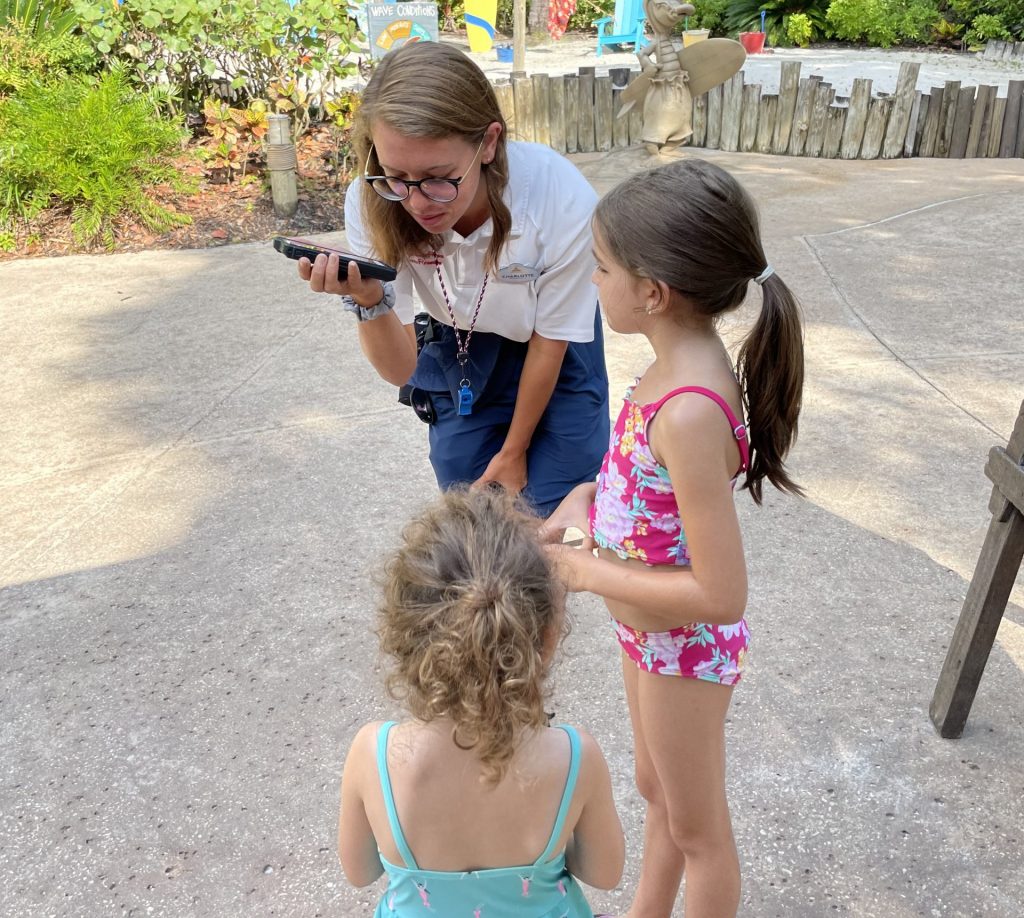 Next, my daughters were able to write their names on the board mentioned above! It was special to have their names on display for all of the guests to see! On the way to her next surprise, she taught us to greet the other members we passed with a "surf's up" symbol, by making a fist and extending our thumb and pinkie. Everyone we passed  greeted us by saying "Hi, Big Kahuna" with gave us a "surf's up."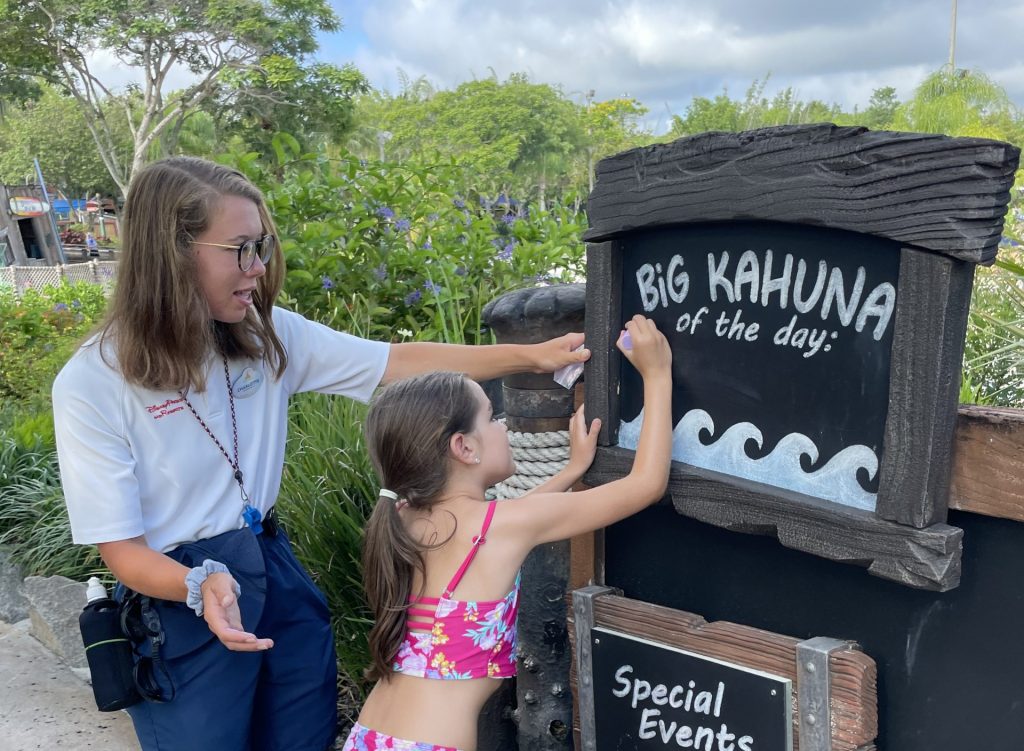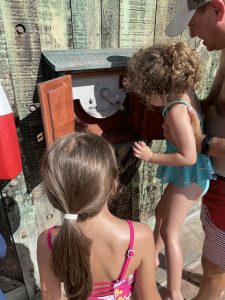 What really shocked us was when Charlotte escorted us to the Big Kahuna's private cabana. We had not planned to reserve our own space, but this proved to be a wonderful benefit throughout the day, escaping the hot sun and a few rain drops that appeared in the afternoon. Afterwards, Charlotte let the Big Kahunas "turn on the waves" for the day for the surf pool. They switched a lever choosing whether the waves were awesome, gnarly, radical, or heavy and then turned the knob from off to on.
Next, Charlotte led our family to a cast member station where they all clapped and cheered as we walked through and told us to have a great day. Then, we stopped by edge of the surf pool where she took photos of our family before leading us to be the first riders of the day on one of Typhoon Lagoon's favorite attractions, Miss Adventure Falls. The girls were given a medal to wear all day that identified them as "Big Kahuna of the Day," so that everyone knew it was them whose names were on the board!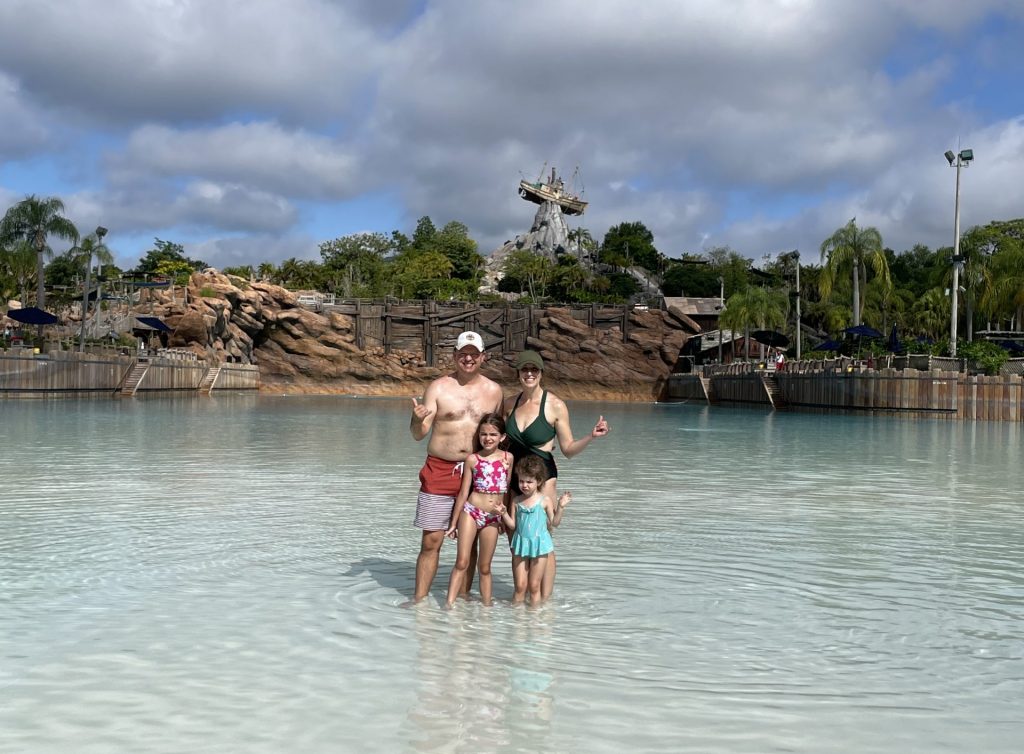 By this time, other guests had been permitted to enter the park and our special experience started to sink in. Disney cast members are trained in when and how to grant these special "pixie dust" experiences and we felt so thankful that we were chosen on that Monday in early June, and happy to know that others experience the same magic each day that Typhoon Lagoon opens its gates.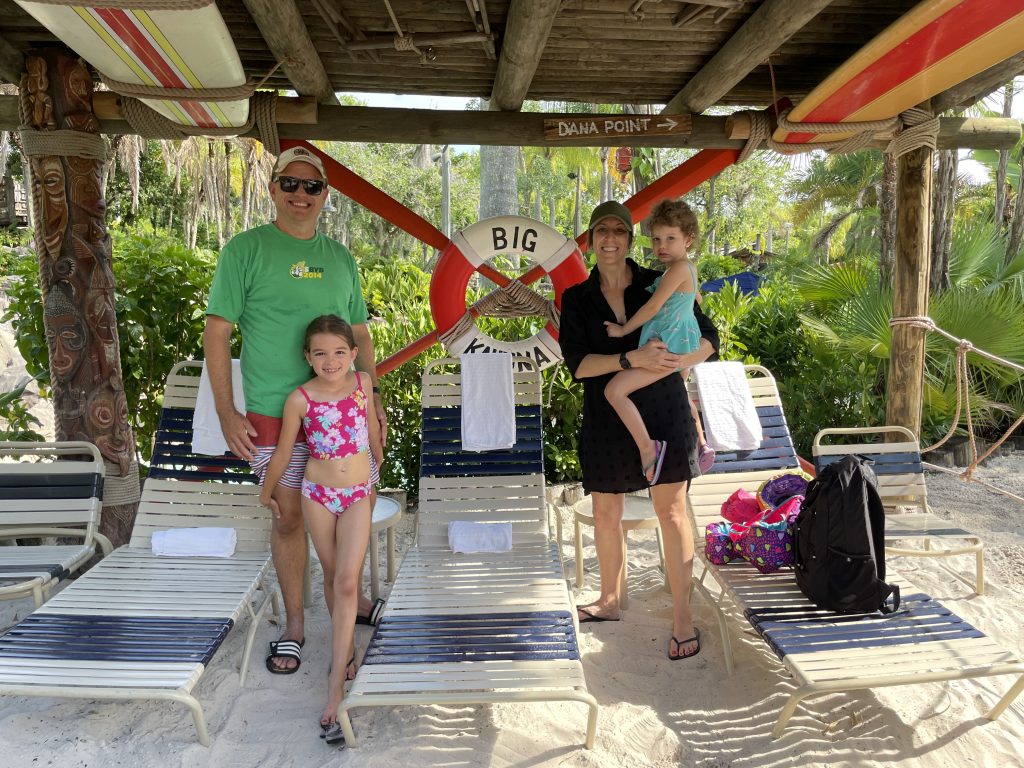 This pixie-dusted experience made our day at Typhoon Lagoon one that will always remain special in our hearts. We are thankful to Charlotte and the other cast members that made our day so extraordinary. Have you ever been pixie-dusted by a cast member at Walt Disney World? Tell us about your experience in the comments below! Whether big or small, these magical gestures of kindness are so meaningful and undoubtedly memorable.
Featured Photo by DJ Spiess (CC BY-SA 2.0)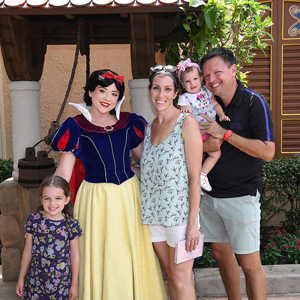 Written by
Shelley Wehler
Contributing Writer
Shelley is a stay-at-home mother of two girls living outside of Charlotte, North Carolina. Her love of all things Disney has grown even more as she sees the magic come alive through the lens of her young daughters. She spends her free time keeping up with the latest in Disney news and daydreaming of her next trip to the parks!