The Boardwalk Villas, located on Crescent Lake in Walt Disney World, is one of the most lively hotels on property. Inspired by Coney Island, it's known for an abundance of evening entertainment including magicians, carnival games, a dueling piano bar, and even a nightclub. The Boardwalk is also lined with dining options: from margarita and corndog stands to a pizza window, there's a lot to choose from. But if you're looking for a signature dining experience along Disney's BoardWalk, Flying Fish is the place for you.
Highly Recommended Signature Dining
My parents had heavily recommended Flying Fish after dining there for the first time themselves. Though our DVC home resort is The Boardwalk Villas, we had been stuck on our tried and true signature dining favorites: Yachtsman Steakhouse, located on the opposing side of Crescent Lake at Disney's Yacht Club Resort, and California Grill, located along Bay Lake at Disney's Contemporary Resort. But after hearing how wonderful my parent's experience was, we knew it was time to try something new, so we added Flying Fish to our last trip's itinerary.
First Impressions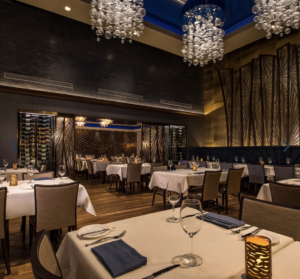 At first glance, the restaurant gave off a contemporary feel, with neutral and blue colors dominating the decor. But after looking around, bold and intricate designs became more apparent; gold-hued bottles line the top of the bar while transparent bubbles and fish hung from a deep blue ceiling to form chandeliers. The kitchen is open, so if you are lucky enough you might have a front-row seat of the chefs as they compose the plates for their guests.
Mouthwatering Appetizers
We each started off with an appetizer: I ordered the Prince Edward Island Mussels, while my partner ordered the Slow-roasted Port Belly. Growing up in New England I had access to some of the most exceptional mussels and these honestly blew me away. Perfectly paired with a chardonnay broth and topped with herbs, these mussels were tender and flavorful. As for the pork belly, it was described as thick and flavorful by my partner, and after trying a bite I had to agree.
Land And Sea Entrees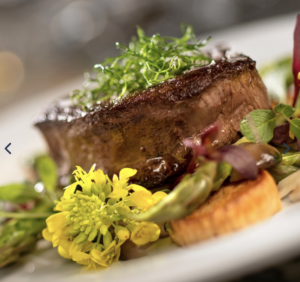 For entrees, I ordered the Verlasso Salmon, and my partner ordered the Filet Mignon, both cooked medium-rare by recommendation of our waiter. This salmon blew me away; not only was it cooked to perfection, but the flavors of the fish paired with the celery root and golden saffron nage, along with the bok choy, were other-wordly.
My partner said the filet, which came with asparagus, sweet onion risotto, and truffle sauce, melted in his mouth. I would have tried a bite had I not been so busy drooling over mine, but his plate was practically licked clean by the time I got a second to glance over.
Final Thoughts
When it came to dessert we just could not do it- between our appetizers and entrees, we were stuffed. But our first meal here made a lasting impression, and I can't wait to come back and try more of what they have to offer, like the Plancha-seared Scallops or the Char-crusted New York Strip. Overall, Flying Fish was a wonderful experience and something I would highly recommend if you're looking for wonderful Northeastern-style signature dining along the Disney BoardWalk.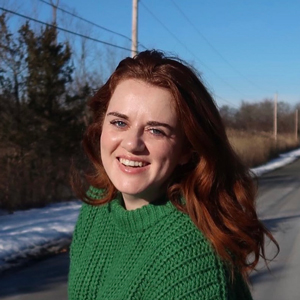 Written by
Brittany Gallant
Contributing Writer
Brittany has been traveling to Walt Disney World since she was two years old. Now a Disney Vacation Club member and annual passholder, you can often find Brittany at The Most Magical Place On Earth. She and her family are always looking for something new, whether that's a restaurant they haven't tried, a hotel they haven't stayed at, or an adventure not yet experienced.