Across EPCOT's World Showcase neighborhood, you can learn about 11 different countries' cultures and histories while enjoying shopping, dining and entertainment. Today we are taking a closer look at the China Pavilion.
EPCOT's China Pavilion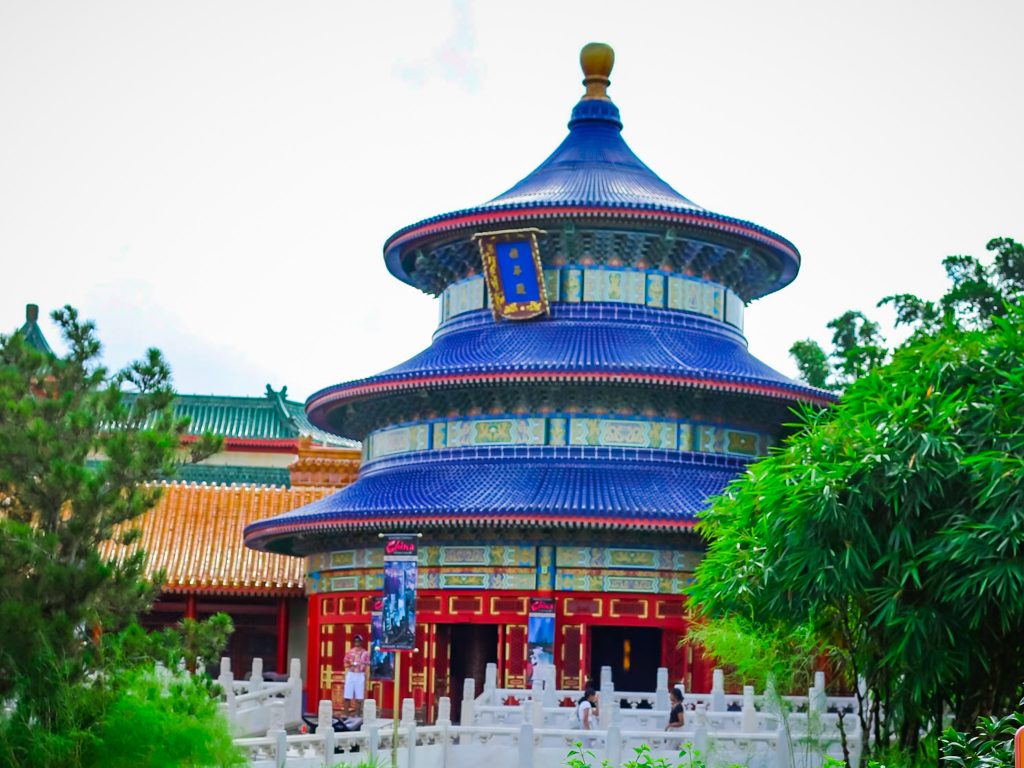 Step through the ornate archway and you will see fruit trees, bamboo groves, stone bridges and beautiful calm water features surrounded by traditional architecture. The intricate buildings feature bright colors (such as the blues, greens and yellows on the roofs) and detailed tile work and carvings. As you further explore the pavilion, you'll notice statues and beautiful artwork hidden around every corner. The China Pavilion is an excellent place to take a rest, as there are benches tucked all around the pavilion. Sit back, relax and enjoy the atmosphere. Like many of the World Showcase Pavilions, the China Pavilion also has many hidden photo spots; be sure to check them all out!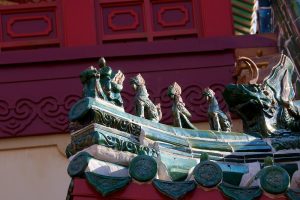 Shops
House of Good Fortune is a very large gift shop offering a wide variety of souvenirs. Here you can find clothing, jewelry, handbags, housewares, umbrellas, toys, fans, Lucky Cat merchandise, artwork, statuettes, swords, snacks and drinks, panda merchandise, and many other traditional items.

Good Fortune Gifts is an outdoor kiosk-style shop that sells souvenirs such as umbrellas, fans, toys, hats, puppets and clothing.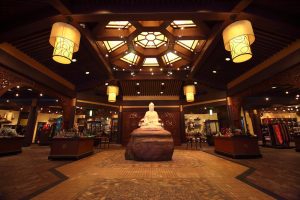 Dining
Quick Service
Joy of Tea is a quick-service kiosk near the outer edge of the pavilion. Here you can pick up a variety of beverages such as Bubble Milk Tea, Honey Hibiscus Iced Tea, specialty cocktails or beers. You can also get Pork Egg Rolls here for a quick snack.
Lotus Blossom Cafe offers quick-service Chinese specialties such as Orange Chicken, Fried Rice and Mongolian Beef. Kids entrees include Sweet-and-Sour Chicken or Pot Stickers and Egg Roll. For dessert, Caramel-Ginger or Lychee ice cream offers a unique twist on a sweet treat! Guests can enjoy their meal at one of the covered seating areas near Nine Dragons. 
Table Service
For a table service lunch or dinner, visit Nine Dragons and enjoy a variety of contemporary Chinese dishes from different regions. Choose from entrees featuring duck, beef, chicken, vegetables and tofu. The Crispy Duck Bao Buns are a popular appetizer.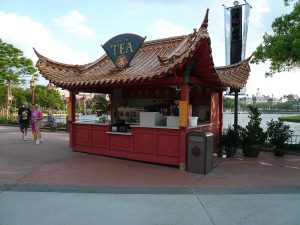 Attractions
Reflections of China is a 12-minute tour through ancient and modern China on Circle Vision 360 screens. The poet Li Bai acts as our guide through the culture, history and regions of China. Please note that there is no seating in the theater, only leaning rails. It is accessible for those using wheelchairs or ECVs. 
The building that houses the Reflections of China show is worth a visit, whether or not you stay for the film presentation. The artwork, wooden carvings and other gorgeous details will amaze you–and as an added bonus, there are plenty of benches to sit down and take a little rest before you enter the film theater!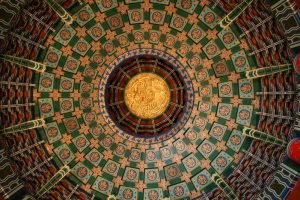 The House of the Whispering Willows (adjacent to Reflections of China) currently houses a sneak peak of the Shanghai Disney Resort. Check out artwork, photos, costumes and more from this international Disney destination.
Entertainment
Guests can meet Mulan in the China Pavilion near the water garden (by the Reflections of China building). Check the My Disney Experience app for appearance times.
Kidcot Fun Stops offer kids the chance to grab a fun souvenir/activity as they make their way around the World Showcase. The China Pavilion's Kidcot Stop is located in the Reflections of China building.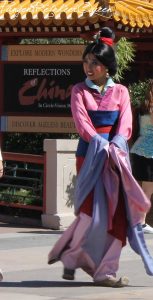 Did You Know?
The Reflections of China building is a replica of the Temple of Heaven in Dongcheng, Beijing, China.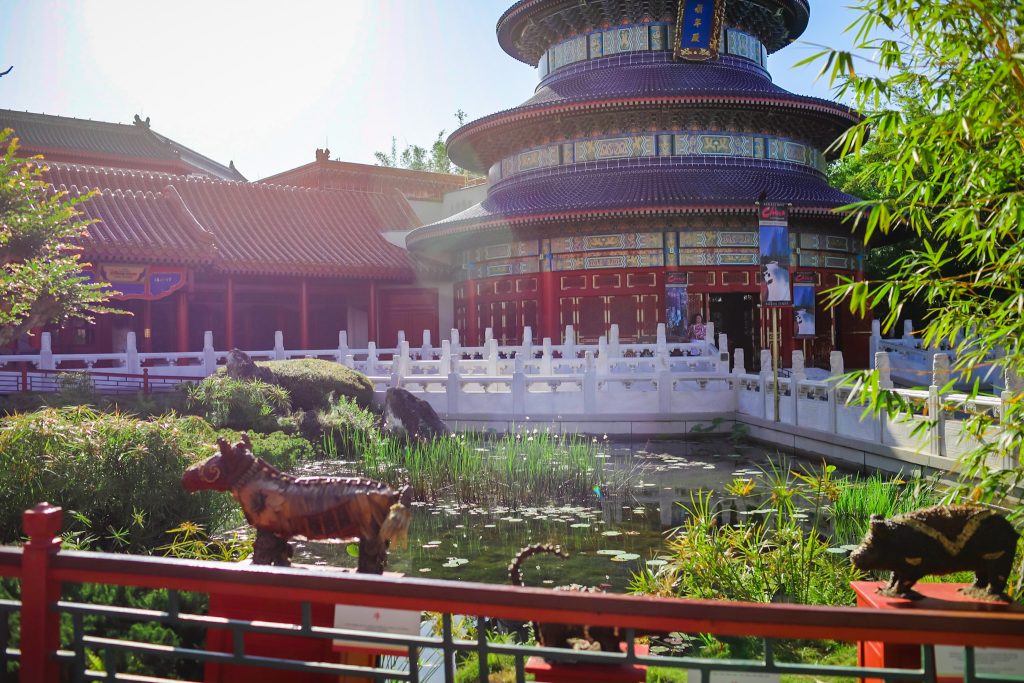 Featured Photo: Emily Murray.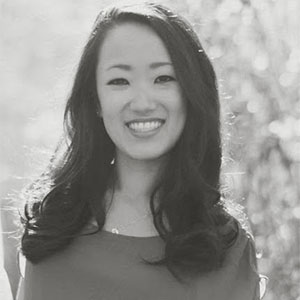 Written by
Leia Cullen
Leia is a proud mom of two boys. She has been in love with Disneyland and Disney World since her first visit to the parks many years ago, and she continues to relive the magic now with her family. She is passionate about creating helpful content that shares news or information about all things Disney, in the hopes it helps others create their own magical moments.