Are you looking for a comfort meal at Hollywood Studios that will make you feel at home? Make sure you check out 50's Prime Time Cafe for a team of Cast Members who will treat you like family.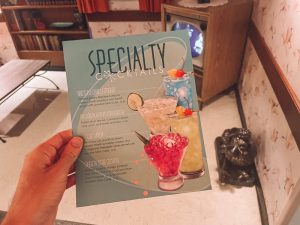 When arriving at the 50's Prime Time Cafe, you immediately feel immersed back into the 50's in themed rooms that look like different classic living rooms. After I checked in at the counter, I made my way to wait in the living room, which offers a bar of specialty cocktails and the famous Peanut Butter & Jelly Milkshake. To get the experience started, we ordered the infamous milkshake, which was the perfect blend of flavors, and before we knew it, our table was ready.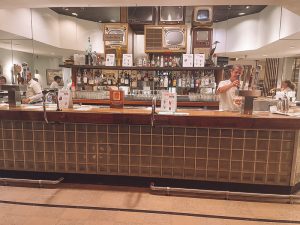 For the dining rooms at the restaurant, you'll notice every table is themed to a different family-looking kitchen. Our table was a kitchen countertop with replicas and actual Knick knacks from the 50s and old-school televisions. The televisions play segments from shows such as The Mickey Mouse Club and I Love Lucy. 
When we sat down, our server began treating us like family. From dining here a few years prior, I was familiar with how the servers refer to their guests as their cousins and treat you like that with some comedy sketch aspects. During our dining experience, someone in our party was caught having their elbows on table one too many times and was told they had to sing "I'm A Little Tea Pot" in front of the whole restaurant. Luckily, everyone at our table was up for this experience. Still, if you don't like this experience, we were reminded that it's optional to participate, and you can always tell the Cast Member at the host stand if you don't want to participate in the entire experience with your server at any time.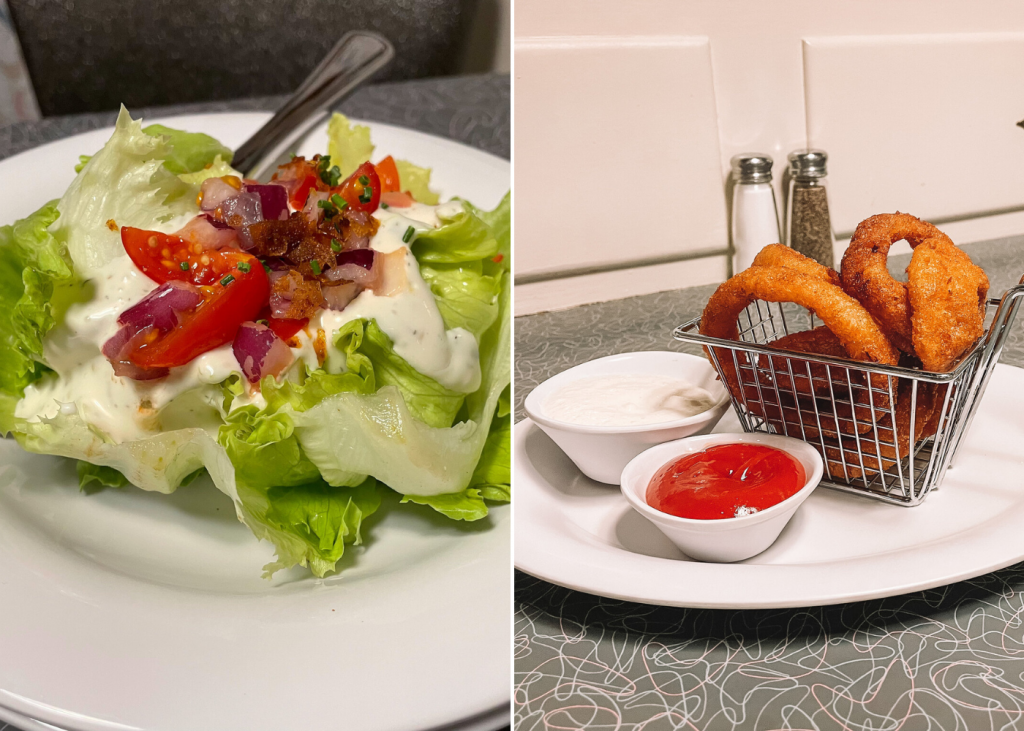 To start our meal, I ordered two appetizers, which were the beer-battered onion rings and Cousin Amy's Iceberg Lettuce Wedge. Both were great options, and we were told the onion rings were the most popular to order. The beer-battered onion rings came with horseradish sauce, and we were told a pro tip was to keep the sauce for our entrees because it pairs well with the pot roast and meatloaf as well.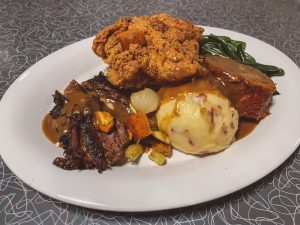 For our entrees, the two of us ordered A Sampling of Mom's Favorite Recipes, which is Golden-fried Chicken, Fork Tender Pot Roast, and Traditional Meatloaf with all the fixins. Ordering this gave me the ability to try three of the entree options all for one price of $28.00 before tax. It did not disappoint and paired deliciously well with the horseradish sauce as our sever had recommended. The other party member ordered Grandpa Jean's Chicken Pot Pie, a Traditional Pastry Crust Filled with Chicken, Potatoes, Carrots, Celery, Onions, Corn, and Peas.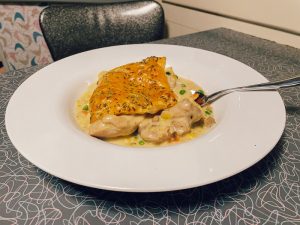 We made sure to clean our how plates; so that way we could earn the specialty sticker from our server! Of course, we had to save room for dessert, and we couldn't pick just one to share, so we went with Dad's Favorite Chocolate-Peanut Butter Layered Cake À la Mode and the Lemon Meringue Pie, lemon curd in a flaky pie shell topped. These both were so flavorful and perfect, in my opinion. One of the best parts of the pie had to be the delicious soft pie crust!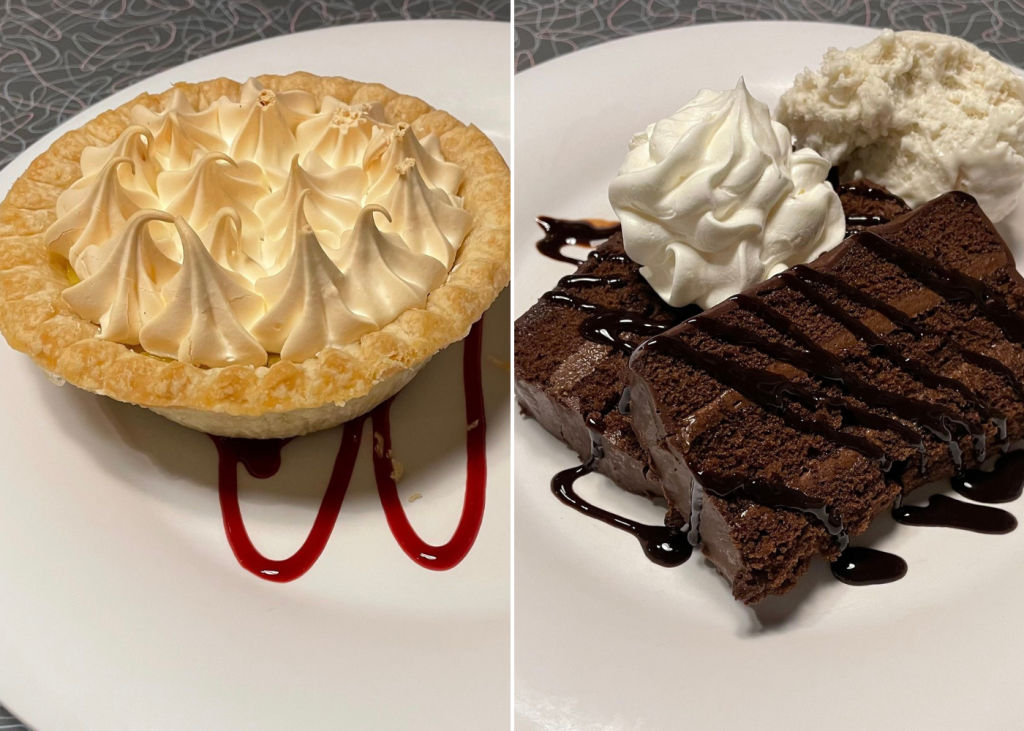 All in all, this dining location is such a unique experience with delicious cuisine. I would recommend this restaurant to any family visiting Hollywood Studios, even if it was just to order a milkshake or a cocktail at Dad's Liquor Cabinet Bar! 
Written by
Bobby Asen
Contributing Writer
Bobby has a strong passion for Walt Disney's stories and the Disney Parks. From taking vacations to the parks, to being an Annual Passholder, to working as a cast member for seven years at Magic Kingdom, his passion for Disney continues to grow. After visiting every Disney Park in the world, Bobby knew he wanted to share his experiences and his love for Disney in his writing.