A Guide To Castaway Cay
All Disney Cruise Line sailings to the Bahamas and Caribbean make a stop at Disney's private island Castaway Cay (pronounced like "key"). In 1997, Disney purchased a 99-year lease for the island from the Bahamian government, which gives them unique control over the land. It really is a perfect piece of paradise that caters to both families and adults. Currently, only about 55 acres of the 1,000 acres on the island are being used. There's so much to see and do on the island, but you usually only get one day there per cruise, so it's important to arrive with as much information as you can.
Getting Around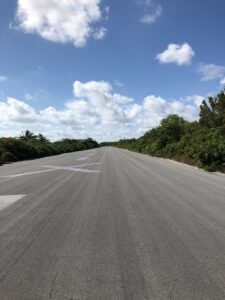 One of the biggest perks of Castaway Cay is that they can pull the ship right up to the dock without having to drop anchor and tender guests to shore. This makes embarking and debarking the ship much easier and much quicker. Once you get off the ship, there's a short walk to the Kargo Handling Tram Stop, where a tram will pick you up and drive you down to two other locations. The first stop is at Scuttle's Cove, where you can access the kids' area, the boating harbor, and many of the shoreside excursions. The second stop is at Pelican Point, which will bring you closer to the main beaches and the dining locations. From the Pelican Point Tram Stop, you can also hop on another tram that will bring you to Serenity Bay, the adults-only area on the island. Another great way to get around the island is to rent a bike. I did this once and was able to bike all the way out to the Observation Tower, which gives you stunning views of the whole cay. Of course, you can walk around the island as well, which is a great way to take in the scenery up close.
Beaches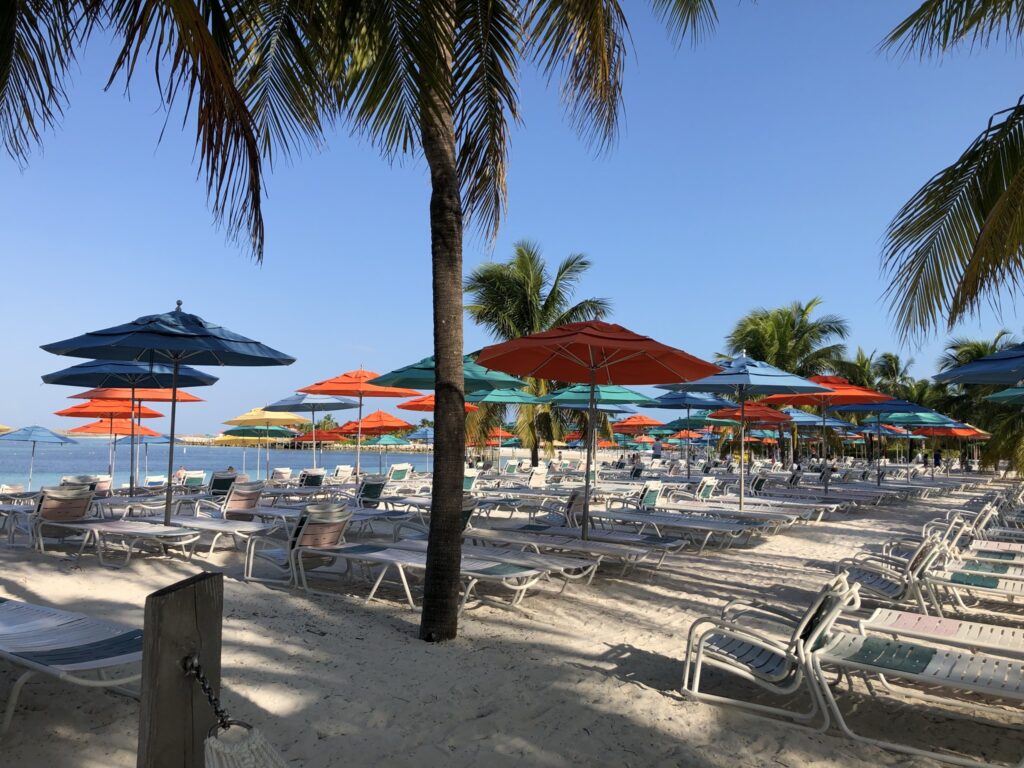 Castaway Cay has miles of pristine beaches that are covered in small seashells, and the crystal-clear water is full of beautiful coral and tropical fish. Honestly, I'm not much of a beach person, so Castaway Cay is the only beach I really enjoy because it's absolutely picturesque. Along the beach, there are lounge chairs and umbrellas for you to make yourself comfortable under. Right now, the chairs are spread apart to promote social distancing and guests are asked not to move them. There are also hammocks near the back of the beach, which are a great place to take a nap. There are private cabanas for rent along the beach, which can be a bit pricey, but they may be worth it if you want to make the most of your day. For guests 18 and older, there is a separate beach on the far side of the island called Serenity Bay. There are lounge chairs and umbrellas in this beach as well, but the area is much more quiet and relaxing than the family-friendly beaches. And don't worry about packing your own beach towels; crew members hand out towels to guests as they disembark the ship. 
Dining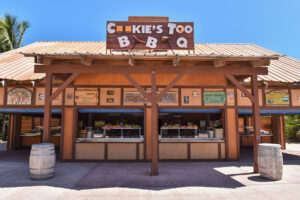 One of my favorite things about a day at Castaway Cay is the food, which is included in your cruise fare. There are two main dining locations on the island- Cookie's BBQ and Cookie's Too. Food is served buffet-style at both locations, and features burgers, hot dogs, grilled chicken, and ribs. It's like a big, classic cookout. Each location also has a covered pavilion where you can sit back and enjoy your delicious food. Over at Serenity Bay, there's also an adult-only eatery. They serve mostly the same food, but they also offer grilled fish and skirt steak. All three locations also have soft serve ice cream machines that you can indulge in. Of course, if you're looking for an adult beverage, there's multiple bars on the island. Plus, servers wandering across the beaches will take your drink order and bring it right back to you.  
Shopping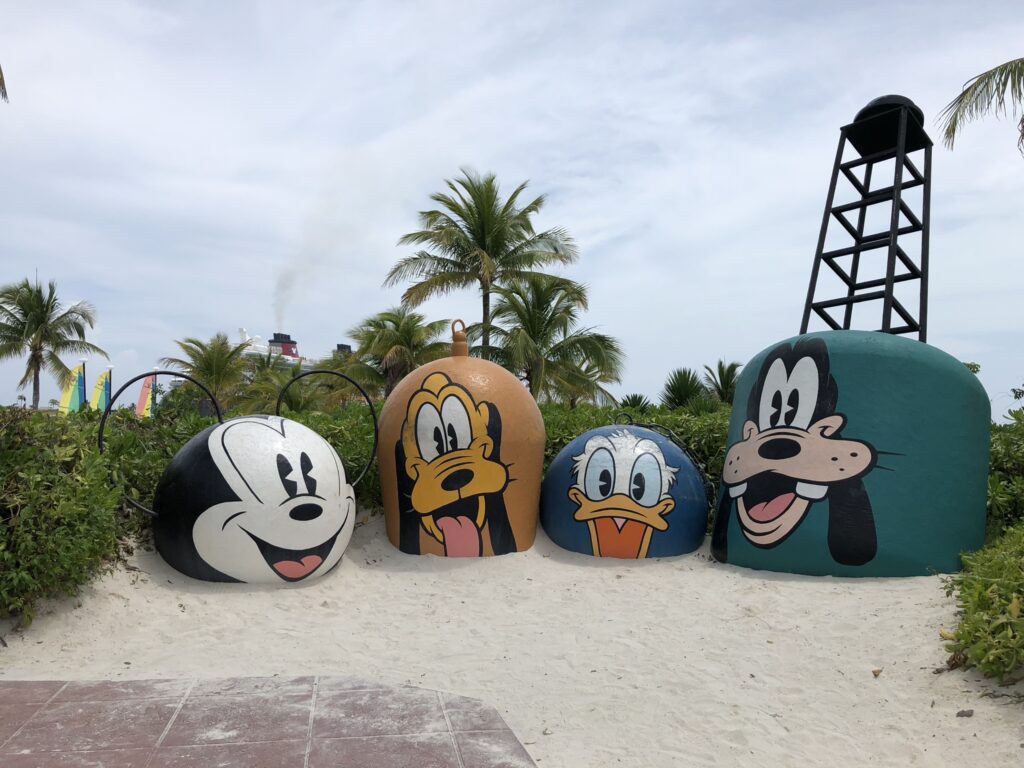 If you're wanting Castaway Cay merchandise, then you're going to have to stop by one of the shops on the island because they don't sell Castaway-specific items on the ships. There are two main retail locations- She Sells Seashells & Everything Else and Buy the Seashore. Both stores sell Castaway Cay logo merchandise, as well as items that you might need for the perfect day at the beach, like sunglasses, sunscreen, and beach towels. There are also Bahamian retailers on the island that sell local products and crafts. Since you're on Disney's private island, you can just use your Key to the World card (your room key) to pay for any merchandise. 
Excursions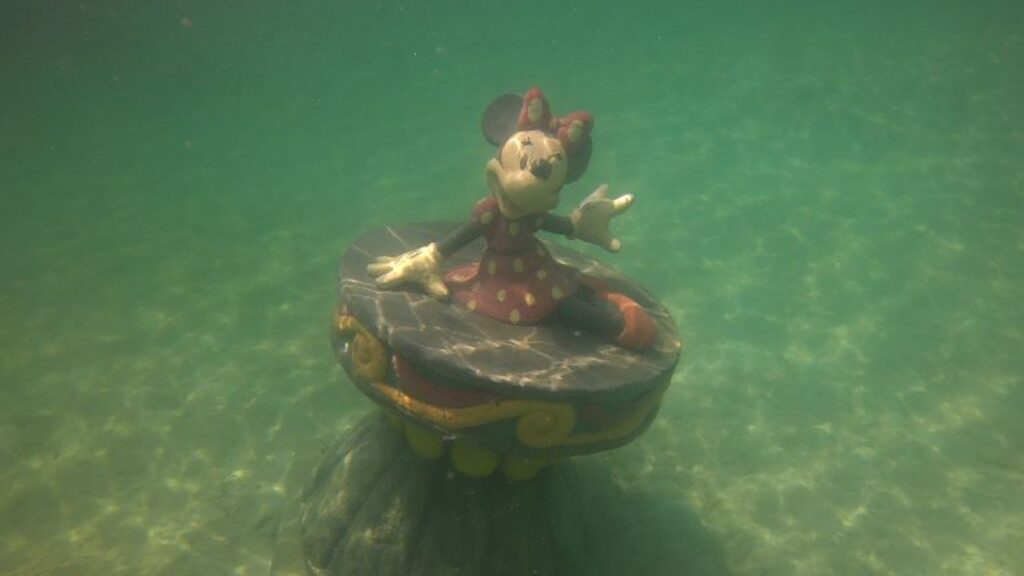 There are so many excursions available on Castaway Cay that I think it's impossible for someone to do them all in their lifetime. My family's personal favorite is snorkeling. You can either rent snorkel equipment to pick up on the island or you can bring your own. The tropical fish, turtles, and coral would be cool enough on its own, but Disney had added in some unique features in their Snorkel Lagoon, like sunken treasure, hidden Mickeys, and the Nautilus from 20,000 Leagues Under the Sea. Another popular excursion is Castaway Ray's Stingray Adventure, where you're able to participate in a stingray feeding session and then snorkel in their lagoon. The island also features a number of water sports, like parasailing, paddle boats, and kayaking. 
Activities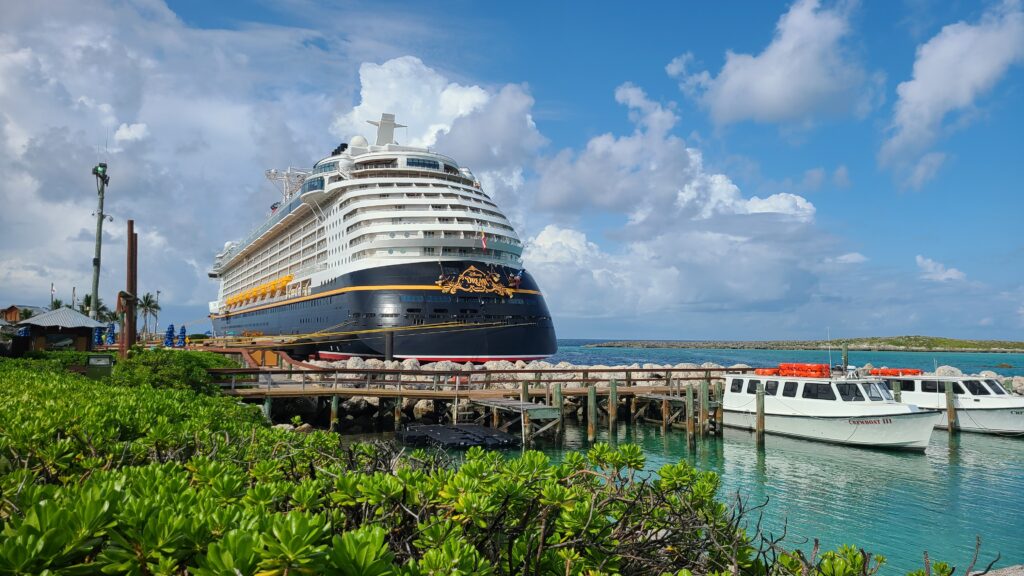 If you don't want to spend money on an excursion, there are still a ton of free activities across the island. For kids', there's Scuttle's Cove, which is their own kids' club on the island that is run by the youth counselors from the ship. Another great area for kids' is Spring-A-Leak, which is an open-air water play area. If you swim away from shore, you'll find Pelican Plunge, which is a water slide that dumps you right into the ocean. If you're looking for more activities on land, there's Monstro Point, which is a whale dig site, and In-Da-Shade Games, where you can play basketball, ping pong, and billiards. The most popular activity on the island is the Castaway 5K, which is completely free and all participants get a complimentary medal when they cross the finish line!
As you can see, there is an abundance of things to do on Disney's Castaway Cay, so you'll never be bored. But it's also the perfect place to sit back, relax, and enjoy the scenery around you. However you decide to spend your day on Disney's private island, I'm sure you won't be disappointed. 
Have you ever visited Castaway Cay? What's your favorite thing to do on the island? Tell us in the comments!
Written by
Erika Lucas
Contributing Writer
Erika has lived in Orlando her whole life, so she was practically raised at Walt Disney World. While in college, she worked for Disney in roles ranging from character attendant to VIP tour guide. Nowadays, she spends her days planning her next trip to the parks or dreaming about setting sail on another Disney Cruise.