Enjoy classic Italian fare at Disney Hollywood Studios's neighborhood pizzeria owned and operated by a Muppet: PizzeRizzo.
PizzeRizzo Details

| | |
| --- | --- |
| Walt Disney World Park: | Disney's Hollywood Studios |
| Location in Park: | Grand Avenue |
| Dining Experience: | Quick Service |
| Hours: | 11:00 AM to 5:00 PM |
| Price Range: | $14.99 and under |
| Type of Cuisine: | Italian |
| Mobile Order: | Yes |
| Reservations: | No |
| Allergy-Friendly: | Yes |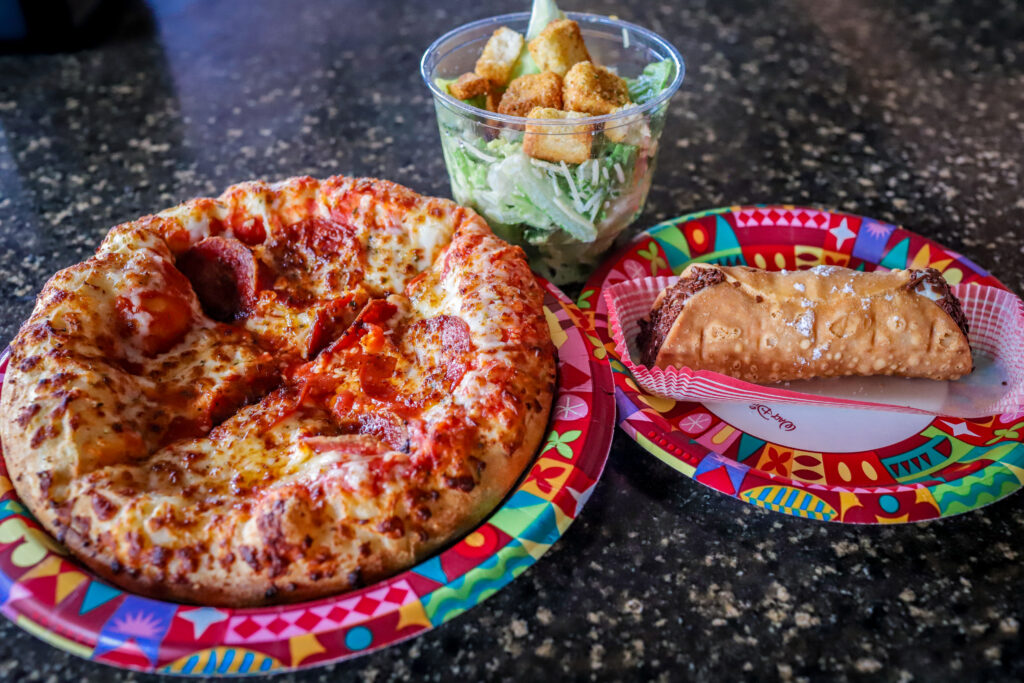 Overview
PizzeRizzo is a quick service dining location near Muppet*Vision 3D. This Brooklyn-style pizza joint is run by Rizzo the Rat and his family. Rizzo's family traditions can be seen throughout the decor and food options at this classic pizzeria.
At PizzeRizzo, you can choose from a selection of personal-sized pizzas. The pizza options include: Pepperoni, Pepperoni and Sausage, Vegetable, and Cheese. If you are looking for something other than pizza, there is a Meatball Sub on the menu. All entrées are served with a side Caesar Salad. for a lighter option, you can get the Antipasto Salad which is ham, salami, pepperoni, kalamata olives, mozzarella, tomatoes, pepperoncini peppers, and red onion on a bed of chopped romaine lettuce with a house vinaigrette. This salad is tossed-to-order.
There are plenty of different seating options at PizzeRizzo because it two-stories. Throughout the upstairs and downstairs, there are booths and tables that are sure to accommodate the whole family. There is also outdoor seating on a large patio on the first floor and a balcony on the second floor. Perhaps the most fun spot to eat at PizzeRizzo is Rizzo's Deluxe Supreme Banquet Hall upstairs. In the Banquet Hall, a wedding reception is going on so when you finish your pizza, you can head to the dance floor and dance to some wedding greatest hits!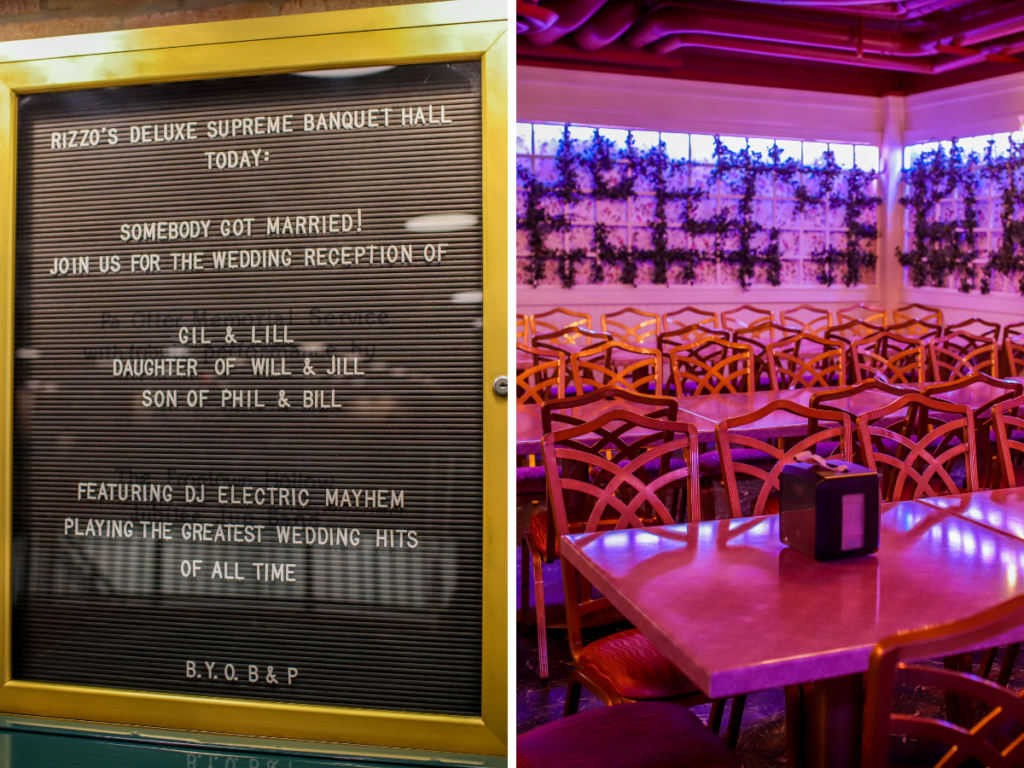 Menu
Entrées
Pepperoni and Sausage Pizza – $11.49
Topped with Sausage and Pepperoni served with choice of Side
Pepperoni Pizza – $10.99
Pepperoni Pizza served with a choice of Side
Vegetable Pizza – $10.99
Vegetable Pizza topped with Mushrooms, Peppers, Onions, and Tomatoes served with choice of Side
Cheese Pizza – $10.49
Cheese Pizza served with choice of Side
Meatball Sub – $10.49
Hoagie Roll stuffed with Seasoned Meatballs and smothered in Marinara Sauce and Provolone served with a choice of Side
Antipasto Salad – $10.79
Ham, Salami, Pepperoni, Kalamata Olives, Mozzarella, Tomatoes, Pepperoncini Peppers and Red Onion all Tossed-to-order with Chopped Romaine and House Vinaigrette
Plant-Based
Spicy Italian "Sausage" Sub – $10.49
Oven-roasted Sweet Bell Peppers, Savory Onions, and Mushroom Medley with Marinara Sauce served with choice of Side
Sides
Side Caesar Salad – $3.79
A Cuties® Mandarin – $1.99
Mini Babybel® Snack Cheese – $3.49
Kids' Meals
Mini Chicken Sub – $7.49
Cheese Pizza – $7.29
Pepperoni Pizza – $7.79
Macaroni & Cheese – $6.29
*All Kids' Meals are Served with Strawberry-flavored Yogurt Smoothie, a Cuties® Mandarin, and choice of Small Lowfat Milk or Small DASANI® Bottled Water.
Desserts
Cannoli – $5.29
Strawberry Cheesecake Cannoli – $5.29
White Chocolate and Rainbow Sprinkle-dipped Cannoli Shell filled with Whipped Strawberry Cheesecake
Allergy-Friendly
There are Gluten/Wheat, Egg, Fish/Shellfish, Milk, Peanut/Tree Nut, and Soy allergy options available.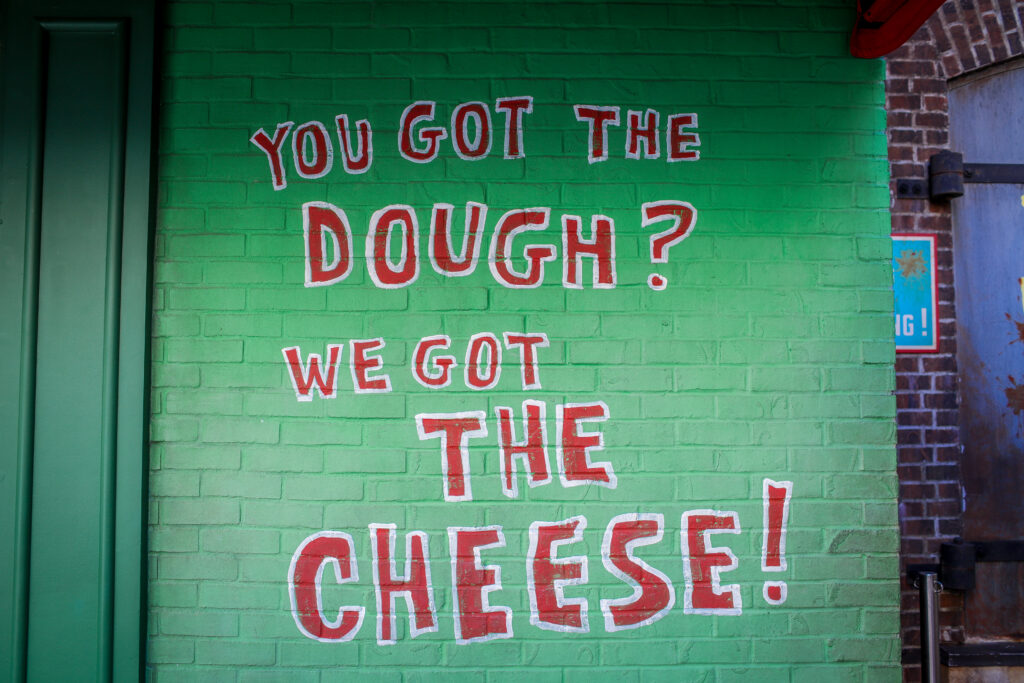 Map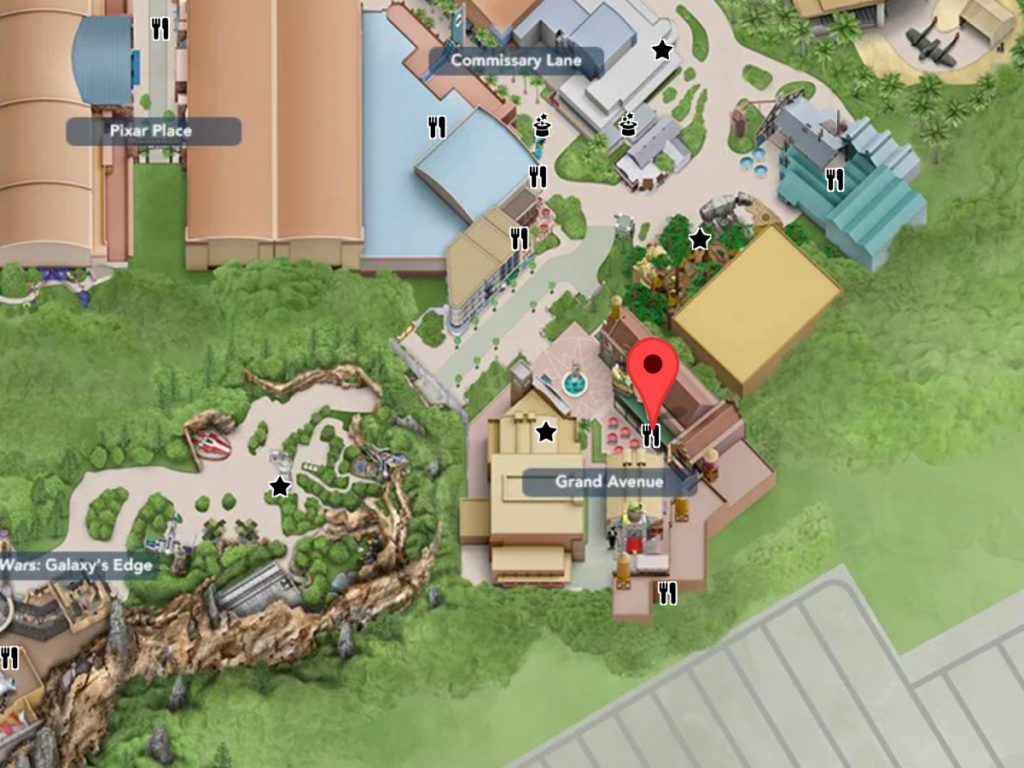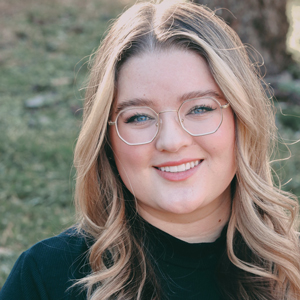 Written by
Emily Murray
Contributing Writer
For as long as Emily can remember, Disney has played a huge role in her life. Her infatuation with Disney resulted in many hours spent rewatching Toy Story and creating multiple powerpoints to convince her parents to book yet another vacation to the "Most Magical Place on Earth". In 2015, Emily followed one of her dreams and moved to Orlando, Florida where she spent just over five years working for the mouse in three separate roles. Emily is passionate about writing and using words creatively and concisely. She loves to make others laugh and hopes to sprinkle a little bit of magic into everything she does.