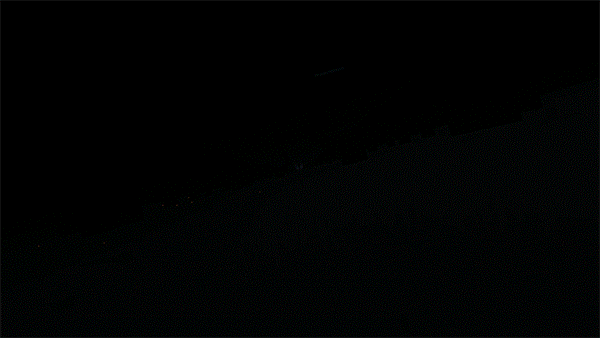 What hectic day it has been! As we reported recently, TRON Annual Passholder Preview Registration opened this morning to considerable fanfare, and what a wild ride it was! Let's take you through our day, how we were able to secure a preview date, and give you more details regarding the preview event dates that we haven't seen posted elsewhere. Let's dive right in!
Waiting To Join The Waiting Room
Knowing that the virtual queue was opening at 9 AM Eastern time today, and not wanting to wait on Disney's e-mail system to send our link, we were scouring the internet trying to find the virtual queue link. We were able to find the link at about 8:40 AM, which brought us to a pre-waiting room that promised to automatically add us to the "waiting room", which is what Disney is calling this virtual queue-type system for preview registrations.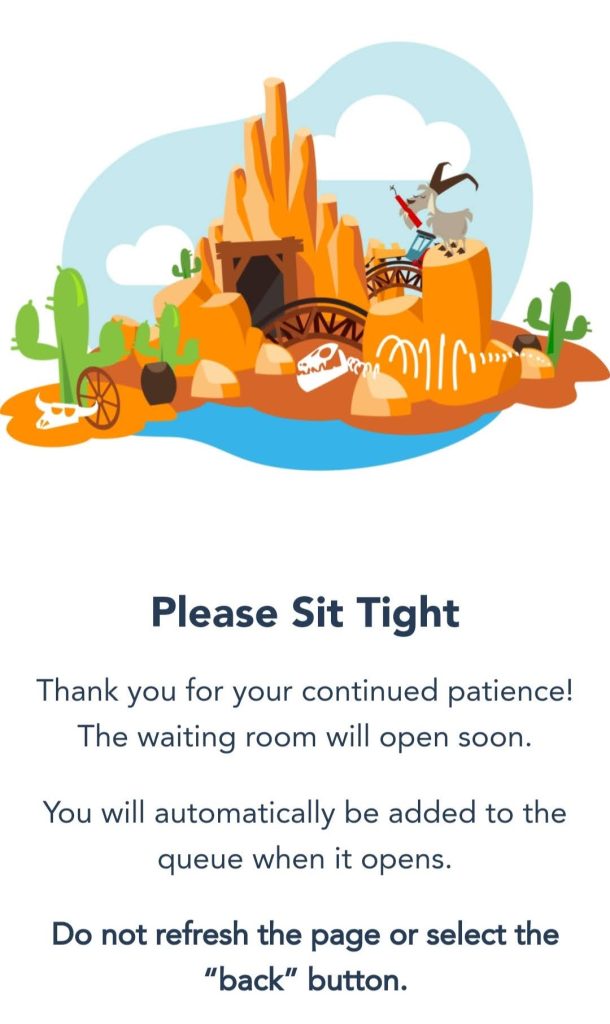 We sat patiently staring at this page for the next 20 minutes until finally, the waiting room opened, and we were automatically added to the queue, as promised.
Joining The Waiting Room
Now the real fun begins! Waiting to see if the Disney overlords will smile upon us today and allow us to partake in this once-in-a-lifetime experience of previewing this attraction that has been almost 5 years in the making. So, we waited, and waited…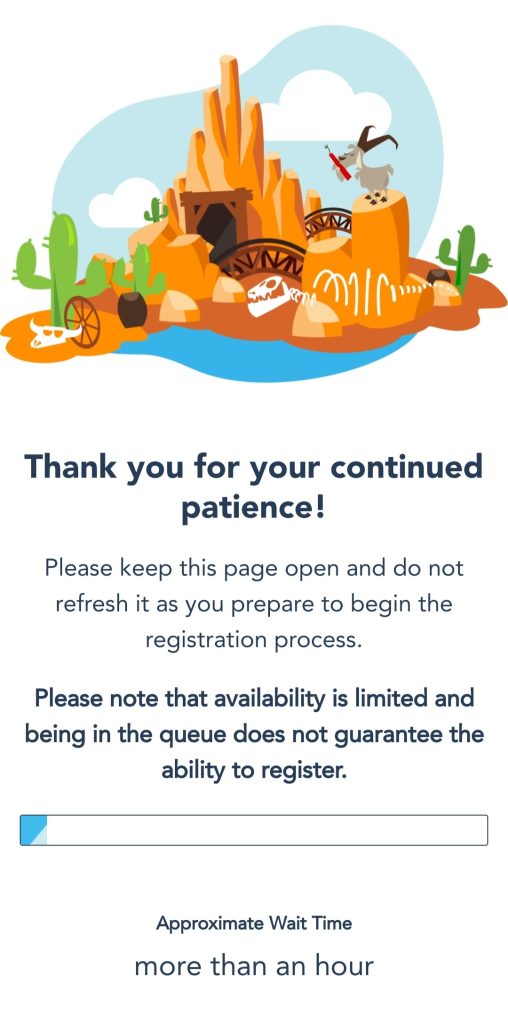 Over the course of our wait, we saw the counter bounce around, seemingly not able to make up its mind. It sometimes showed a specific time, then randomly bounced back to over an hour wait time.

Finally, as we saw the wait time decrease must faster than what was shown on our screen, we were greeted with the "It is your turn" page! So close!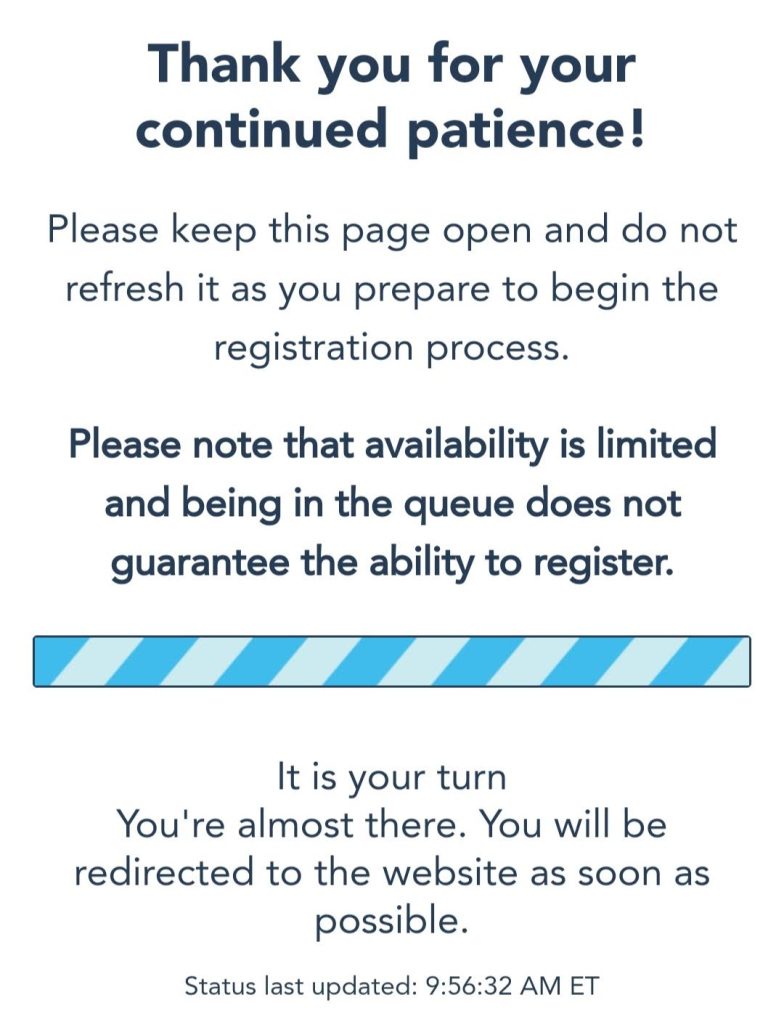 After waiting for almost an hour in the waiting room, it was finally our turn to book our preview! I guess our Dole Whip offering at our alter of Mickey Mouse last night really did paid off!
Reserving Our Preview Dates
Now it was a mad dash to get our plans in a row. We knew we wanted to be some of the first annual passholders to ride this attraction, and we knew our pricey Incredi-pass annual passes would allow us to book March 4th, 2023. So, we dove head first into the process.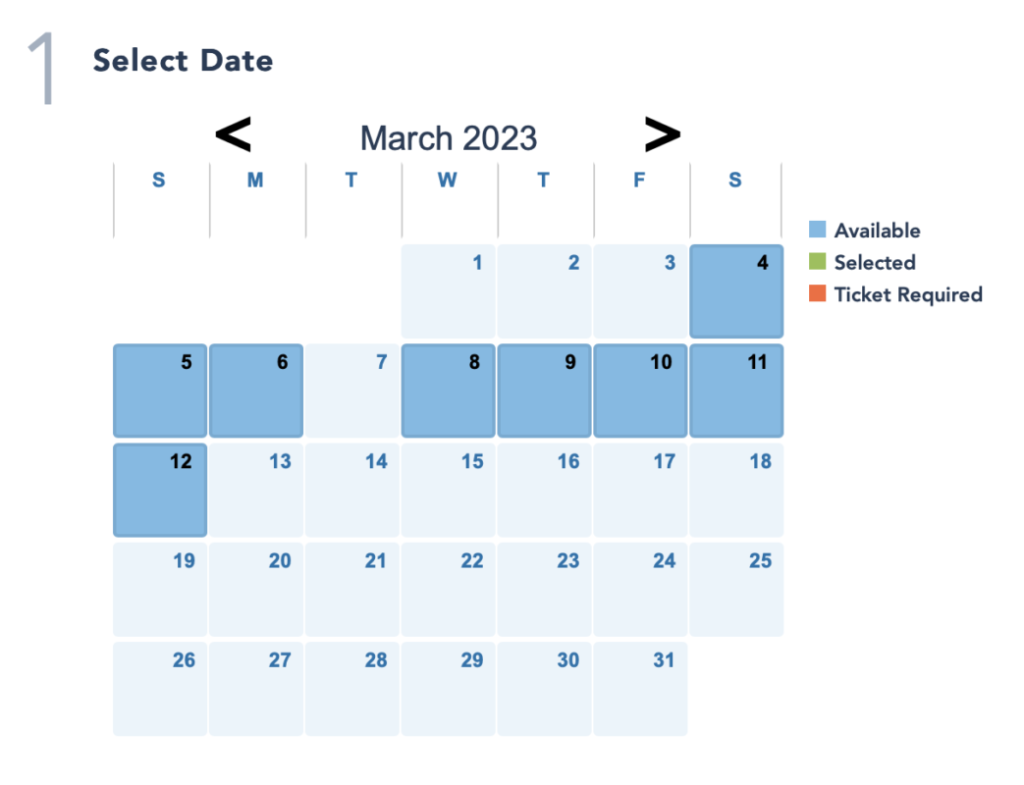 Once we selected our date, we were given the option to choose a time of day to preview the attraction. We couldn't resist the 6:00 PM to 7:00 PM time slot, knowing that this attraction will be amazing to ride in the dark with its fully illuminated canopy.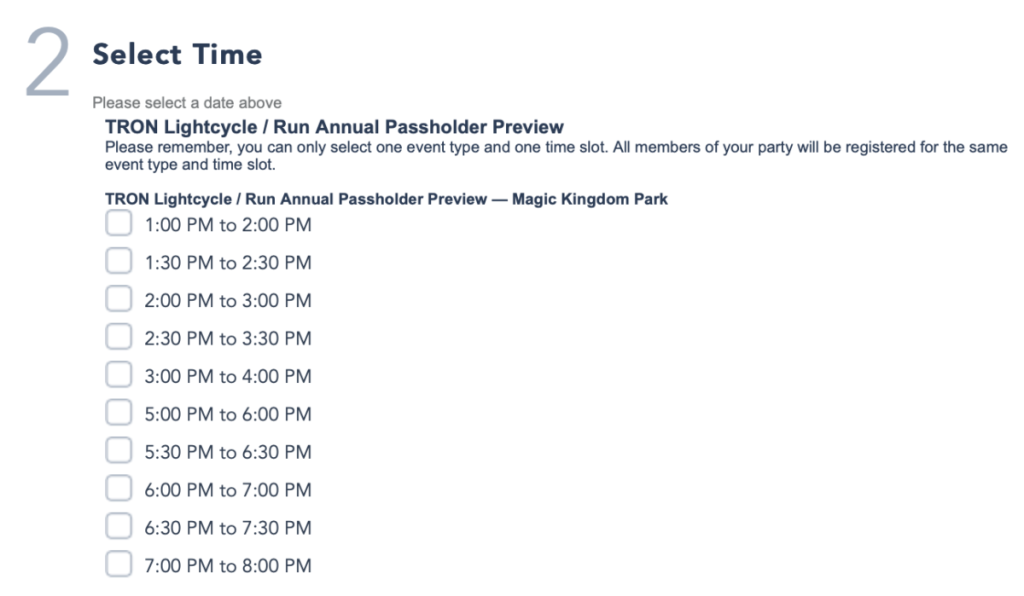 Confirming Our Preview Date & Time
And just like that, our journey to register for a preview was complete! We were brought to a confirmation page that showed the details of our preview date, and shared some additional information about the event that we will place in the next section of this article.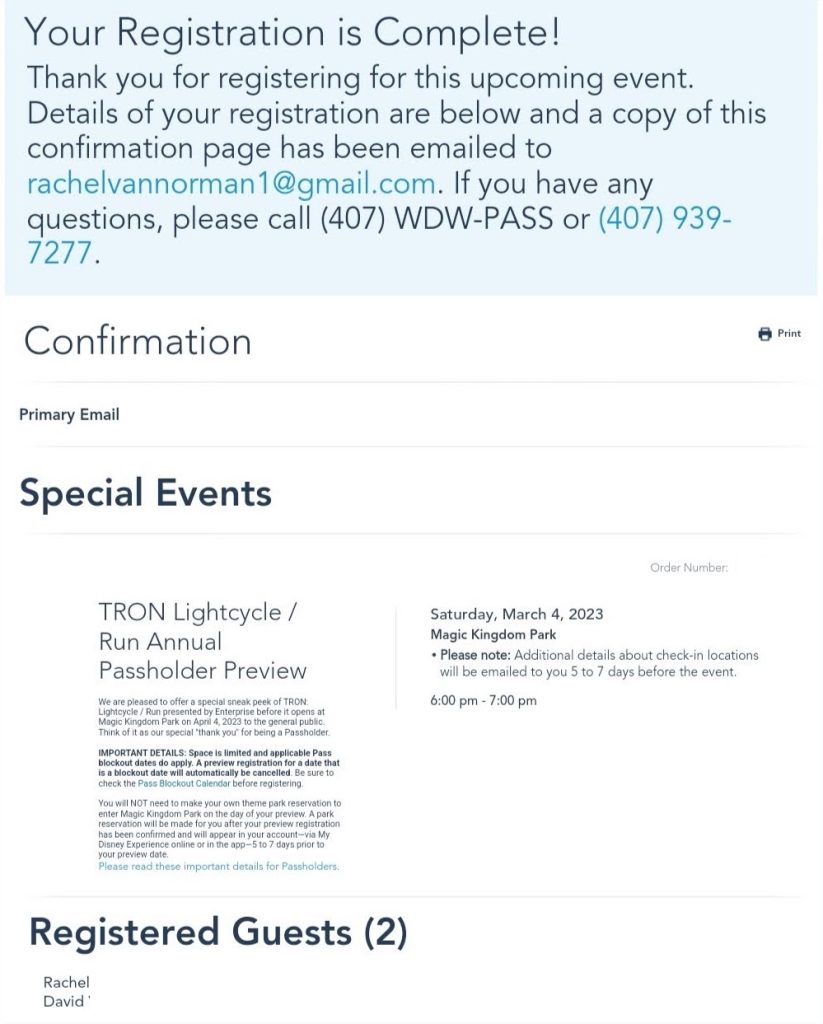 Some of our colleagues were not as fortunate, and after waiting for many hours, finally received notification that the event was completely full. I guess they'll be making Park Pass Reservations for early April to get their first experience with this new attraction at Magic Kingdom.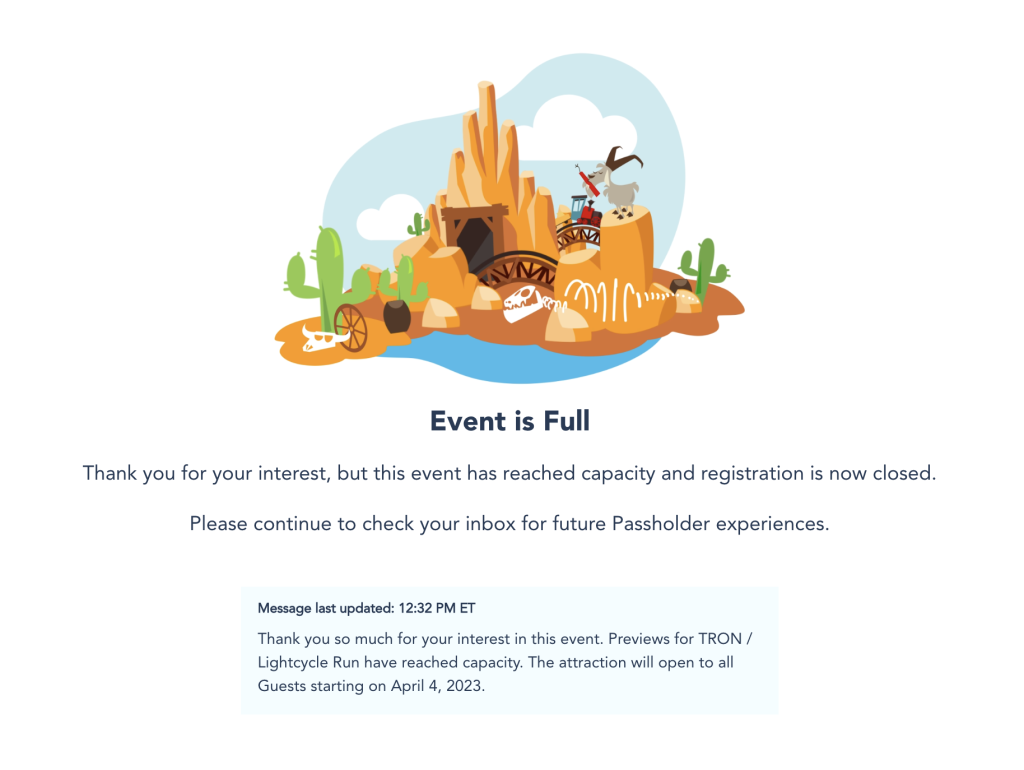 Event Information
On our confirmation, we received some handy information that should help others navigate their preview days without any additional hassle. We've posted that information below:
TRON Lightcycle / Run Annual Passholder Preview
What to Bring to the Event
Valid Annual Pass and a government-issued photo ID for each registered Passholder
One printed or digital copy of your confirmation page
Registration
A valid Walt Disney World Annual Pass is required for park entry. Applicable pass blockout dates apply
A preview registration for a date that is blocked out for your Pass type(s) will be automatically cancelled
Advance preview registration required. A valid, activated Walt Disney World Annual Pass is required to register
Capacity and space are limited. Entry is not quaranteed. Registrations are valid only during specific preview dates and hours
You will NOT need to make your own theme park reservation to enter Magic Kingdom Park on the dav of your preview. A park reservation will be made for you after your preview registration has been confirmed and will appear in your account-via My Disney Experience online or in the app – 5 to 7 days prior to your preview date
If you would like to register another Walt Disney World Annual Passholder to accompany you, that Passholder must have a valid, activated Annual Pass, be listed on your Family & Friends list and have opted to share "All My Plans" with you
Modifications to a registration will not be permitted
Please check blockout dates for each Pass type you are registering
Registration and entry are non-transterable and void if sold or otherwise transferred
Passholders with a confirmed reservation will receive an additional email with details on how to check in tor their reservation approximately 5 to 7 days in advance of their selected event date
Registered Passholders may experience wait times for the attraction during this event
Parks, attractions and other offerings are subject to availability, closures and change cancellation without notice or liability
What Are Your Thoughts?
Were you lucky enough to snag a preview date? Did you strike out like many other annual passholders did today? Let us know your thoughts and your experience with the preview registrations in the comments section below.
As always, stay tuned to the DVC Shop blog for all the latest developments for Disney theme parks and Disney Vacation Club resorts.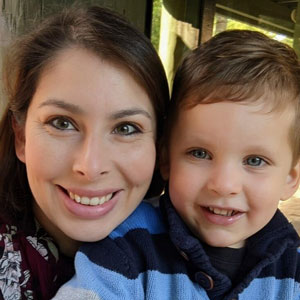 Written by
Rachel Van Norman
Contributing Writer
Rachel fell deeply in love with all things Disney as a little girl. Now as a wife and a mother herself, she shares this Disney obsession with her son and everyone around her. From her love of princesses to eating all the Disney food, Rachel spends her time radiating Disney magic and keeping everyone up to date on Disney news.