Avengers Campus in Disney California Adventure park is approaching its one-year anniversary! Since its opening, Marvel fans have enjoyed attractions, stunt shows, food items, and shopping for souvenirs themed to their favorite Marvel movies.  Superheroes like Iron Man, Captain Marvel, Black Widow and Thor stand ready to greet their biggest, and smallest, fans at Avengers Headquarters and the Ancient Sanctum located within the Avengers Campus. Guests will also find Doctor Strange, Ant-Man, The Wasp, and The Guardians of the Galaxy in this portion of Disney California Adventure. Now, super fans can meet one more superhero whose miniseries was recently released on Disney+. Who is Moon Knight and when can see him at the Avengers Campus?  Let's explore below.
Who Is Moon Knight?
Superhero Moon Knight is known as two separate identities in present time. Steven Grant is an easy-going gift shop employee and Marc Spector is a mercenary who died, but was revived by Egyptian god, Khonshu, giving him immortal powers to protect the innocent.  Steven begins to experience blackouts and memories from another life, making it difficult for him to decipher his dreams and reality. Once he discovers he has Dissociative Identity Disorder and shares his body with Marc, he experiences the difficulty of navigating both worlds and avoiding enemies of both lives. So far in the series, Moon Knight has appeared when Steven refuses to give over power to Marc and the powers he possesses, appearing in a white mask with glowing eyes, a white suit resembling an Egyptian mummy, and white-wrapped shoes.
The plot of Moon Knight achieves darker and more psychological depths than previous material created by Marvel and the complexity of the story seems to be what is fascinating fans of this new miniseries. The first episode was released on March 30, 2022, with one new episode being released each week. Season 1 consists of 6 total episodes, scheduled to conclude on May 4, 2022. Viewers have given praise to what they have seen so far and hope there be a season 2!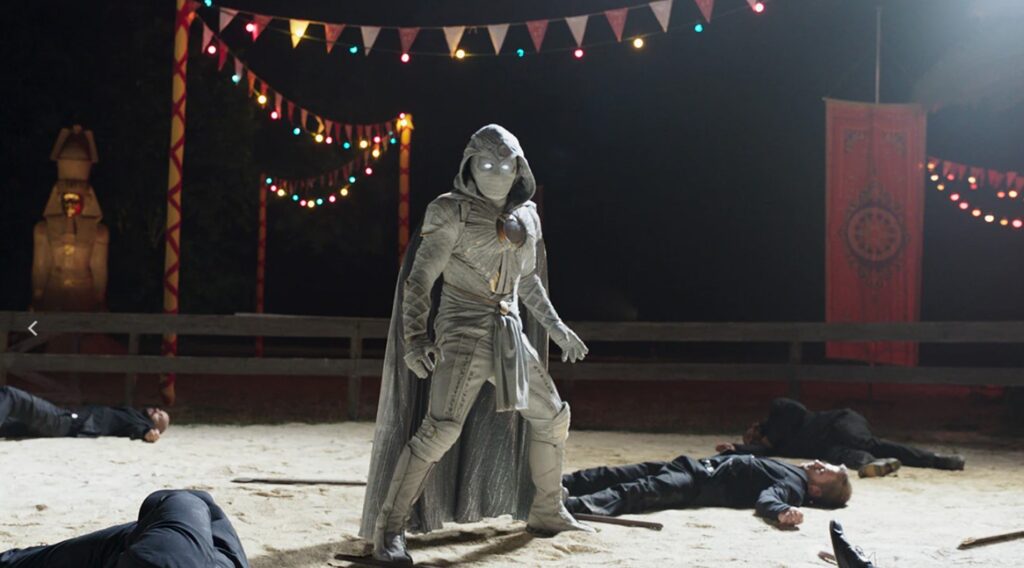 Mr. Knight At Disney California Adventure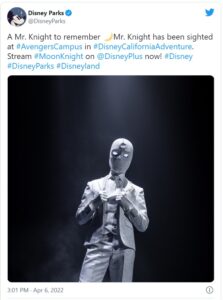 Given the show's immediate success, Disney advertised that Mr. Knight would join the other superheroes at the Avengers Campus at Disney California Adventure, but gave no specific date. Mr. Knight is the public-facing identity of Moon Knight when he interacts with figures such as police officers when discussing details of a crime. Last week, Disney Parks announced his official arrival on their social media outlets after the release of Moon Knight episode 2 on April 6, 2022. He is found after nightfall in the Avengers Campus which is located between Hollywood Land and Cars Land.
Are you a Marvel fan? Have you visited the new Avengers Campus at Disney California Adventure? Which character would you like to see added next to the Avengers Campus? Let us know in the comments below!
Feature Photo Courtesy of Disney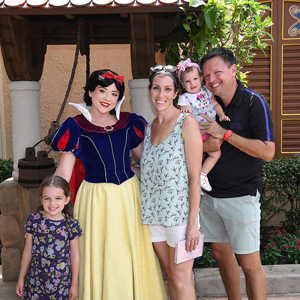 Written by
Shelley Wehler
Contributing Writer
Shelley is a stay-at-home mother of two girls living outside of Charlotte, North Carolina. Her love of all things Disney has grown even more as she sees the magic come alive through the lens of her young daughters. She spends her free time keeping up with the latest in Disney news and daydreaming of her next trip to the parks!