It's no secret that the Walt Disney Company likes to give back and work with the community to make the world a better place. From small acts of pixie dust while you're in the parks to granting all-expense paid trips to mouseketeers who are braving a difficult illness to preserving animal species, the magic of Disney extends far beyond Mickey Mouse and Cinderella Castle. In 2012, the Walt Disney Company dedicated themselves to a nationwide effort of transitioning our courageous veteran families from the military to civilian life. The U.S. Chamber of Commerce Heroes Work Here initiative was announced in March of that same year, committing to helping service members and their spouses use their valuable skills and experience to find jobs.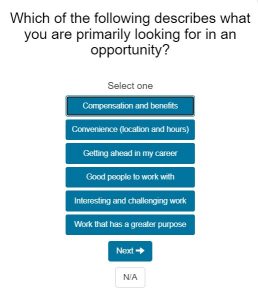 The Disney Careers Heroes Work Here webpage links veterans to other websites and resources that assist in helping with the transition. There is also a search option to filter available job openings according to your Armed Forces career area and rank as well as the country and state in which you are looking to work. Afterwards, you'll be presented with hundreds of job openings from which you can filter and apply to the postings that most appeal to you. If you are not sure how to identify your skills or what is most important to you in a job, there is a short survey that can help point them you in the right direction. Pre-recorded videos and presentations covering the transition, networking, resume writing, personal branding, and interviewing, are also available on the homepage and provide valuable tips for changing careers.
Through the Heroes Work Here initiative, the Walt Disney Company along with other corporations across Florida and the nation are able to offer 12-week fellowships to transitioning military personnel. Fellows gain valuable paid work experience and time to consider if a career in that field is the right avenue to take after military service. In July 2022, Disney hosted 30 of these fellows in person and another 30 people virtually for a day of networking and round table discussions, providing insight and advice in the post-service job hunt.
This month Disney will host 2 additional opportunities for transitioning service members. On August 10, 2022, transitioning military families can attend a Virtual Career Fair Town Hall. Here, veterans who have had success working for corporations share valuable recommendations for beginning your civilian career.  The town hall will serve as preparation for a 2nd event later this month and can be viewed by using the ABC7NY app on Roku, FireTV, Apple TV and Android TV. On August 31, 2022, Hiring Our Heroes Virtual Job Fair will take place allowing job-seeking veterans to network and interview with companies from a variety of industries.  Registration is open to both job-seekers and employers.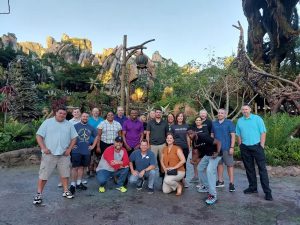 While the Walt Disney Company willingly hires veterans themselves, they also dedicate time to educating other businesses and corporations to improve their own recruiting and hiring of veterans through the Veterans Institute Summit. This complimentary virtual event will be held August 19-20, 2022. If you are unavailable on those dates, registered attendees will receive the shared resources and videos on-demand at the conclusion of the summit.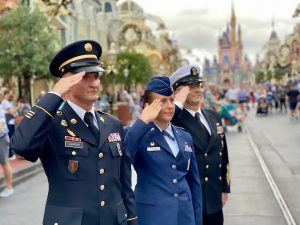 Helping our service members transition to civilian life is a priority of the Walt Disney Company and many others corporations who participate in the U.S. Chamber of Commerce Heroes Work Here program. Do you know anyone that would be a good candidate for Heroes Work Here? Does the company you work for participate in the U.S. Chamber for Congress Heroes Work Here program? Be sure to let them know of the opportunities to explore the careers and resources available with this special initiative. And if you come across a veteran working during your Disney Parks vacation, be sure to thank them for their service!
Feature Photo by Disney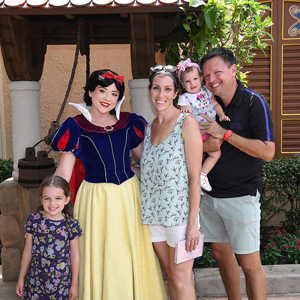 Written by
Shelley Wehler
Contributing Writer
Shelley is a stay-at-home mother of two girls living outside of Charlotte, North Carolina. Her love of all things Disney has grown even more as she sees the magic come alive through the lens of her young daughters. She spends her free time keeping up with the latest in Disney news and daydreaming of her next trip to the parks!