If you've had your eye on "traveling" aboard the new Star Wars: Galactic Starcruiser and you're a DVC Members, you're in luck! From today until October 9th DVC Members get to be the first guests eligible to book into this exclusive and immersive experience at Disney World. Bookings for the general public do not open until October 28th.
The Galactic Starcruiser is Disney's newest resort hotel opening in 2022. But it's much more than a hotel. The Starcruiser promises to be an immersive voyage into space experience which includes:
2 night stay in a cabin or suite
Continuous interactive entertainment, where your choices determine your experience
Food and beverages on the starcruiser (except alcohol and specialty beverages)
Quick service meal at Docking Bay 7 Food and Cargo or other select Disney's Hollywood Studios dining locations
Admission to Disney's Hollywood Studios
Valet parking
Exclusive Star Wars: Galactic Starcruiser DataBand (MagicBand)
Point Charts
The Starcruiser point charts have been released and here's how many points it will cost you to book your 2-night voyage.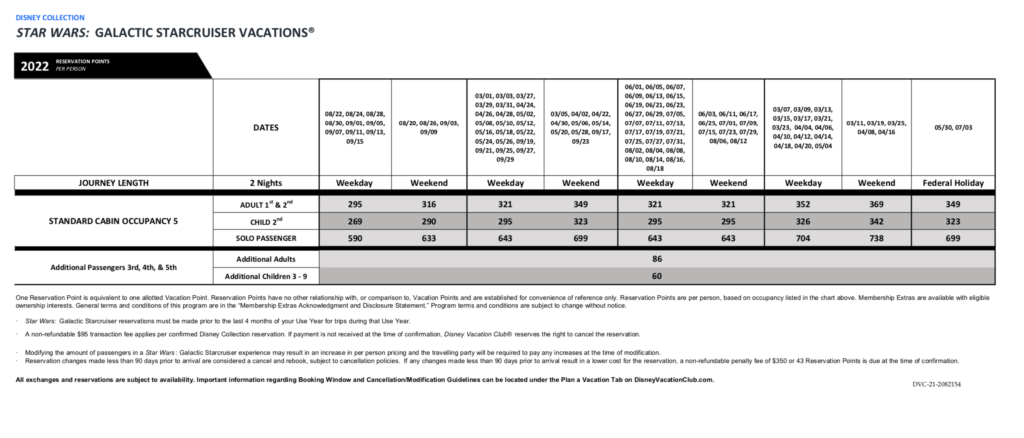 That's right, for one adult it'll cost a whopping 295 points to stay a in a standard cabin!
To book your stay aboard the Star Wars: Galactic Starcruiser, contact member services at (800) 800-9800
Will you be booking a stay on the new Star Wars: Galactic Starcruiser? Is 295 DVC points worth it? Share your thoughts in the comments below.
Written by
DVC Shop Editorial Team
DVC Shop Editorial Team