What better way to conclude a day in Disney World than by visiting Disney Springs for a beverage? There are 68 restaurants and bars/lounges in Disney Springs, offering every type of theming and cuisine imaginable. Guests can enjoy a drink (alcoholic or non) and perhaps an appetizer while enjoying the lively ambiance of Disney Springs. 
To find the perfect spot for your next Disney libation, check out our list of fun places in Disney Springs to get a drink.
The Edison
In the Landing section of Disney Springs, you will find The Edison. You'll think you stepped into a steampunk 1920s electric company, complete with iron gears and posts, gold accents and vintage light fixtures. 
The Edison offers a lively and unique setting, and frequently features live entertainment. Guests can catch a performance of The Pearl Street Players house band playing Gatsby-inspired blues; or burlesque dancers in flapper-style attire; or even aerialists dazzling guests with high-flying performances. There is no shortage of entertainment to pair with your refreshments.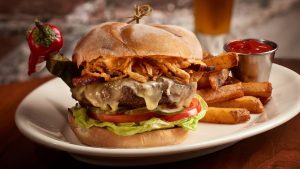 The menu features signature craft cocktails, beers, ciders, wine, "Old Timey Sodas" and Zero Proof specialties, as well as a tasty selection of entrees and appetizers. The DB "Clothesline" Candied Bacon is an amusing and tasty starter. If you're feeling adventurous, try the Mixologist Creation cocktail which is created at the discretion of the talented mixologist cast member!
Jock Lindsey's Hangar Bar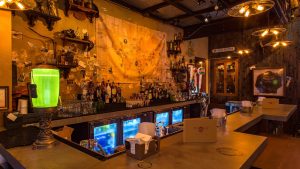 Just down the road from The Edison, guests will find a completely different kind of setting in Jock Lindsey's Hangar Bar. This is a must-do for fans of the Indiana Jones series: taking its backstory straight from Raiders of the Lost Ark, this lounge is an "airplane hangar-turned-dive bar" with its pilot now the proprietor. 
Perhaps the most fun part of visiting Jock Lindsey's is admiring the decor: it is a veritable treasure trove of artifacts, spare airplane parts, equipment, maps, artwork and hidden nods to the movies. The setting is casual, fun and can be enjoyed by families as well. 
There's no shortage of "elixirs," beers, wines and tasty bites to share here. Guests can order from an extensive beverage menu that includes non-alcoholic specialties and many cleverly-named cocktails, such as "Reggie's Revenge.". If you visit during Happy Hour (Monday-Friday from 12pm-3pm) try the specialty cocktail of the week or order the iconic "Air Pirate's Pretzel" which comes with a side of Spicy German Mustard and Beer-Cheese Fondue. 
Raglan Road Irish Pub and Restaurant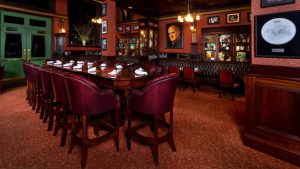 For a rousing good time, head over to the award-winning Raglan Road Irish Pub and Restaurant for a brew–and stay for the entertainment! Serving up Irish fare, drinks and hospitality every day, Raglan Road is the Disney Springs destination for an Irish pub experience with lively entertainment.
Raglan Road features live music and dance performances every night. Entertainers include singer-songwriters, bands and Irish dancers performing on the Main Stage or the Patio Stage. Guests can sit in the dining room areas or at the bar indoors, or sit at the outdoor patio (which is my personal favorite on a pleasant summer night!). 
The food menu features Irish entrees and sides, such as the famous Fish & Chips or "Shepherd's to Die for Pie." Guests will also find an extensive beverage menu featuring bottle, can and draft beers (or beer flights); whiskey flights; cocktails; Irish whiskey; Scotch whisky, American whiskey and wines. 
City Works Eatery & Pour House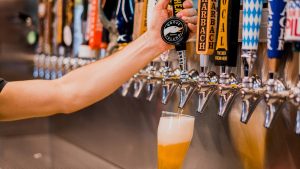 For the sports fan, City Works Eatery and Pour House offers the ultimate game-watching experience. This restaurant and bar is the perfect place to go watch a game, enjoy classic American fare, and perhaps indulge in one of the 90+ local and global varieties of tap beers available. 
City Works boasts gigantic high-definition TVs and state-of-the-art A/V, providing a view of the game whether you're seated at a table or the bar. If you prefer, enjoy your beverage on the outdoor patio and enjoy the ambiance of Disney Springs' West Side.
Guests might have a tough time deciding between the many beers that include Goldens, Ambers, Browns, Lagers, Belgians, Wheats, Pale Ales and IPAs, Stouts and Porters and more. If you just can't decide, try one of the Beer Flights to sample several varieties. The beverage menu also features Mules, specialty cocktails, ciders, seltzers and wines. If you're feeling hungry, order a tasty starter or entree from the chef-crafted menu.
Wine Bar George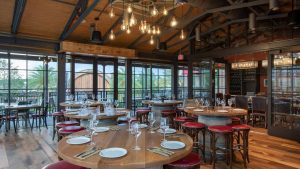 Visit this upscale estate-style wine bar to try a food and beverage menu that has been expertly curated by Master Sommelier George Miliotes. You'll find over 200 varieties of wines by the glass, ounce or bottle, as well as a full food menu and excellent service. This is a great spot for a relaxing evening people-watching from the outdoor terrace, or even a romantic date night!
The award-winning wine menu features wines from infamous and up-and-coming wineries from many different regions. No need to fear if you're unsure what to order, as the cast members here are both helpful and knowledgeable. The beverage menu also features several tasty Mocktails, including the refreshing Orgeat Lemonade. Pair your beverage with a small plate starter or a cheese/charcuterie board for a tasty combination. 
Where is your favorite place to grab a beverage in Disney Springs? Let us know in the comments below!
Featured photo by Disney.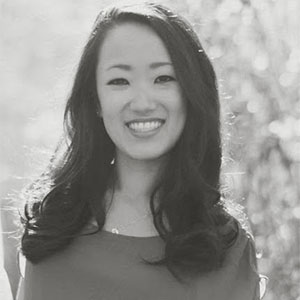 Written by
Leia Cullen
Leia is a proud mom of two boys. She has been in love with Disneyland and Disney World since her first visit to the parks many years ago, and she continues to relive the magic now with her family. She is passionate about creating helpful content that shares news or information about all things Disney, in the hopes it helps others create their own magical moments.