If you've booked a Disney Cruise that is longer than three days, there is a good chance that you have at least one Day at Sea. Whether you want to spend your day relaxing or filling it with activities, Disney makes sure you have plenty of options. Let's take a look at five of the best ones. 
Bump into a Disney Character
Character interactions aboard Disney Cruise Line are truly exceptional. While Meet-and-Greets are scheduled daily, you can often find characters hanging out around the ship without any notice. On your sea day you may find Mickey warming up on the running track or a princess wandering the halls!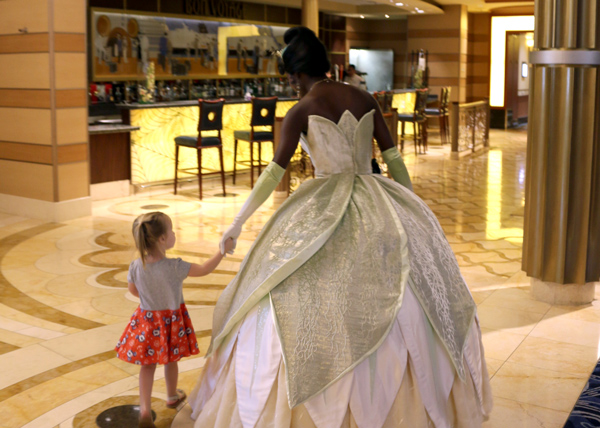 Send Your Kids to the Kids' Clubs
One of best, arguably the best part of sailing with Disney Cruise Line, is the ability to send your kids to have their own adventure while you enjoy the adult spaces on the ship. For kids age 3-17, these activities are included in the price of your cruise. For the youngest cruisers, under the age of three, the "it's a small world" nursery is available for a small fee that is charged by the half hour (at the time of this post, the nursery is still closed due to Covid restrictions but will hopefully be returning soon).
Now that the kids are off having fun, you are free to check out the areas and activities exclusive to adults. The Quiet Cove pool is a great place to hang out kid free either in the water or in a comfortable lounger with a drink. The Cove Cafe is an adult only coffee bar and lounge that is a cozy place to grab a drink and relax. 
Days at sea are a great time to book an onboard adult activity. These include beverage tastings ranging from beer to champagne and spa treatments at Senses Spa. These activities are an additional fee and can be booked once your booking window opens (75 days before your sail date for first time cruisers).
Head to Adult Only Brunch
While the adult specialty restaurants can be booked any night of your cruise, brunch is only available on your days at sea. At the time of this post, Palo Brunch (found on all four ships) is available as a $45 prix fixe menu or a la carte. Remy Brunch can be found on both the Dream and Fantasy and costs $75 per person for a prix fixe menu. A champagne pairing can be added for an additional charge if you're feeling extra fancy! Reservations are required for both experiences and can be made through the Navigator App once your cruise is paid in full.
Watch a Movie
A day at sea is the perfect time to relax and catch a movie and Disney Cruise Line makes it easy. Each ship has a movie theater called the Buena Vista Theatre that typically shows recent releases. Popcorn and candy are available for a small fee at the concession stand outside of the theater. 
If you're in the mood for fresh sea air while you watch a Disney classic, make your way up to the pool deck to catch a movie on Funnel Vision. Movies play during throughout the day and evening. Snacks are readily available at the poolside quick service counters — and don't forget soft serve ice cream for dessert!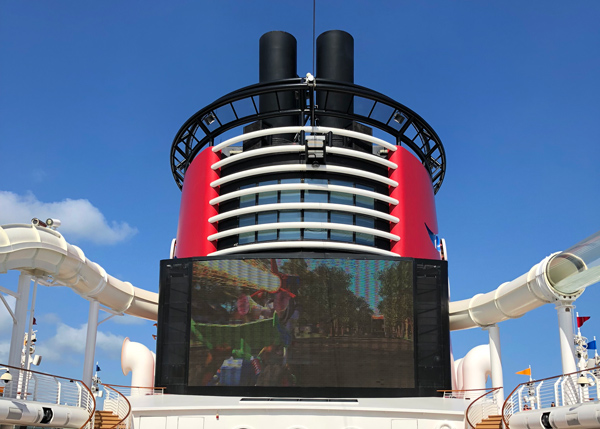 Order Room Service
If you're looking for some down time on your day at sea, look no farther than your stateroom! Room service is included in the price of your cruise (gratuity is not, so be sure to tip a few dollars) and is available 24 hours a day, excluding the morning you disembark. Menu items include continental breakfast and coffee, chicken tenders, a cheese plate and plenty more. You can even have Mickey bars delivered to your room (a secret menu item, you just have to ask).
However you choose to spend your Day at Sea it is sure to be magical. Did you know DVC Shop can save you 5% on a Disney Cruise Line sailing? Reach out here for more information!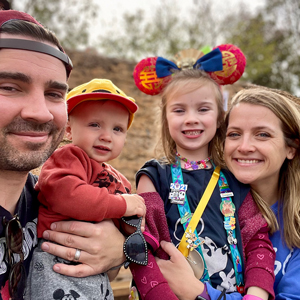 Written by
Samantha Forrest-Carlton
Contributing Writer
Samantha is a Florida native that currently resides outside of Charlotte, NC. Having spent 14 years living in Orlando, she has a deep love for all things Disney that she now shares with her two children. Her biggest Disney passions include relaxing at Epcot, sharing Mickey Pretzels, and planning her next Disney Cruise.