Progress at the Polynesian Village Resort is continuing to move forward, with construction on the brand new DVC Wing now well underway. The expansion will add much needed additional space for DVC members to reserve, allowing them to more easily book their vacations at this monorail resort.
When we last looked at this project back in February, we noticed only the beginnings of construction crews breaking ground on this new DVC tower. At that time, elevator shafts has just started being erected, but now we can see the tower taking definite shape, and multiple other structures being built as well. Let's take a look!
Construction Video & Photos At Polynesian Resort – April 2023

Here you can see the full construction site as seen from the resort monorail. This footage was filmed on April 27th, 2023.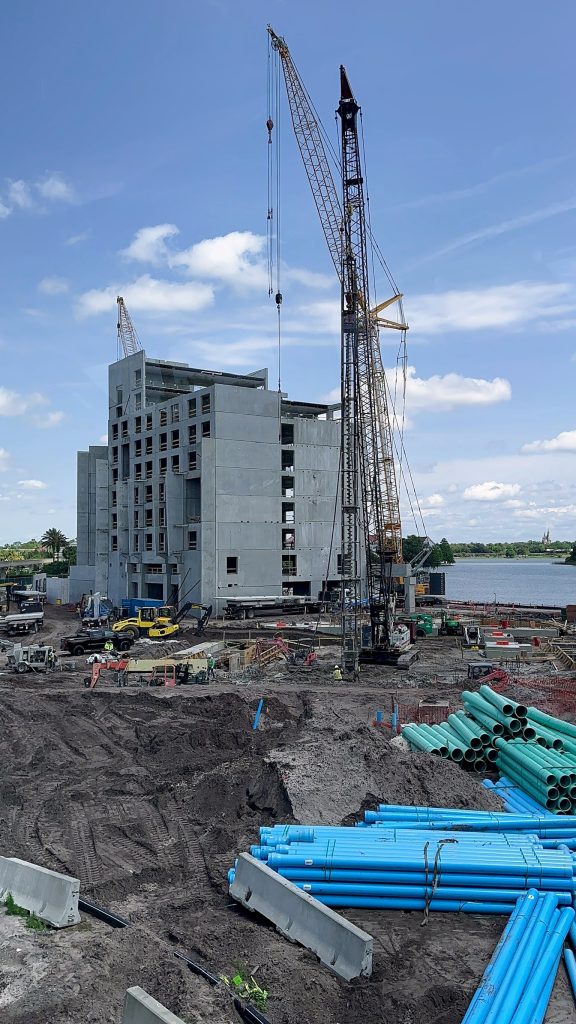 As you can see above the main tower building has grown considerably over just the last few months. About 8 or 9 floors of basic construction has been completed, with more work being done by the day. All sorts of heavy construction equipment can be found on site ranging from large cranes that are positioning large concrete panels, to small skid-steers used for moving dirt.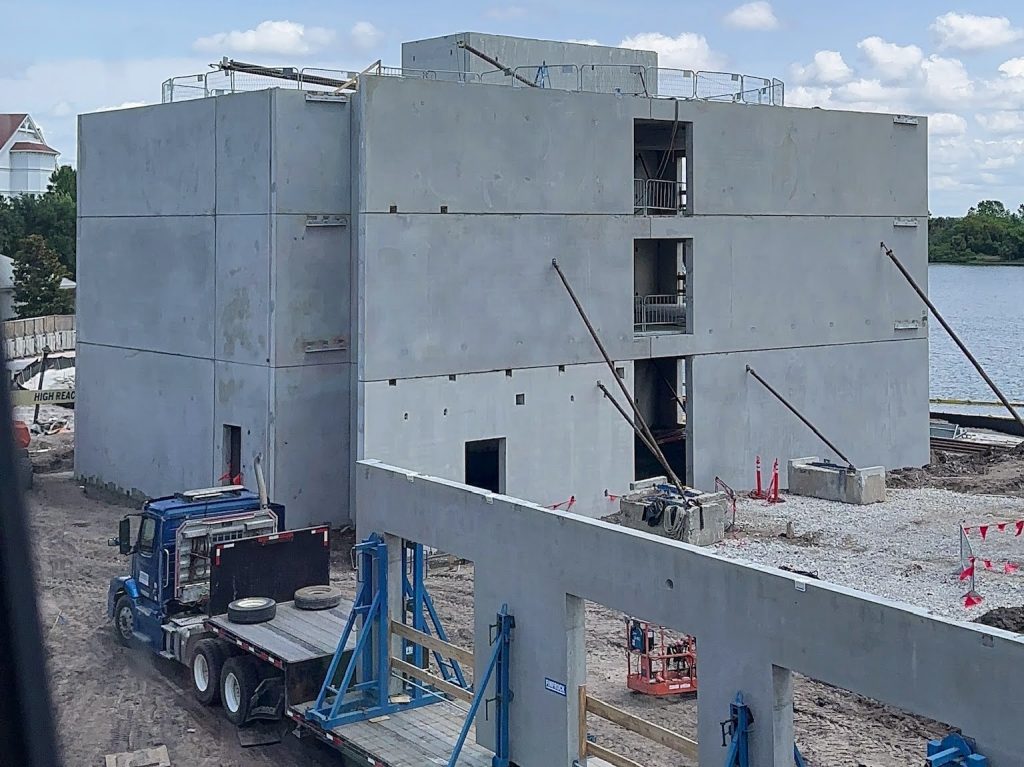 Here we can see another distinctly separate building being constructed outside of the main tower building, with another building on the other side of the tower in almost identical condition. At this time these building are separated, but when looking at the artist rendering of what this DVC wing will ultimately look like, we can see that while these building seem to be construction separately, they will eventually be joined together.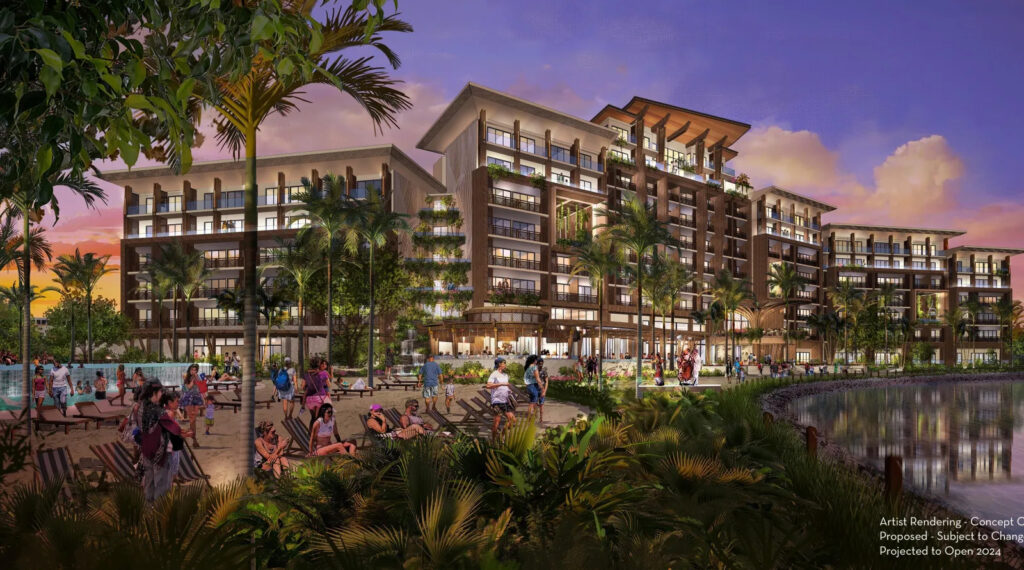 As you can see on the rending above, there seems to be a seamless transition from one building to the next. It would be logical to assume that the building will be connected together with hallways inside as well.
New Room Types Rumored
There is a popular notion that the new wing of DVC will have a wider range of room options. DVC members can only choose between studios or 2 bedroom bungalows at the Polynesian Resort at the moment. The new DVC wing is rumored to have villas that are suitable for guests who want a room to fit more people than the studios available now, but cost fewer vacation points than the bungalows that are currently available.
Learn More About Disney's Polynesian Resort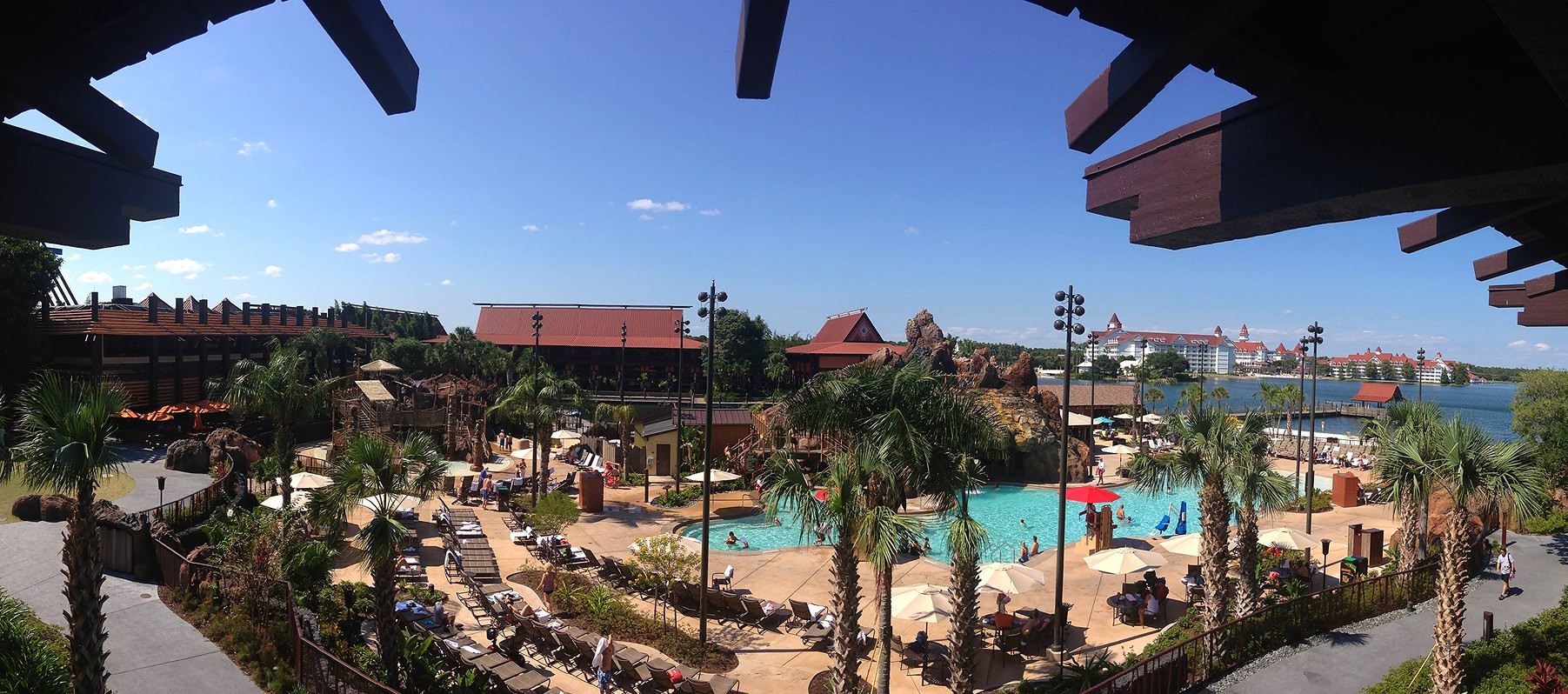 Disney's Polynesian Resort
Disney's Polynesian Village Resort is located on the shores of Seven Seas Lagoon, adjacent to Magic Kingdom Park. The resort is home to two pools, including the newly reimagined Tangaroa Terrace pool and hot tub area. Guests can also enjoy dining at Ohana, Kona Cafe, Tambu Lounge, Trader Sam's Grog Grotto and Captain Cook's. The resort is a Disney Deluxe Villa Resort and is a part of Disney's Vacation Club.
If you'd like to view confirmed reservations for rent at Disney's Polynesian Resort, you can experience Disney's Deluxe resorts for less, even without being a DVC member!
If you're interested in becoming a member, and joining the DVC family, you can save thousands by shopping from our current resale listings for Disney's Polynesian Resort.
Stay tuned into the DVC Shop Blog for updates on the official opening dates, and all other developments for Disney parks and DVC resorts.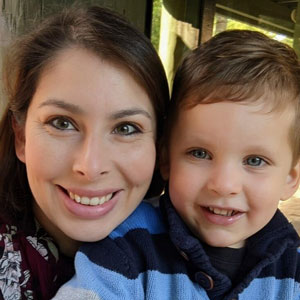 Written by
Rachel Van Norman
Contributing Writer
Rachel fell deeply in love with all things Disney as a little girl. Now as a wife and a mother herself, she shares this Disney obsession with her son and everyone around her. From her love of princesses to eating all the Disney food, Rachel spends her time radiating Disney magic and keeping everyone up to date on Disney news.