Construction continues to progress on the new Disney Vacation Club wing at Disney's Polynesian Village Resort. Recent photos have shown elevator shafts taking shape as well as some walls forming the early structure of the building that will house this resort's newest DVC villas.
The new construction is part of a larger expansion of the resort. Guests can expect more dining, shopping and lodging options at the Polynesian Resort, which is scheduled to open in late 2024. As the work progresses, guests riding on the monorail can experience a sneak peek into how this area of Walt Disney World is undergoing transformation.
Construction Photos At Polynesian Resort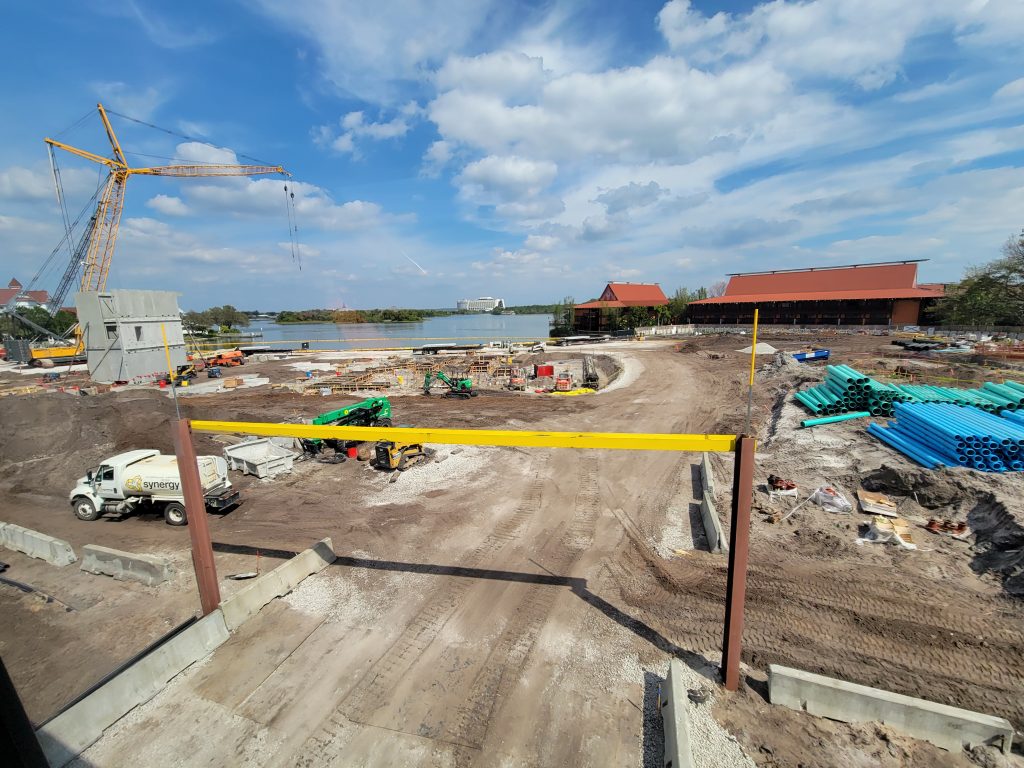 Here we can see there is a make-shift entrance that is being used to usher construction vehicles onto the site. In the distance to the left, we can see the beginnings of an elevator shaft, and a huge crane that is being used to place heavy construction materials.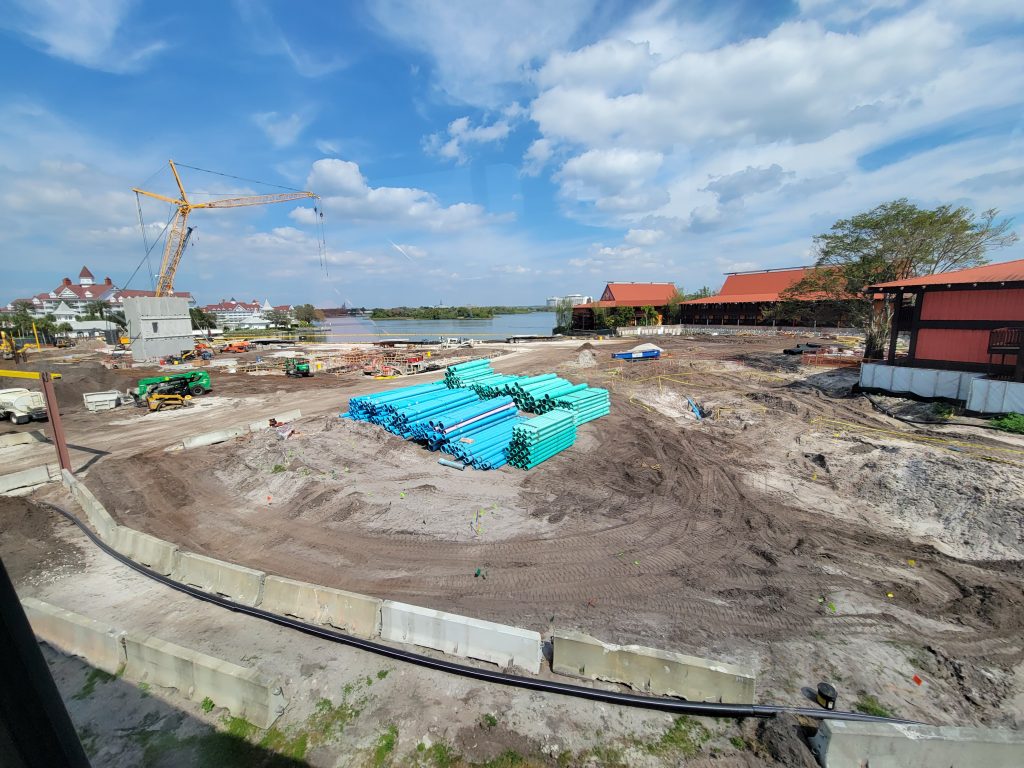 Now that the construction has gone upward, we can still see some piping stacked neatly, which may signal that this piping belongs within the structure, rather than underground, but we're no experts in construction of course. Let us know in the comments below if this is a reasonable deduction!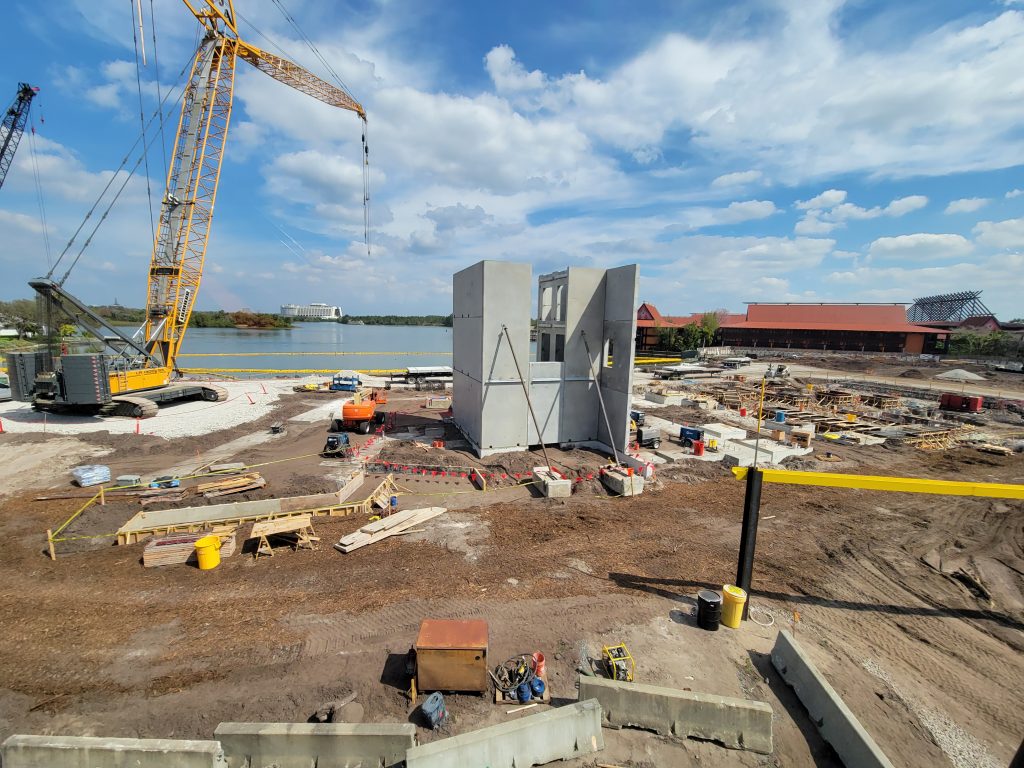 Here we can see one of the two elevator shafts head on. It appears to be supported by two large beams currently, and we can see forms for future concrete work being fashioned as well.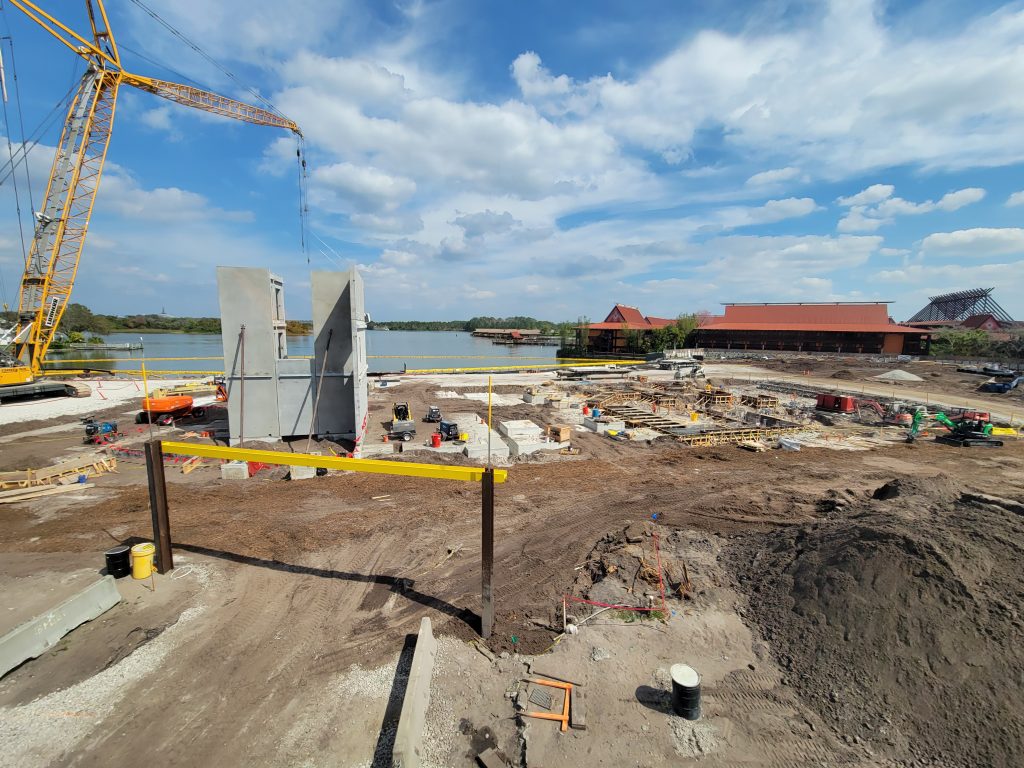 Here we can see the beginnings of the foundation being built on the right-hand side of this picture. It looks like construction crews have completed the underground portions of construction for this area.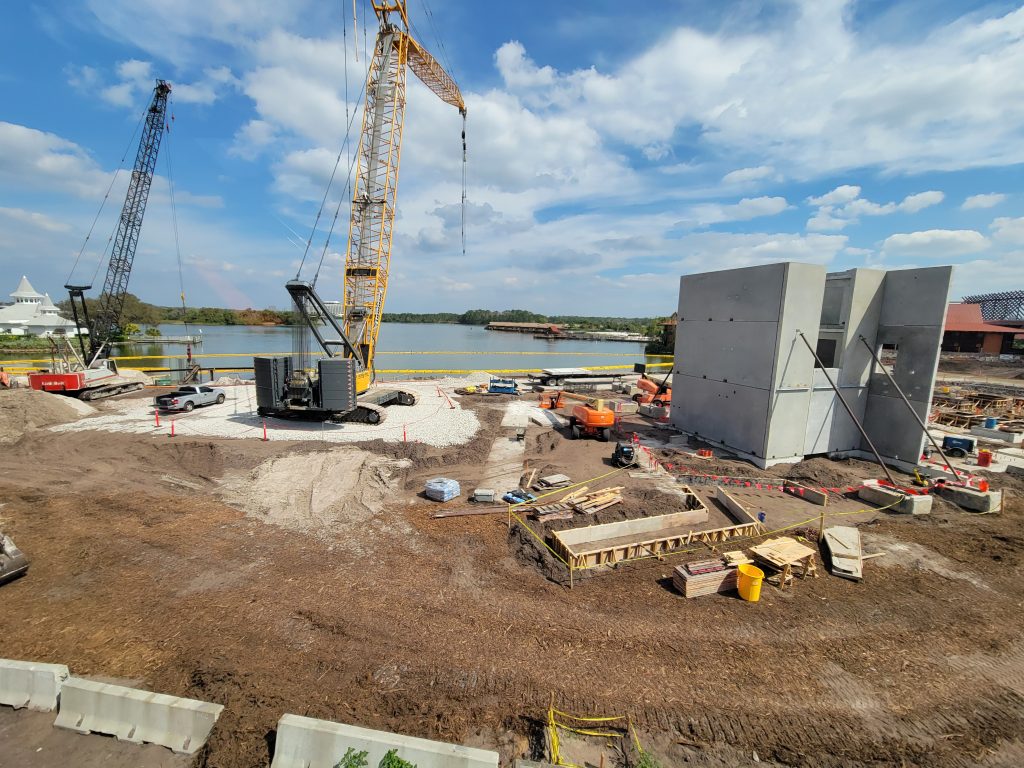 Here is a better view of the concrete forms being prepared for either the foundation of the building or possibly a walking path.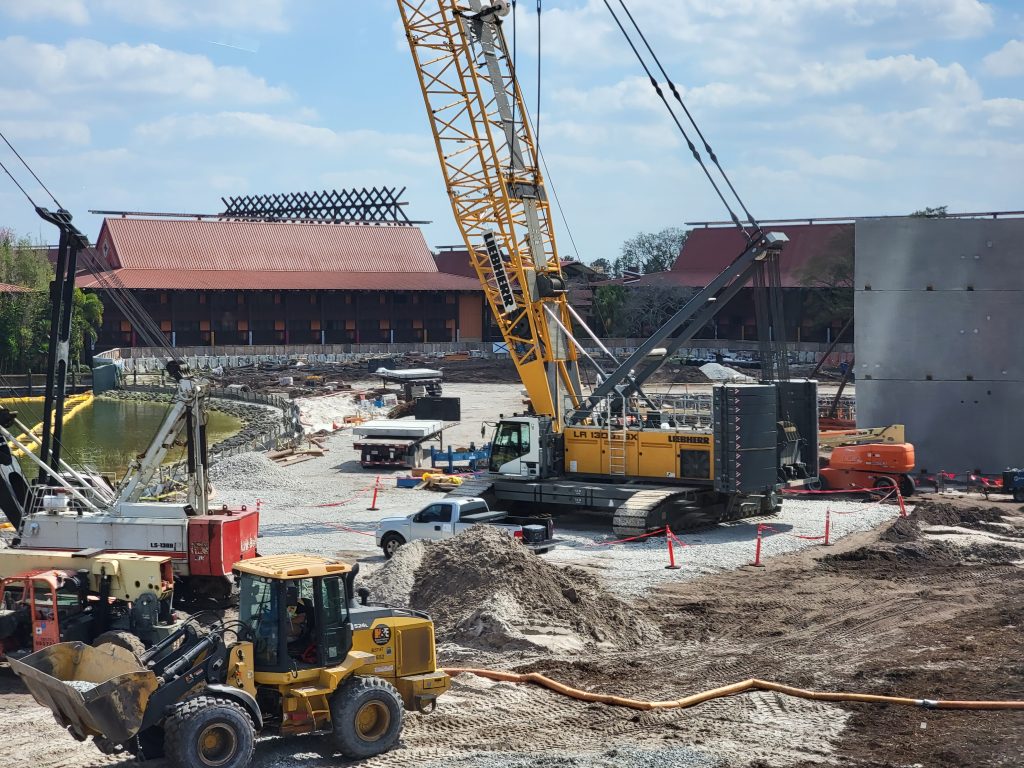 As you see, there is no shortage of large construction vehicles on the site. Here we can see just how close to the Seven Seas Lagoon this tower will be. We can't wait to watch the fireworks from this resort!
New Room Types Rumored
The new DVC wing is rumored to feature a more varied assortment of room types, as currently the Polynesian Resort only offers studios or 2 bedroom bungalows to DVC members. The new villas contained within the new DVC wing would be a welcome addition for guests looking for a room that accommodates more guests than the existing studios, but costs fewer vacation points than the currently offered bungalows.
Learn More About Disney's Polynesian Resort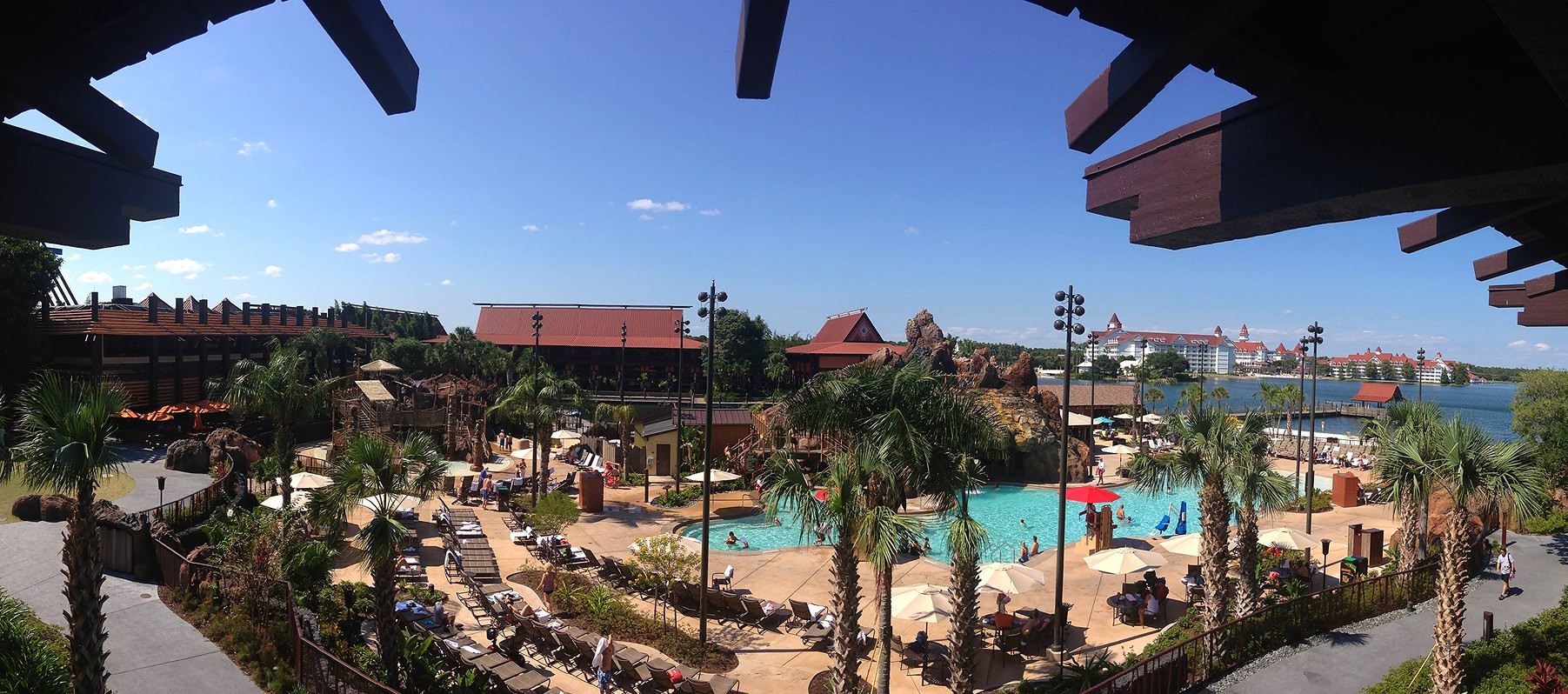 Disney's Polynesian Resort
Disney's Polynesian Village Resort is located on the shores of Seven Seas Lagoon, adjacent to Magic Kingdom Park. The resort is home to two pools, including the newly reimagined Tangaroa Terrace pool and hot tub area. Guests can also enjoy dining at Ohana, Kona Cafe, Tambu Lounge, Trader Sam's Grog Grotto and Captain Cook's. The resort is a Disney Deluxe Villa Resort and is a part of Disney's Vacation Club.
If you'd like to view confirmed reservations for rent at Disney's Polynesian Resort, you can experience Disney's Deluxe resorts for less, even without being a DVC member!
If you're interested in becoming a member, and joining the DVC family, you can save thousands by shopping from our current resale listings for Disney's Polynesian Resort.
What Are Your Thoughts On The New DVC Wing?
Are you excited to see additional DVC rooms at Disney's Polynesian Resort? Are you impressed by the progress shown in these photos of the new DVC wing? Are you sad to see the demolition of the Spirit of Aloha building? Let us know in the comment section below!
Stay tuned into the DVC Shop Blog for updates on the official opening dates, and all other developments for Disney parks and DVC resorts.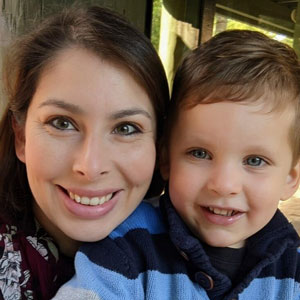 Written by
Rachel Van Norman
Contributing Writer
Rachel fell deeply in love with all things Disney as a little girl. Now as a wife and a mother herself, she shares this Disney obsession with her son and everyone around her. From her love of princesses to eating all the Disney food, Rachel spends her time radiating Disney magic and keeping everyone up to date on Disney news.