Disney's newest movie "Encanto" has been a big hit since debuting in the theaters in late November. From the relatable characters in the Madrigal family and the storyline of overcoming family expectations to the undeniably fantastic soundtrack, "Encanto" has taken the world by storm!
Many aspects of Columbian culture are included in subtleties throughout the movie, but one that can't be missed is the delicious food featured in the movie. Julieta, the mother of protagonist Mirabel, is known for her special power of healing others with food. This scene from the movie shows her in town with a bowl full of buñuelos tending to a line of neighbors with various ailments. One buñuelo and – voila – good as new!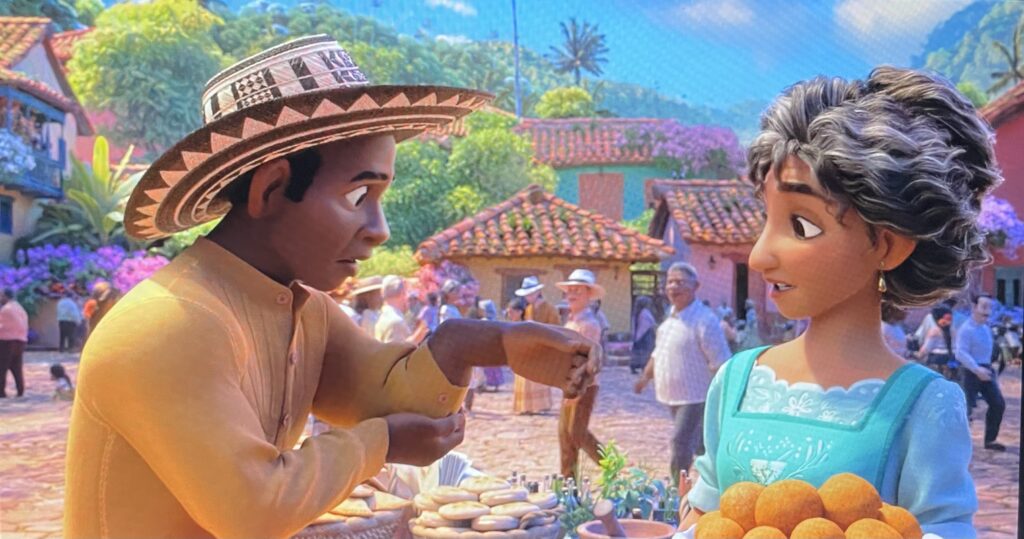 So what exactly is a buñuelo and are they really magical? A buñuelo is a small ball of fried dough made with cassava flour and costeño cheese.  They are often consumed in Columbia around the holiday season, but are also found all year long in bakeries. Their origin is tied to southern Spain where the Moors once ruled, making similar treats also common throughout Africa, Asia, and all of Latin American where the Moors and Spaniards once reined. As for their magic, that's to be determined.
Fortunately for those of us that love Disney AND food, Disney published a recipe to their social media accounts that has given us the opportunity to try to make our own buñuelos! They are surprisingly simple and gluten free. The standard cassava flour is made from yuca root which gives the buñuelos a flavor not so different from the fried dough or donut holes that we consume here in the US, just more savory than sweet . They only took 15 minutes to make start to finish and will make the perfect food to snack on the next time you watch Encanto.
Ingredients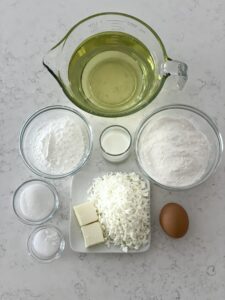 1 cup cassava flour
1/2 cup cornstarch
1/2 cup shredded cheese – ideally queso costeño, but you can substitute any soft cheese like mozarella, feta, or queso fresco
2 tablespoons white sugar
1 teaspoon salt
1/2 teaspoon baking powder
2 tablespoons butter at room temperature
1 egg
2 tablespoons of milk
3 cups vegetable oil for frying
Method
1. Combine all ingredients except for oil in a bowl or work on a clean surface. Once combined, the dough should not be too dry or too wet and easy to mold. The consistency reminded me of dough for scones.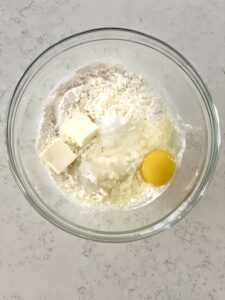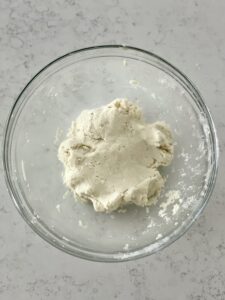 2. Heat the oil in in a medium pan to 320-340F.
3. Divide the dough into equal portions, anywhere between 16 and 32 pieces depending on the size you desire.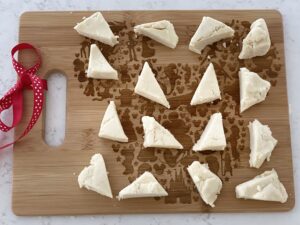 4. Fry a few dough balls at a time for 2-5 minutes until golden brown. Turn gently with a slotted spoon if they do not rotate themselves.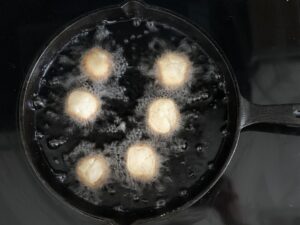 5. Drain excess oil on a paper towel. Let cool for a few minutes and then serve! They are best consumed warm!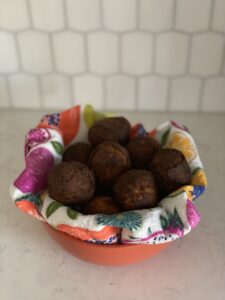 Recipe Notes
If you feel the dough is too dry, add an extra splash of milk until all of the dry ingredients are able to be absorbed.
The temperature of the oil is very important! If it's too cool, the dough will just absorb the oil and not fry. If the oil is too hot, the dough will brown too quickly, which is what happened with mine. Fortunately, they were not burned, just a little darker than Julieta's, but still moist on the inside!
I chose to use feta cheese, but I'd love to try them again should I be able to find queso costeño or mozzarella to compare and contrast flavors.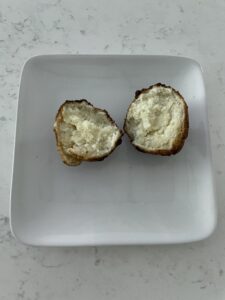 After tasting these buñuelos, I can certainly say with certainty that they are magical …and addictive! The cheese flavor was very subtle and the light layer of crunch on the outside is contrasted by the soft and chewy center. It will be very difficult to stop at just one buñuelo! The ingredients were easy to find and each step was easy to follow – my kind of recipe!
If you're interested in tasting other Columbian dishes, be sure to stop by the Vibrante & Vívido: Encanto Cocina at Epcot's Festival of the Arts that runs through February 21. The booth is located between the Morocco and France pavilions in the World Showcase. Will you give these Columbian buñuelos a try when preparing snacks for your next movie night? Let us know in the comments below!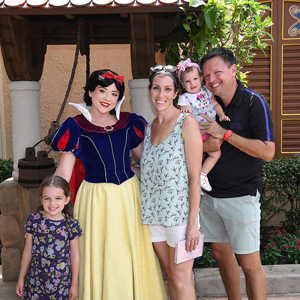 Written by
Shelley Wehler
Contributing Writer
Shelley is a stay-at-home mother of two girls living outside of Charlotte, North Carolina. Her love of all things Disney has grown even more as she sees the magic come alive through the lens of her young daughters. She spends her free time keeping up with the latest in Disney news and daydreaming of her next trip to the parks!