Disney is known to be one of the greatest places to accommodate food allergies. Since the parks are so well known for their delicious food, especially desserts, we have compiled a list of the best allergy friendly desserts in Walt Disney World. That way everyone can find something sweet to enjoy.
Allergy Friendly Dessert Items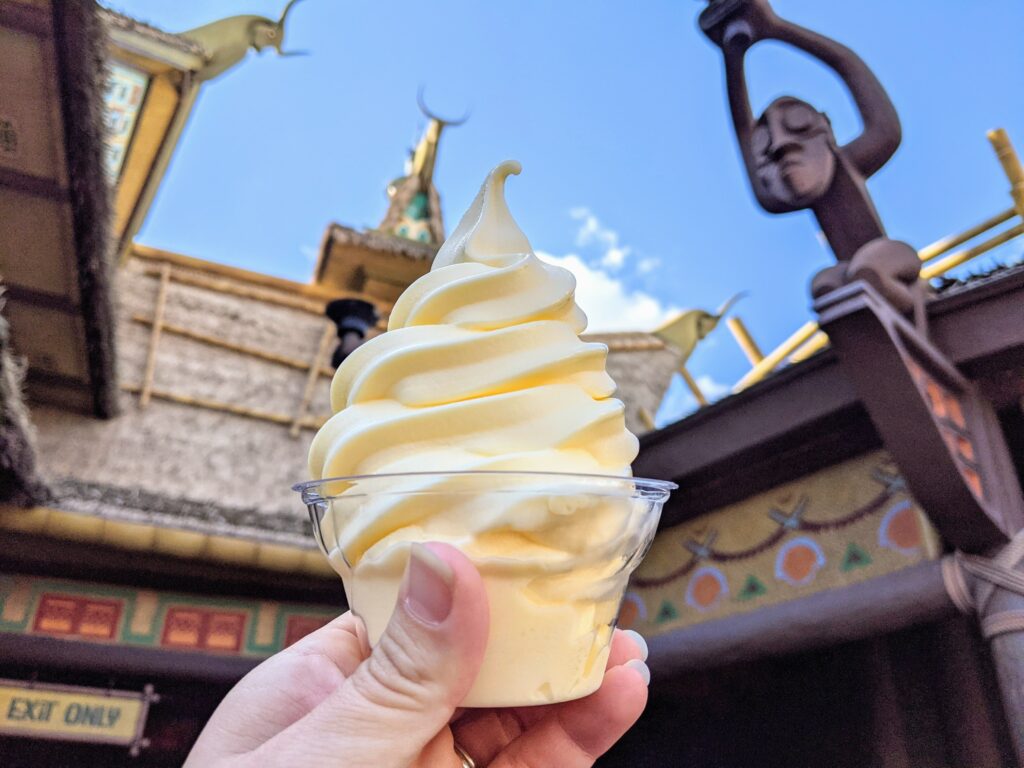 Dole Whip & Dole Whip Floats – Fruit Flavors
Gluten Free

Egg Free

Dairy Free

Soy Free

Peanut Free

Nut Free (to an extent)
Dole Whip is the perfect frozen allergy friendly treat that you can find in the Disney parks. Although Dole Whip does contain coconut oil, and therefore must have a tree nut warning, it does not contain any other tree nuts. 
Guests can treat themselves to a simple one or two flavor swirl in a cup or if they are looking for something extra refreshing when the heat is high, a Dole Whip Float is also an excellent choice. 
The flavors that are free from the Top 8 allergens are Pineapple, Mango, Raspberry, Lime, and Lemon. The vanilla soft serve that is occasionally served in swirls does contain dairy and soy at this time. 
If you choose to go with a float, be sure to check with Cast Members on the allergy friendly status of the garnishes. For example, the Peter Pan Float comes with a chocolate feather that is not allergy friendly for some of those listed above.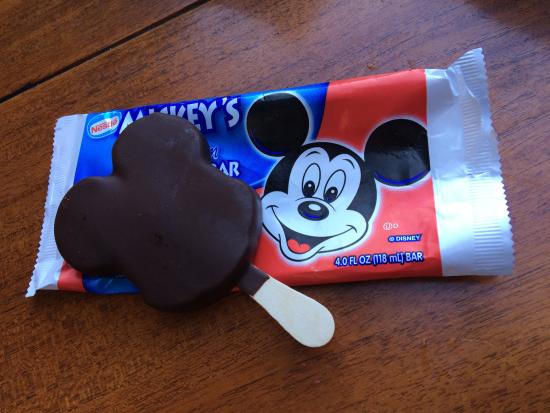 Mickey's Premium Ice Cream Bar
Gluten Free

Egg Free

Nut Free
Mickey shaped food is a much beloved staple in the Disney parks, and luckily guests with certain allergies will not have to miss out. The Mickey Ice Cream Bar is a safe and delicious treat for those with gluten, egg, and nut allergies. Since it is also a prepackaged food item, there is no risk for cross contamination. 
Guests can find this classic park treat at many of the snack carts throughout all of the Disney parks.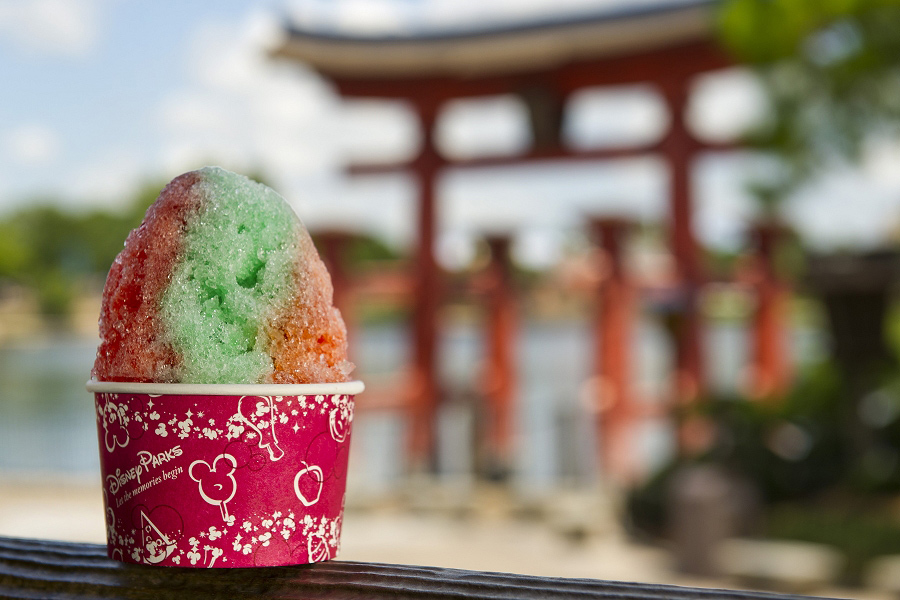 Kakigori
Gluten Free

Egg Free

Dairy Free

Soy Free

Nut Free
Kakigori is an unsung hero of desserts in Disney's Epcot. Located at the Kabuki Cafe in the Japan Pavilion, guests will find this delightful treat that is free of the top 8 allergens. 
Kakigori is a shaved ice treat that has a variety of flavor toppings. Guests can add their own fruity flavor of choice such as blue raspberry, strawberry, and even rainbow. This dessert also has the option of adding a sweet milk topping, which would make it not dairy free, but this is an optional add on to the dessert itself.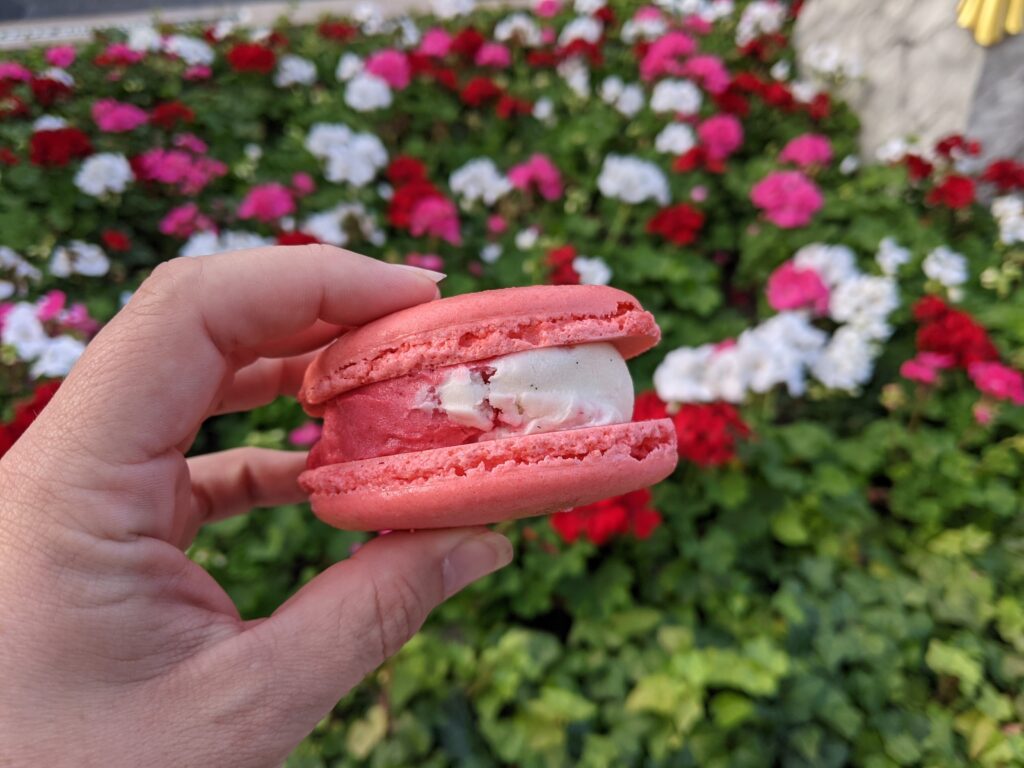 Macaron Ice Cream Sandwich
An ice cream sandwich is a favorite treat for a lot of people, but unfortunately many with gluten allergies or sensitivities have to miss out on these desserts because the cookies are not gluten free. However, Le Artisan de Glaces has the solution to this for many food allergy sufferers. The Macaron Ice Cream Sandwich is a gluten free option that will not disappoint. 
The macaron ice cream sandwiches come in two flavors, their chocolate and seasonal. This flavor will vary from pumpkin in the fall to raspberry in the spring, and anything else in between. Just be sure to double check that they are gluten free if you order the seasonal flavor, since a couple ice cream flavors do contain gluten. For those that are concerned about cross contamination, the Cast Members will happily grab one from the back for you. 
The macaron ice cream sandwiches do contain the other allergens and are only considered safe for those looking to avoid wheat and gluten. However, this dessert is an absolute must try for those in Epcot looking for a decadent gluten free treat.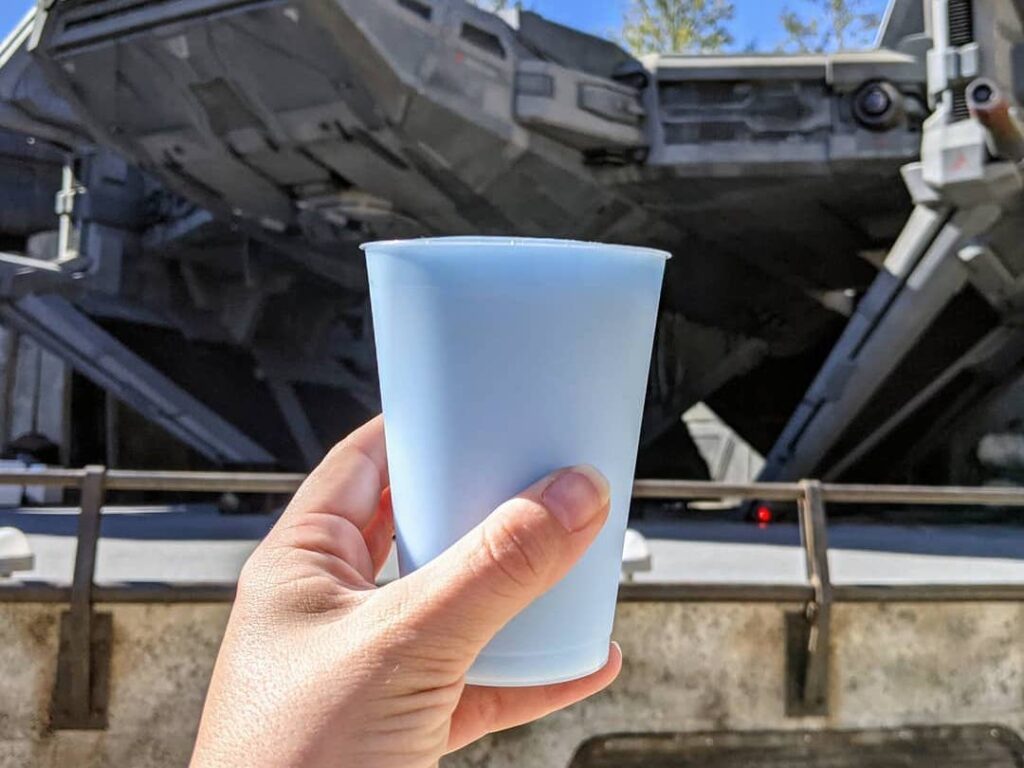 Blue and Green Milk
Gluten Free

Egg Free

Dairy Free

Soy Free

Peanut Free
Located exclusively at Disney's Hollywood Studios at the Milk Stand, Blue and Green Milk are the perfect allergy friendly drink. It is made with coconut and rice milk so it is vegan as well as soy and gluten free. Although it is not technically a dessert, it is a sweet drink so we will count it on this list all the same. This is a refreshing dessert-like drink that guests of all ages will love.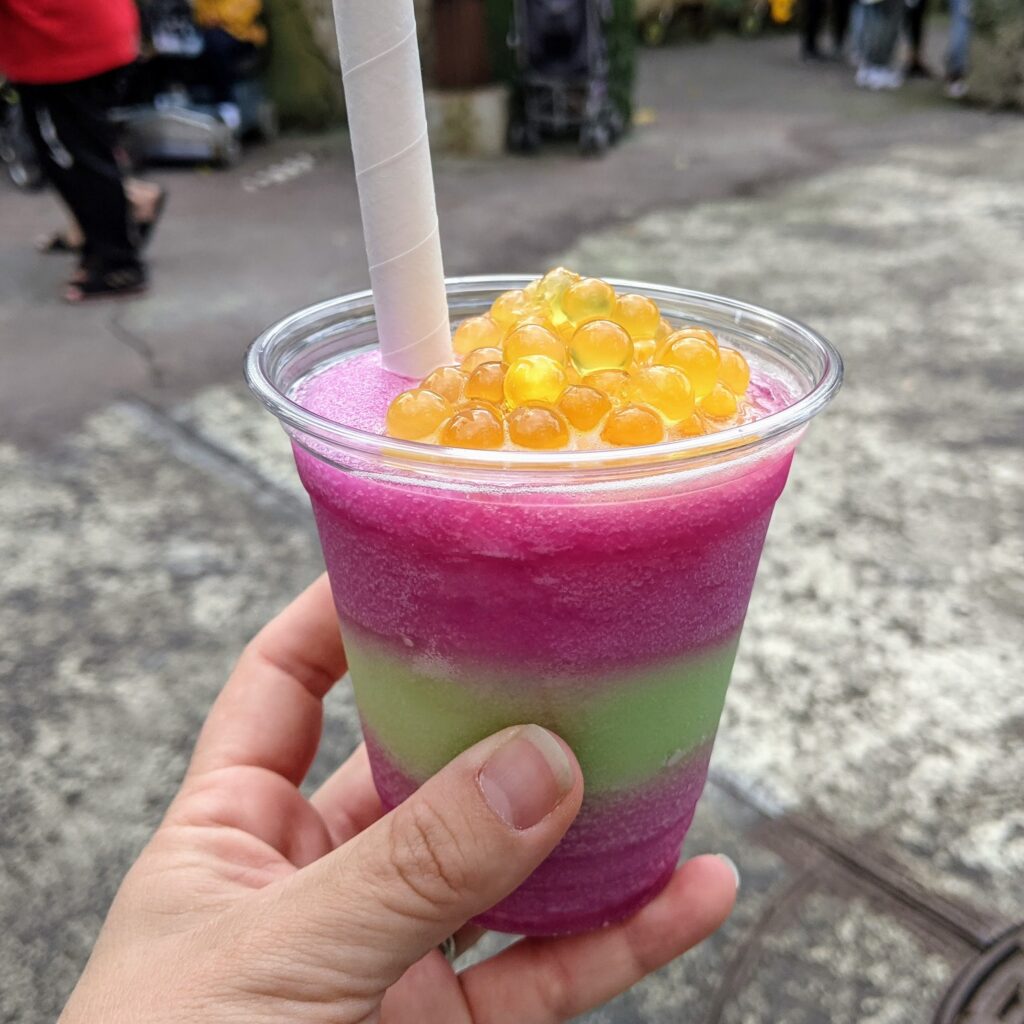 Night Blossom
Gluten Free

Egg Free

Dairy Free

Soy Free

Nut Free
Another Disney's Hollywood Studios exclusive drink can be found in Pandora – World of Avatar. The Night Blossom is the signature drink at the quick service location Pongu Pongu. It is a sugary and refreshing beverage that is top 8 allergen free as well as vegan. 
This beverage is a frozen apple and desert pear limeade that is topped with passion fruit boba balls. The Night Blossom is the perfect choice for those looking to drink their treat on a hot day in Disney's Hollywood Studios. The Night Blossom also has an alcoholic version as well for those over the age of 21 looking for a dessert with a little extra kick.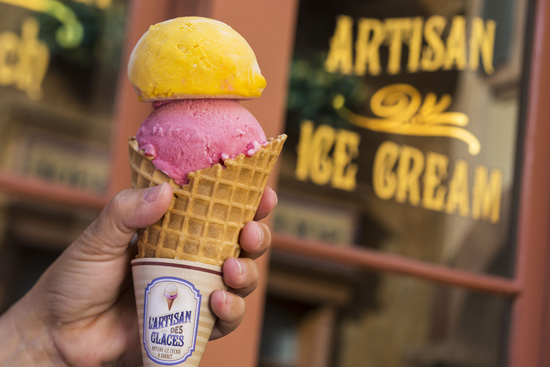 Sorbet 
Gluten Free

Egg Free

Dairy Free

Soy Free

Nut Free
For those who enjoy a tasty frozen treat but wish to avoid dairy, the sorbet options at Le Artisan de Glaces are a great choice. This location carries multiple flavors of sorbet to allow everyone to find a flavor they enjoy. The sorbet flavors are also a dessert that is free of the top 8 allergens as long as they are served in a cup. The fruity flavors typically include Mango, Raspberry, Strawberry, and Pina Colada.
Guests can find Le Artisan de Glaces in the World Showcase inside of Epcot, nestled at the end of the France Pavilion.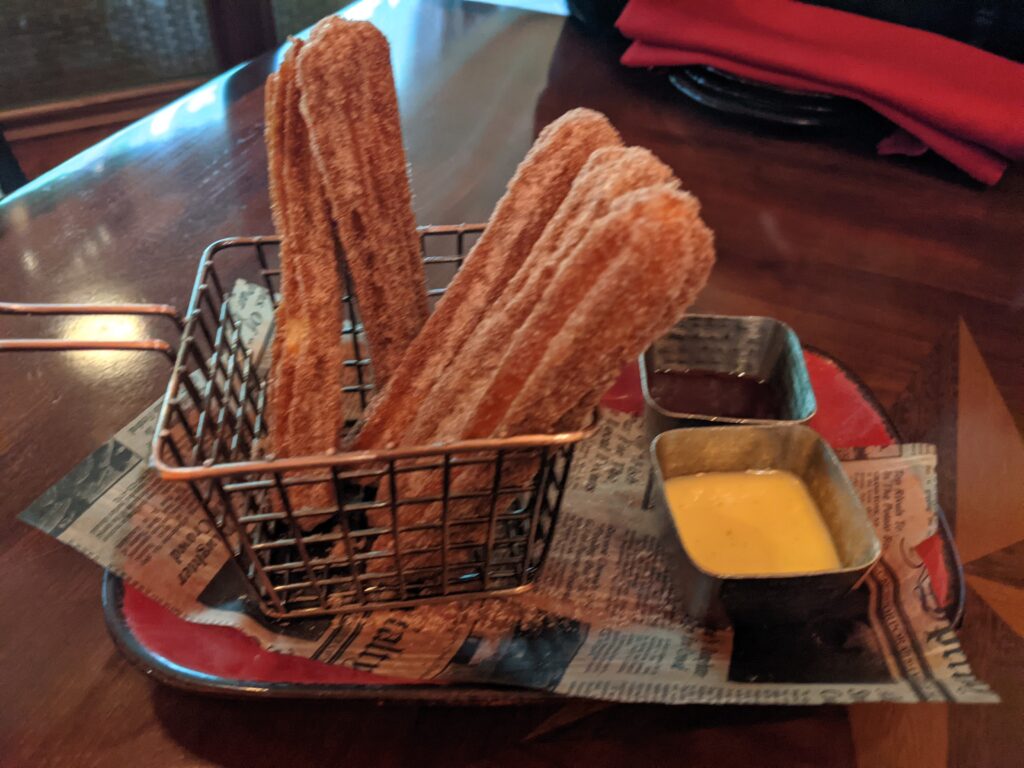 Churros
Now I know what you are thinking. Churros are absolutely NOT gluten free. Except in the Nomad Lounge at Disney's Animal Kingdom. At this location there are gluten free churros that also come with two delicious sauces. These churros are fried in their own dedicated fryer to prevent cross contamination. 
Guests will receive 5 churros that are freshly baked making them crispy on the outside with a generous portion of cinnamon and sugar, and soft on the inside. They come with two dipping sauces, a vanilla creme and a strawberry-chili. The strawberry sauce had a little kick to it but was still sweet and did not overpower the churros. The vanilla creme sauce was mild and sweet and an excellent addition to the churros. We could not choose which flavor we liked best because they were both so good. These churros are a pricier option for desserts at $9, but they are absolutely delicious and worth every penny.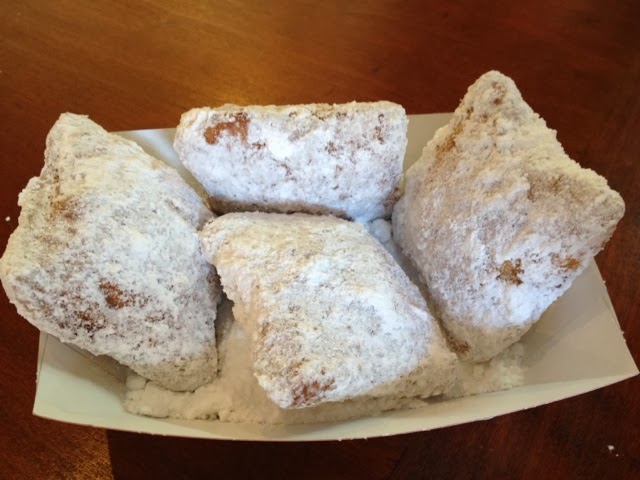 Beignets
Gluten Free

Egg Free

Dairy Free

Soy Free

Nut Free
Similarly to the churros, most of the beignets in Disney are not allergy friendly. However, in Sassagoula Floatworks Factory at the Port Orleans French Quarter, guests will find this fried sugary dessert. Now these gluten free beignets are not inside of any of the Walt Disney World parks, so guests would have to make a special trip to the French Quarter at the Port Orleans Resort.
These beignets are free of the top 8 allergens, although there is a risk for nut cross contamination with the flour that is used. The risk should be assessed individually but a conversation with the Cast Members may clear up guest worries. These beignets are absolutely incredible and definitely worth taking a small trek to the Disney property.  
Allergy Friendly Dessert Locations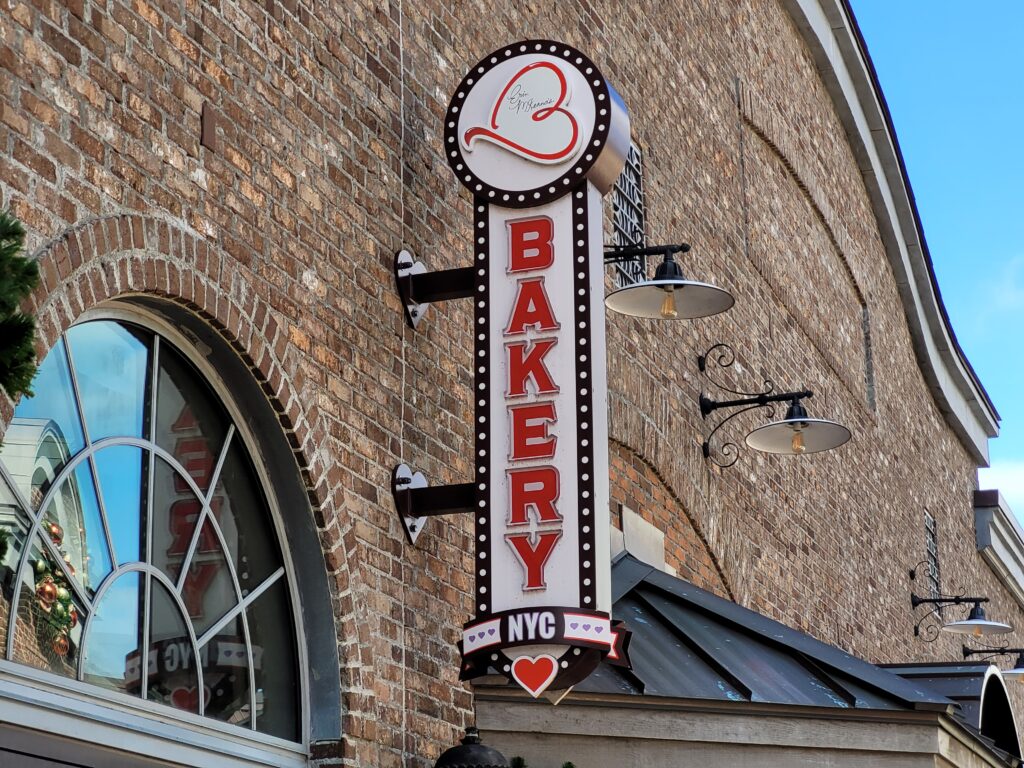 Erin Mckenna's
Gluten Free

Egg Free

Dairy Free

Soy Free

Peanut Free
Those visiting Disney Springs with food allergies must make a stop at Erin McKenna's Bakery. Everything in this bakery is gluten free, vegan, soy free, and peanut free. They do not claim to be free of tree nuts since many of these vegan recipes use coconut oil as opposed to butter, and the flour that is used is manufactured in a facility that contains almonds and other tree nuts. Although many people do not have issues with tree nuts at this location, it is something to take into consideration if that is one of your food sensitivities. Speaking to the employees at this location may clear up any questions that you may have about it. 
This bakery is an amazing find for those with food allergies, especially multiple ones. They have a variety of treats available from cakes, cookies, cupcakes, and even donuts. My son has a gluten allergy, and it was truly wonderful to allow him to freely choose anything he wanted, because it was all safe. We did indeed sample almost everything that Erin McKenna's Bakery had to offer. The coffee cake and thin mint cookies have to be our top two treats at this location. 
Let's Wrap Up
That concludes our list of the best allergy friendly desserts in Disney World. As you can see, Disney does an amazing job at creating desserts that everyone will be able to enjoy regardless of their dietary restrictions. The Cast Members take food allergies very seriously, and will do their best to ease any concerns that guests may have. 
What is your favorite allergy friendly dessert in Disney World? Did it make our list? Let us know your favorite one in the comments below.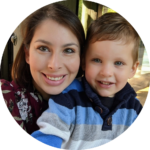 Written by
Rachel Van Norman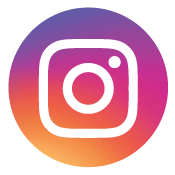 Guest Author
Rachel fell deeply in love with all things Disney as a little girl. Now as a wife and a mother herself, she shares this Disney obsession with her son and everyone around her. From her love of princesses to eating all the Disney food, Rachel spends her time radiating Disney magic and keeping everyone up to date on Disney news.