Have you heard the good news?  You can now go about your day relaxing and recharging to the magic of Disney on your radio or any streaming device!  Now on SiriusXM Disney has its very own channel, Disney Hits!  If you don't already have a subscription to SiriusXM, the even better news is that Sirius has turned all of their radios on for FREE until June 8, 2021!  You also are able to listen for free for 3 months in your car, online, or on the SiriusXM app when signing up for a subscription.  You don't want to miss this opportunity and here's why.
Tune into channel 302 on SiriusXM to enjoy all of your Disney favorites and I mean ALL of them!  This station consists of the ultimate playlist consisting of the soundtracks to everything from Cinderella's A Dream is a Wish to Disney Channel's Maddie and Liv to all of the Descendants movies!  You'll also be singing along to the soundtracks from the live action films such as Beauty and the Beast, tapping your toes to the New Orleans' beats from A Princess and the Frog, and doing your favorite hot-dog dance to the theme from the Mickey Mouse Clubhouse.
From more modern favorites like Frozen 2 to classic movies like The Jungle Book, this station plays it all and the variety is sure to please listeners of all ages. They even play favorite instrumental tracks like the "Black Pearl" from Pirates of the Caribbean and the theme from Star Wars. One song after another is sure to lift your spirits!
Extra Magic Hours 
Each week Disney Hits chooses a theme and plays a full hour of music from a particular show, movie, or topic.  They play this program at different times each day, so you are sure to be able to catch it on the day that suits you best!  I have personally heard music from the Extra Magic Hours dedicated to Frozen and a tribute to Asian and Pacific Islanders. The latter was such a fun mix of songs from Mulan, Moana, and more!  The suspense of trying to guess which song will be played next will keep you listening the entire sixty minutes.
Be Our Guest 4 The Day
Have you ever wanted to be a guest DJ?  Now you have your chance to debut on air by submitting your top 4 Disney songs of all time. Fill out this form with your favorites and you might just have the chance to hear yourself on the radio! Each week there are two guests chosen and celebrities are also known to show up to share their favorites as well. You can even have a member of your family choose and speak on a different song. It's endearing to hear which songs mean the most to each guest DJ.
Are you a High School Musical fan? On Fridays, Saturdays, and Sundays you can catch the stars of High School Musical: The Series debuting their Disney favorite songs along with their song from the show that week that streamed on Disney+.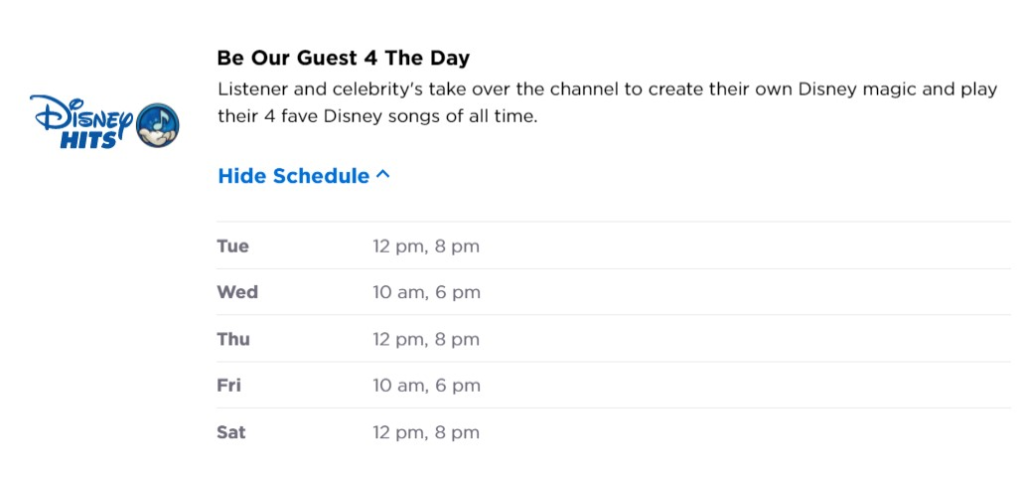 Whether you're road-tripping to Florida or California to visit the parks, daydreaming until your next visit, trying to keep your kids happy while waiting for your grocery pick-up, or having a dance party in your living room, Disney Hits on SiriusXM is the perfect escape to the happiest place on earth that is sure to keep you and your family smiling from ear to ear.
Check out SiriusXM's Disney Hits now and tell us what your favorite part is about listening to this new channel!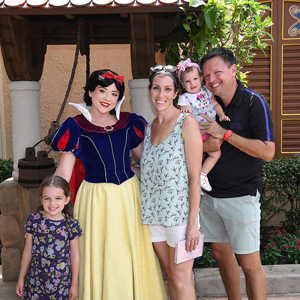 Written by
Shelley Wehler
Contributing Writer
Shelley is a stay-at-home mother of two girls living outside of Charlotte, North Carolina. Her love of all things Disney has grown even more as she sees the magic come alive through the lens of her young daughters. She spends her free time keeping up with the latest in Disney news and daydreaming of her next trip to the parks!