The Walt Disney Company is hosting the first-ever World Princess Week! The royal festivities starts today, August 23 and runs through Sunday, August 29. As part of the year-long Ultimate Princess Celebration, World Princess Week will offer fans new products, digital content, a Disney Princess Hotline, unique offerings at the Disney Parks and Resorts, a Disney Channel special, retail activations and more surprises!
This celebration hopes to inspire people all over the world to have the courage to be kind. Here's how you can join in on this jam packed week.
Walt Disney World Resort (Florida)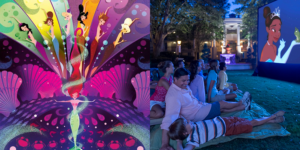 The Family Play Zone (playground) is being re-themed in honor of Princess Tiana from The Princess and the Frog during the EPCOT International Food and Wine Festival.

Princess-worthy

food & beverage offerings

inspired by the 14 Disney princesses and "Frozen" queens are available all week long.

On August 26 from 2-6PM at Disney Springs, little princesses are invited to take part in a Princess Promenade at the AdventHealth Waterside Stage. Costumes are encouraged and guests will enjoy a princess-themed entertainment performance.

Pose for a picture in front of the three art expression walls themed to the "Tales of Courage and Kindness" storybook collection, also at Disney Springs. Make sure to get a peek at the latest Princess-inspired merchandise while you're there!

Movies Under the Stars will feature a line-up of your favorite Disney Princess movies all week long.
Disneyland Resort (California)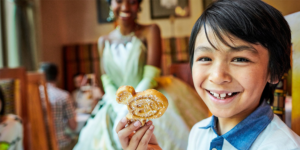 Disney Princess Breakfast Adventures will return to Napa Rose at Disney's Grand Californian Hotel & Spa on August 26.

At Downtown Disney District: California Sole has Disney Princess Havaianas, treat yourself to a Raspberry Cream Macaron at Kayla's Cake, and The LEGO Store will have a new LEGO set with a Princess Storybook featuring Ariel, Belle, Cinderella, and Tiana's Story Book Adventure.

While you're at Downtown Disney District, be sure to check out the photo opp featuring Moana artwork from the "Tales of Courage and Kindness" storybook collection.
Disneyland Paris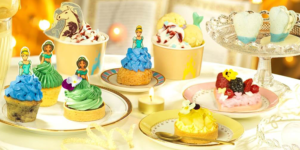 Entertainment, sweet treats, and extra surprises with the Disney princesses like Jasmine, Merida, and "Frozen" queens Anna and Elsa await you! There will be new exclusive Selfie Spots and Magic Shots to enjoy and capture unforgettable royal memories. The resort will also have a special range of products celebrating World Princess Week in a selection of shops and restaurants.
Hong Kong Disneyland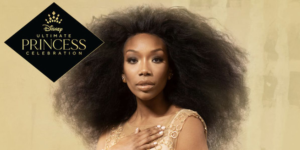 You're likely to see some of your favorite Disney Princess heroes, but from August 23 through August 29, you may also hear
the brand-new Ultimate Princess Celebration anthem "Starting Now," sung by global superstar and Grammy Award-winning recording artist Brandy. You'll be singing along before the song is over during World Princess Week!
Aulani, a Disney Resort & Spa
Photo: Disney Parks

Over in Hawaii, wave "aloha" to Moana, who set sail back to the islands just a few months ago. While you're there, treat yourself to the Moana Dole Whip Fresh Fruit Sundae. It features DOLE Whip pineapple in a crispy waffle bowl topped with fresh pineapple, sprinkles, and a white chocolate image of Moana.

Little 'Opihi's also has a Chocolate Dipped Banana with Macadamia Nuts, featuring an image of Moana made of white chocolate.

There will also be the first-ever TikTok Live event from Aulani on August 25, featuring an appearance from Moana in honor of the 10th anniversary of the resort.
runDisney
Bibs for the Disney Princess Half Marathon Weekend races go on sale on August 24. Be inspired by some of your favorite Disney heroes to reach new heights of courage and kindness that propel you triumphantly to the finish line that ends with your happily ever after!
Products and Digital Offerings
To kick off the festivities, experience the debut of a new YouTube series, the "Courage and Kindness Club." 

Share your acts of kindness by using #UltimatePrincessCelebration and #HowDoYouPrincess on social media.

A range of new products will launch from: Enchanted Disney Fine Jewelry, Lokai and Love Your Melon, all of which emphasize kindness through charitable giving. Additional products from Hasbro, JAKKS Pacific, the LEGO Group, Funko, ColourPop Cosmetics and others will also hit retailers globally.

An all-new Disney Designer Collection Princess Doll from shopDisney.com will launch each month, with 12 designs, starting with Princess Jasmine in October. There are two new Disney nuiMOs plush characters: Ariel Disney nuiMOs and a new Jasmine Disney nuiMOs— the perfect additions to your collection of those fashion-forward plush!

Photo: Disney Parks

Pandora Jewelry is celebrating with beautiful Pandora charms featuring Cinderella, Tiana, and Jasmine. Hand-finished in sterling silver with vivid pops of colors, these are the perfect accessory for World Princess Week and year-round!

A new Princess Loungewear collection will launch on shopDisney.com, at Disneyland Resort and at Walt Disney World Resort on August 23. Among the new items are cute T-shirts and super soft velour sweatshirts and jogger pants featuring fairytale lyrics, Princess silhouettes, and aspirational Princess mottos.

World Princess Week is also being celebrated on the mobile app game, Disney Emoji Blitz! Be sure to log in on Aug. 23 to collect one FREE "Frozen" Emoji: Queen Elsa or Queen Anna! As you complete events and missions, you'll automatically collect Princess Tokens all month long, which can earn you Disney Princess Emojis including Belle, Rapunzel, Tiana, Moana, Jasmine, Ariel, and Cinderella!

New titles launching from Disney Publishing Worldwide include a rom-com reimagining inspired by Cinderella's story called "If the Shoe Fits," 50 kid-friendly recipes in "The Disney Princess Cookbook," and a holiday-inspired picture book called "12 Days of Princess." A hardcover deluxe storybook collection called "Tales of Courage and Kindness," featuring 14 original stories and artwork inspired by the iconic Disney Princesses and "Frozen" heroes, will be available for fans in early October.

shopDisney's Ultimate Princess Celebration Hotline will launch on August 23, this time with all-new recorded messages from five Disney Princess characters who can be reached by contacting 1-877-70-DISNEY, and two "Frozen" queens, Anna and Elsa, who can be heard only by visiting shopDisney.com.

Photo: Disney Parks

To wrap up the week of celebration, the Disney Channel will unveil an all-new music special, "Disney Princess Remixed – An Ultimate Princess Celebration," on August 27 (7:30 p.m. EDT/PDT). The half-hour special will celebrate the empowering attributes of Disney princesses and "Frozen" queens through reimagined performances of their iconic songs by popular Disney stars. GRAMMY award-winning recording artist Brandy will debut her music video for "Starting Now." The show will also be available on Disney+ the same day in select markets, including the U.S.
That's just a sampling of what's to come! How are you planning to celebration World Princess Week?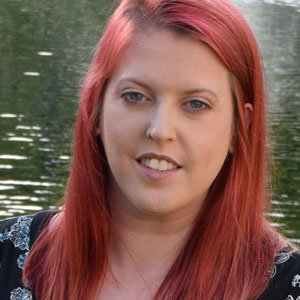 Written by
Sasha Watson
Contributing Writer
Sasha loves traveling, Sunday naps, cookie dough, Halloween and really good roller coasters. An admitted theme park junkie, she is always looking to book her next trip. More often than not, that trip is to Walt Disney World, which is a quick one-hour flight from her home in Georgia. Her favorite travel partner is her husband, Kyle. They've visited Disneyland, Walt Disney World and Shanghai Disneyland, hoping to someday visit all the Disney parks around the world.