Howdy, and welcome to an all-you-can-eat holiday feast at The Diamond Horseshoe. Whether it's lunch or dinner, you can stop by for a warm meal and enjoy the atmosphere of Liberty Square.
| | |
| --- | --- |
| Walt Disney World Park: | Magic Kingdom |
| Location in Park: | Liberty Square |
| Dining Experience: | Casual Dining |
| Hours: | 12:00 pM to 8:00 PM |
| Price Range: | $35 to $59.99 |
| Type of Cuisine: | American Comfort |
| Mobile Order: | No |
| Reservations: | Yes |
| Allergy-Friendly: | Yes |
The Diamond Horseshoe is a restaurant inside Liberty Square's Old West music hall. Inside, you'll find a two-story restaurant with a self-playing piano to play classical music from this beloved time. You'll notice if it's close to the holidays, this dining location has decorations that change seasonally. The Diamond Horseshoe also offers alcoholic beverages, which you can only find at select indoor locations throughout The Magic Kingdom.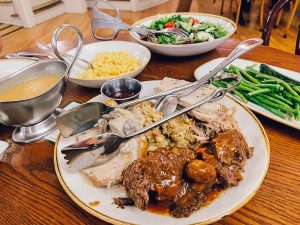 If you love Magic Kingdom's Liberty Tree Tavern, you'll also love The Diamond Horseshoe because it currently features the same menu. You'll get fresh rolls and a Diamond Horseshoe Salad to start your meal. Afterward, the Saloon Feast will be brought to your table, which includes a plethora of food, including oven-roasted pork, roasted turkey, Pennsylvania pot roast, stuffing, macaroni & cheese, seasonal vegetables, and of course, herb stuffing. Always make sure you save room for dessert! The Diamond Horseshoe serves a delicious Oooey Gooey Toffee Cake.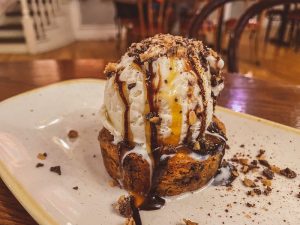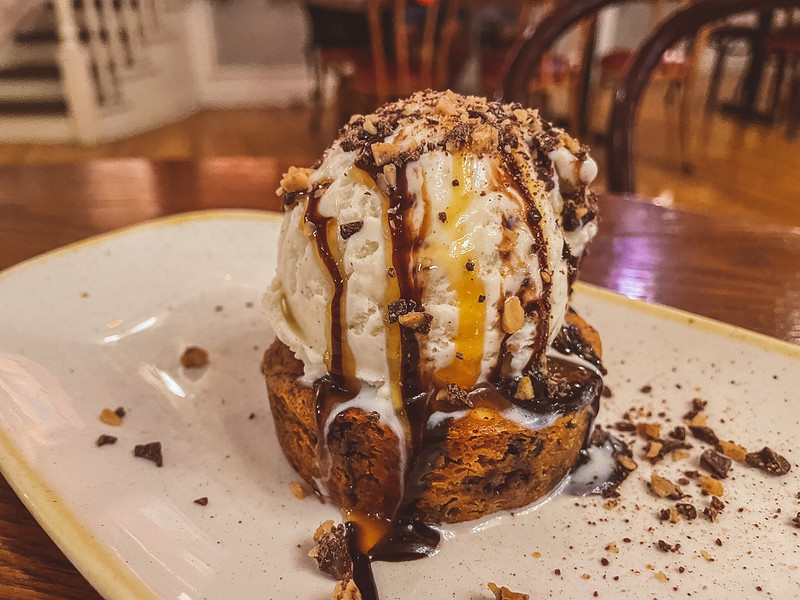 If anyone in your family needs a plant-based menu, this is a great place to dine. The Diamond Horseshoe features Impossible Meatloaf that is served with different plant-based sides. In addition, you can enjoy Johnny Appleseed's Warm Apple Cake.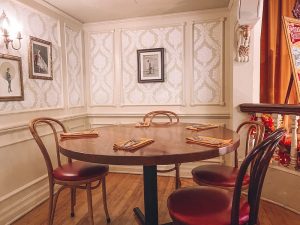 Menu
All-You-Care-to-Enjoy Frontier Feast
Tossed Mixed Greens with House-made Dressing
Roasted Turkey, Pennsylvania Pot Roast, and Oven-roasted Pork with Mashed Potatoes, Seasonal Vegetables, Herb Stuffing, and House-made Macaroni & Cheese
Vanilla Toffee Cake, Chocolate Sauce, and Vanilla Ice Cream
All-You-Care-to-Enjoy Plant-based Cowpoke Platter
Tossed Mixed Greens with House-made Dressing
Plant-based Meatloaf with Mashed Potatoes, Mushroom Gravy, and Seasonal Vegetables
Johnny Appleseed's Warm Apple Cake
with Caramel and Whipped Topping
Allergy-friendly All-You-Care-to-Enjoy Saloon Feast (For Gluten/Wheat, Egg, Fish/Shellfish, Milk, Peanut/Tree Nut, and Soy Allergies)
Mixed Greens, Tomatoes, and Cucumber with House-made Dressing
Roasted Turkey, Pennsylvania Pot Roast, and Oven-roasted Pork
Revolutionary Impossible™ Meatloaf
Plant-based Meatloaf, Mashed Potatoes, Garden Vegetables, and Mushroom Gravy
Specialty Cocktails
Spirit of '76 Cider Shandy – $10.00
Sam Adams Lager topped with Angry Orchard Crisp Apple Hard Cider
House-made Sangria – $11.00
Choice of Red or White Wine blended with Fruit and Spices
Sparkling wine with Orange Juice
Magical Beacon Cocktail – $17.50
a special offering to celebrate the 50th!: Empress 1908 Gin, Bols Blue Curaçao Liqueur, Lemonade, Oregat (Almond), Lemon, Hibiscus Grenadine and souvenir Glow Cube
Elijah Craig 12yr Kentucky Straight Bourbon, Lemon Juice, and Honey garnished with crystalized Ginger
Menu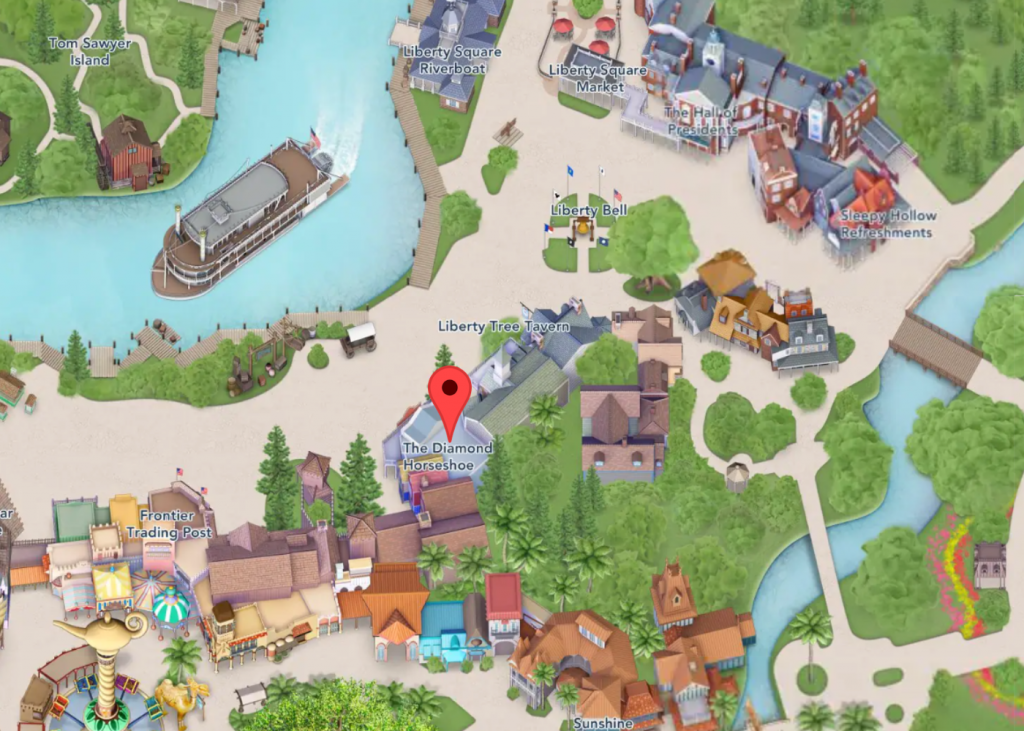 Featured Photo: Bobby Asen.
Written by
Bobby Asen
Contributing Writer
Bobby has a strong passion for Walt Disney's stories and the Disney Parks. From taking vacations to the parks, to being an Annual Passholder, to working as a cast member for seven years at Magic Kingdom, his passion for Disney continues to grow. After visiting every Disney Park in the world, Bobby knew he wanted to share his experiences and his love for Disney in his writing.