There's no shortage of places to treat yourself to dessert at Disney Springs. Whether your craving cookies from Gideon's Bakehouse, a Walt Disney World 50th anniversary treat from the Ghirardelli Ice Cream Shop, or a refreshing float from the Coca-Cola Store Rooftop Beverage Bar there's something for everyone no matter if your visiting this retail and entertainment center in the morning, afternoon, or night.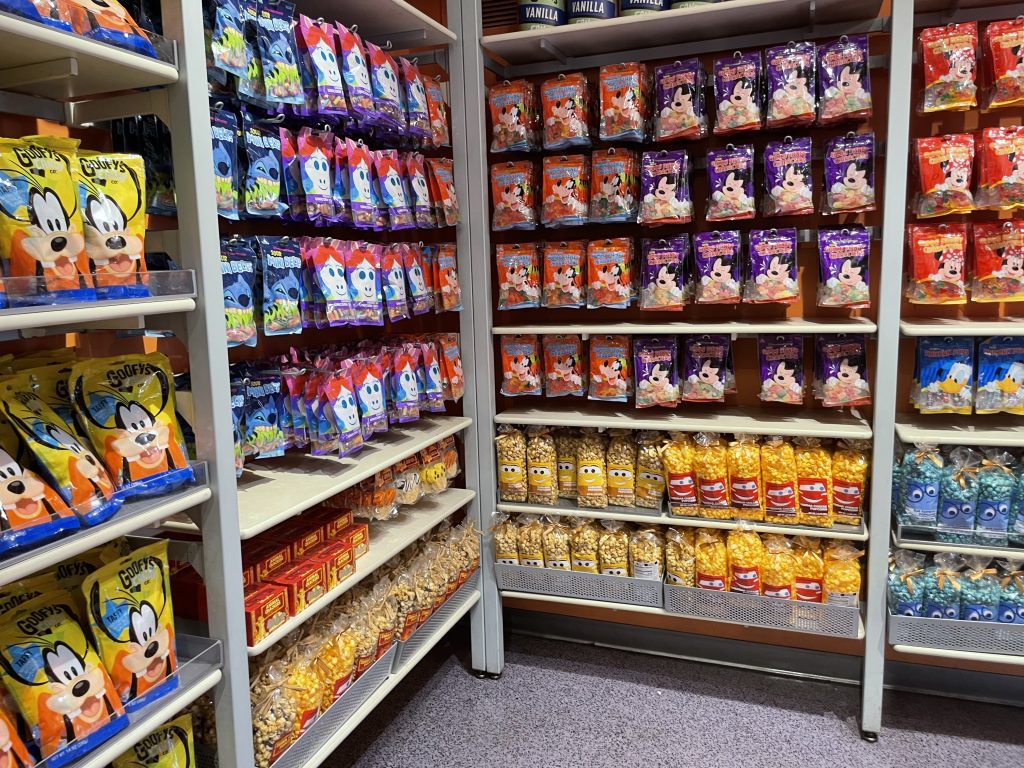 One unique shop from which you can grab something to cure your sweet tooth is Goofy's Candy Company, located directly across from Rainforest Café and its smoldering volcano. Goofy's Candy Co. offers just about every kind of candy you can think of! Guests will find endless flavors of Jelly Belly jelly beans, Disney character-shaped gummies and chocolates, and even bags of deliciously flavored popcorn available for a quick grab-and-go purchase. There is even an entire section of 50th anniversary themed treats which make great souvenirs for friends and family at home.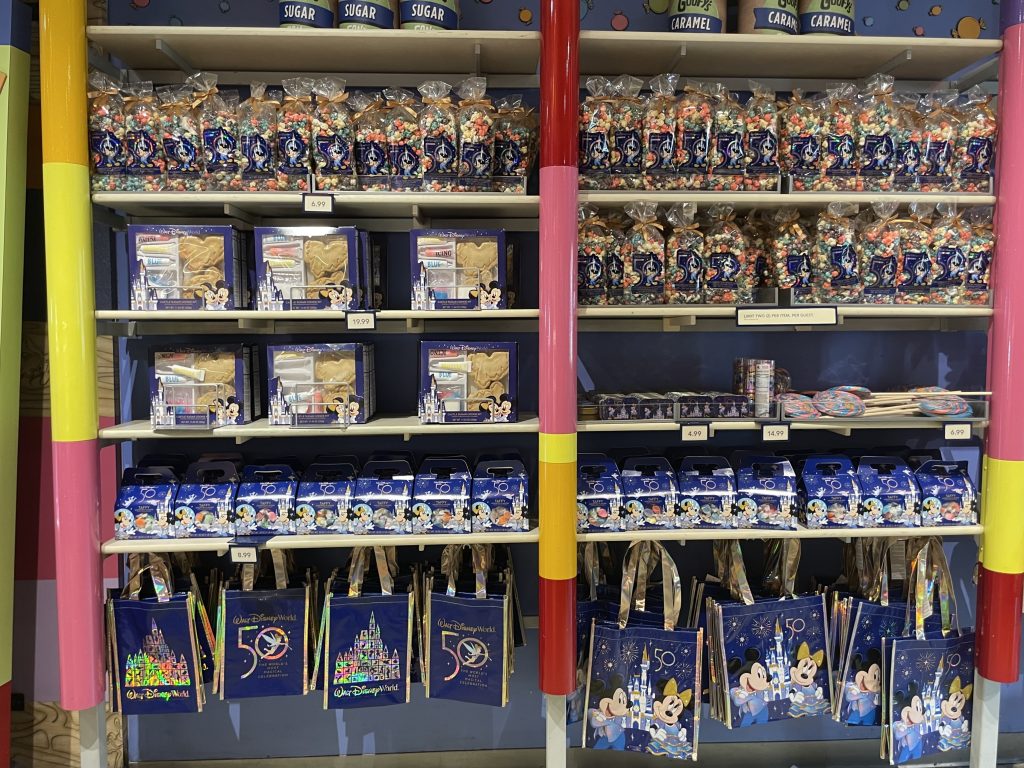 While the pre-packaged treats are ideal for enjoying later, if you're looking for something to enjoy now, Goofy's Candy Co. has you covered! They offer an entire case of freshly decorated caramel apples, crispy cereal bars, marshmallows, cupcakes, cookies, and more, many in the shape of Goofy's best pal, Mickey. With so many varieties, it can be difficult to choose!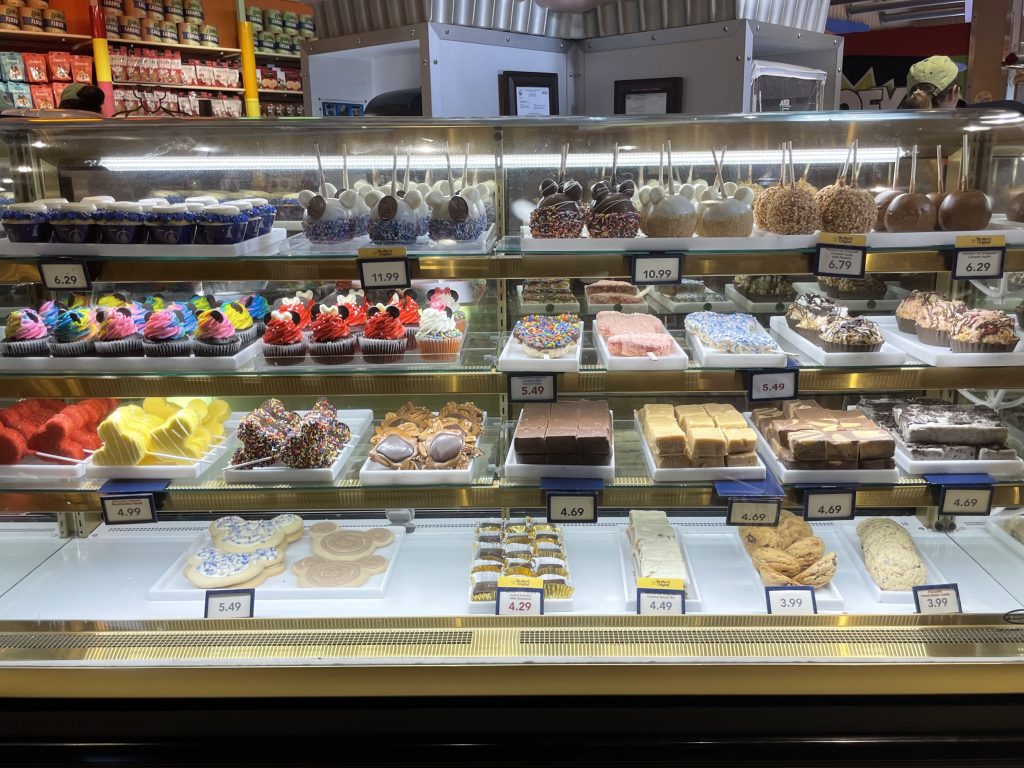 Don't see exactly what you want in the case? Goofy's Candy Co. gives you the option to create your own treat! Choose which item you would like from the create-your-own treat menu and then customize the toppings based on your own personal preferences. It's an easy and quick process and something special for your to do with your travel party while you take a short break in the air conditioning or wait for your table to be ready at a nearby restaurant. Simply follow the steps below.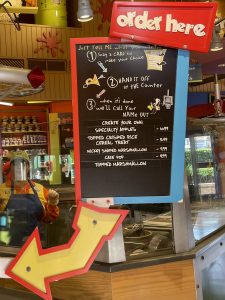 Retrieve the paper order form from the counter and complete with your preferences.
Take the completed form to a cast member working an open register and pre-pay.
Make your way to the counter adjacent to the case that holds the backed goods.
Watch cast members from behind the glass create your treat, just the way you ordered!
Wait briefly for your treat to chill and set.
We chose a Mickey Crisped Rice Cereal Treat dipped in milk chocolate and topped with "earidescent" 50th anniversary sprinkles!  The freshness of the rice cereal treat and the chocolate made the experience well worth it and will likely make us a returning customer. Not only did it melt in our mouth – it was not dry or tasteless like some prepackaged rice cereal treats that can be found at a grocery store – but its size made it shareable, especially for children. It was packaged neatly so that we could enjoy it outside of the store or even take it back to the resort with us to enjoy later.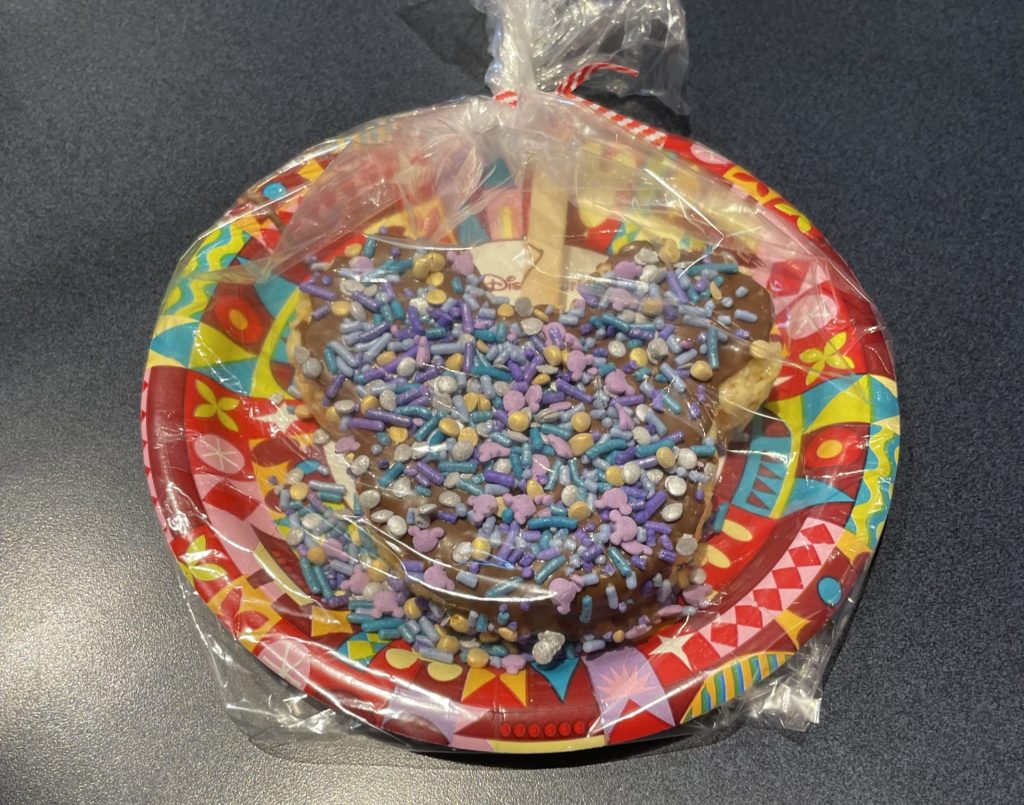 Creating our own treat at Goofy's Candy Co. was a delightful experience that I recommend to anyone wishing to add a little magic to your day. Do you usually make a stop at Goofy's Candy Company when you visit Disney Springs? Which treat would you like to customize the next time you stop by? Tell us in the comments below!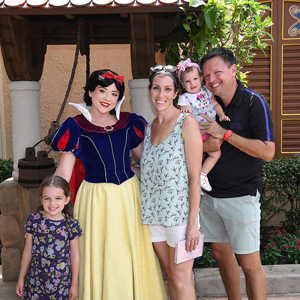 Written by
Shelley Wehler
Contributing Writer
Shelley is a stay-at-home mother of two girls living outside of Charlotte, North Carolina. Her love of all things Disney has grown even more as she sees the magic come alive through the lens of her young daughters. She spends her free time keeping up with the latest in Disney news and daydreaming of her next trip to the parks!