Disney World dining locations that typically offer character experiences have been recently returning! The Crystal Palace restaurant reopened in December 2020 offering family-style lunch and dinner after being closed during the pandemic. At first they offered a Family-style dining and in September 2021 they brought back the buffet but not yet the characters.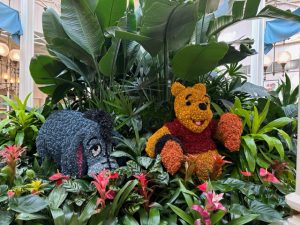 On September 20, 2022 Pooh & Friends finally returned to Crystal Palace. Winnie the Pooh, Tigger, Piglet and Eeyore were back at the restaurant for lunch and dinner and the special 'Friendship Day Celebrashun' returned! On October 25, 2022, CHARACTER BREAKFAST BUFFET also resumed at this bright, Victorian-style venue.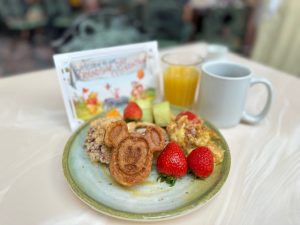 Bountiful buffets feature American favorites prepared before you in the onstage kitchen. Start your day with delicious traditional breakfast fare, freshly baked pastries, fruit and more. The Breakfast buffet is priced at $45 per adult and $29 per child (3-9), plus tax and gratuity. Breakfast is served from 8:00 AM to 10:45 AM.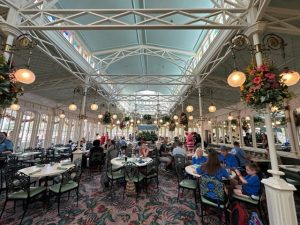 Let's Check out the The Crystal Palace Buffet offerings!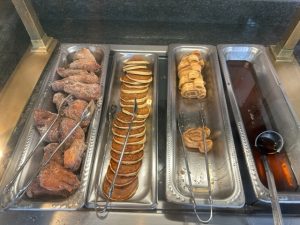 Mickey-shaped Waffles, Buttermilk Pancakes, Puffy French Toast and Maple Syrup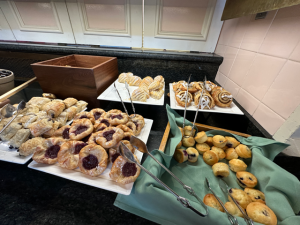 Butter Croissant, Chocolate Croissant, Blueberry Muffins and Assorted Danish
Grape Jelly, Strawberry Jelly, Orange Marmalade, Butter
Autumn Harvest Grain Salad with Apple Vinaigrette, Ketchup and Salsa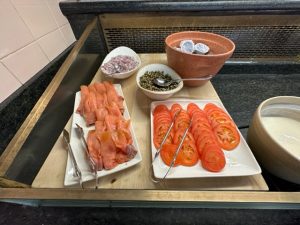 Smoked Salmon, Red Onion, Capers, Fresh-sliced Tomatoes and Cream Cheese
Yogurt and Granola
Traditional Roast Beef Hash
Keralan Tofu Curry
Marinated Tofu with Coconut Curry
Denver Frittata
Ham, Green Bell Peppers, Onions, and Cheddar
Mediterranean Frittata
Spinach, Tomatoes, and Feta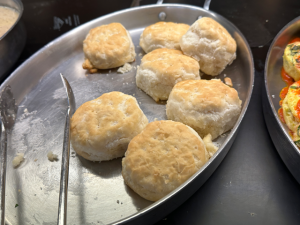 Biscuits
Freshly Prepared Eggs and Home-style Sausage Gravy
Cheesy Potato Casserole and Cheddar Grits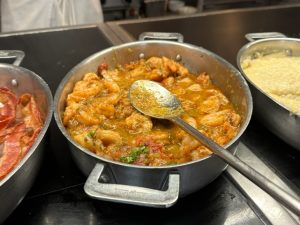 Creole Shrimp
Crispy Bacon and Smoked Sausage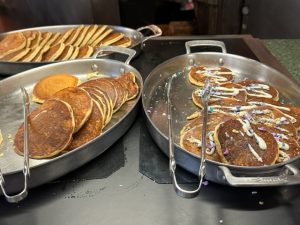 Celebration Pancake with Sprinkles
Doughnuts, Bagels and Bread
Cereals and Milk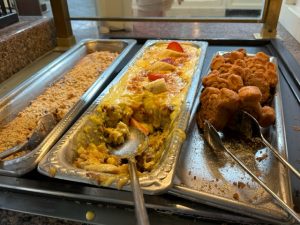 Blackberry-Streusel Coffee Cake, Signature Breakfast Lasagna and Churro Waffles
Oatmeal, Home-style Grits, Maple Syrup, Brown Sugar and Raisins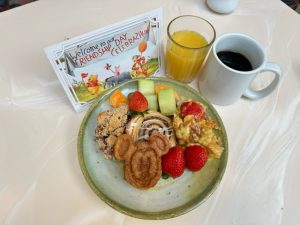 Drinks are included in the price of the buffet, you can choose between juice, soda, iced tea, hot tea, milk, or Joffrey's coffee.
There are also some alcoholic options available for an extra cost (cocktails, beer and wine).
Winnie the Pooh and pals from the Hundred-Acre Wood stop by for photos and autographs during the meal.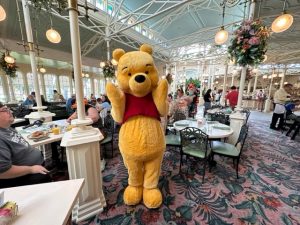 You'll also receive an autographed postcard from Winnie the Pooh and friends.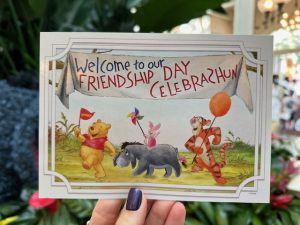 The 'Friendship Day Celebration' parade is a staple at this restaurant, characters walk around the restaurant with balloons and flags, this happens about one time every hour and is great fun for little ones!
This is a big restaurant, so it takes a while for the characters to stop at each table, but don't worry, you'll have plenty of time to see everyone and the cast members will also make sure that this actually happens too.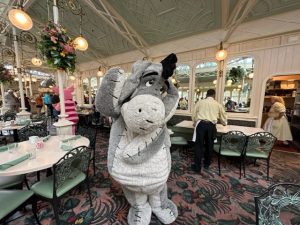 This character breakfast is highly recommended! There are options for everyone and all of them are very delicious.
The addition of the new Mickey Churro Waffles was definitely a HIT!! The classic Puffy French Toastis still in the offerings and it's amazing. The Signature Breakfast Lasagna, which is like a bread pudding with strawberries, banana and custard, is a MUST-TRY.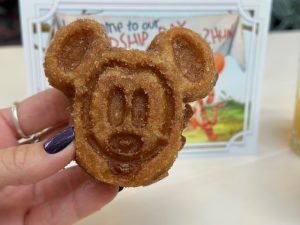 Advance reservations are highly recommended and can be made up to 60 days in advance.
The Crystal Palace Restaurant is an enchanting spot to dine in the heart of Magic Kingdom park and if you ask our opinion, we recommend breakfast over lunch or dinner!
Where is your favorite character dining at Disney World? Let us know in the comments!
Written by
@disneyforfoodies
Guest Writer