Have you ever wanted to include both Walt Disney World and Disneyland Resort in your vacation plans? Many Disney fans have never had the opportunity to do both, with a major reason being that the airfare is so expensive when flying from coast to coast. Not to mention the layovers that will take up your whole day. Now, with the introduction of new low-cost airline that promises to make inter-coastal Disney trips a lot less expensive, we have more options than ever before. Breeze Airways is now offering nonstop flights from Disney World to Disneyland!
Breeze Airways Pricing & Extras
Inter-Coastal Disney Trips
Disney fans regardless of the coast they are on will now be able to fly from / to Orlando International Airport (MCO) directly to / from John Wayne Airport (SNA) for a pretty reasonable price. Some of these fares are as low as $69 per person. Prices can increase to between $79 and $174 depending on the day, with prices topping out at around $400 per person in the Summer time.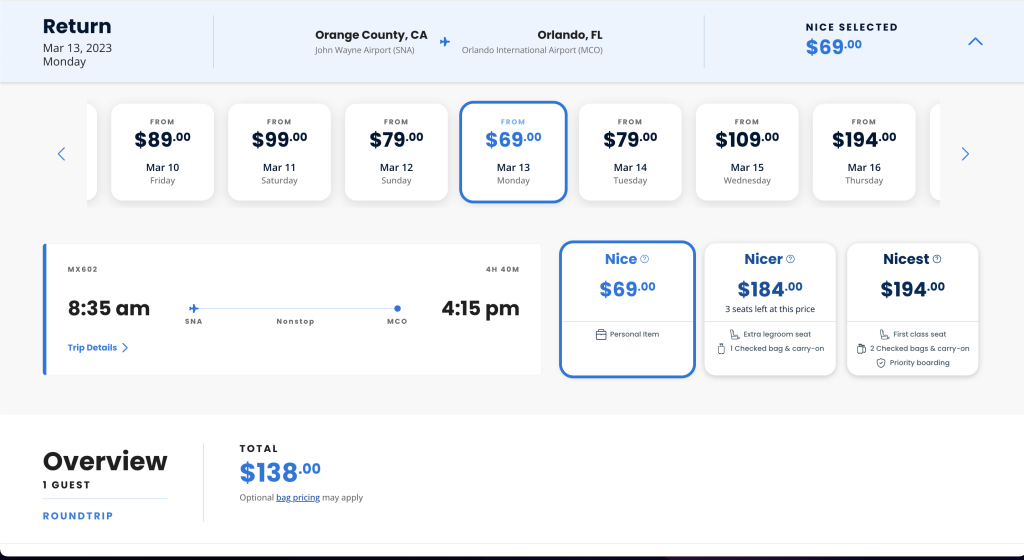 The flights leave once a day from each airport. The flights depart MCO at 4:55 PM daily, and depart SNA at 8:35 AM daily. This has you arriving at quite reasonable times on the opposite end of the coast.
Flight Extras
Breeze Airways is a budget airline, so you will be paying more (approximately $35 per bag, per flight) if you wish to bring a carryon or checked bag with you, but if you are hoping to just head to Disney for a few days on the end of your vacation, what else do you need but a Loungefly with the essentials?
Breeze Airways Destinations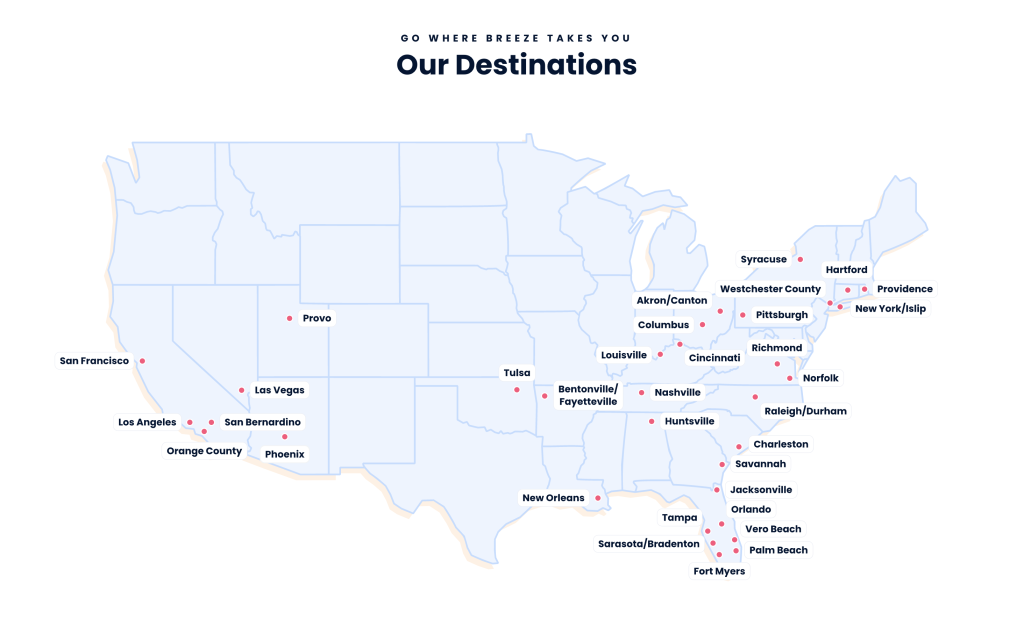 Breeze Airways provides service to quite a few different locations, but not every location that is serviced by Breeze Airways offers flights to every other location, so depending on where you fly from, there are a limited number of destinations to fly to using this airline. If you are flying out of the Orlando International Airport (MCO), you can choose to fly to any of the following destinations:
Akron / Canton / Cleveland, OH – Akron-Canton Airport (CAK)
Bentonville / Fayetteville, AR – Northwest Arkansas National Airport (XNA)
Charleston, SC – Charleston International Airport (CHS)
Huntsville, AL – Huntsville International Airport (HSV)
Orange County, CA – John Wayne Airport (SNA)
Providence, RI / Boston, MA – Rhode Island T.F. Green International Airport (PVD)
Provo / Salt Lake City, UT – Provo Municipal Airport (PVU)
Tulsa, OK – Tulsa International Airport (TUL)
About Breeze Airways
Breeze Airways is an airline company that offers affordable fares and convenient flight options. Breeze Airway's modern fleet is comprised of new Airbus A220 aircraft, creating a comfortable journey for their customers. In addition to offering competitive prices and an amazing selection of destinations, Breeze Airways also provides top-notch service. Passengers can expect friendly flight crews, accessible check-in counters, excellent customer service representatives, and reliable operations.
With flights to more than 60 airports across the United States, Breeze Airways is quickly becoming a household name in the travel industry. From weekend getaways to long-haul vacation adventures, you can count on Breeze Airways to make your travel experience hassle free.
In order to book one of these low price fares, you will want to head directly to Breeze Airways website. Also, don't forget to brush up on the new Reserve powered by Clear service that is now offered at the Orlando International Airport to "breeze" through security at MCO.
What Are Your Thoughts?
Have you always wanted to fly directly to Walt Disney World or Disneyland Resort? This may be your chance! Let us know your thoughts on this new flight offering in the comments below!
Stay tuned to the DVC Shop blog for the best travel tips to make your next Disney vacation more affordable and all the latest developments for Disney theme parks and Disney Vacation Club resorts.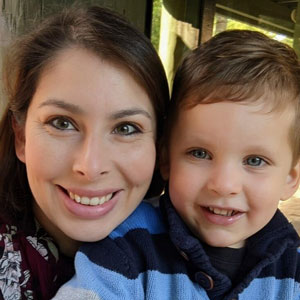 Written by
Rachel Van Norman
Contributing Writer
Rachel fell deeply in love with all things Disney as a little girl. Now as a wife and a mother herself, she shares this Disney obsession with her son and everyone around her. From her love of princesses to eating all the Disney food, Rachel spends her time radiating Disney magic and keeping everyone up to date on Disney news.