A new year brings with it new merchandise to Walt Disney World Resort. One of the most iconic trademarks of any Disney fan are the Loungefly Mini Backpacks. The Loungefly backpack designs change constantly, with new designs being featured based on current Disney films, park anniversaries, or honored rides and characters.
Some of the Disney Loungefly Mini Backpacks are available to purchase on the ShopDisney website, while others are exclusive offerings in World of Disney in Disney Springs. These backpacks are one of the best souvenirs for your Disney trip, so why not plan ahead on which bag you will be purchasing on your trip. Here are the best Loungefly Backpacks at World of Disney right now in early 2023!
50th Anniversary – Grand Finale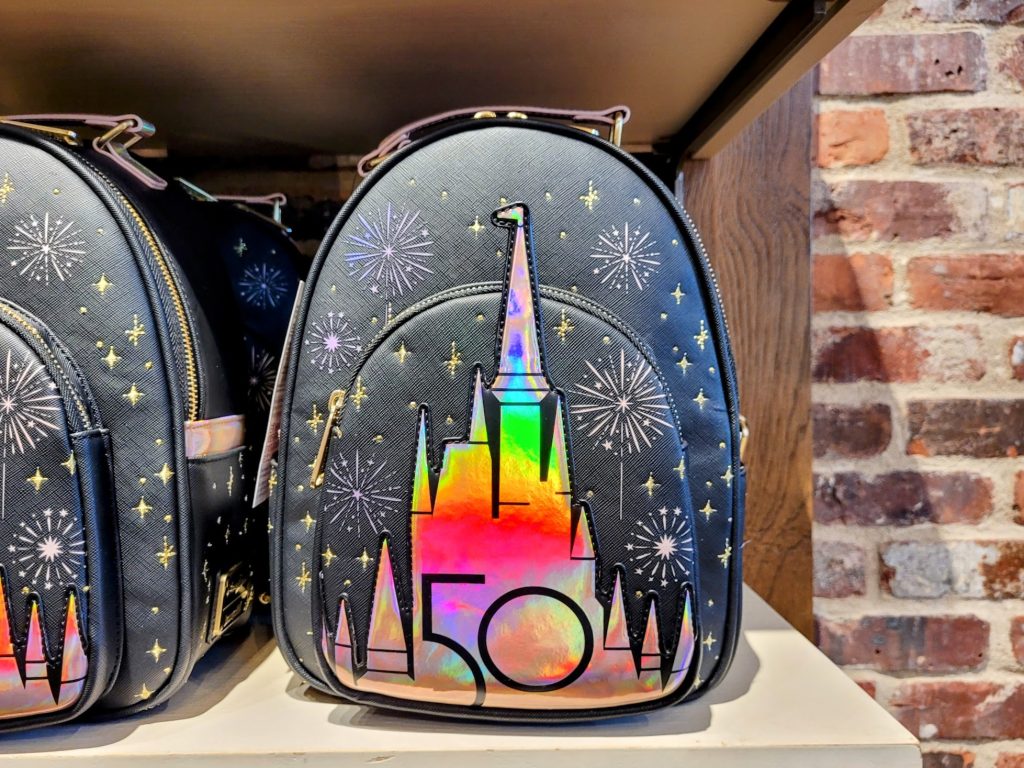 Walt Disney World's 50th anniversary is almost at an end, and they are celebrating with the release of this Grand Finale Loungefly backpack. The background is all black with gold fireworks all over and an EARidescent castle on the front with the number 50 in black. It is truly beautiful and a great way to close out the 50th anniversary. This Loungefly will most likely not be around very long, given that the anniversary celebration ends in just a few short months.
Minnie Mouse Disney100 Anniversary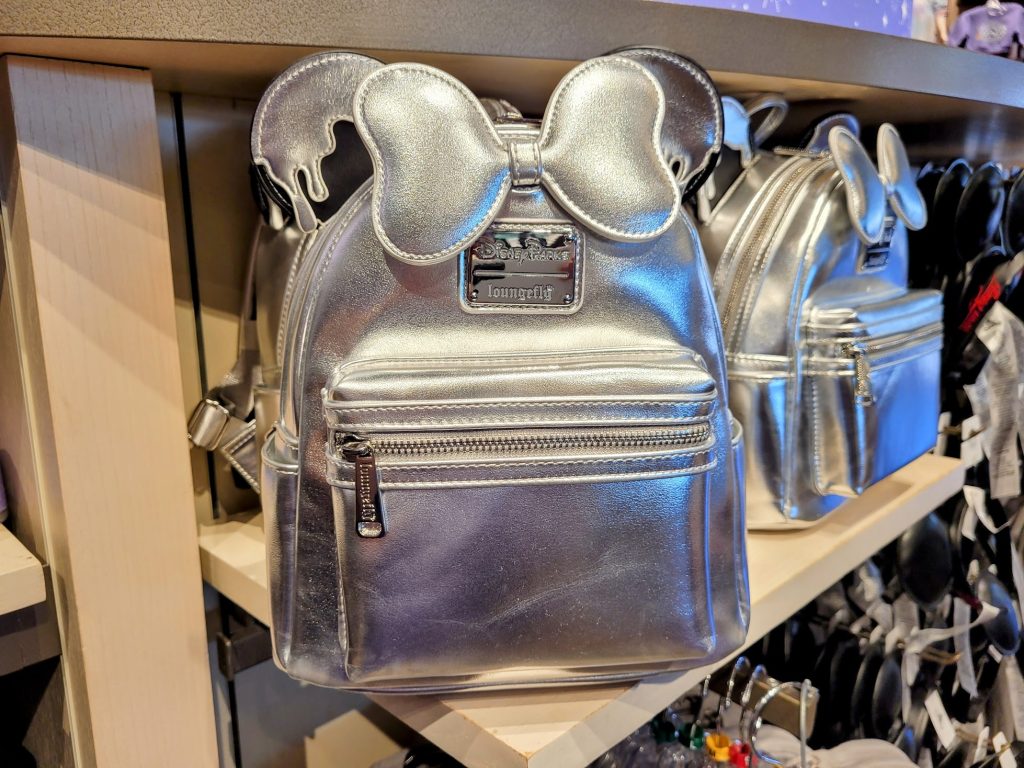 With the 50th anniversary coming to a close, there is another that is going to be celebrated. The 100th anniversary of the Disney Company is already being celebrated with the drop of new merchandise, including this Minnie Mouse inspired Disney100 Loungefly backpack. It is all a shimmering silver color, other than the ears. The ears area black base with silver dripping down them. It is of course complete with a silver Minnie Mouse bow on top. This one will most likely be around for awhile since the Disney100 celebration has just begun!
Mickey Mouse – The Main Attraction – Haunted Mansion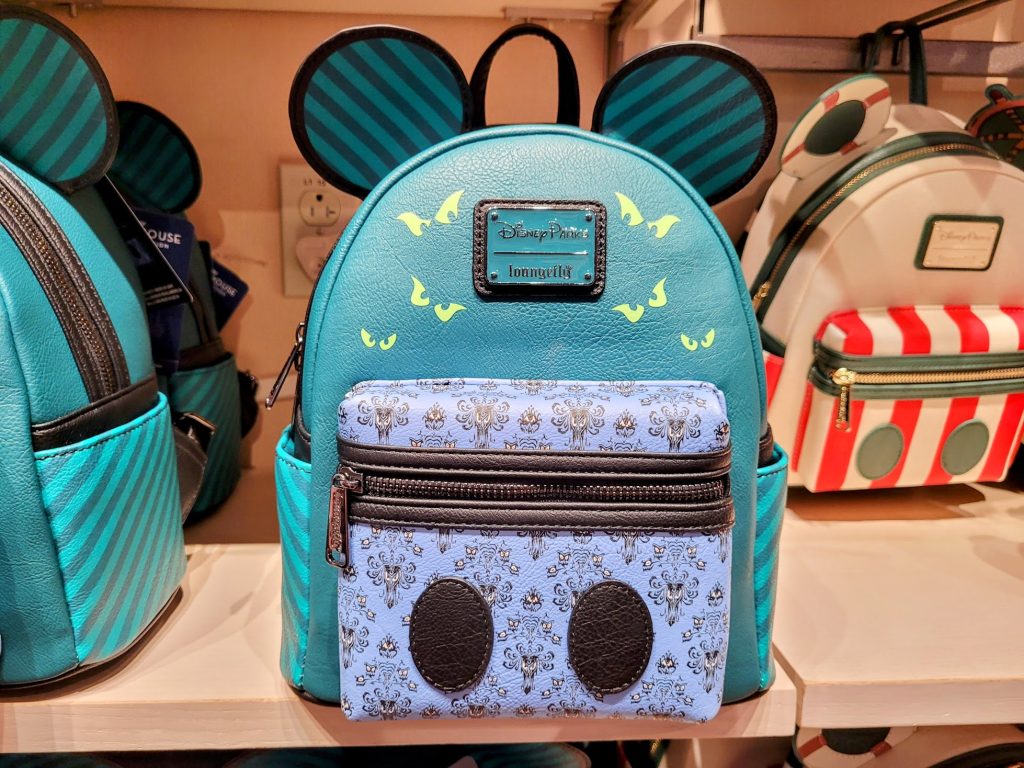 At the end of last year we saw a couple of Mickey Mouse – The Main Attraction Loungefly backpacks in Disney Springs, but even more have been released!
This Haunted Mansion Loungefly is a gorgeous teal color with stripes on the pockets and ears. The top portion of the bag has six pairs of yellow eyes peeking out as well. The front pocket has the look of Mickey's shorts, but instead of the traditional red color, it is a lavender color with black spooky designs. This Loungefly is to die for! Be sure to check it out soon since it is a limited edition release!
Mickey Mouse – The Main Attraction – The Jungle Cruise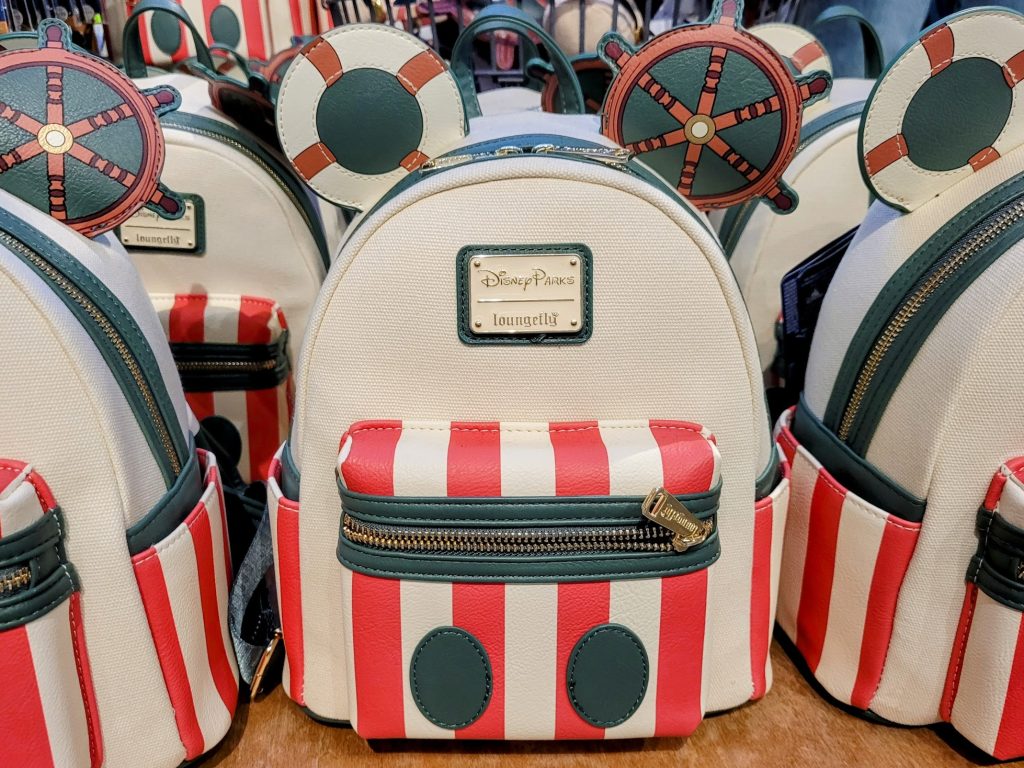 Another limited edition release is the Mickey Mouse – The Main Attraction – The Jungle Cruise Loungefly. This backpack encapsulates one of Magic Kingdom's iconic attractions, The Jungle Cruise.
The main portion of the bag is a cream color. The side and front pockets have red stripes along with the cream colored leather. The Mickey shorts button and the zippers are a deep jungle green color. The ears are the same green color but with designs over it. One of the ears is a steering wheel and the other is a life preserver. If you have ever seen how some of the skippers drive the cruise boats, you may need the life preserver!
Mickey Mouse – The Main Attraction – Dumbo The Flying Elephant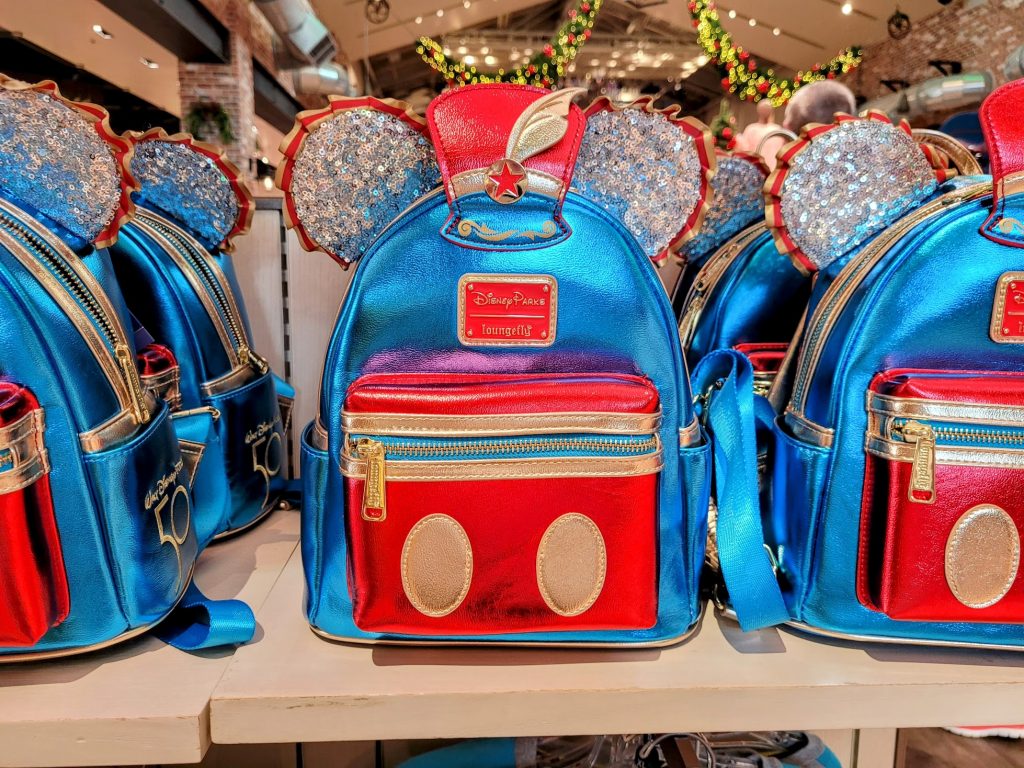 This next Loungefly took inspiration from the Disney park attraction Dumbo The Flying Elephant, that was obviously inspired by the movie Dumbo. Although the movie and ride will probably be around forever, this Loungefly mini backpack won't be. This Dumbo Loungefly is also a limited edition.
This Loungefly is vibrantly colored with a shimmering blue and red color pallet. The zippers, Mickey pant circles on the front pocket, and other bits of trim are a bright gold, while the Mickey ears have silver sequins. Oh yeah, let's not forget the absolutely ADORABLE Timothy Mouse hat on the very top between the Mickey ears.
Mickey Mouse – The Main Attraction – Big Thunder Mountain Railroad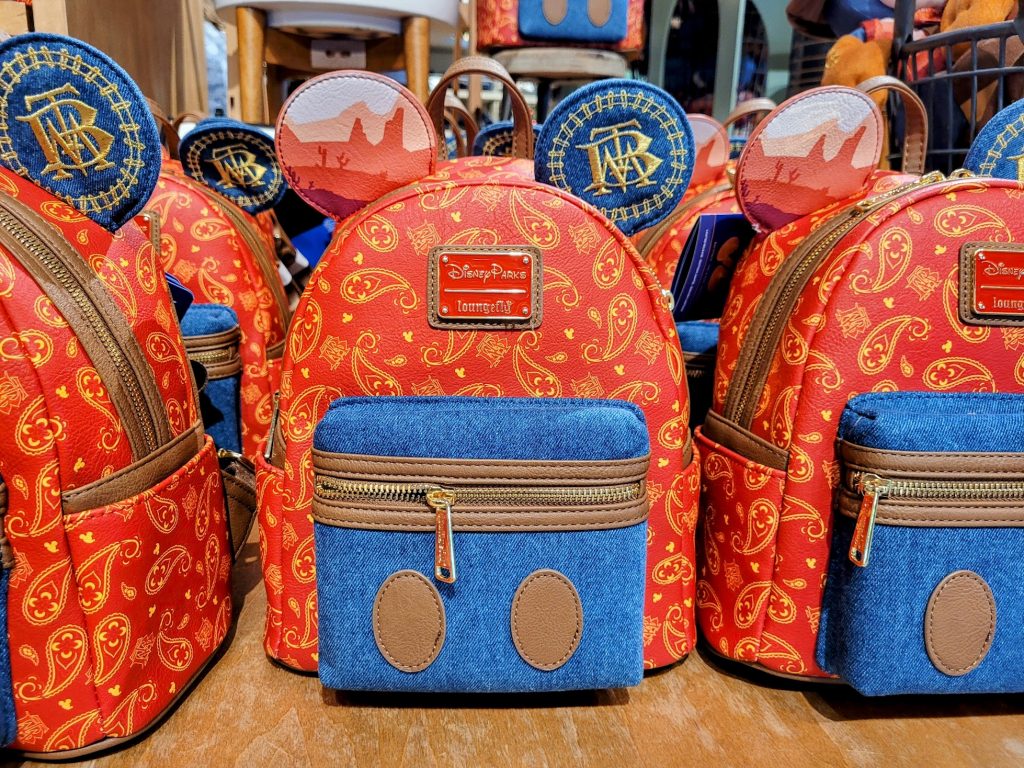 This Big Thunder Mountain Railroad Loungefly is also limited edition and will only be available for a limited time. This mini backpack has a more rustic look to it to match the theme of Big Thunder Mountain Railroad.
The main body portion of the leather is a red color with gold accents, while the pocket also sports the classic Mickey shorts look with a blue jean feel. The Mickey ears are two different designs with one featuring a scenic desert mountain range in red and the other a blue ear with gold accents of a circular train track and the letters B, T, M.
Scarlet Witch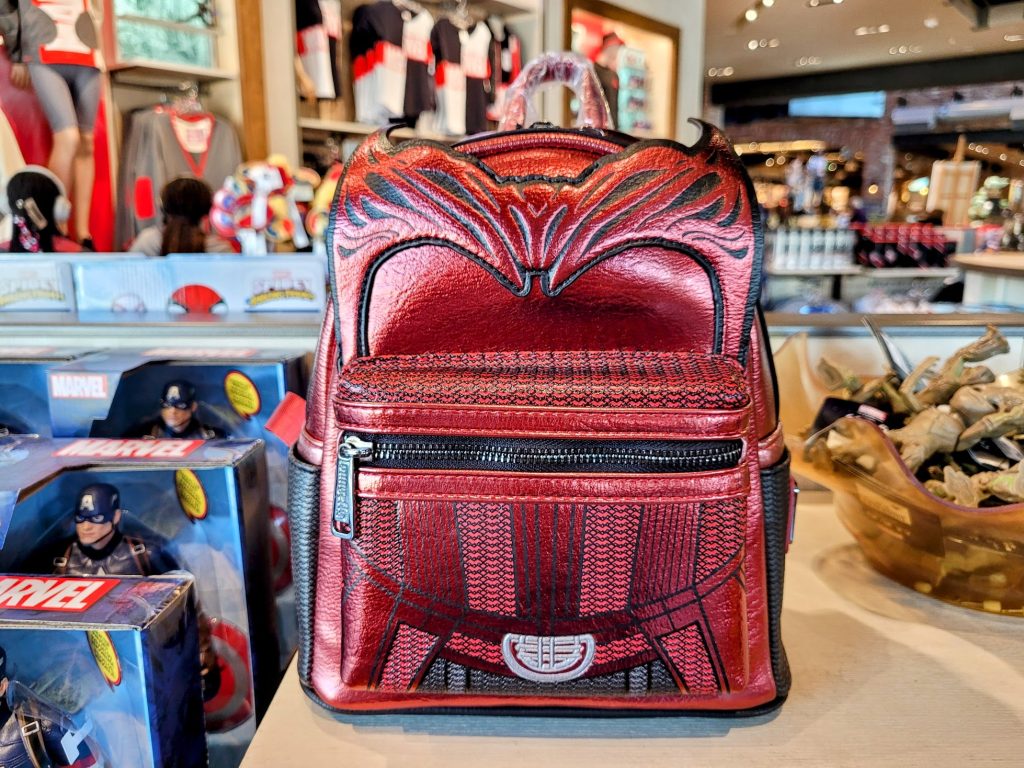 "Doctor Strange in the Multiverse Madness" is now on Disney+ and to celebrate there is a new Loungefly in World of Disney. This stunning Loungefly is inspired by none other than Scarlet Witch. It is a deep red color, just like Wanda's Scarlet Witch outfit, and has the top portion that looks like her headband. The zippers and side pockets are black. This Loungefly captures Scarlet Witch's look perfectly.
Minnie Mouse Polka Dot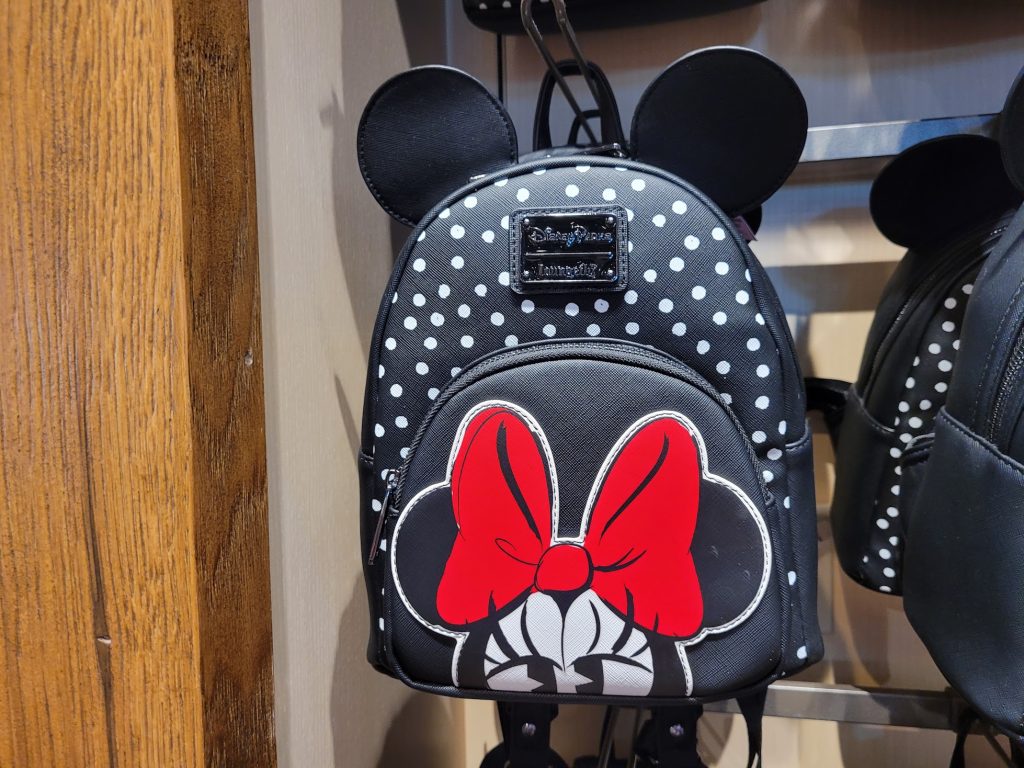 This Minnie Mouse Polka Dot Loungefly is all black leather with white polka dots on the top part (not including the ears). The zipper pocket closes in a half circle instead of straight across like majority of the others, and features a bit of Minnie Mouse and her giant red bow. This Loungefly gives off very chic Paris vibes that we are loving!
Black Panther- Wakanda Forever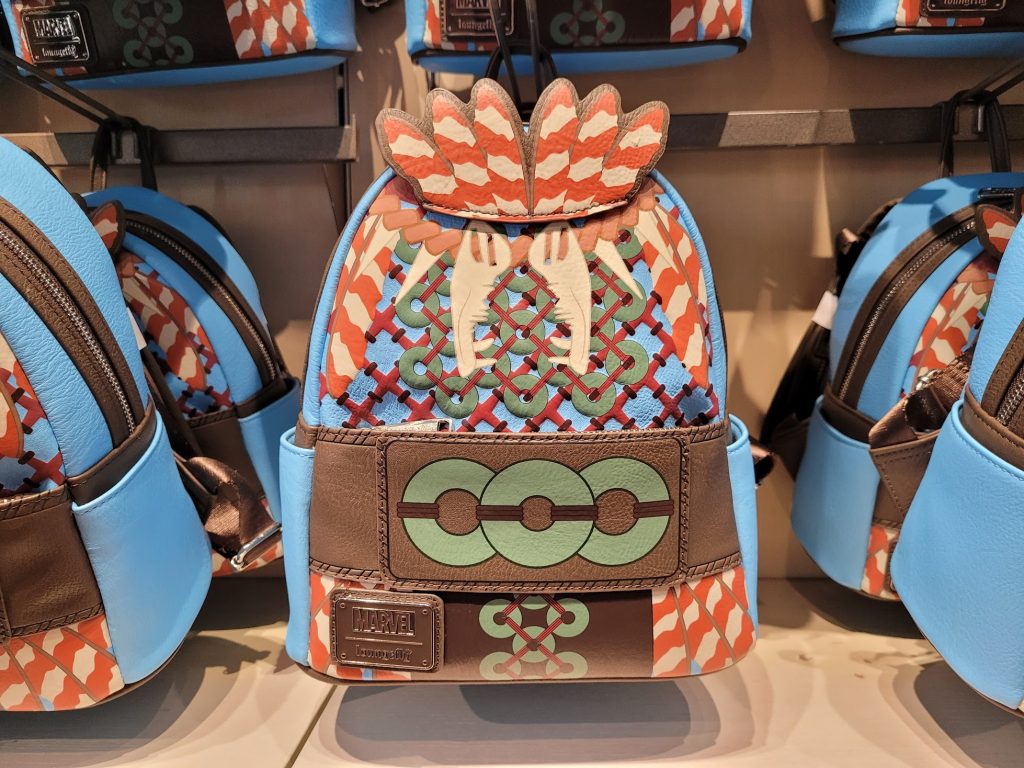 The sequel to Marvel's Black Panther has just been released on Disney+. This new Loungefly backpack is inspired by Black Panther – Wakanda Forever and has beautiful patterns on it, various pastel colors and even the jaw bones that Shuri was wearing in her traditional outfit in the first film. It is truly a stunning bag that any Marvel fan would love.
Woven Mickey Mouse – Black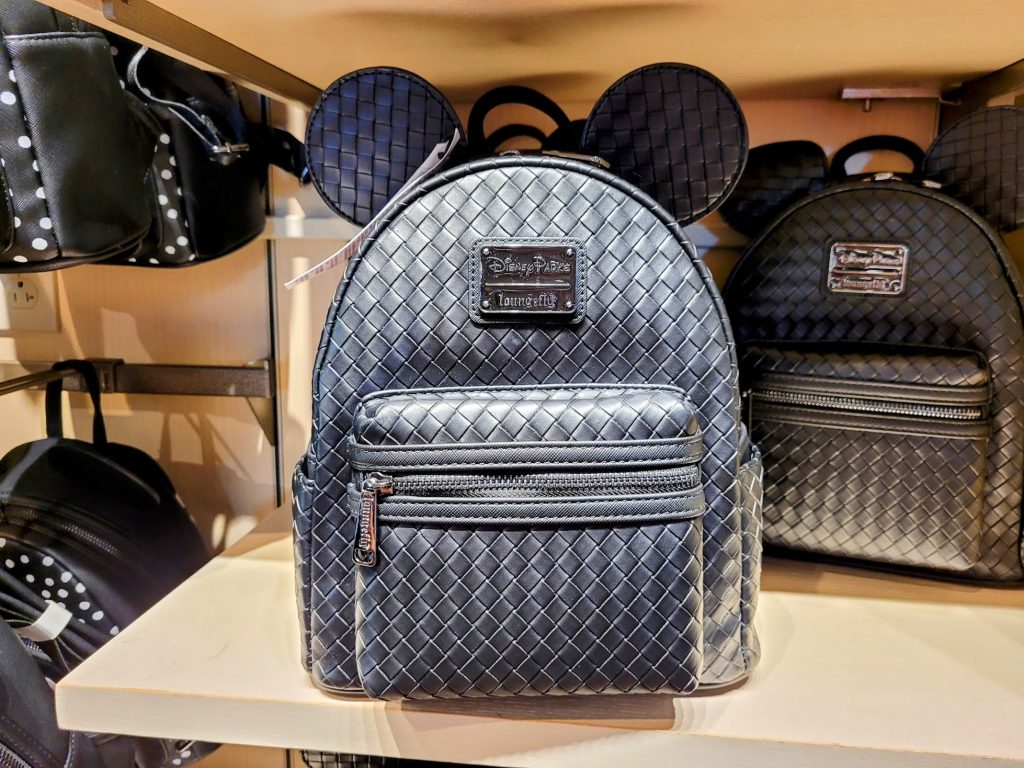 This next backpack has another unique texture to it. This is a Mickey Mouse Loungefly that features a woven look. It is all black, from the leather, to the zippers, and even the Loungefly logo. Although it may not seem like it has as much wow factor as some of the other designs, this all black Mickey backpack is so understated and beautiful. Besides, black goes with everything! This Loungefly would be the only one you ever need at any time of the year. Easy to accessorize, all of the function, and beautifully unique; an absolutely gorgeous choice for sure!
Mickey Mouse Swirl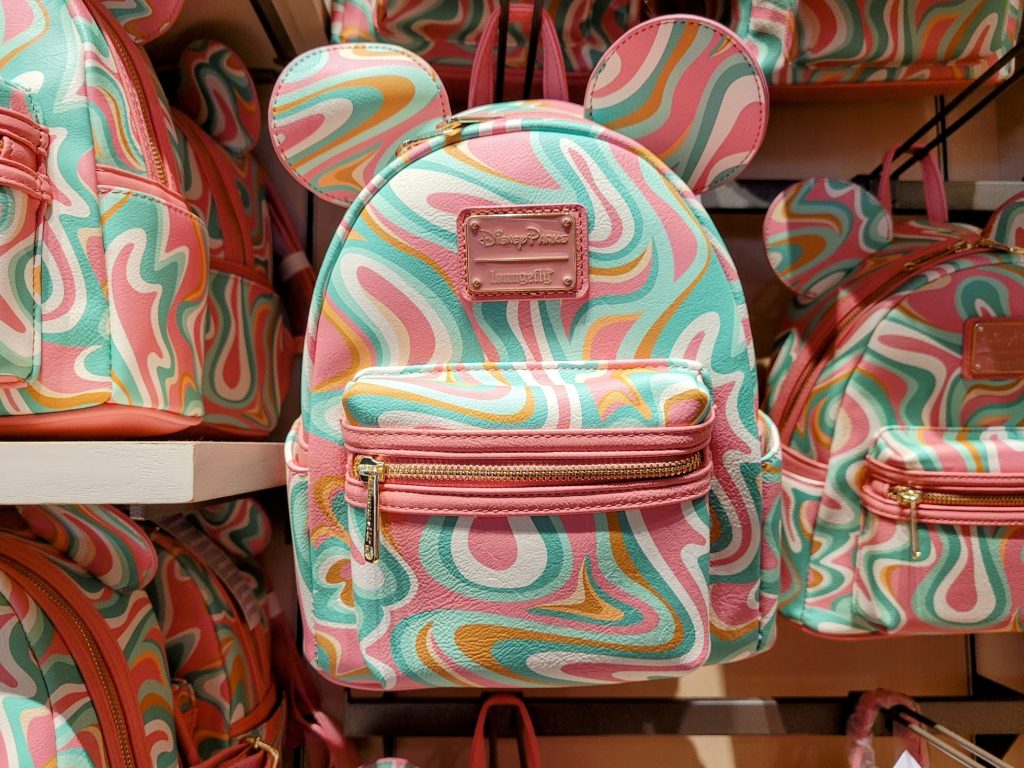 The Mickey Mouse Swirl Loungefly is a new edition, and it is definitely giving off some 70's vibes. The Swirls are pastel pinks, various greens, and white. The zippers are gold, and of course the top of this backpack features the signature Mickey ears. This design is so original, retro, and downright fun!
Absolem Caterpillar – Alice In Wonderland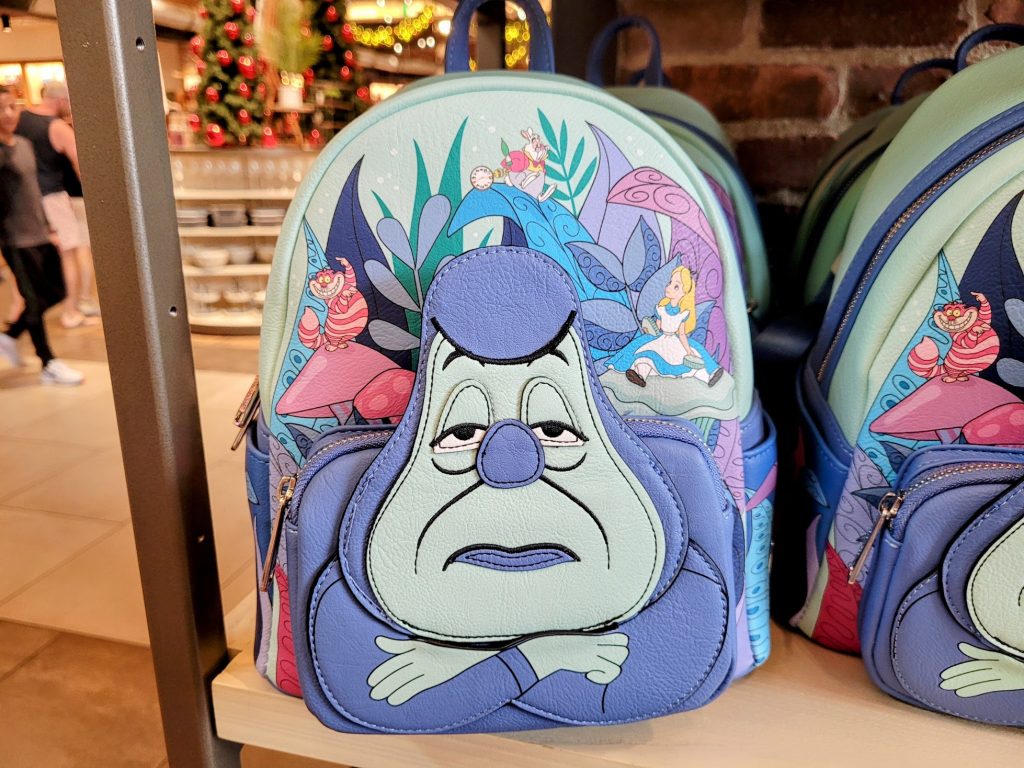 Absolem the Catepillar is still hanging out in Disney Springs with this Alice in Wonderland inspired Loungefly. His hand and crossed arms are on the front zippered pocket, giving "I don't care" attitude. Behind him the scene has Alice and the Cheshire Cat sitting on a mushrooms and the White Rabbit sliding down a blue leaf. This Loungefly backpack definitely tells the story of Alice in Wonderland perfectly!
Up – Kevin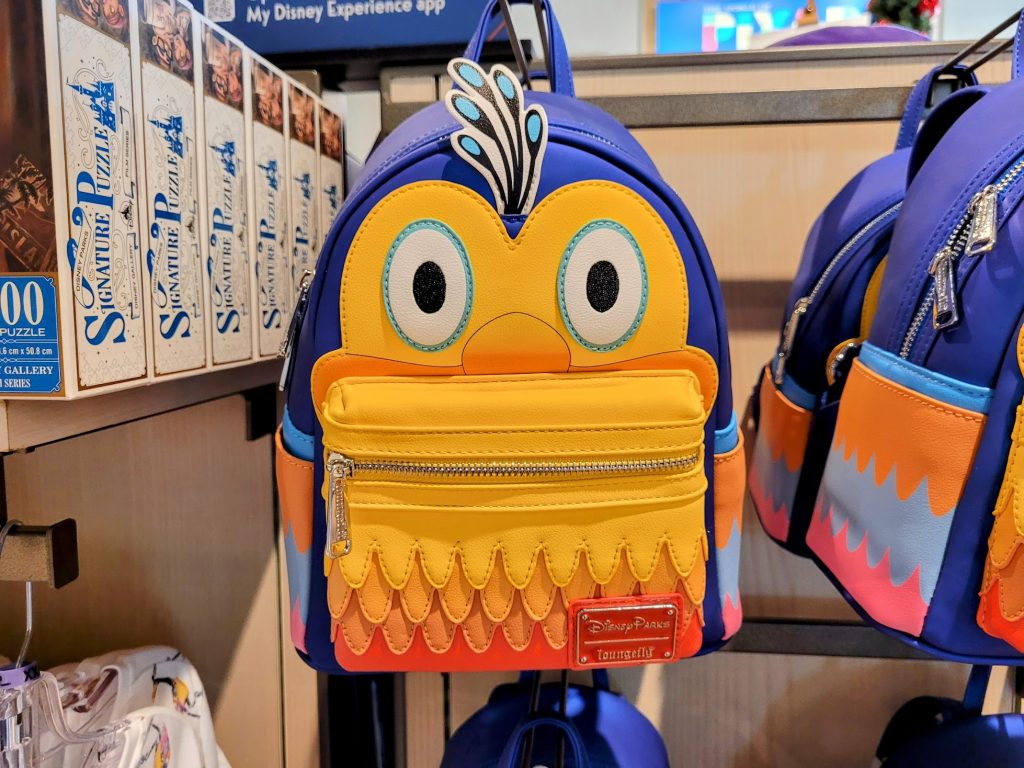 Kevin is still here! The Kevin from Up Loungefly Backpack has been hanging around World of Disney for a long time now. It is very popular bag that you will see all over the parks, in particular Animal Kingdom. She is adorable beyond belief with so many vibrant colors and she is just a super fun character to boot. We hope Kevin never leaves.
Toy Story – Bo And Woody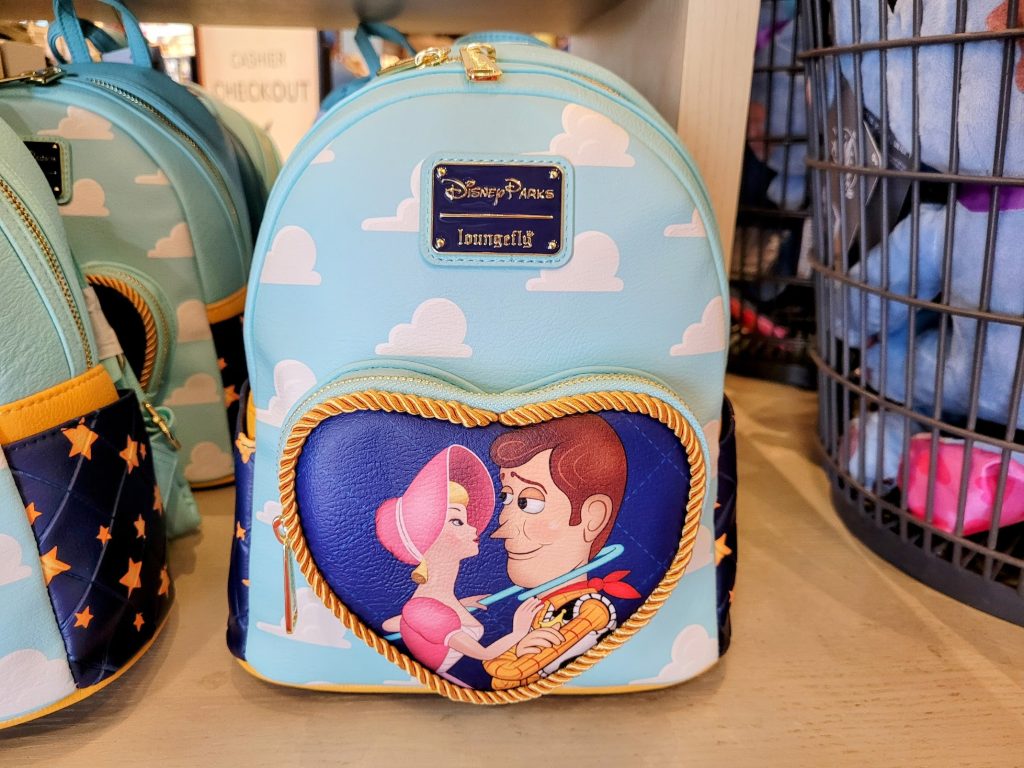 Valentine's Day is just around the corner, and what better way to celebrate yourself or your partner than with a new bag! This Loungefly is inspired by Pixar's Toy Story and features the love story of Woody and Bo Peep.
The main portion of the Loungefly is a light blue with white clouds, just like Andy's walls were painted in his room. The side pockets are a navy blue with gold colored stars. The front pocket is heart shaped (adorable) complete with a gold lasso. The image in the heart is Bo Peep holding Woody in his shepherd's hook. This is the perfect Loungefly to show someone you care!
The Incredibles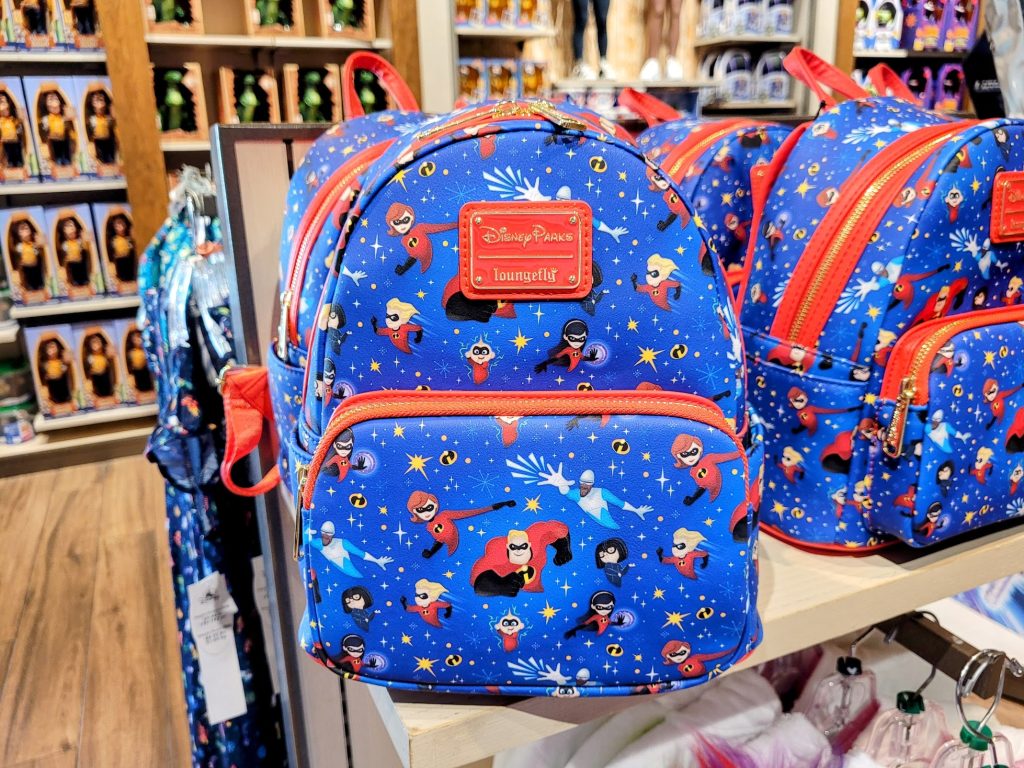 We don't get enough Incredibles merchandise in my opinion, but this new Loungefly Backpack shows off all of the super characters and their abilities. The entire Loungefly is a deep blue color with red on the zippers and straps. The design features all of the characters, including Mr. and Mrs. Incredible, Dash running around, Violet with a forcefield, Jack Jack, Frozone, and of course Edna Mode with her own super power of being fabulous.
Disney Parks – Minis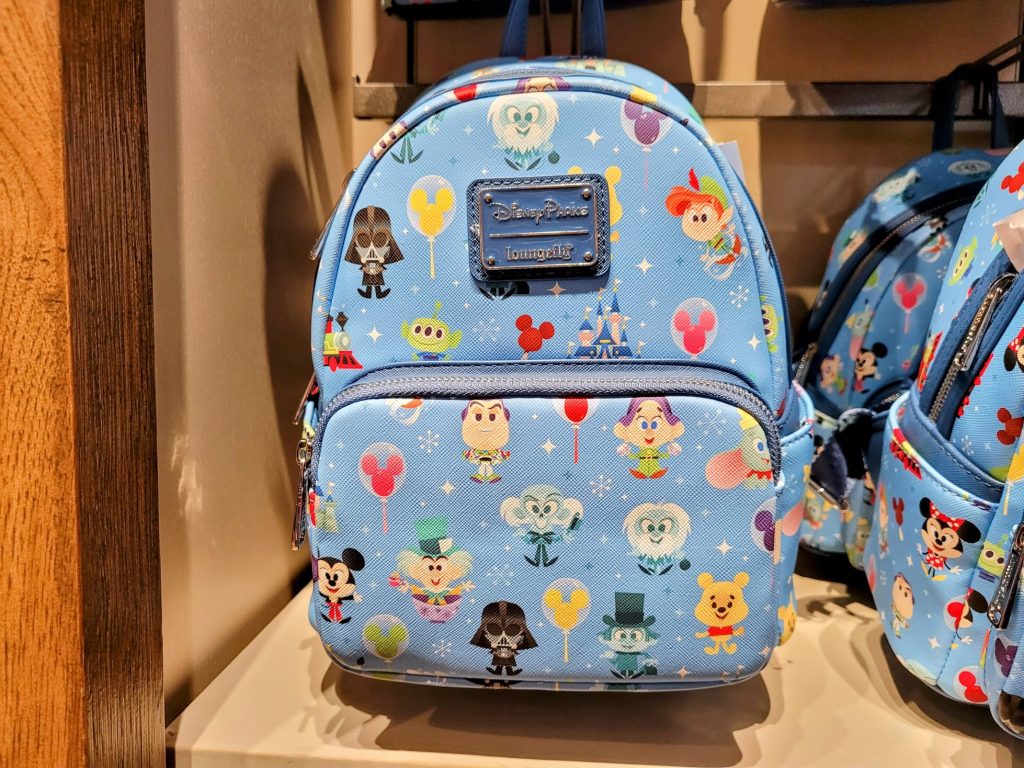 A new Disney Parks Minis Loungefly backpack has dropped at World of Disney. This newer version is a light blue background and features characters that can be seen throughout the parks. Some of these characters are available for meet and greets, where others have inspired rides such as Dumbo or the Mad Hatter. There are also sparkles of pixie dust all over the bag and iconic Mickey balloons. Not to mention glimpses of Cinderella Castle. This is an adorable update to the other Disney Parks Attractions Loungefly.
Disney Parks Attractions – Chibi Design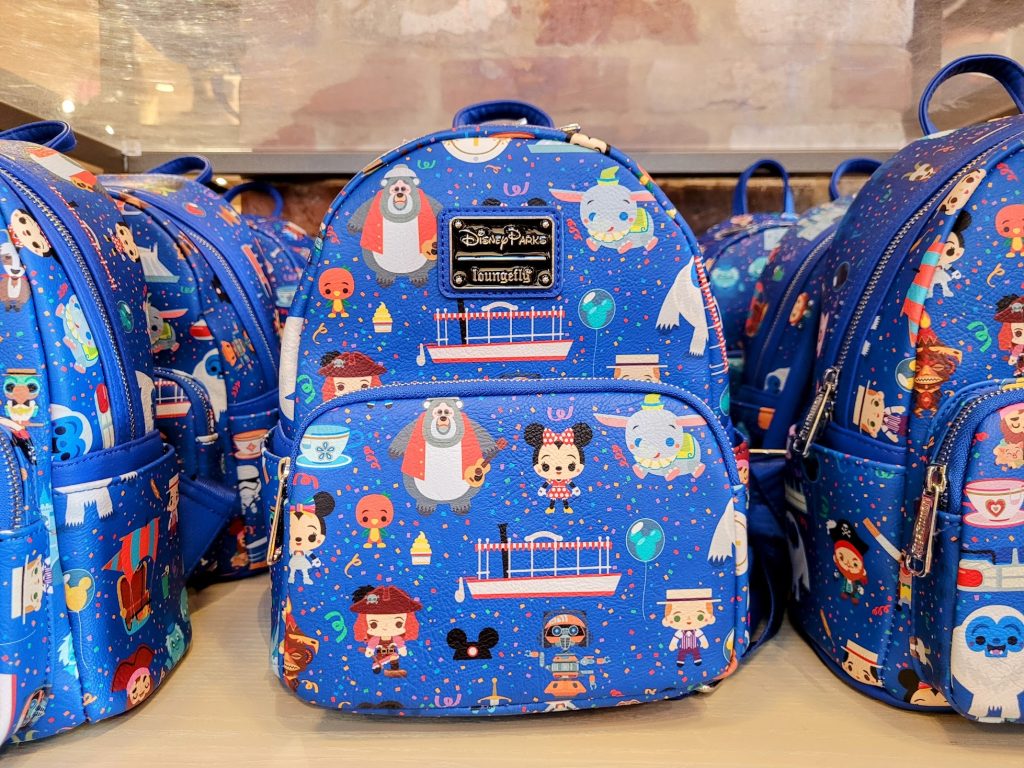 This Disney Parks Attractions Minis Loungefly has been a staple at World of Disney for quite some time. Although you never know when Disney will swap out the merchandise, this design encompasses all of the Disney park favorites such as Mickey balloons, Disney snacks, favorite original rides, and other classic Disney entertainment. Now that Disney has two versions of Disney Park Loungefly Backpacks, it's hard to say how long this one will be sticking around.
Winnie The Pooh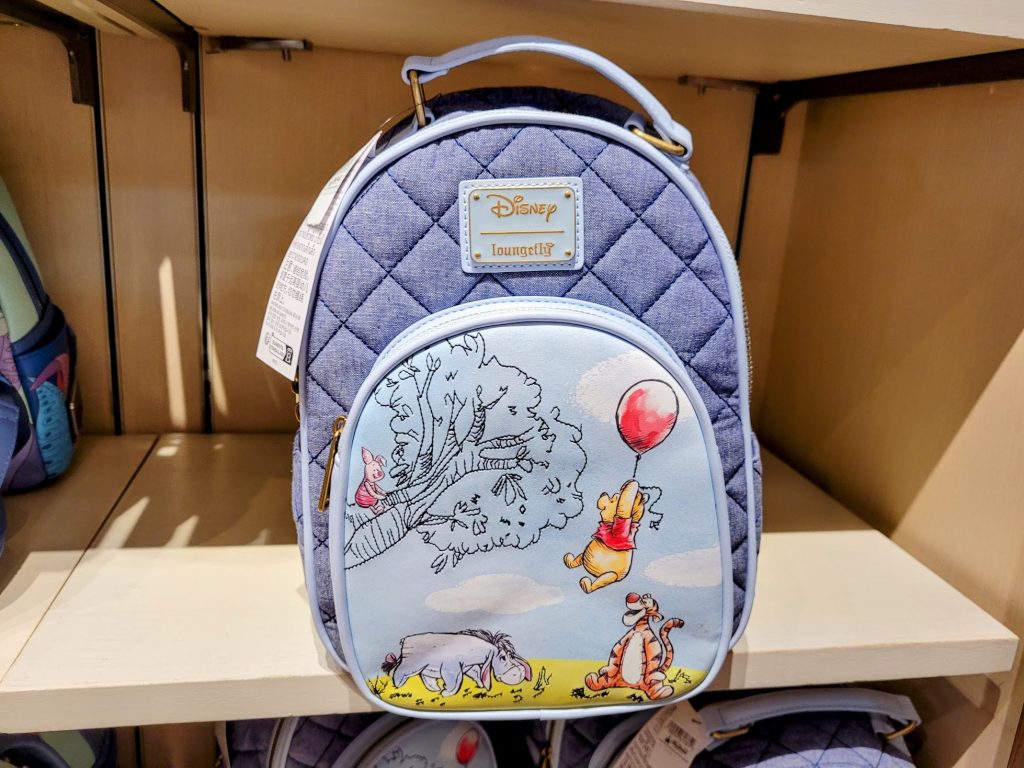 This newest Winnie the Pooh Loungefly is unique in the material used. This one is not leather like the others, but instead the main portion of it is a quilted blue fabric, while the pocket that has the picture on it is still leather. The picture is of Winnie the Pooh holding onto his balloon trying to get up into the tree where Piglet is. Watching him are two of his other friends, Tigger and Eeyore. This would be the perfect Loungefly to bring with you into Magic Kingdom or the Hundred Acre Woods.
Star Wars – Classic Characters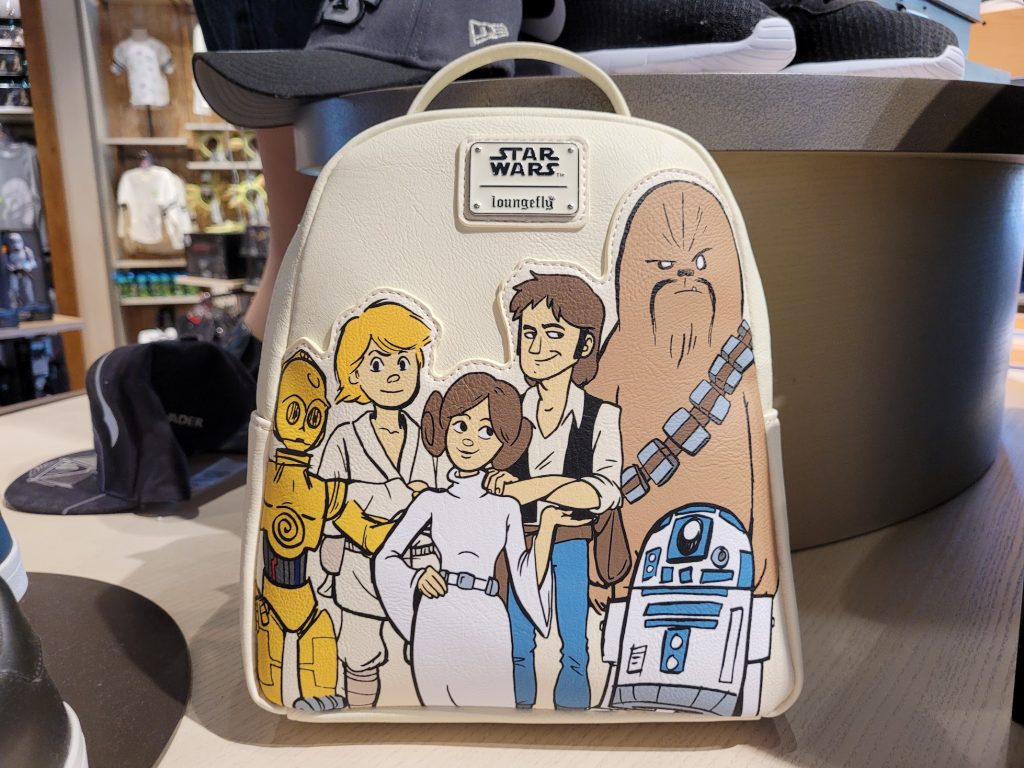 We are happy to say that there is a new Star Wars Loungefly in Disney Springs, this one featuring the classic characters that we all know and love. Most of the Loungefly is a cream colored leather, and the front has images of C3-PO, Luke Skywalker, Princess Leia, Han Solo, Chewie, and R2-D2. This backpack isn't the flashiest of colors, but it would blend in perfectly in Galaxy's Edge!
2023 Lunar New Year – Year Of The Rabbit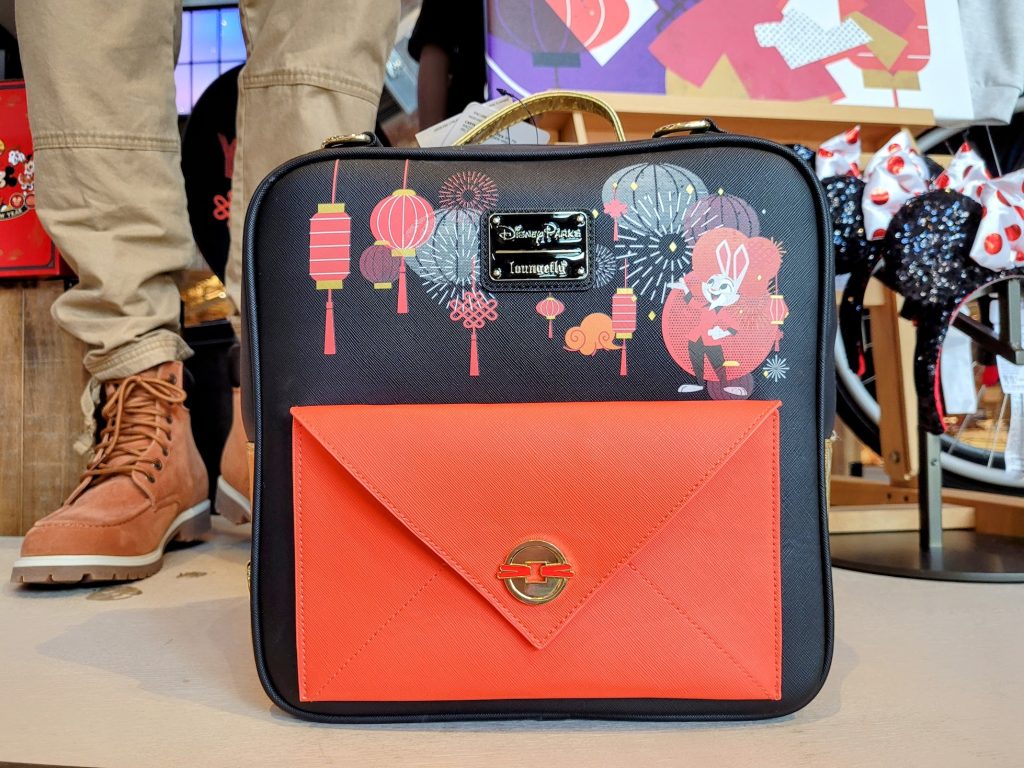 It is a brand new year! The year of the rabbit in fact. This Loungefly backpack is designed to celebrate the 2023 Lunar New Year. It is mostly black with a red front pocket. The straps are gold and can be attached as a backpack or crossbody, making it very universal. The design features officer Judy Hops on the front gesturing to the gorgeous decorations. This bag is the perfect addition to your Lunar New Year celebration!
Let's Shop!
As you can see there are so many new Disney-Themed Loungefly Mini Backpacks to choose from in World of Disney right now! Are you a Loungefly backpack collector? Will you be heading to Disney Springs to get one soon? Which one of these amazing Loungefly backpacks is your favorite? Let us know by leaving a comment below!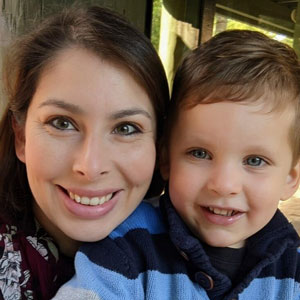 Written by
Rachel Van Norman
Contributing Writer
Rachel fell deeply in love with all things Disney as a little girl. Now as a wife and a mother herself, she shares this Disney obsession with her son and everyone around her. From her love of princesses to eating all the Disney food, Rachel spends her time radiating Disney magic and keeping everyone up to date on Disney news.