Each year in December, the condo association for Disney Vacation Club holds a meeting in that recaps the major events of the year and outlines what DVC members can expect for the coming year. If you are a Disney Vacation Club member, then you may be interested in learning about the highlights of the 2022 Condo Association meeting that was held earlier this month on December 8th. If you were not able to attend, don't worry! We have all the key highlights for you here!
Member's Question And Answer Session
This year's meeting's format was flipped to feature a member question and answer session at the front end of the event, rather than at the end as is customary.
A few highlights revolve around the discussion of Disney's Park Pass reservation system, with some members openly voicing their dislike for the system and petitioning to remove the system altogether. While the answer to this question went largely unanswered, that may speak more to the Park Pass reservation system's staying power than anything.
Another point that was raised was the lack of Annual Passes being offered for sale. The panel was quick to point out that they are advocating for members on this subject daily, and mentioned that annual pass offerings are set to change, but they did not share any exact details for their return.
Upcoming New DVC Resorts
With two new exciting developments on the horizon, between the new DVC tower at Disney's Polynesian Resort, and the new tower at the Disneyland hotel (which is scheduled to open sometime in 2023), there are a few new resorts to look forward to for DVC members.
No new information was shared regarding timelines or execution, but these properties were highlighted at this year's meeting as an upcoming development.
DVC Resort Refurbishment Schedule
This year the association did share more details about the refurbishment schedule for the existing Disney Vacation Club resorts. A slide that outlines what resorts are due for refurbishment and what type of refurbishment has been added below. All resorts in purple text are due for a hard goods refurbishment, while resorts in green are due for a soft goods refurbishment.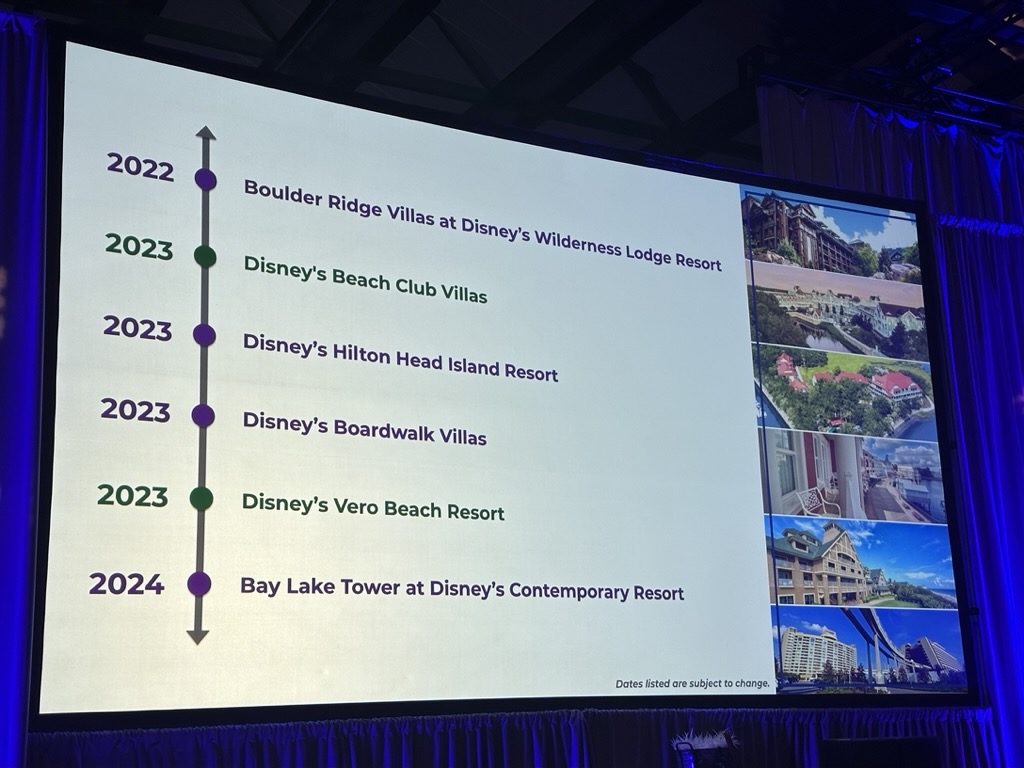 Annual Budget
As is usual for the meeting, the budgets for each of the Disney Vacation Club properties were accepted without much to note. This includes ratifying the proposed annual dues that were posted on our website back in November, which you can find here: Disney Vacation Club Releases Proposed 2023 Annual Dues.
Member Feedback Tool
Special attention was paid to highlight the Member Feedback Tool, which encourages DVC members to use this online form to voice their mind regarding their membership and allows for a place to provide feedback to DVC staff about your vacation, how the DVC website is functioning and much more.
Member Experiences & Perks
DVC recapped many of its perks and exclusives from 2022 which included:
11 nights of Moonlight Magic
Reopening of Top of the World Lounge – A Villain's Lair
Member Cruise to Alaska and 2nd ever voyage of Disney Wish
Attraction preview of Guardians of the Galaxy: Cosmic Rewind
Multiple theatrical film previews
Halloween Meet and Treat at Atlantic Dance Hall
Change in trading company from RCI to Interval International
Shannon Sakaske, 2023 VP of Member Experiences, confirmed that Moonlight Magic will return in 2023.A planned event for Disney California Adventure is set for sometime 2023, with other dates to follow throughout the year, but no specifics were revealed.
Mickey & Minnie Mouse Meet & Greet
After the meeting, attendees were invited to move to an adjoining ballroom where DVC executives and resort managers would be available to meet with them. The complimentary refreshments of cookies, trail mix and beverages were much appreciated, as well as the chance to take pictures with Mickey and Minnie Mouse.
Conclusion
The 2022 Disney Vacation Club Condo Association Meeting was a success and provided DVC members with loads of information about the upcoming changes for 2023. With two new DVC resorts in Disney's Polynesian Village Resort's DVC tower and the new tower at Disneyland Hotel, plus the return of Moonlight Magic, there is plenty to look forward to for Disney Vacation Club members in 2023. The Disney Vacation Club team highlighted the Member Feedback Tool and encouraged all members to utilize it, as well as the Annual Budget which was accepted without issue, making this meeting a smooth and successful one.
We look forward to seeing you at next year's Disney Vacation Club Condo Association Meeting in December 7th, 2023! Stay tuned to the DVC Shop blog for all the latest developments from inside the parks, and around the DVC resorts.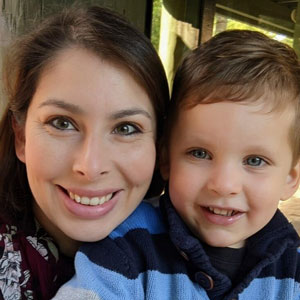 Written by
Rachel Van Norman
Contributing Writer
Rachel fell deeply in love with all things Disney as a little girl. Now as a wife and a mother herself, she shares this Disney obsession with her son and everyone around her. From her love of princesses to eating all the Disney food, Rachel spends her time radiating Disney magic and keeping everyone up to date on Disney news.