Who's ready for the 16th Disney Vacation Club resort? We are! With Disney's Grand Californian being notoriously hard to book, west coast Disney fans have been clamoring for news regarding the Disney Vacation Club villas that are planned to be added to the Disneyland Hotel, which are being called The Villas at Disneyland Hotel.
Now, we are finally seeing progress on this new project by way of licenses being issued for the new DVC Villas at the Disneyland Hotel which give clues as to how many units will be available when the project is completed, and may help us make an educated guess as to when the resort will be opening. Read on to find out!
How Many DVC Villas Are Being Added To The Disneyland Hotel?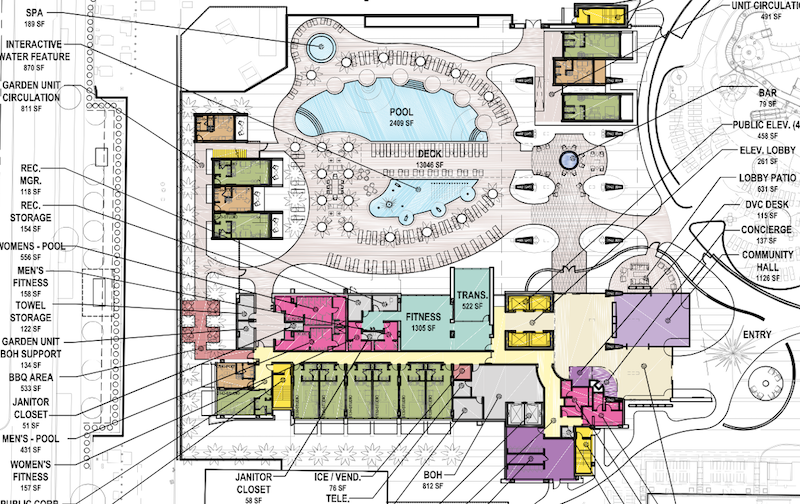 The license gives Disney the authority to sell a total of 16,952 timeshare weeks. When doing some rough back-of-the-napkin math, that number of weeks leads us to believe there will be a total of 326 additional units added to the Disney Vacation Club resort portfolio. Previously, there was talk of adding up to 350 DVC units to the Disneyland Hotel, so we are pretty close to the initial projections.
What Villa Sizes Are Being Added?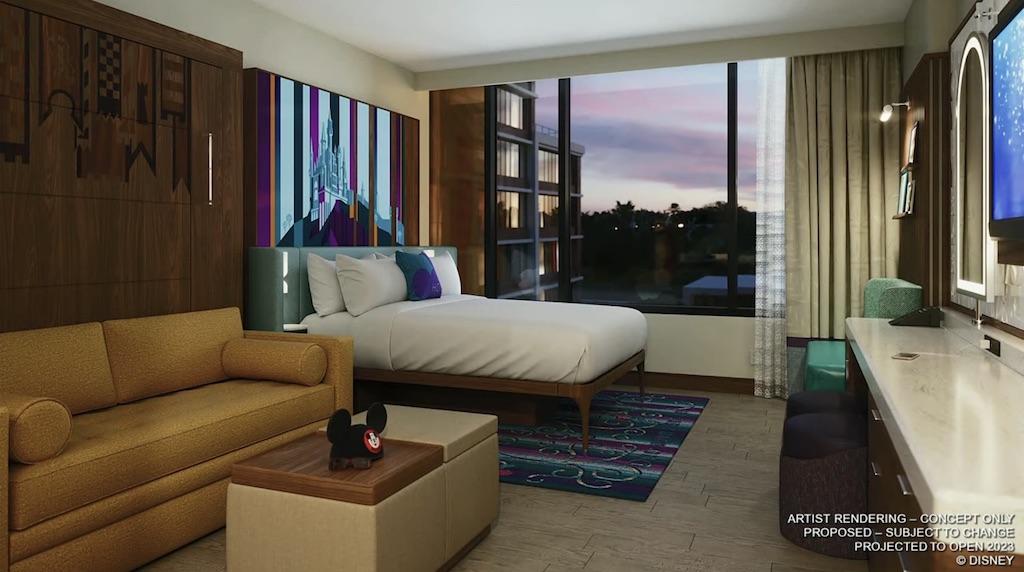 These resort additions will mostly consist of Deluxe Studio villas, which are rumored to total up to 271 additional Studio-sized units. The new DVC tower is also slated to feature up to 38 two-person "pods", which have been compared to the Tower Studios that can be found at Disney's Riviera Resort.
Also, about 19 One Bedroom Villas, 20 Two Bedroom Villas and 2 Three Bedroom Grand Villas are projected for this addition. The new 12-story tower will be built on the southwest side of the Disneyland Hotel grounds and is projected to blend in with the existing towers. Site plans also detail an addition of over 300 new parking spaces to accommodate the additional DVC guests.
When Will The Disneyland Hotel DVC Villas Be Available For Booking?
Disney has announced that the projected opening date of these new DVC Villas would be sometime in 2023. As for exactly when in 2023, your guess is as good as ours. If history is any indicator, we are most likely around 1 year away from opening day, putting us in the later half of 2023. We can expect marketing and sales to begin many months before the resort is officially opened, which will most likely bring many more details to the surface. Also, we will be able to tell much more about the project's timeline once the Master Declaration has been filed.
Timelines Of Recent DVC Resorts

Dates
Riviera
Villas at Grand Floridian 2
Villas at Disneyland Hotel
Official Announcement
7/15/17

884 days before opening

5/17/21

399 days before opening

7/21/20
Timeshare License Granted
7/17/18

517 days before opening

7/16/21

339 days before opening

8/8/22
Master Declaration
2/25/19

294 days before opening

1/12/22

159 days before opening

Sales Information Release
3/25/19

266 days before opening

3/2/22

110 days before opening

Sales to DVC Members Begin
3/27/19

264 days before opening

3/3/22

109 days before opening

Sales to New Members Begin
4/15/19

245 days before opening

3/31/22

81 days before opening

Resort Opening Day
12/16/19
6/20/22
Stay Tuned!
As always, we will be keeping you up to date on all the latest developments for DVC resorts and everything happening in the Disney Parks, so check back on the DVC Shop blog for more information as this exciting addition to Disney Vacation Club comes to life!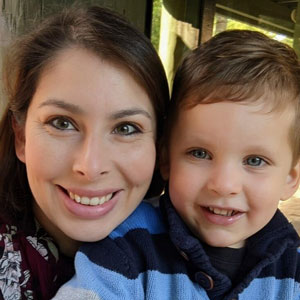 Written by
Rachel Van Norman
Contributing Writer
Rachel fell deeply in love with all things Disney as a little girl. Now as a wife and a mother herself, she shares this Disney obsession with her son and everyone around her. From her love of princesses to eating all the Disney food, Rachel spends her time radiating Disney magic and keeping everyone up to date on Disney news.