Disney World has just announced their new theme for its upcoming 50th Anniversary celebration. Starting on October 1, 2021, the Disney World Resort will begin "The World's Most Magical Celebration" with extra shimmer and sparkle throughout all four theme parks.
To describe the new, special event decorations and experiences, Disney has coined the term "EARidescence." This Disney version of iridescence will be exhibited throughout the Disney World Resort for a full 18-month-long celebration. Based on the images and videos Disney has released, "EARidescence" looks like a mix of blue and purple hues with gold accents and added sparkle.
While we do not yet know everything that's in store for the 50th Anniversary celebration, here is what Disney has announced so far.
Extra Sparkle Being Added To Cinderella's Castle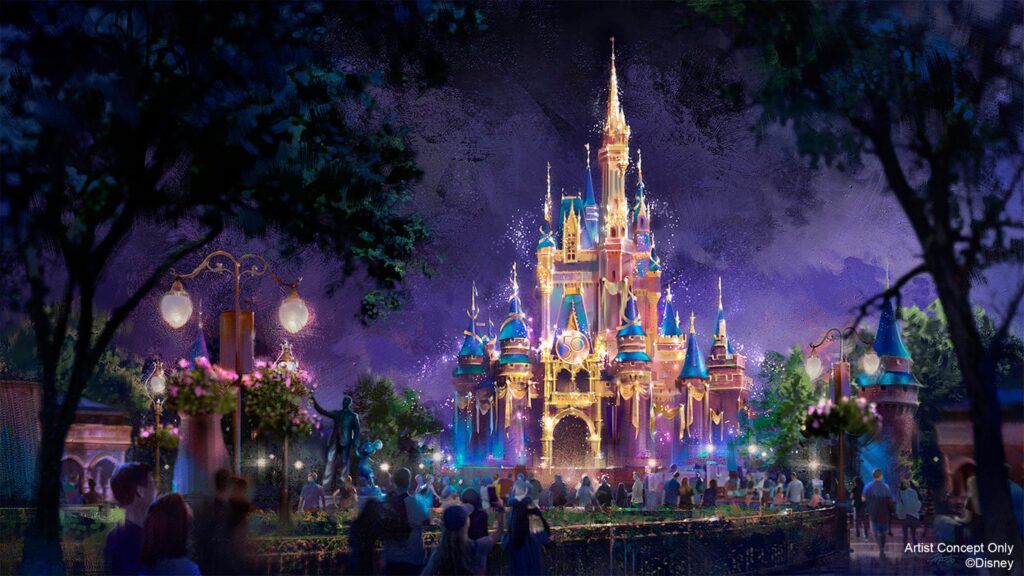 To give Cinderella's Castle at the Magic Kingdom a sprinkle of EARidescence, Disney will be adding golden bunting and a 50th anniversary crest to the already updated castle look.
With special lighting effects, the castle will come even more alive at night with a beautiful display of pixie dust surrounding the brightly lit castle. 
EARidescence At The Other Parks

The 50th anniversary celebration won't only be at the Magic Kingdom. Since this celebration is resort-wide, there will be beautiful displays of EARidescence in all of the Disney World theme parks. 
Twinkling fireflies will inhabit Animal Kingdom's Tree of Life. Hollywood Studios' Tower of Terror will be covered in new blue and purple lighting effects. And as a permanent addition, the reflective panels on EPCOT's Spaceship Earth will turn into a sparkling starlit night sky. 
Special Character Costumes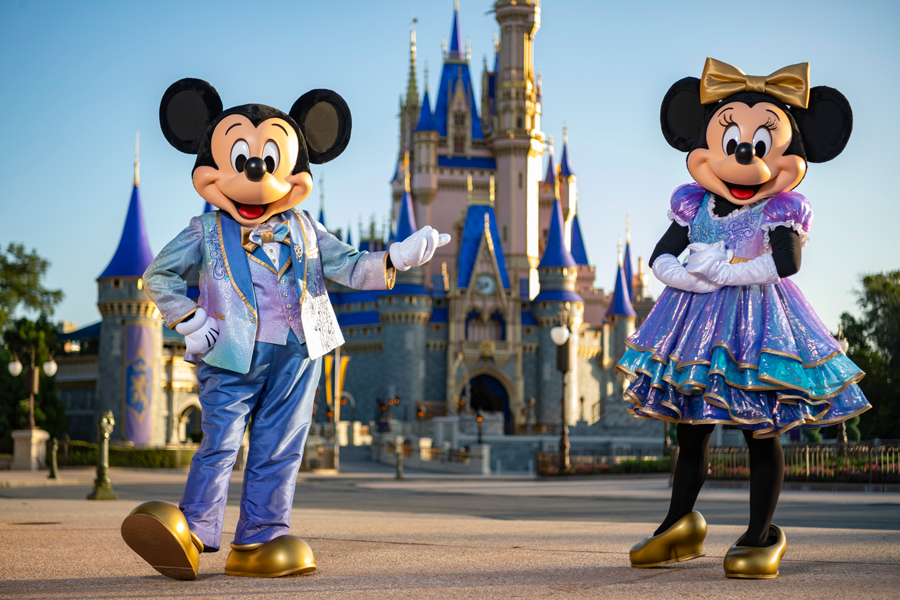 Of course, no Disney celebration would be complete without new costumes for our favorite characters. As the hosts of "The World's Most Magical Celebration," Mickey and Minnie will be decked out in their own, one-of-a-kind EARidescent costumes. Their costumes will play into the 50th celebration theme with blue and purple iridescent fabric and gold accents. 
New Rides Coming To The Parks
Let's not forget about all the new rides that are set to open at Disney World in 2021 and 2022. Tron Lightcycle was originally scheduled to open at the Magic Kingdom in the summer of 2021. Though the opening may be delayed, it is likely to open during the Disney World 50th anniversary. 
Guardians of the Galaxy: Cosmic Rewind is scheduled to open at EPCOT in Fall 2021, just in time for the Disney World 50th anniversary celebration. 
And finally, Remy's Ratatouille Adventure will be opening at EPCOT in 2021 as well. Originally slated to open in summer of 2020, the opening was delayed but the ride looks as if it's near completion and guests have already witnessed filming taking place at the ride location in the France Pavilion. 
If you're a Disney World fan, "The World's Most Magical Celebration" is one you won't want to miss. There isn't a better way to celebrate the Walt Disney World Resort than being a part of the 50th Anniversary celebration. There will surely be additional treats, surprises, events, and more during the 50th Anniversary. Be sure to check back for updates on Disney World's 50th Anniversary celebration. In the meantime, you can start preparing by getting your EARidescent costume ready for your next trip to Disney World. 
Book a DVC Deluxe Rental for the 50th Anniversary with DVC Shop Rentals and save up to 60% on your stay.
Katherine Rand
DVC Shop Editorial Team