Disney Springs, an expansive promenade, offers something for everyone in unique dining, entertainment, and themed retail. The four neighborhoods of Disney Springs include The Landing, Marketplace, West Side, and Town Center, providing over 100 stores, pavilions, and pop-ups, 62 places to dine, and 23 attractions, shows and events. The possibilities are endless! Whether you are a local, or a visiting guest, Disney Springs is a must see and do experience. But with the endless activities available, you might wonder where should I park at Disney Springs? 
While driving around Walt Disney World can sometimes be a challenge, you might like the convenience of your being on your own schedule. And why not? Save your money for the shopping because self-parking at Disney Springs is free for all surface lots and garages. If you prefer, valet parking is available for $20.00 a day in designated areas at set times. Guests with disabilities will find designated parking in all parking lots and garages with a valid disability parking permit.  
Parking Lots And Garages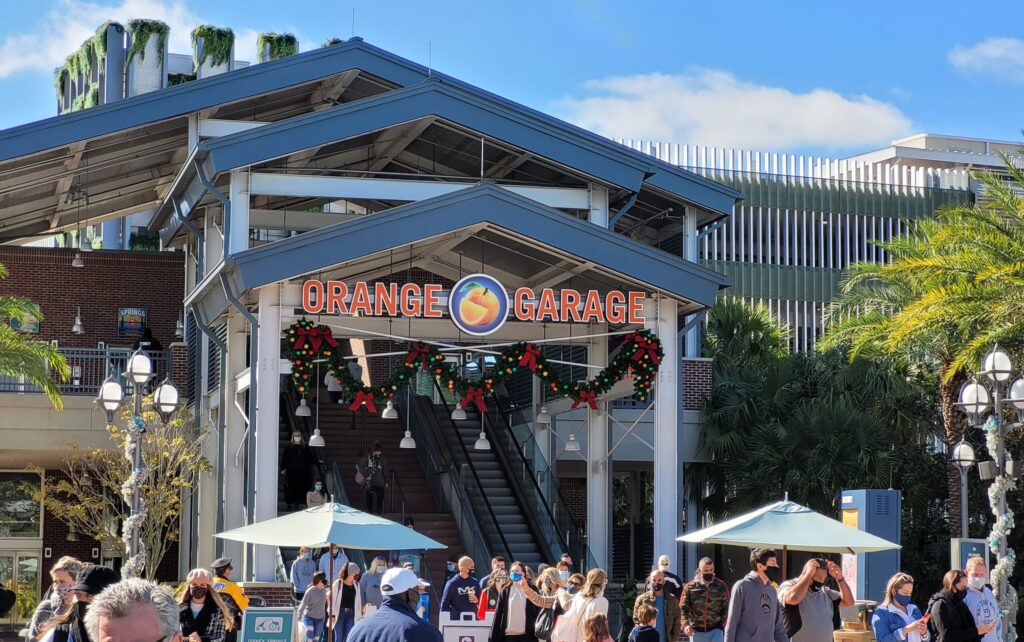 Since Disney Springs includes almost two miles of walking distance it may be a good idea to know where the best place to park is based on your plans. Disney Springs provides two surface parking lots, the Strawberry and the Watermelon Lots, and three garages, the Orange, Lime, and Grapefruit Garages to accommodate guests. 
Surface Parking Lots
The Strawberry parking lot and the Watermelon parking lot are located at the end of the West Side neighborhood, near the Cirque du Soleil theater. These are a good place to park if shopping on the West Side or if you are interested in listening to some amazing music at the House of Blues. 
Parking Garages
The Orange, Lime, and Grapefruit Garages line the remainder of the Disney promenade. The easiest access to Town Center and the West Side is from the Orange Garage. Popular destinations close to the Orange Garage include the Coca-Cola Store, AMC Theater, Planet Hollywood, and Splitsville bowing. Level Two of the Orange garage leads directly to the entrance to Disney Springs.
The best choice to park when visiting the Marketplace and the shops and restaurants at the east end of The Landing and Town Center is the Lime Parking Garage.
The Grapefruit Parking Garage is on the other side of Buena Vista Drive across from the Lime Parking Garage. If you use this parking garage there is a pedestrian bridge that takes you to The Marketplace where you can easily access popular locations including World of Disney, the Lego Store, and T-Rex Café.
The Disney Springs garages offer a unique parking experience that is overall received with high ratings. They are clean, well lit, and easy to navigate. These garages are "smart garages" where parking information is automated. Outside each garage is a sign indicating available spots on each floor while inside each garage, each row has a sign indicating how many spots are available. Finally, a small green light on the ceiling indicates an open spot. When a vehicle enters the spot, the light goes off and the number of available spots changes. Escalators, elevators, and stairs are available to transport guests between parking levels. 
Plan Ahead
The Disney Springs Interactive Map can help guests navigate parking options at Disney Springs. Disney recommends that if you are parking at Disney Springs, you arrive 60 minutes before any reservations or scheduled events. There are digital message boards along Buena Vista Drive that indicate when garages and surface lots are full. 
Keep in mind that due to COVID-19, Disney Springs is still operating at limited capacity and parking and pedestrian entry may sometimes be paused. Disney encourages guests to check their Know Before You Go webpage for opening information at Disney Springs.
Where is your favorite place to park at Disney Springs? Tell us why in the comments below.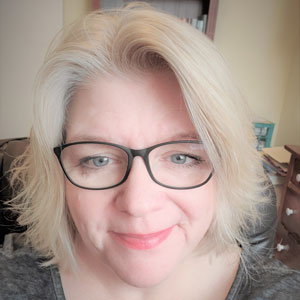 Written by
Tracy Engstrand
"All our dreams can come true if we have the courage to pursue them." – Walt Disney Tracy not only believes this but lives her life trying to exemplify Walt's positive attitude. Walt Disney World is a destination for Tracy and her family at least twice a year and it's a new adventure every time. Her favorite resort at the present time is Animal Kingdom Lodge, and her #1 bucket list item is an Alaskan Disney Cruise.