We just returned from our annual spring break trip to Walt Disney World, where we had the unique opportunity to stay in a Disney Treehouse Villa at Saratoga Springs Resort & Spa! Disney's Treehouse Villa complex creates its own small community via a separate entrance from the main Saratoga Springs resort. The 60-unit Treehouse Villa loop is bordered by Disney's Lake Buena Vista Golf Course to the northeast and a waterway to the southwest.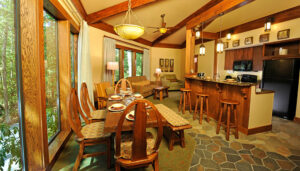 Disney's Treehouse Villa
Eight of us, including five adults and three children, spent six nights in this magical, rustic place nestled in the Florida wilderness/wetlands. Upon arrival, the first exclusive feature we observed was that the Treehouse Villas stand 10 feet off the ground, hence their name. The second distinctive feature was the Treehouse Villa's octagonal shape. Disney's Treehouse Villas accommodate nine people with three bedrooms, two bathrooms, a living room, a dining area, and a full-size kitchen. Two bedrooms have a queen-sized bed, and the other bedroom has bunk beds. The living room sofa and oversized chair both have pull-out beds. The interior is decorated with stone floors in the kitchen and dining area, granite countertops, and rustic stained-wood furniture. The bathrooms are more modern. I discovered another exclusive feature located in the primary bathroom. The jacuzzi tub is inside the shower enclosure. I loved the stylish added feature! The windows in all the rooms are large, allowing us to appreciate the tranquil surroundings. It was fascinating to be in an octagonal structure with many large windows. We loved all of the space.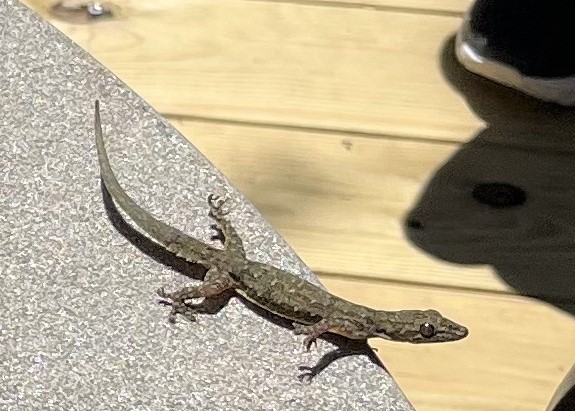 Disney Wildlife
Walt Disney once said, "Landscapes of great wonder and beauty lie under our feet and all around us. They are discovered in tunnels in the ground, the hearts of flowers, the hollows of trees, fresh-water ponds, seaweed jungles between tides, and even drops of water. Life in these hidden worlds is more startling in reality than anything we can imagine." Staying at the Disney Treehouse Villas reminded me of this. Our Treehouse Villa was located on the waterway, so there was always some wildlife to observe. There were many species of birds, some very vocal. There were the infamous Florida geckos. One gecko wandered into our Villa, and, after a spirited pursuit, we were able to transport him back outside. Our grandson befriended him and named him Zack. Zack hung around the deck with us for a few days. Late one evening, as we returned from the park, we were met by an armadillo sitting by our stairs. A friendly fellow, he slowly moved on. As you know, Disney is committed to protecting our planet, which is evident in the untouched areas and denseness of the forest throughout the Treehouse Villa complex.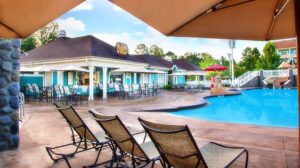 Disney Treehouse Villa Amenities
Each Treehouse Villa has a stairway and spacious lighted deck area. Unique to each Treehouse Villa is its own barbeque grill located at the bottom of the stairway. The Treehouse Villa complex has a pool and jacuzzi spa area. This quiet and secluded area was a nice escape on a hot afternoon! There is NOT a lifeguard at this pool. Although we drove to Walt Disney World from Virginia and used our cars to go to the parks and other Disney areas, several bus stops within the complex are available to take guests to Disney destinations. Water taxis transport guests to the Disney Springs area from the boat dock between Treehouses 7021 and 7022. There is also a walkway to the Saratoga Springs' Grandstand Bus Station and The Springs, where the main pool, lobby, and Artist's Palette are located. Because this area is remote, we appreciated the recycling and garbage containers along the roadway near each Treehouse Villa area. The Treehouse Villa guests also enjoy all of the amenities and recreation at Saratoga Springs, including sunrise yoga, tennis, bike rentals, basketball, a kid's playground, a spa/fitness center, movies under the stars, and a feature pool with a slide.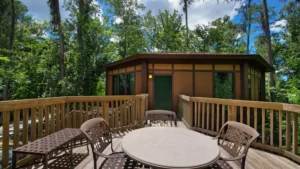 My Thoughts
Disney's Treehouse Villas are different than any other at Disney World. We spent some quality family time out on the deck every day. We enjoyed the smaller and more private pool area. We took a break during the hot days at the park and found a nice reprieve. Although I know these Treehouse Villas might not be for everyone, I highly recommend staying at a Disney Treehouse Villa if you want to spend some quality time away from the parks and enjoy the beauty of nature on your vacation.
Featured photo: Disney.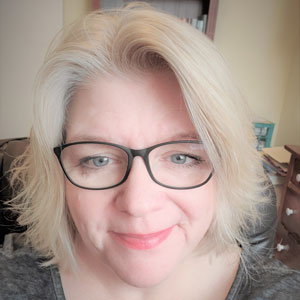 Written by
Tracy Engstrand
"All our dreams can come true if we have the courage to pursue them." – Walt Disney Tracy not only believes this but lives her life trying to exemplify Walt's positive attitude. Walt Disney World is a destination for Tracy and her family at least twice a year and it's a new adventure every time. Her favorite resort at the present time is Animal Kingdom Lodge, and her #1 bucket list item is an Alaskan Disney Cruise.