Board the WEB Slinger Vehicle and join Spider-Man in the fight against out of control Spider-Bots before they escape and create havoc on Avengers Campus.
WEB SLINGERS: A Spider-Man Adventure Details

| | |
| --- | --- |
| Disneyland Resort Park |  Disney California Adventure |
| Location in Park | Avengers Campus |
| Height Restrictions | Any Height |
| Age Interests | All Ages |
| Thrill Type | Spinning, Dark, Loud |
| Hours | 8:00 AM to 10:00 PM |
| Wait Times | High |
| Lightning Lane | Yes |
| Accessibility Information | Must Transfer from Wheelchair/ECV, Audio Description, Handheld Captioning, Assistive Listening |
Attraction Overview
WEB SLINGERS: A Spider-Man Adventure is an interactive screen ride in Avengers Campus at Disney's California Adventure. This attraction not only takes guests through the ride in a vehicle, but also provides an immersive experience via 3-D effects and interactive hand movements. When guests make the Spider-Man web slinging motion with their hands, streams of webs will shoot out where they point on the screen. This attraction is also very family friendly, since any hand motion will create the webs, just in case little ones are not able to do it just yet. In addition to the interactive technology that this unique attraction uses, it also comes with an exciting backstory.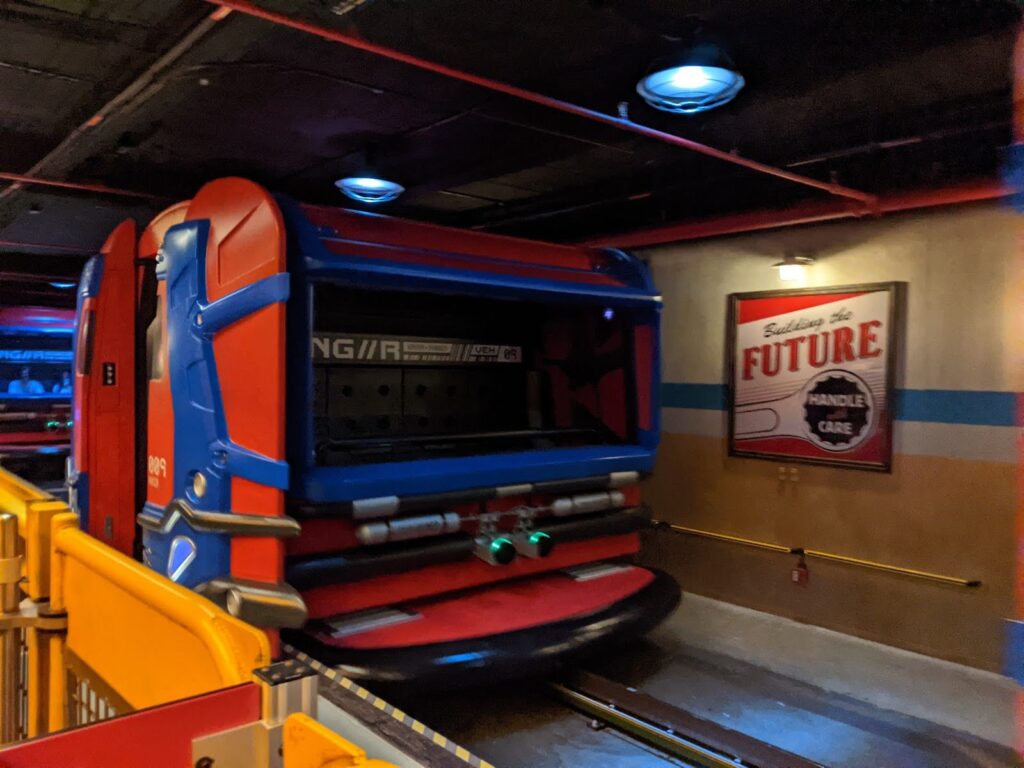 Once guests enter the ride vehicle, Spider-Man brings everyone into the WEB prototype garage for their help. Guests will help Spider-Man web up the out of control Spider-Bots. Guests are taken through various scenes in underground tunnels and even into the Pym Test Kitchen. Here, a giant Spider-Bot emerges after coming in contact with Pym Particles in the kitchen.  Afterwards, guests enter The Tivan Collection where Spider-Man becomes trapped in the Collector's display case. Luckily for everyone he escapes. As the ride progresses, Spider-Man and Sharon inform guests to focus on the glowing green Spider-Bots, since they explode, to help manage more bots at a time. Eventually the Spider-Bot's plan to hijack the Quinjet is foiled, and guests can leave the attraction knowing they helped Spider-Man and the Avengers Campus.
Map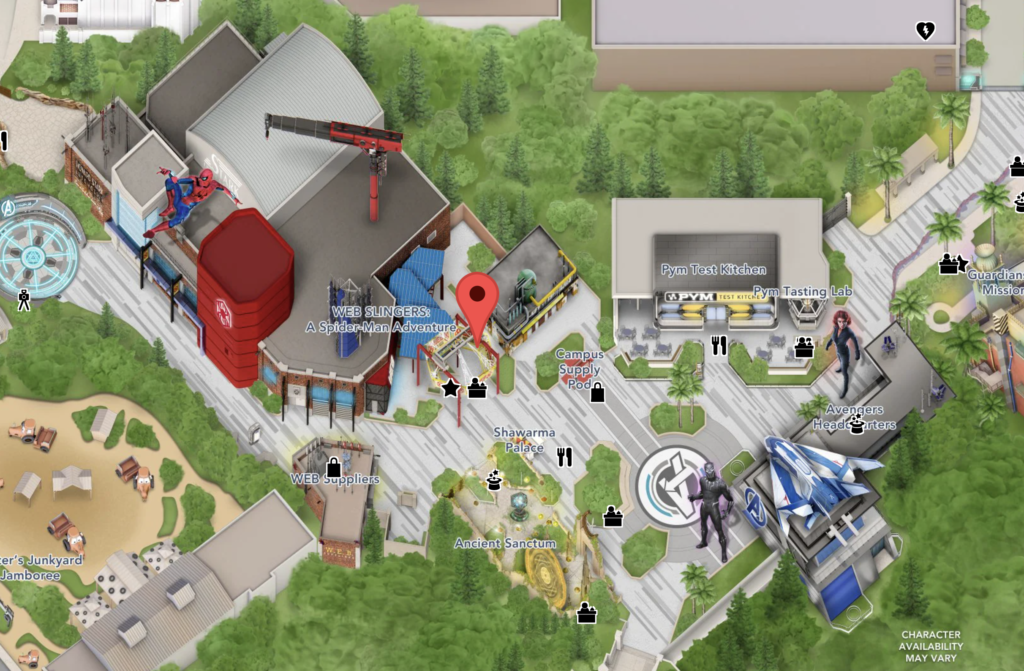 Location & Wait Times
WEB SLINGERS: A Spider-Man Adventure is located in the first building on the left when entering the Avengers Campus. It is directly across from the Web Suppliers shop. Park guest can also experience a Spider-Man character meet & greet with an impressive pre-show featuring everyone's favorite wall-crawler performing some acrobatic tricks before using his web shooters to leap into the sky and flip, landing safely on the other end of the rooftop and crawling down a nearby wall to being the meet & greet.
This is the newest attraction in Disneyland Resort and as such has one of the highest wait times. This attraction was previously using a virtual queue, but switched over to a standby queue.
Queue Experience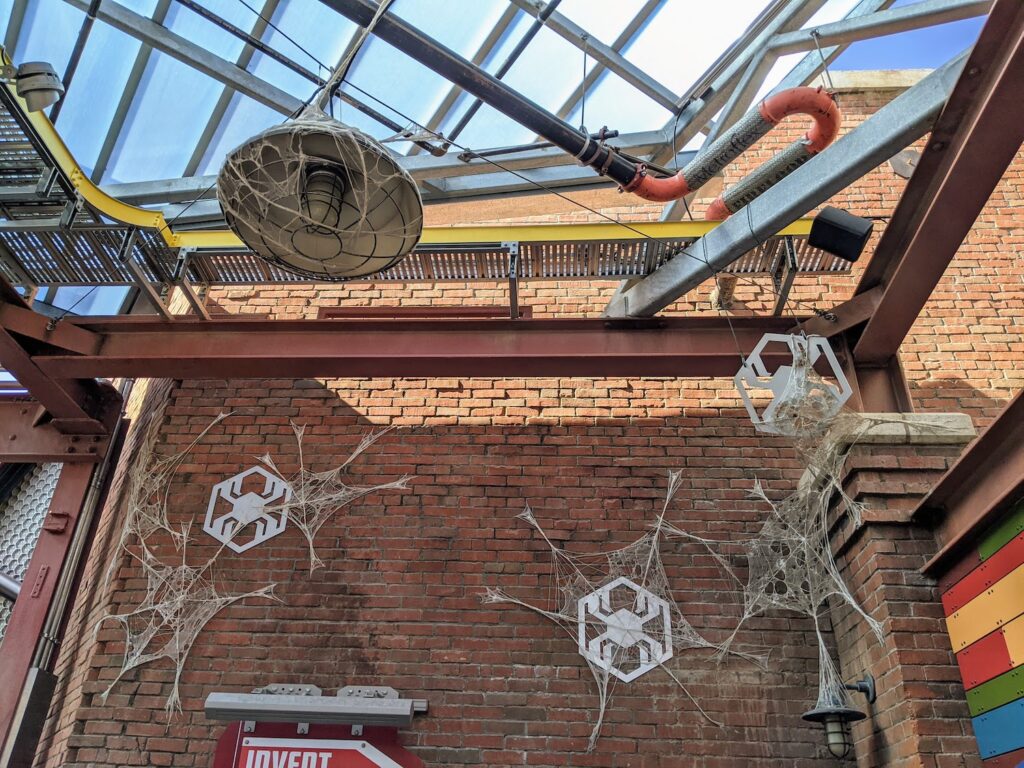 The first portion of the queue is outdoors. The area is filled with information and signs about the WEB program. This program was created by Tony Stark to help the next generation of engineers work together to build future technology. As the queue goes on guests will have the opportunity to learn about the main engineers that are assisting in the WEB program (Harley Keener, Onome, Doreen Green, and Lunella Lafayette).
Once guests enter the indoor portion of the queue they get to meet Sharon, the artificial intelligence who helps run the lab. Sharon introduces guests to Peter Parker, one of the WEB engineers. He explains that guests are there to help test out WEB Slinger vehicles that will allow them to shoot webs like Spider-Man.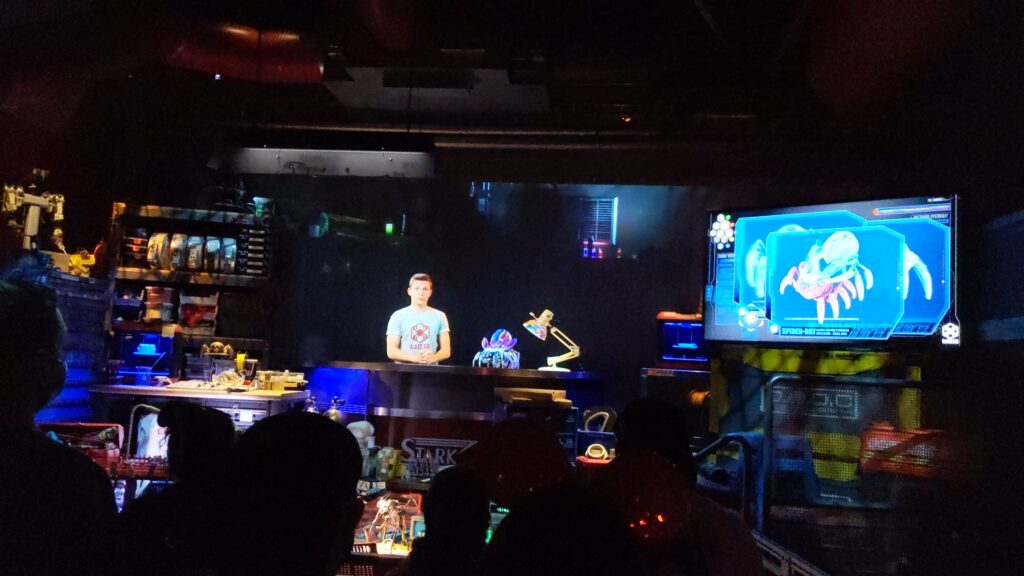 During Peter Parker's explanation the Spider-Bot, meant to help out around the lab, malfunctions and begins to replicate. Sharon decides to contact Spider-Man for help, giving Peter Parker the cue to leave and go "find" Spider-Man. Spider-Man arrives and recruits the quests to help catch the Spider-Bots so that Sharon doesn't call Tony Stark and the other Avengers.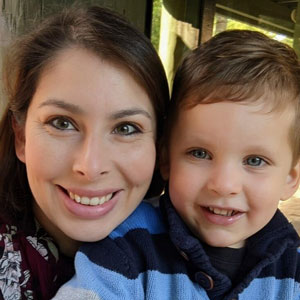 Written by
Rachel Van Norman
Contributing Writer
Rachel fell deeply in love with all things Disney as a little girl. Now as a wife and a mother herself, she shares this Disney obsession with her son and everyone around her. From her love of princesses to eating all the Disney food, Rachel spends her time radiating Disney magic and keeping everyone up to date on Disney news.