A long-awaited announcement has come for Disneyland Resort: fireworks and the Main Street Electrical Parade have an official return date! While fireworks first returned to Walt Disney World (Magic Kingdom and Epcot) on July 1, 2021, nighty fireworks at both parks in California have remained suspended. However, beginning April 22, 2022 guests of Disneyland and Disney California Adventure will welcome back the lights in the sky. Guests of Disneyland will get a double dose of nighttime entertainment as the nostalgic Main Street Electrical Parade will also return the same night! This is music to the ears of those who have an upcoming trip to Disneyland and Disney California Adventure!
Fireworks returning to Disneyland Resort
Guests of Disneyland can look forward to viewing "Disneyland Forever" running Fridays, Saturdays, and Sundays this spring with "Mickey's Mix Magic" showing during the week with projections only. Fireworks will return each night in the late spring/early summer. "Disneyland Forever" also features projections all along Main Street U.S.A. as well as on other nearby attractions like It's a Small World, Matterhorn mountain, and Rivers of America, an inspiring musical soundtrack and, of course, fireworks! Be sure to check the entertainment schedule to see if fireworks are planned for the day you will visit!
At Disney California Adventure, guests will once again experience "World of Color" beginning April 22, 2022. This show is one-of-a-kind, using a combination of fountains, projections, music, and fireworks to create an unforgettable and entertaining magical Disney story at Paradise Gardens Park. "World of Color" first debuted in 2010 and ran until 2018, with a revamped version re-opening in 2019 until the park's closure due to Covid-19 in 2020.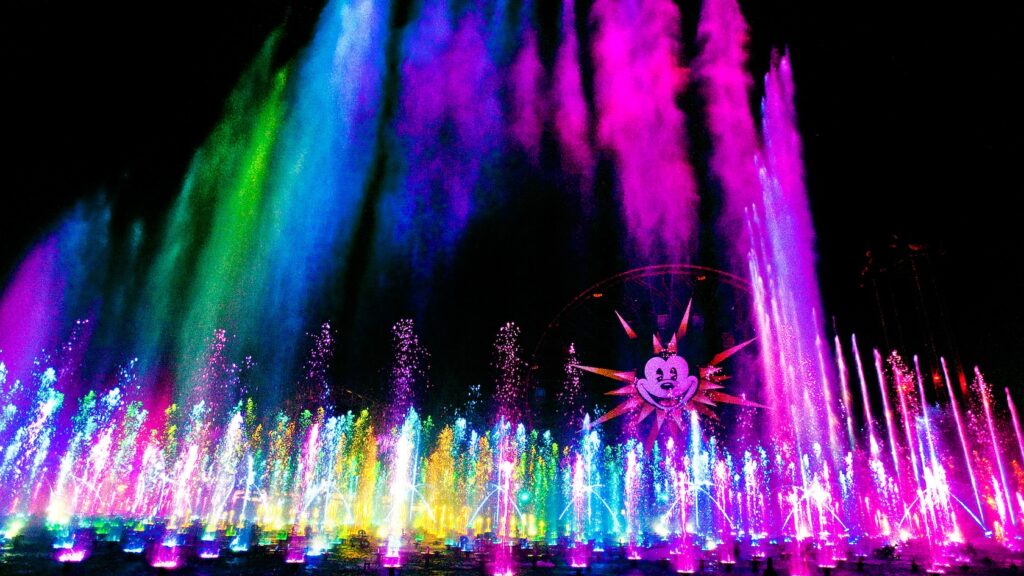 Main Street Electrical Parade Returning in April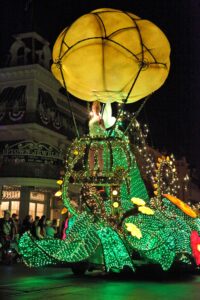 Last October, Disney Parks posted a teaser on their social media accounts insinuating that the Main Street Electrical Parade would return, but no further details were released at the time. This iconic parade will be celebrating its 50th anniversary in 2022 and will debut a new grand finale!
During the nightly parade, guests will view the passing classic floats illuminated by over 500,000 lights as well as see a variety of characters such as Peter Pan, Tinkerbell, Cinderella, Alice in Wonderland, and Pinocchio. Details of a new finale were kept a secret until Disney announced the official return of the parade on February 22, 2022.
In previous years, the Main Street Electrical Parade ended with Tinkerbell aboard a beautiful flower and petal float, but beginning with its return in April of this year, the final float, one of the longest and most impressive guests have ever seen, will feature additional characters not previously featured in the Main Street Electrical Parade. Encompassing the theme "Togetherness," characters from Encanto, The Jungle Book, Raya and the Last Dragon, The Princess and the Frog, Coco, Mulan  and more will close the fan-favorite illuminated procession!

Encanto has been such a hit with Disney fans of all ages, guests of the parks have been longing for an opportunity to see their new favorite characters and it seems that the Main Street Electrical Parade is the answer!  While the chance to meet Mirabel appeared in Disney California Adventure as part of the Disney ¡Viva Navidad! celebration, her meet and greet was only temporary, ending on January 9, 2022 when the festival closed.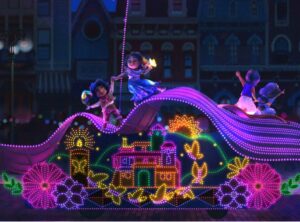 It's exciting and encouraging to see the continued return of previously closed entertainment and attractions. There is nothing like ending the night at Disney with one of their amazing nighttime shows! Which nighttime entertainment are you looking forward to seeing at Disneyland Resort this spring? Let us know in the comments below!
Feature Photo Courtesy of Disney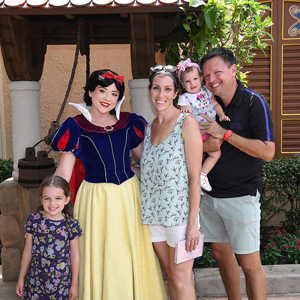 Written by
Shelley Wehler
Contributing Writer
Shelley is a stay-at-home mother of two girls living outside of Charlotte, North Carolina. Her love of all things Disney has grown even more as she sees the magic come alive through the lens of her young daughters. She spends her free time keeping up with the latest in Disney news and daydreaming of her next trip to the parks!