Once upon a time, a family of 3 stayed in a Standard Studio at Saratoga Springs Resort. While the adults certainly noticed that the room could use some updating, the youngest of the group declared that she would not like to stay there again. Well, just like Cinderella was transformed by her fairy Godmother, Saratoga Springs has received a transformation that cannot be overlooked. The beautifully implemented renovations have breathed new life into the Saratoga Springs Resort, putting it at the top of the list of DVC locations to visit.
About Saratoga Springs Resort
Saratoga Springs resort first opened in 2004. At that time there were only 4 buildings, and no Treehouse Villas. By 2009, 14 more buildings were added, along with the 60 Treehouse Villas. The decor is inspired by the town of Saratoga Springs, NY, and carries a horse-racing theme throughout the property.
Saratoga Springs Resort boasts 2 feature pools and 3 quiet pools. It is also one of the locations with Senses – A Disney Spa (the other location is the Grand Floridian), which offers professional spa treatments and packages. The center features relaxing mineral pools and private treatment rooms for spa guests.
Despite so many fantastic amenities, over the last few years Saratoga Springs was starting to look dated with signs of wear and some items that needed replacing. Despite that, the resort has always maintained its charm and certainly its potential.
Renovations Begin
Construction on this massive overhaul of the resort began in June 2019. New features being added as part of the renovations included all new furniture, flooring, appliances, and more, including pull-down Murphy beds, similar to those featured at Disney's Riviera Resort. Exterior painting has also been completed as part of the project.
Currently, refurbishment is finishing up at Saratoga Springs, with a target completion date of Summer 2021. That means you can book with confidence knowing that you will very likely have an updated room.
Before…
Here is a photo of a standard Saratoga Springs studio room before refurbishment.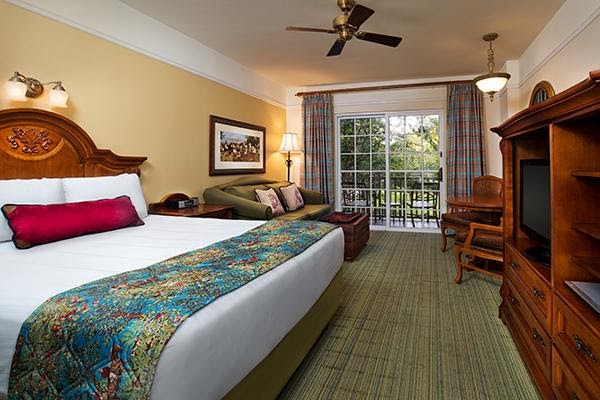 As you can see, while the room was charming, it looked a bit dated with darker furniture, carpeting and brown and green hues.
…And AFTER!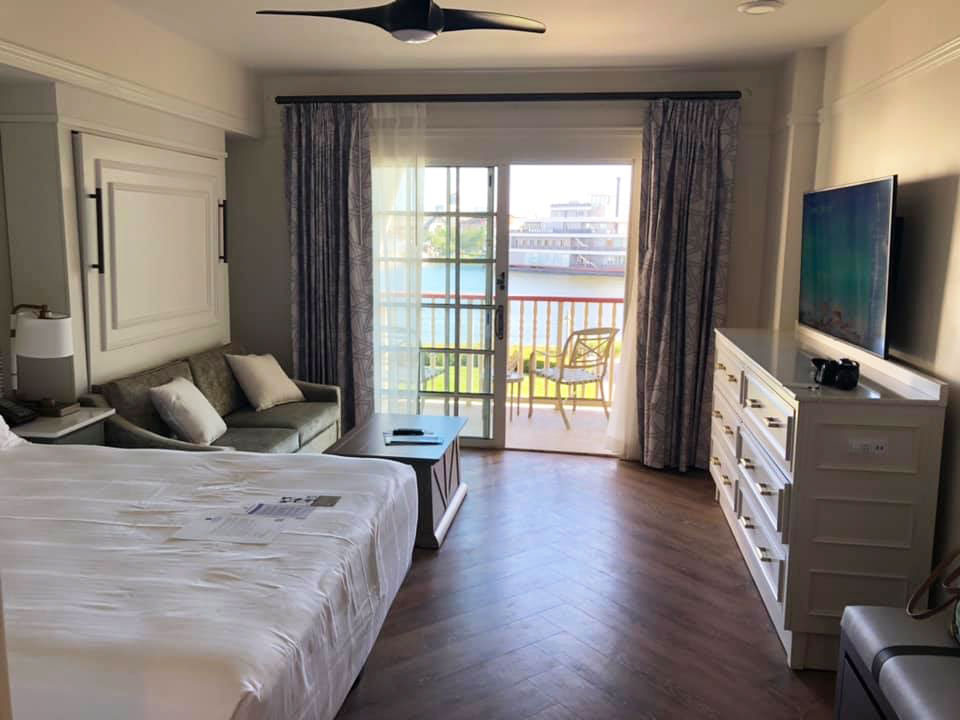 Is this even the same resort? You wouldn't be the first person to think that if you walked into this room after staying in an older room. I was fortunate to have the opportunity to stay in a newly renovated room when some of the refurbished rooms first opened. Once I picked my jaw up off the floor, I took a look around.
Gone is the carpet, replaced with new, modern laminate flooring. I have to admit, I am a big fan of this change. It feels cleaner to me and seems more up to date. Also, much of the decor has been lightened, bringing an added brightness and life to the room.
The bathroom has also been completely upgraded, from new shower doors replacing the curtains, to new tile in the shower area and on the floor.
There are still several Disney touches such as themed artwork on the walls and other decor.
Finally, my absolute FAVORITE upgrade: the Murphy (pull down) bed! Gone is the couch with the folded up mattress inside. Now, you simply pull down on the handles and you have a nice, regular queen size mattress for you or another guest to use. I also love that you don't have to move the couch cushions to do this. It is so easy!
As an added bonus, there is a lovely mural hidden away that is only revealed once you pull down the bed. Personally I find this new addition to be a complete game-changer. Our daughter has slept on many of the pull-out beds, and she is very excited about getting a "real" mattress.
And They Stayed Happily Ever After.
As renovations near completion, Saratoga Springs Resort is gaining a reputation as being the hidden gem of DVC. Saratoga boasts many different types of rooms, from studios, one-bedrooms, two-bedrooms, three-bedroom Grand Villas, and the very unique 3 bedroom Treehouse Villas. There is plenty to do at the resort on those non-park days such as golfing, enjoying the spa, or taking a short walk to the dining and shopping mecca that is Disney Springs.
Ready to book your stay at Saratoga Springs resort? Contact DVC Shop Rentals to help you find the perfect Saratoga Springs Resort room for your next Disney vacation.
Have you stayed in a renovated room at Saratoga Springs resort? What did you think of the renovations? Leave your comments below.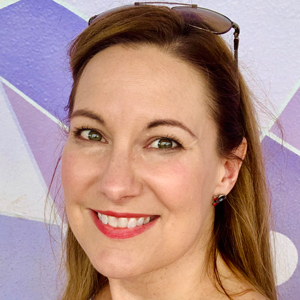 Written by
Mary Kendall
Contributing Writer
Mary Kendall went on her first trip to Disney at the age of 5. Since then, her love of Disney has only grown, and now she gets to travel to Disney with her husband and daughter. Being a DVC Owner has given her opportunities to experience Disney in new and exciting ways. While Animal Kingdom is her favorite resort, she also loves taking Disney beach vacations, and going on Disney Cruises. Mary's goal is to visit every Disney Park in the world.