When visiting Magic Kingdom, be sure to stop by Main Street USA's Plaza Ice Cream Parlor for a sweet treat!
Plaza Ice Cream Parlor Details

| | |
| --- | --- |
| Walt Disney World Park: | Magic Kingdom |
| Location in Park: | Main Street USA |
| Dining Experience: | Quick Service |
| Hours: | 11:00 AM to 11:30 PM |
| Price Range: | $14.99 and under |
| Type of Cuisine: | American |
| Mobile Order: | No |
| Reservations: | No |
| Allergy-Friendly: | Yes |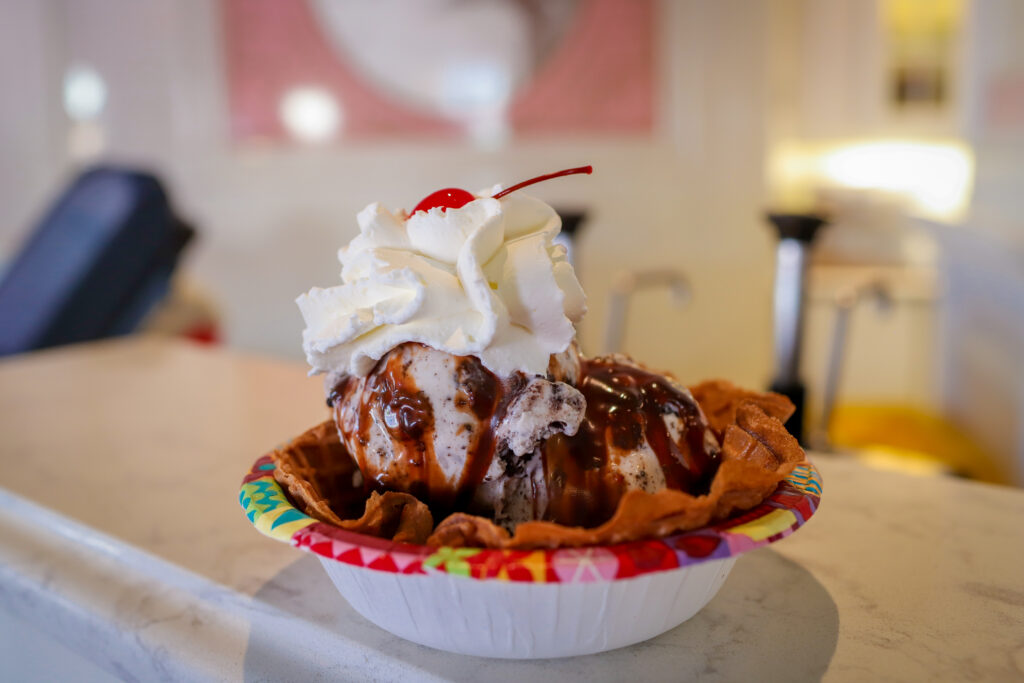 Overview
Walk right down the middle of Main Street and you will find The Plaza Ice Cream Parlor. This old-fashioned, small town America themed ice cream joint has been selling scoops since the park opened in 1971. At first, this quick service location was named Borden's Plaza Ice Cream Parlor and was changed to its current name in 1993.
The ice cream served at the Plaza Ice Cream Parlor is Edy's. This brand was founded in 1928 by Joseph Edy and William Dreyer. While Edy's is from the same company that supplies ice cream to Gibson Girl Ice Cream Parlor in Disneyland, the brand is called "Dryer's" in the parts of the country that are west of the Rocky Mountains.
At Plaza Ice Cream Parlor, you can get hand scooped ice cream in waffle-bowls topped with hot fudge, ice cream cones with chocolate Mickey ears, or even a root beer float. There are currently 8 flavors available including fat-free, no sugar added, and plant based options. For the park's 50th Anniversary, there is a special sundae offering: The Banana Boom. If you are planning on sharing your treat with others, the Minnie Mouse Mini Kitchen sink is great for a group! This sundae is served in a plastic souvenir sink shaped bowl.
Because of the Plaza Ice Cream Parlor's central location on Main Street USA, there are plenty of places to enjoy your snack. Once you get your ice cream, you can sit at the yellow tables right outside of the Plaza Ice Cream Parlor or the hub grass. For an off the beaten path spot, head back down Main Street towards the entrance. About halfway down the street, on the left, you will find Center Street. At the end of Center Street, there are a few red tables where you can eat your ice cream.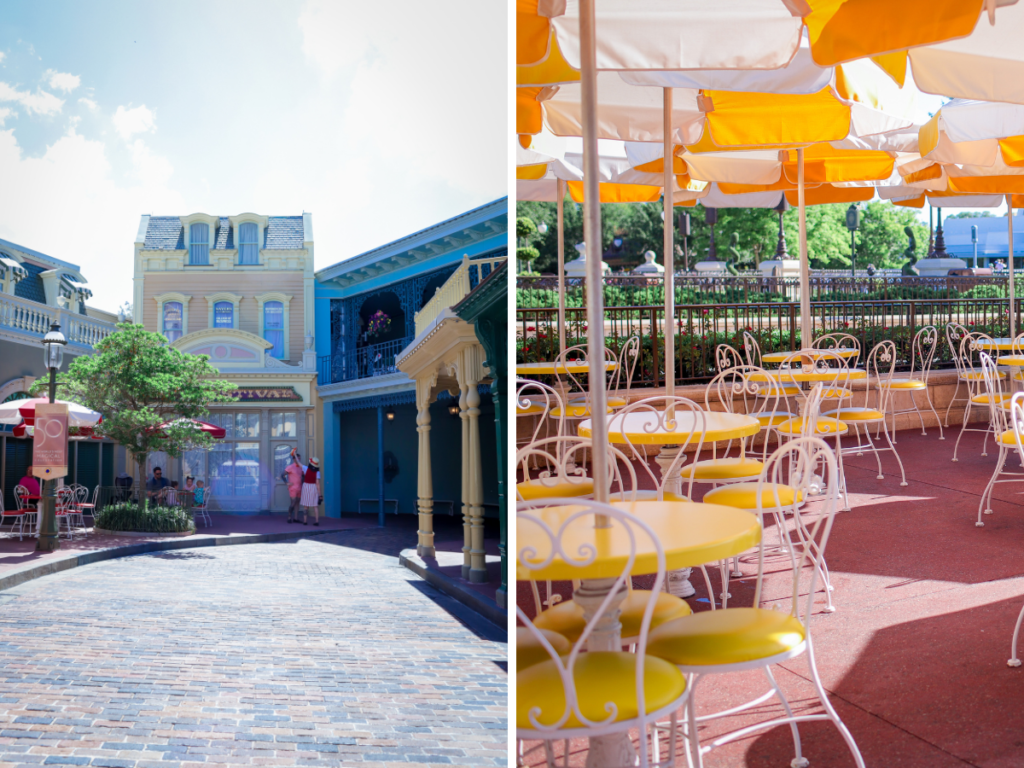 Menu
Desserts
The Banana Boom – $12.99
Traditional Banana Split topped with Popping Candy and Chocolate Fireworks
Brownie Sundae – $7.99
Warm Brownie served with Hot Fudge, Whipped Cream, Cherry and your choice of Two Hand-scoops of Ice Cream
The Plaza Ice Cream Sundae – $7.99
Hot Fudge, Whipped Cream and a Cherry served in a Freshly Made Waffle Bowl with your choice of Two Hand-scoops of Ice Cream
Double-scooped Ice Cream Cone – $6.49
Ice Cream Flavors
Vinilla
Chocolate
Strawberry
Mint Chocolate-Chip
Cookies 'n Cream
No Sugar Added Raspberry Sorbet
Fat-free and No Sugar Added Chocolate-Vanilla Swirl
Plant-based Frozen Desserts Available
Ice Cream Toppings
Hot Fudge – $0.69
Caramel Topping – $0.69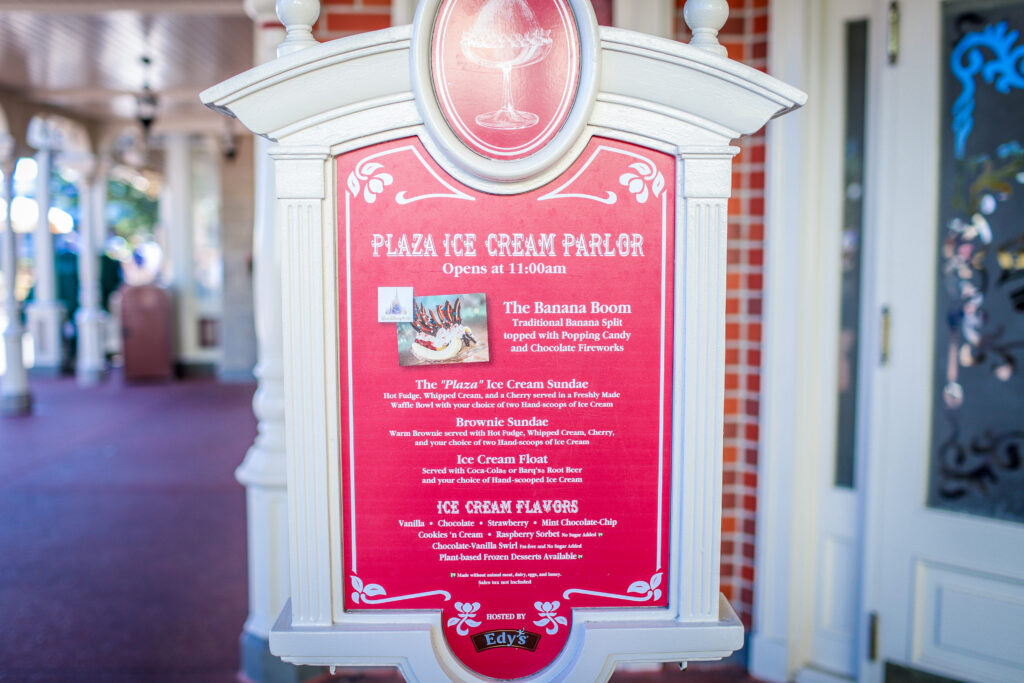 Map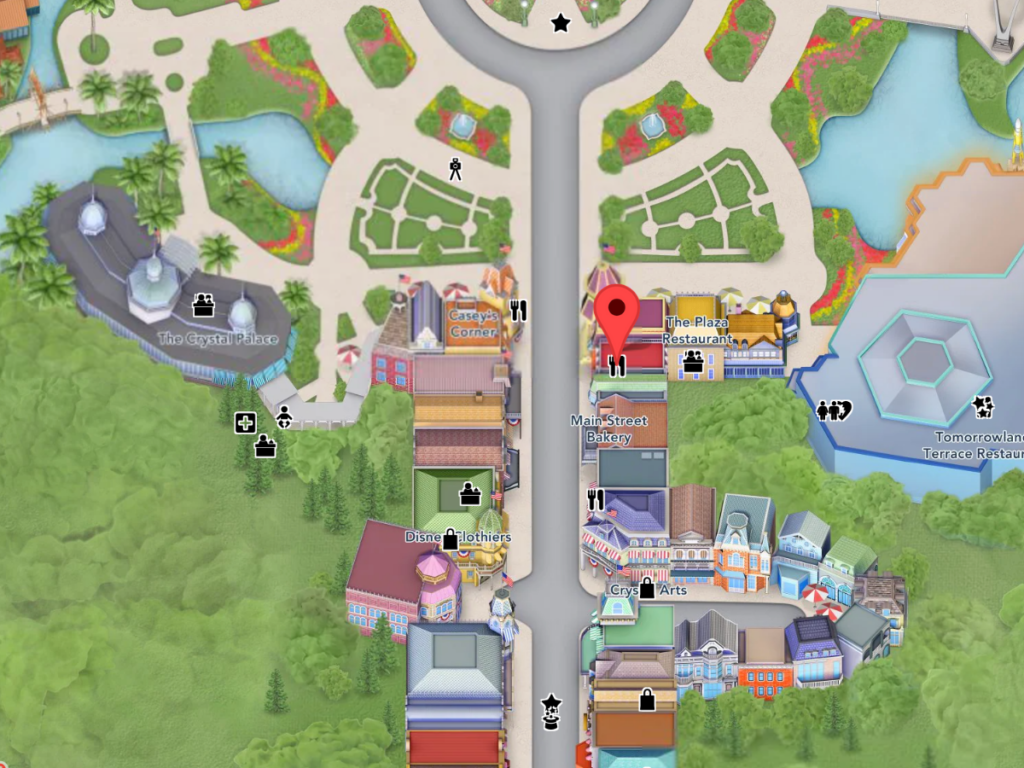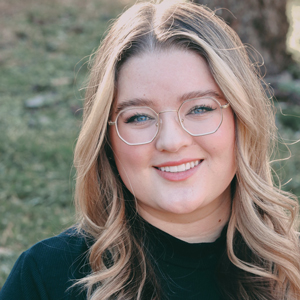 Written by
Emily Murray
Contributing Writer
For as long as Emily can remember, Disney has played a huge role in her life. Her infatuation with Disney resulted in many hours spent rewatching Toy Story and creating multiple powerpoints to convince her parents to book yet another vacation to the "Most Magical Place on Earth". In 2015, Emily followed one of her dreams and moved to Orlando, Florida where she spent just over five years working for the mouse in three separate roles. Emily is passionate about writing and using words creatively and concisely. She loves to make others laugh and hopes to sprinkle a little bit of magic into everything she does.