Join Pinocchio on his exciting journey from being a wooden puppet to a real boy!
Pinocchio's Daring Journey Details

| | |
| --- | --- |
| Disneyland Resort Park | Disneyland |
| Location in Park | Fantasyland |
| Height Restrictions | Any Height |
| Age Interests | Preschoolers, Kids, and Tweens |
| Thrill Type | Slow Ride, Loud, Dark, Scary |
| Hours | Park Open to Park Close |
| Wait Times | Low |
| FastPass+ | No |
| Accessibility Information | Must Transfer from Wheelchair/ECV, Audio Description, Handheld Captioning |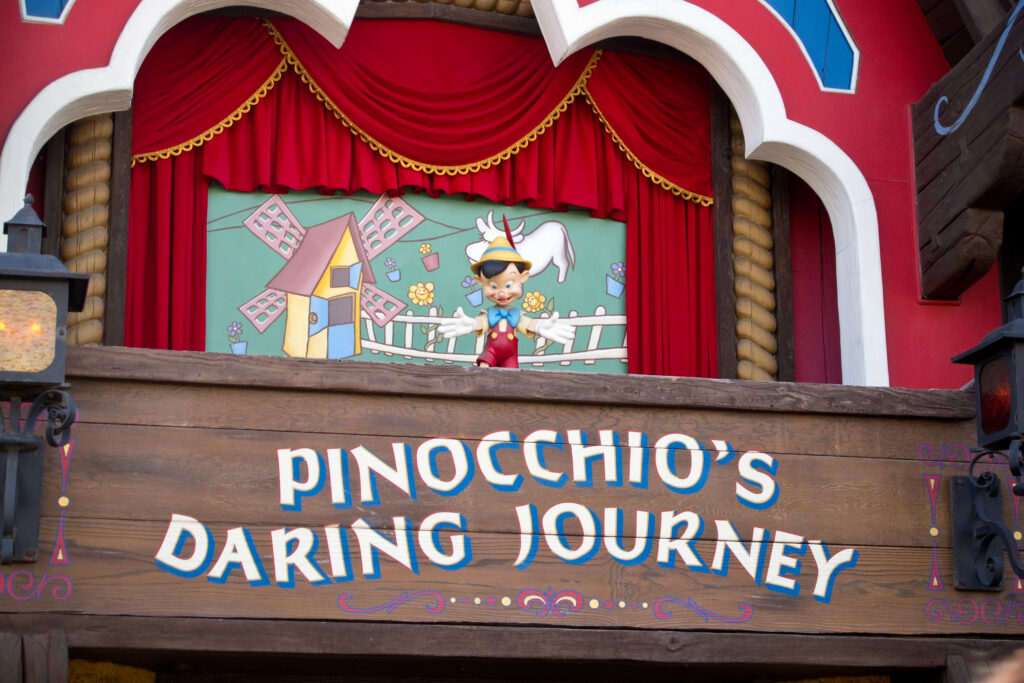 Attraction Overview
Get ready to become part of the beloved Walt Disney classic, Pinocchio, on Pinocchio's Daring Journey. Make sure you keep your eyes out for Monstro the whale as you make your way through the sea; you never know what could happen! You'll find many familiar faces along the way, such as Jiminy Cricket and even the Blue Fairy, throughout your adventure.
When entering the attraction's building, you will find yourself getting loaded into a woodcarvers cart to begin your adventure at the Stromboli Theatre. This attraction is a dark ride attraction, similar to most of the other rides in Fantasyland. Pinocchio's Daring Journey was built in 1983 as part of the New Fantasyland expansion at The Disneyland Resort.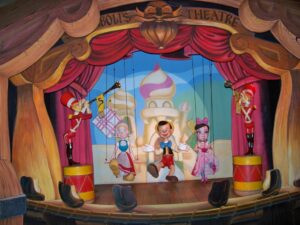 Once entering the theatre on the attraction, you will see the famous puppet Pinocchio performing in his marionette show, but don't be fooled because Pinocchio needs your help. You'll find that he needs to escape the evil puppet master, Stromboli, who owns the theatre! As you begin your journey to escape Stromboli Theatre, you will find yourself at Pleasure Island.
On this island, you will see bright neon colors showing scenes of giant ice cream, clowns, and so much more. You'll make your way out of Pleasure Island like Pinocchio and see two ominous characters, Gideon and Foulfellow, lurking about. To get to Geppetto's workshop with Pinocchio, you must go through the sea where the legendary giant whale Monstro lives. Make sure to prepare yourself because this whale is known to swallow anything it might see.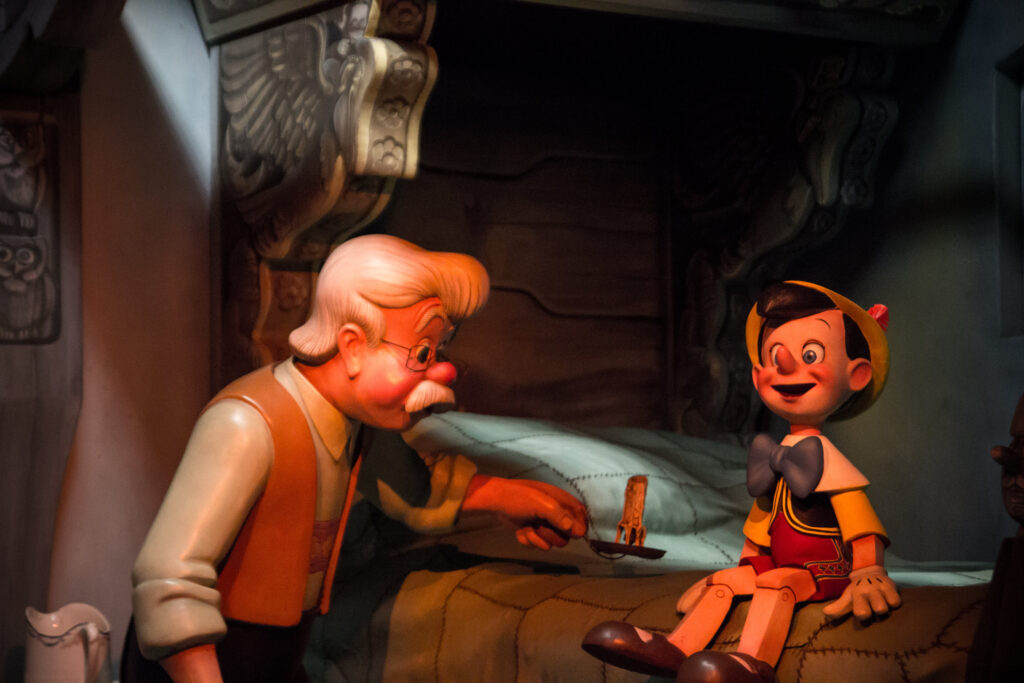 As we all know from the classic tale, Pinocchio dreams of becoming a real boy. Right before your very own eyes, the Blue Fairy appears and grants Pinocchio's wish. You'll see that dreams do come true when you wish upon a star! Once you finally arrive at your final destination, you'll see Geppetto enthralled to be reunited with Pinocchio. In true Jiminy Cricket fashion, you'll be reminded always to let your conscious be your guide!
Map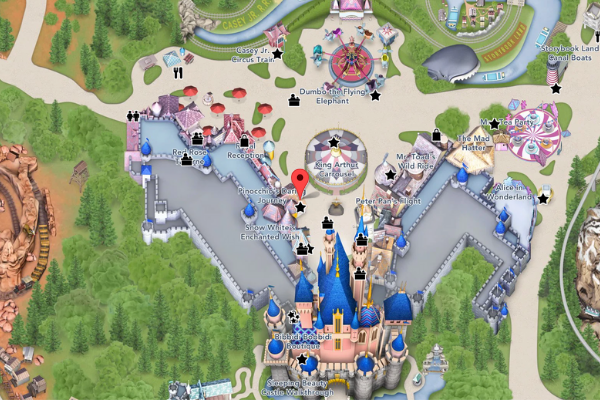 Location & Wait Times
You can find Pinocchio's Daring Journey located in the center of Fantasyland. This attraction is neighboring King Arthur's Carousel and the newly reimagined Snow White's Enchanted Wish. The attraction has low lines and can typically be considered a walk-up ride due to the wait length. Depending on the fireworks shows, this attraction may close for a specific time per night, usually two hours. 
Queue Experience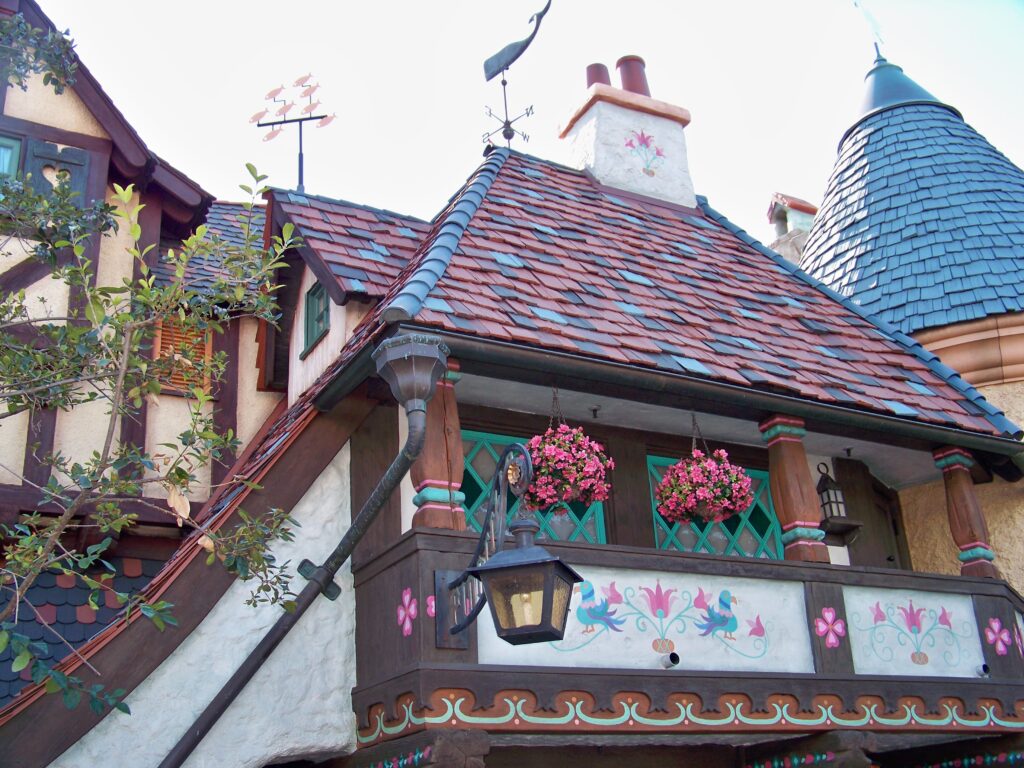 The queue for Pinocchio's Daring Journey is primarily indoors or covered. If the attraction is using its extended queue, part of the wait will be outdoors. The theming of this queue is the inside of Stromboli's Theatre, where you begin your adventure in the story the attraction brings you through. Keep your eye out near the queue because sometimes you'll see the characters from Pinocchio walking by and greeting guests.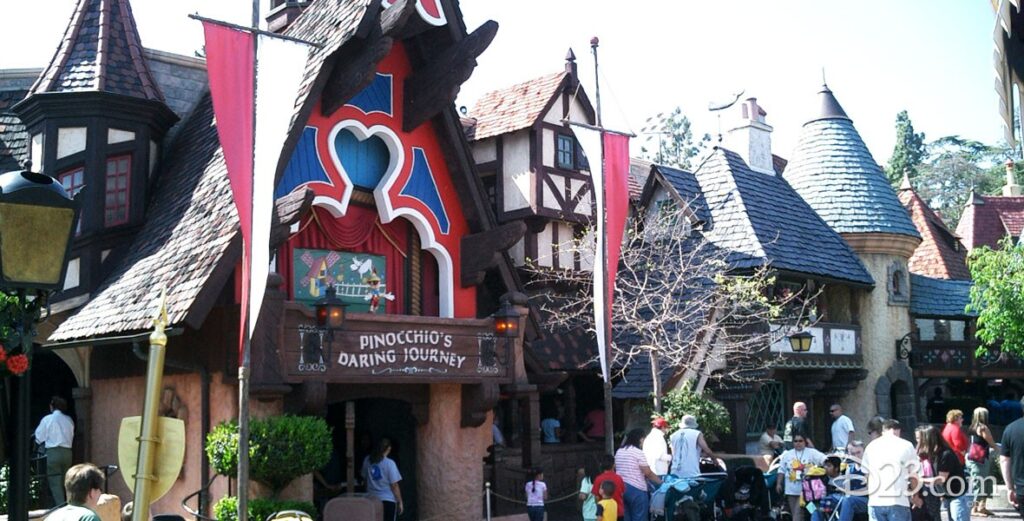 Written by
Bobby Asen
Contributing Writer
Bobby has a strong passion for Walt Disney's stories and the Disney Parks. From taking vacations to the parks, to being an Annual Passholder, to working as a cast member for seven years at Magic Kingdom, his passion for Disney continues to grow. After visiting every Disney Park in the world, Bobby knew he wanted to share his experiences and his love for Disney in his writing.