Have you ever dreamed of having a fairy tale Disney wedding, inspired by your love of Disney World? The world-class amenities, the incredible backdrops, and the enchanting touches that only Disney can provide all make for an unforgettable wedding celebration in the Most Magical Place on Earth. 
There are many wedding venue locations available throughout Disney World; and conveniently, some of the most beautiful wedding locations are offered right on-site at your favorite DVC resorts, providing all the comfort and elegance you would expect from a deluxe Disney World resort. Check out our five favorite DVC resort wedding venues for some magical wedding inspiration!
1. Crescent Cove at Disney's Yacht & Beach Club Resorts
For a beach wedding surrounded by waterfront beauty, look no further than Crescent Cove. Nestled on the shores of Crescent Lake, you'll find this small white-sand beach framed by palm trees. Enjoy the view of the lake and lighthouse as you share your special day with your nearest and dearest. This location is ideal for intimate beach weddings with 10 to 38 guests. 
This location can be found at Disney's Yacht Club and Beach Club Villas. The nautical accommodations and amenities of the Beach Club Villas will perfectly match the theme of a beachside wedding.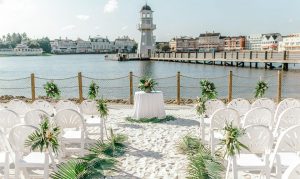 2. Disney's BoardWalk Inn Ballrooms
For an indoor wedding venue, the beautiful ballrooms at Disney's BoardWalk Villas are perfect for accommodating celebrations of all sizes. There are three different ballrooms at this DVC resort, including the Promenade Ballroom, Marvin Gardens Hall and St. James Hall & Patio. 
The Promenade Ballroom is a grand 10,032-square-foot hall, ideal for large gatherings; Marvin Gardens Hall is 1,860 square feet with a private outdoor patio area; and the St. James Hall & Patio is 1,216 square feet, perfect for intimate gatherings. Each ballroom is decorated with damask wallpaper and stylish brass fixtures. 
You can find these grand and charming ballrooms at Disney's BoardWalk Villas. This DVC resort offers lively entertainment, views of Crescent Lake and classic seaside charm.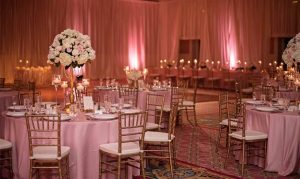 3. Ariel's at Disney's Beach Club Resort
Another indoor wedding location offers a light, airy feel with whimsical storybook charm. Ariel's at Disney's Beach Club Villas features tropical fish light fixtures, hand-blown glass bubbles, ocean-themed color schemes and other details that will make you feel transported to your own undersea fairy tale. Your 10 to 50 guests will love the poolside views and artful touches of this private venue.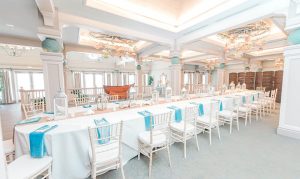 4. Croquet Lawn at Disney's BoardWalk Inn and Villas
A peaceful garden hideaway awaits your wedding celebration on the Croquet Lawn of Disney's BoardWalk Villas. This private lawn, surrounded by lush landscaping, offers scenic views of a canal as you exchange your vows under a white trellis. This hidden gem can accommodate wedding groups of 10 to 200, and is perfect for couples who want an intimate outdoor wedding with all the magical touches of a Disney fairy tale wedding.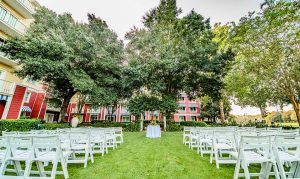 5. Disney's Wedding Pavilion at Grand Floridian Resort & Spa
The pièce de résistance of Disney World's wedding venues can be found at Disney's Grand Floridian Resort & Spa. On the shores of Seven Seas Lagoon directly across from Magic Kingdom, the iconic Disney Wedding Pavilion is unparalleled in its beauty and elegance. Your guests will feel positively enchanted as they cross the footbridge and enter the elegant white chapel with vaulted ceilings and arched windows. With stunning views of the lagoon and Cinderella Castle framing the majestic altar, you will feel as if you are in your own magical fairy tale as you say your vows. 
The Grand Floridian Villas offer elegant, luxurious accommodations and amenities to complement your special day.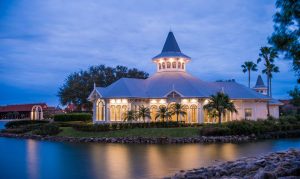 These unforgettable wedding venues are available by booking your special day through Disney Fairy Tale Weddings. Ceremonies, receptions, and celebrations can be customized to your style and preferences.
Have you ever been to a Disney wedding? Tell us about it below in the comments!
Featured Photo: Disney Weddings.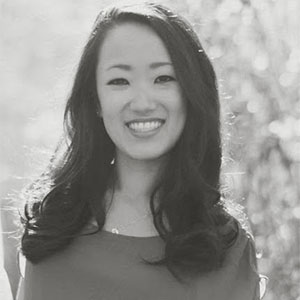 Written by
Leia Cullen
Leia is a proud mom of two boys. She has been in love with Disneyland and Disney World since her first visit to the parks many years ago, and she continues to relive the magic now with her family. She is passionate about creating helpful content that shares news or information about all things Disney, in the hopes it helps others create their own magical moments.