Rub elbows with smugglers, travelers, and bounty hunters and enjoy unique libations in Star Wars: Galaxy's Edge brought to the cantina from all over the galaxy.
Oga's Cantina Details

| | |
| --- | --- |
| Walt Disney World Park | Hollywood Studios |
| Location in Park | Star Wars: Galaxy's Edge |
| Dining Experience | Casual Dining |
| Hours | 9:00 AM to 9:00 PM |
| Price Range | $15.00 to $34.99  |
| Type of Cuisine | American |
| Mobile Order | No |
| Reservations | Yes |
| Allergy-Friendly | Yes |
Video Review
Dining Overview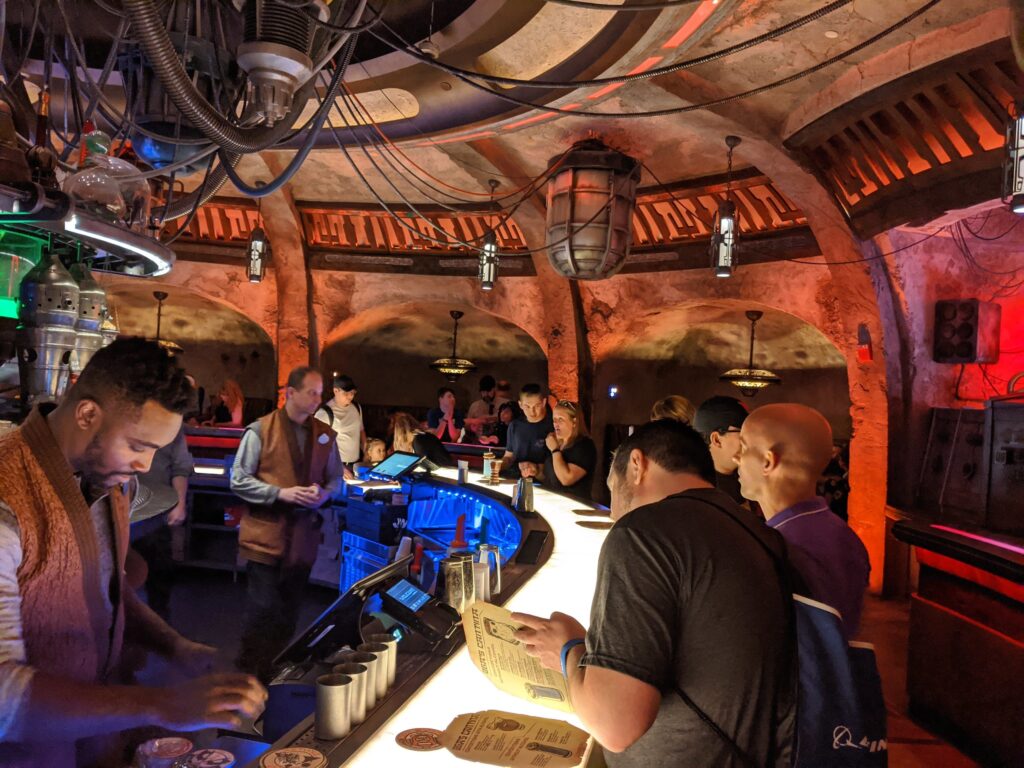 Oga's Cantina is the perfect themed dining location for those looking for a quick stop to refuel on their galactic journey.  The interior of the restaurant is dimly lit and has a tavern like feel. It is bustling with droids and people giving it an active feel.
The menu consists mostly of drinks with only a couple of snack options, so it is not really the best location if guests are looking for a full meal. However, the variety of drinks at Oga's Cantina definitely makes up for that. Majority of the concoctions contain alcohol, whether that be as cocktails, beers, hard ciders, or wine. There is something unique and delicious here for everyone's palette.
However, if you are bringing kids or simply don't drink alcohol there is no need to be concerned. The extensive drink menu applies to non alcoholic beverages as well, making this incredible dining location family friendly as well as a ton of fun.
Since the menu is mostly drinks, there will be a lot of options for those with food allergies as well.
Oga's Cantina is a must stop when traveling through Galaxy's Edge for the most immersive and exciting Star Wars experience.
Menu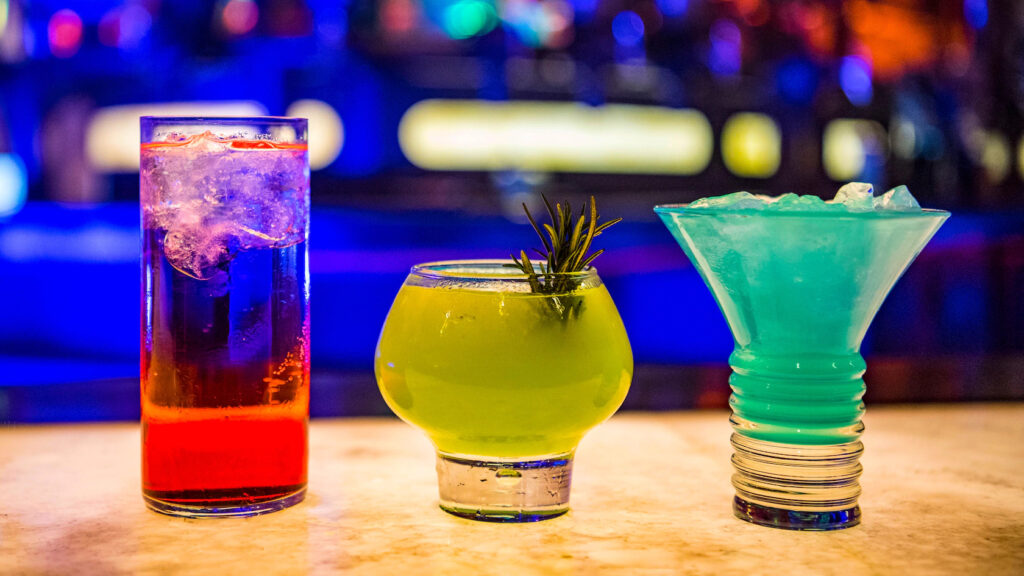 Concoctions with Alcohol
Fuzzy Tauntaun – $16.00
Cîroc Peach Vodka, Bols Peach Schnapps, Simply® Orange with Tangerine, Pure Cane Sugar, and "Buzz Button Tingling" Foam
Jedi Mind Trick – $15.00
Ketel One Botanical Grapefruit and Rose Vodka, John D. Taylor's Velvet Falernum, Bols Blue Curaçao, White Grape Juice, Lime Juice, and Grapefruit Bitters
 T-16 Skyhopper – $16.00
Tito's Handmade Vodka, Bols Melon Liqueur, Kiwi, and Half and Half
 The Outer Rim – $17.00
Patrón Silver Tequila, Cedilla Açaí Liqueur, Lime Juice, Pure Cane Sugar, with Black Salt and Exotic Fruit Purée
Dagobah Slug Slinger – $16.00
Herradura Reposado Tequila, Bols Blue Curaçao, Citrus Juices, Ginger, Herbs, and Bitters
 Bespin Fizz – $18.00
Bacardí Superior Rum, Yuzu Purée, Pomegranate Juice, White Cranberry Juice, and a Cloud Swirl
Jet Juice – $15.00
Maker's Mark Bourbon, Ancho Reyes Chile Liqueur, Cedilla Açaí Liqueur, White Grape Juice, and Lemon Juice
 Yub Nub – $45.00
Malibu Pineapple Rum, Sailor Jerry Spiced Rum, Citrus Juices, and Passion Fruit served in a Souvenir Endor Mug
Concoctions without Alcohol
Hyperdrive (Punch It!) – $6.00
POWERADE® Mountain Berry Blast, White Cranberry Juice, Black Cherry Purée, and Sprite®
 Jabba Juice – $6.50
Simply® Orange with Pineapple, Kiwi, Cantaloupe, and Blueberry Popping Pearls
 Blurrgfire – $7.00
Minute Maid® Premium Lemonade, Pomegranate Juice, and Habanero-Lime
 Carbon Freeze – $7.50
POWERADE® Lemon Lime, Wild Strawberry, Blueberry, and Green Apple Popping Pearls
Black Spire Brew – $7.00
Cold Brew Joffrey's Coffee®, Honey, Falernum, Passion Fruit, and Citrus
 Blue Bantha – $13.00
Blue Milk served chilled with Bantha-inspired Vanilla-Butter Sugar Cookie (contains tree nuts: coconut)
 Cliff Dweller – $35.00
Citrus Juices, Coconut, Hibiscus-Grenadine, and Seagram's® Ginger Ale served in a Souvenir Porg Mug
Provision with Alcohol
Rodian Ration – $13.50
Tito's Handmade Vodka, Dekuyper Pucker Sour Apple, Green Apple, Sprite®, and Boba Balls with a Pop
Provision without Alcohol
Oga's Obsession – $7.50
Minute Maid® Premium Lemonade, Cotton Candy Flavor, Blueberry Popping Pearls with a Bursting Dried Fruit Mixture
Beers on Tap
White Wampa Ale – Ballast Point Brewing Co. – $14.25
Classic Hefeweizen with a Banana and Citrus Character | ABV 4.5% – IBU 10
Bad Motivator IPA – Sierra Nevada Brewing Co. – $13.25
Tropical India Pale Ale with Galaxy and Comet Hops | ABV 6.0% – IBU 50
 Gamorrean Ale – New Belgium Brewing Co. – $13.25
Red Ale with Roasted Caramel, Hop Character, and Touch of Grapefruit | ABV 5.2% – IBU 22
 Gold Squadron Lager – Blue Point Brewing Co. – $13.25
Golden Lager with Lavender and Plum Flavors | ABV 5.0% – IBU 18
 Rancor Beer Flight Souvenir Board with Four Teeth – $85.00
Enjoy a sampling of each Beer
Cider on Tap
Spice Runner Hard Cider – Angry Orchard Cider Co. – $12.25
Seasonal Hard Apple Cider | ABV 5.0%
Wine on Tap
Goldschmidt Vineyards Imperial Guard, Sonoma – $16.00
Fully Clad Crimson-Colored, Nicely Focused Red Cherry and Raspberry aromas combined robust Red Berry Fruit Flavors, a touch of Caramel, Dark Chocolate, and spice with Long, Supple Tannis
 Goldschmidt Vineyards Toniray, Sonoma – $13.00
Formerly Produced on Alderaan, Teal-Colored, Refreshing Crisp Style, Aroma Characteristics of Green Apple and Meyer Lemon with flavors of Juicy White Peach, Apricot, and a hint of Vanilla
Snacks
Batuu Bits – $11.00
Crispy Galaxy Snack Bits with Spiced Chermoula Dip
 Happabore Sampler – $21.00
Cured and Roasted Meats, Cheese, Pork Cracklings
Map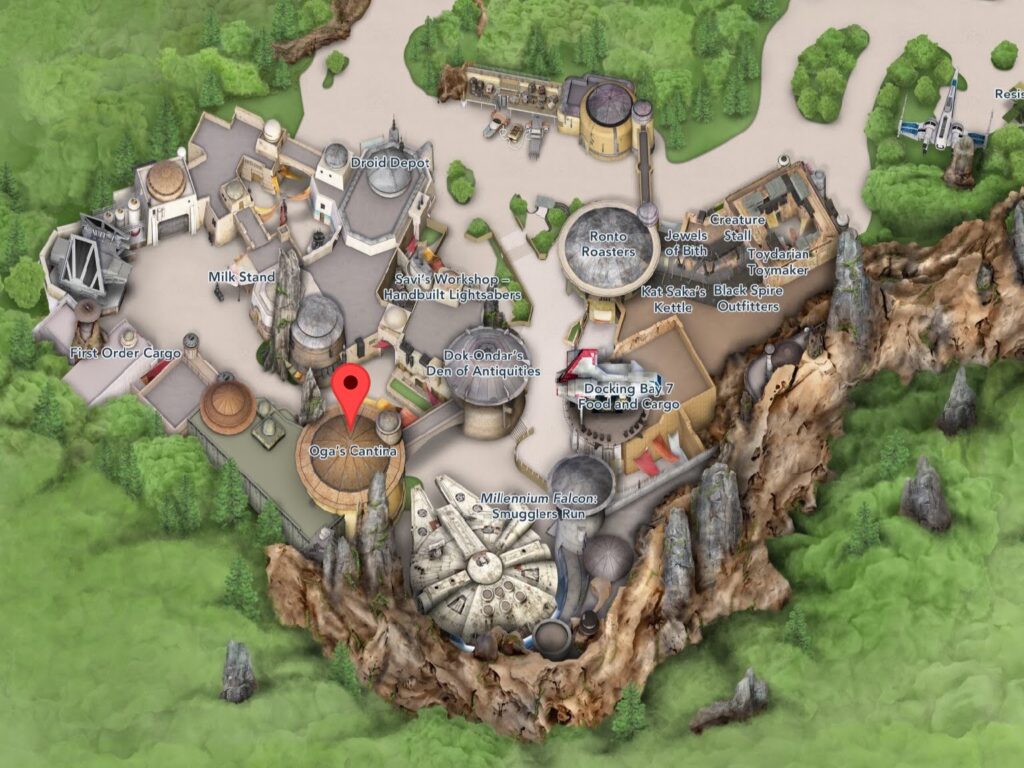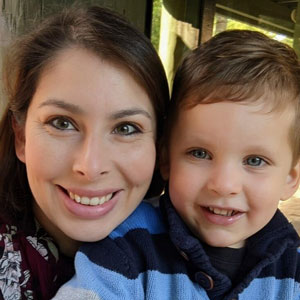 Written by
Rachel Van Norman
Contributing Writer
Rachel fell deeply in love with all things Disney as a little girl. Now as a wife and a mother herself, she shares this Disney obsession with her son and everyone around her. From her love of princesses to eating all the Disney food, Rachel spends her time radiating Disney magic and keeping everyone up to date on Disney news.