Liberty Tree Tavern is a popular, hearty meal in the heart of Magic Kingdom's Liberty Square. Reservations here can be hit or miss, as during holiday times it is booked solid, but during off times there can be many reservations available. When we had the opportunity to eat here, we had to take it, food allergies or not!
Dining out can always be a bit of a worry when dealing with food allergies, in our case gluten/wheat. However, Disney dining is considered to be some of the best and most thoughtful for any food allergies, and we have never had an issue with cross-contamination at a Disney dining location.
Without further delay, Here is our gluten free dining review of Liberty Tree Tavern!
The Price
Liberty Tree Tavern is a family style, all-you-care-to-enjoy experience. Adults (10+) cost $39 plus tax and kids (3-9) are $21 plus tax.
The Food
The best thing about Liberty Tree Tavern's gluten free options is that you get just about everything that is on the menu, but the gluten free version! At many dining locations there are items that cannot be made gluten free, which can be a bit disappointing. Here though, we didn't feel left out in the least!
Starters
Our first course was the Declaration Salad and Herb Butter Rolls.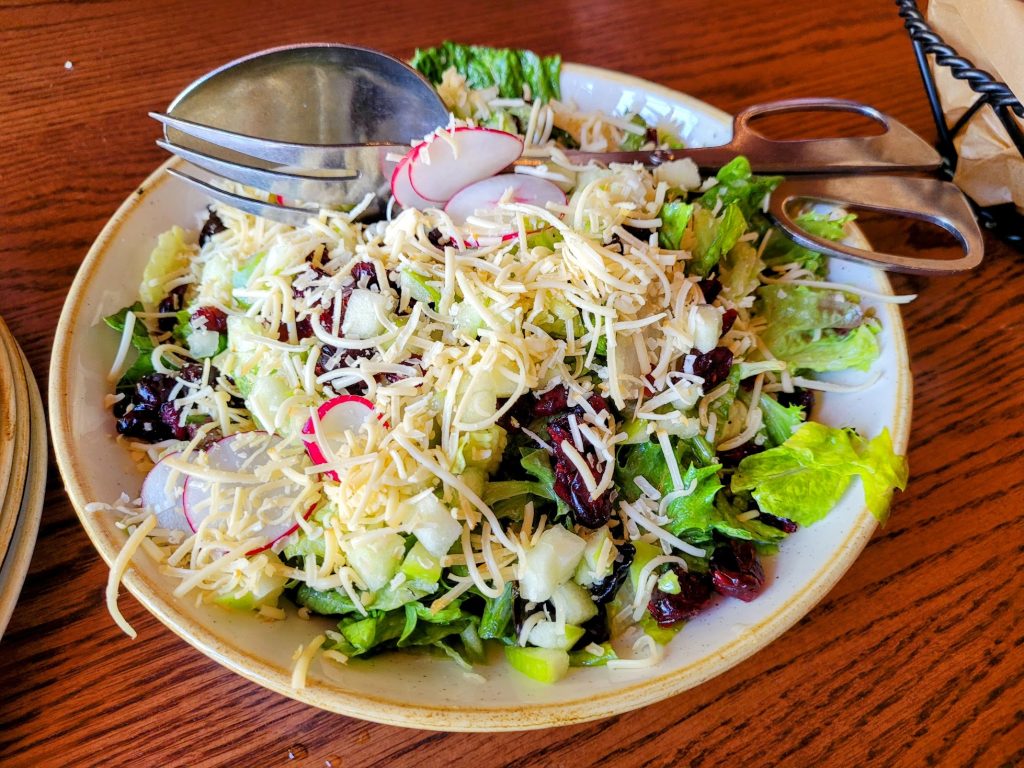 The Declaration Salad was perfectly dressed with a very lightly sweet vinaigrette. It paired wonderfully with the sweetness of the cranberries and apples. All of the produce was crisp and absolutely delicious.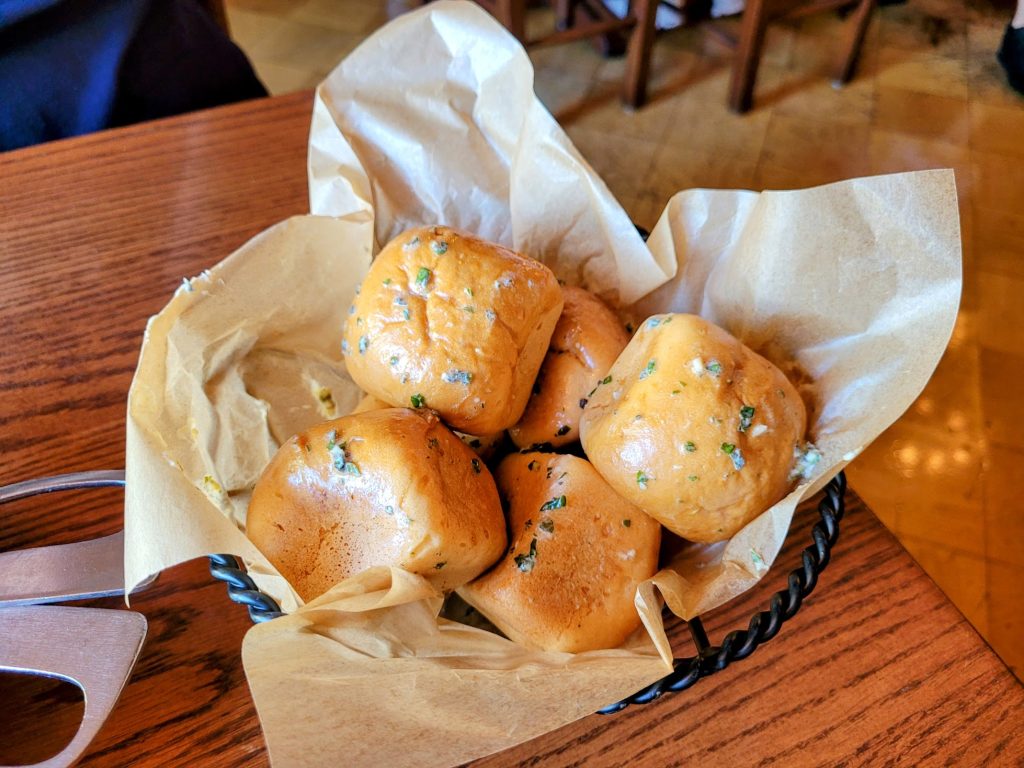 The rolls were served warm which is always a bonus. The herb butter comes melted on top of the rolls already. The herbs weren't too overpowering of a flavor and the butter added some nice moisture to the rolls. All in all I would have happily eaten the basket.
Entrees & Sides
Next, we were brought our Patriot's Platter, which included all of our entrees. At the same time we got our side dishes as well. As you can imagine, the table was practically overflowing with this delicious looking food.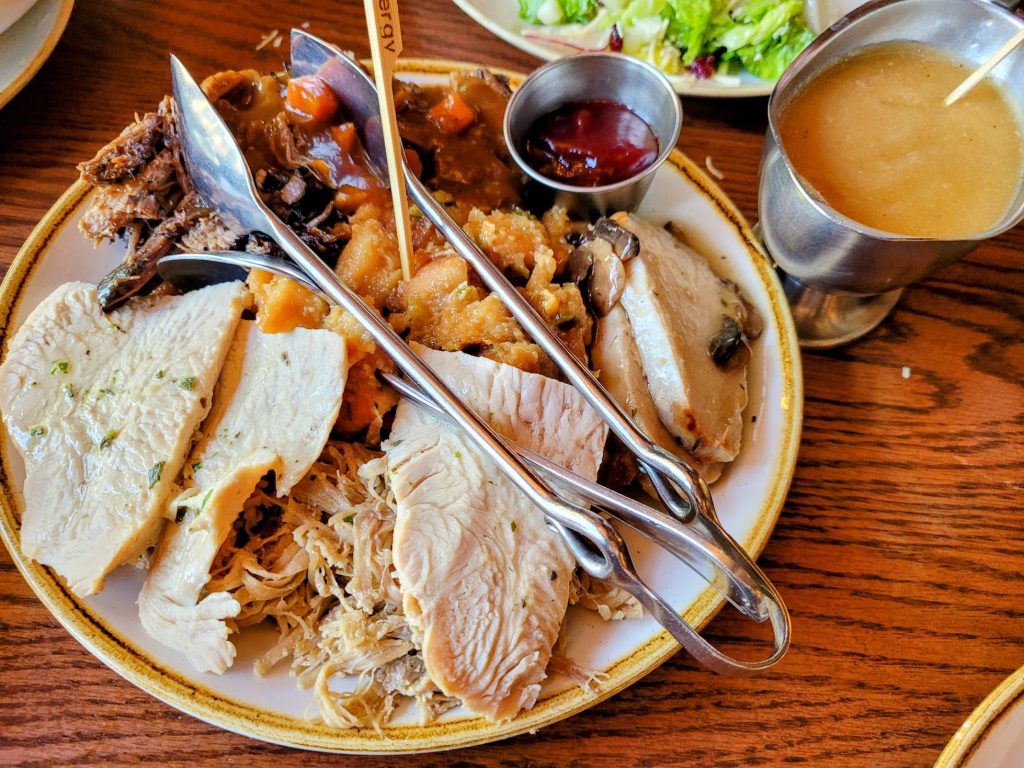 The Patriot's Platter includes Roasted Turkey with gravy and cranberry sauce, oven-roasted pork, and pot roast. The platter also comes with herbed rice bread stuffing.
First, the herbed rice bread stuffing is such a great novel addition to the meal. When you don't or can't eat gluten, stuffing out at a restaurant is pretty much nonexistent, except at Liberty Tree Tavern! The stuffing was very tasty. On its own it was a bit salty, but when you would eat it with the turkey and other items it was absolutely perfect.
Speaking of the turkey, wow! The turkey was very moist, which can be hard to accomplish. It was flavored really well and stood on its own as a delicious dish. Pairing it with other aspects of the meal like the gravy and stuffing was just next level flavor though.
Next we have the oven-roasted pork. The pork was flavorful although more mild than expected. A solid entree for sure.
Last, but definitely not least, we have the pot roast. This was the favorite entree of the meal for everyone by far. It was so delicious and the gravy and carrots came it a wonderful hearty feel. Add it with the potatoes and it was like a dream.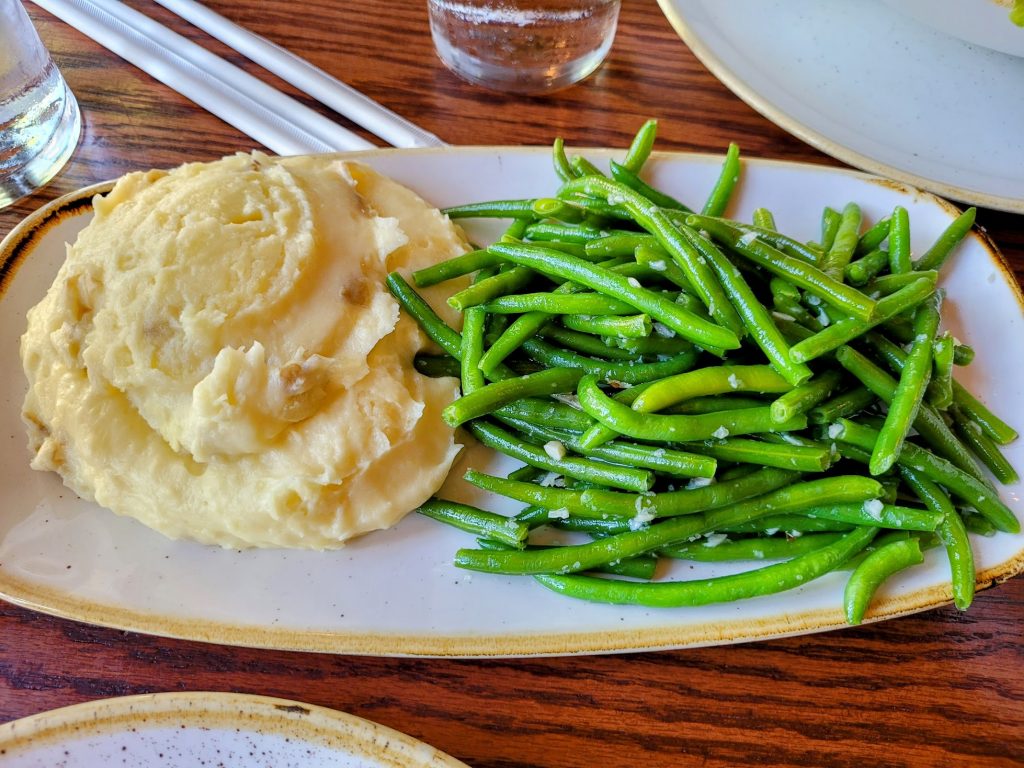 The mashed potatoes were definitely freshly made and very flavorful. They were the perfect side for a meal like this and the potatoes paired perfectly with every one of the main dishes.
The green beans were al dente and had a good flavor to them, salty and garlic.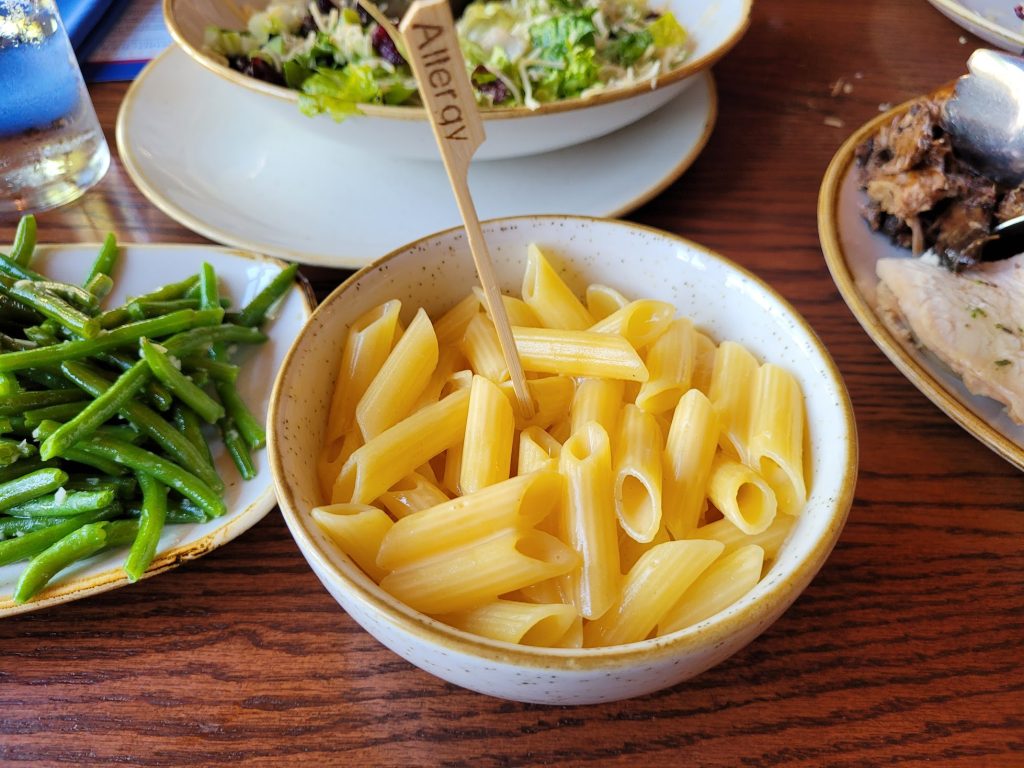 This last side dish was actually a pleasant surprise. It was not on the allergy friendly menu that is listed on Disney's website. However, we were told that they did in fact offer it. Overall, it was pretty basic mac and cheese, nothing super extraordinary, but it was really nice to have it as an option with some of the entrees.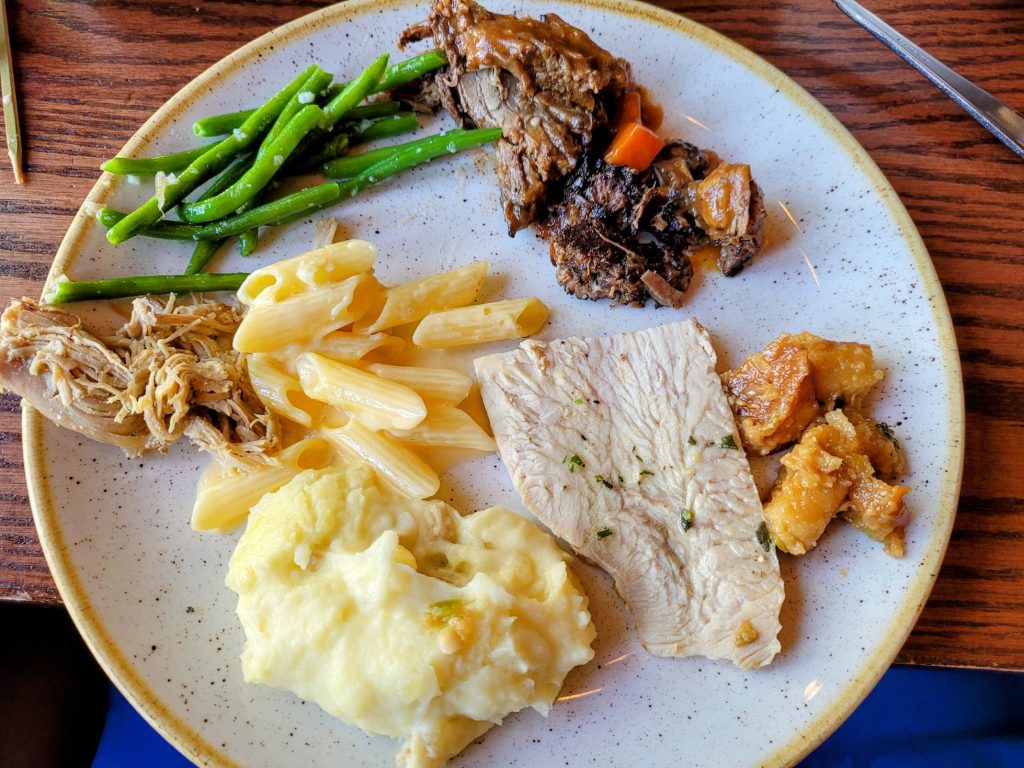 Truly everything was so amazing at Liberty Tree Tavern. As you can see we started out with a sample size of everything that was served before deciding on our favorite main and side.
Dessert
Now that we have covered the main meal, it is time for dessert! This is the only part of the menu that was not able to make gluten free, so they offer a separate dessert instead of the usual toffee cake.
Instead we received the Johnny Appleseed's Warm Apple Cake with Caramel, topped with vanilla ice cream.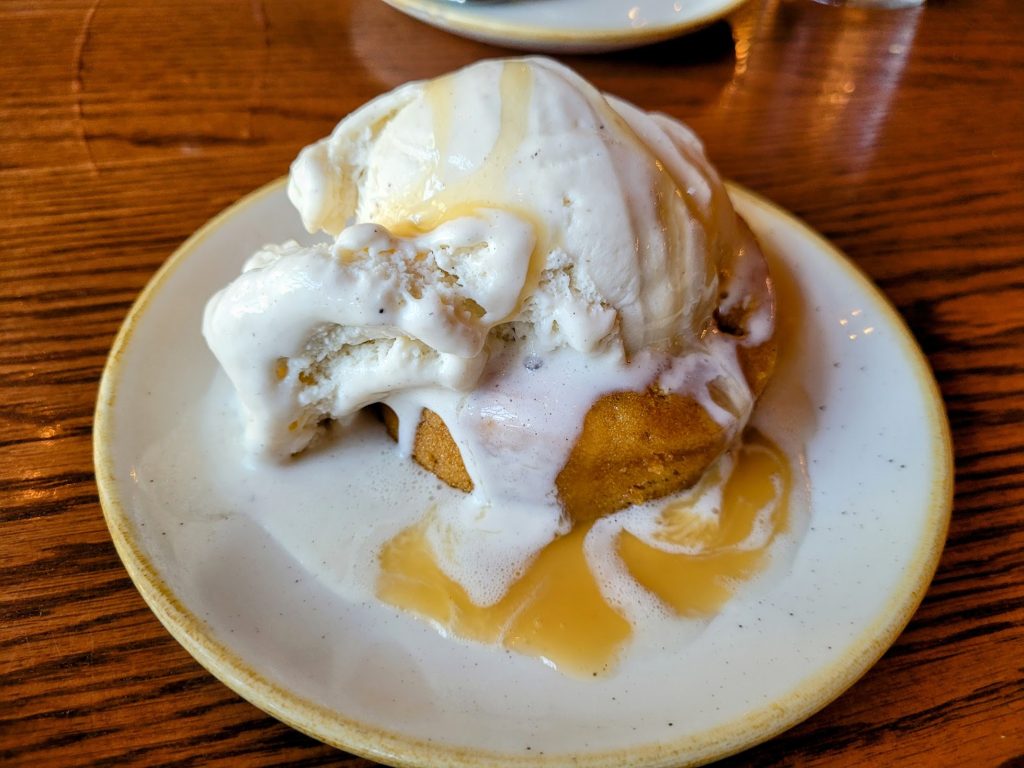 This cake, let me just say, is still haunting my dreams. The apple flavor is really there and it is perfect when paired with that delicious caramel sauce. Normally the cake comes with a whipped topping, but we asked to have it with ice cream instead. Let me just say that it was definitely the right call. It makes it such a decadent dessert. If I had not been so stuffed from the main platters, I could have happily eaten a meal of just this cake and ice cream.
They also offer fruit sorbet and pre packaged gluten free chocolate chip cookies for dessert as well, but this apple cake was definitely the star.
Let's Eat!
Liberty Tree Tavern definitely did not disappoint! The food was not only incredibly delicious, but you can tell that the chef, kitchen staff, and servers put a lot of care into trying to make your dining experience as stress free as possible with allergies. We felt very taken care of in our dining experience here and will definitely be back. We definitely recommend Liberty Tree Tavern for anyone looking to have a gluten free lunch or dinner in Magic Kingdom!
Have you ever dined at Liberty Tree Tavern before? Let us know in the comments below!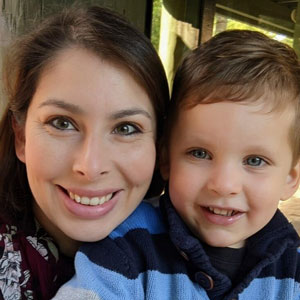 Written by
Rachel Van Norman
Contributing Writer
Rachel fell deeply in love with all things Disney as a little girl. Now as a wife and a mother herself, she shares this Disney obsession with her son and everyone around her. From her love of princesses to eating all the Disney food, Rachel spends her time radiating Disney magic and keeping everyone up to date on Disney news.