Jiko: The Cooking Place is a Signature Dining experience located at Disney's Animal Kingdom Lodge that transports you into the heart of Africa. 
Jiko: The Cooking Place Details

| | |
| --- | --- |
| Walt Disney World Location: | Disney's Animal Kingdom Lodge: Jambo House |
| Location in Resort: | Lower level across from Boma |
| Dining Experience: | Fine/Signature Dining |
| Hours: | 5:00 PM – 9:30 PM |
| Price Range: | $35 to 59.99 per adult |
| Type of Cuisine: | African |
| Mobile Order: | No |
| Reservations: | Yes (Walk-up reservations not available at this location) |
| Allergy-Friendly: | Yes |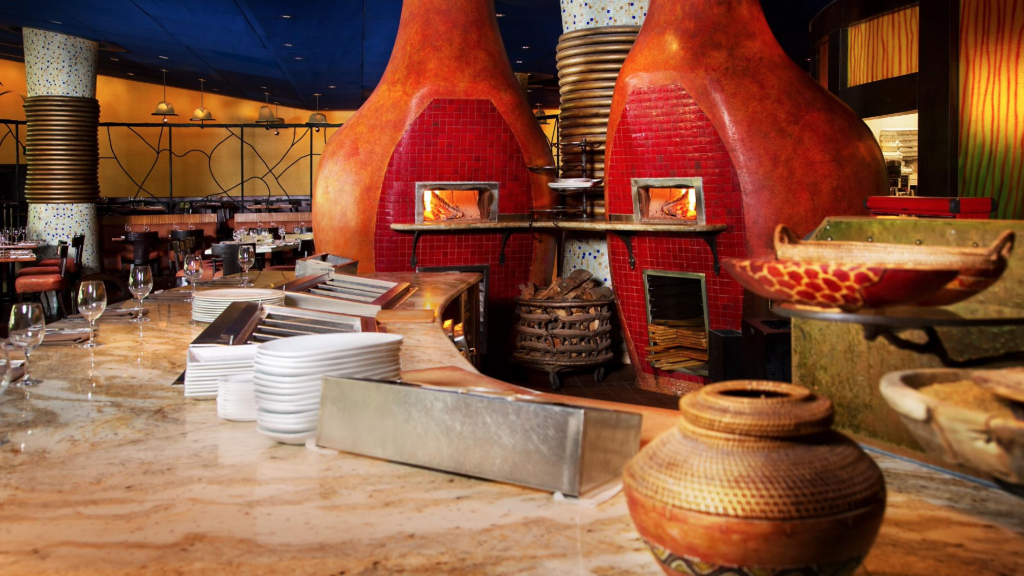 Dining Overview
Discover a delicious blend of traditional African, Indian, and Mediterranean cuisine. Vibrant spices, crackling wood-burning ovens and boutique South African wines transport you to the heart of Africa. Steak, chicken, seafood and plant-based dishes are infused with a uniquely bold blend of tantalizing flavors and fragrant spices. Twin wood-burning ovens roar as subtly changing light mimics the warm red, orange and gold tones of an African sunset. Watch chefs prepare appetizers in the open show kitchen, and after dinner, stroll through the grounds of Disney's Animal Kingdom Lodge to encounter more than 30 species of African wildlife in lush, natural habitats.
With a seasonally changing menu, options may include flavor-bursting appetizers such as imaginative brick oven-fired flatbreads and mouth-watering entrées such as oak-grilled filet mignon. The children's menu features pizza, grilled chicken or steak, and market-fresh fish served with ancient grains and vegetables.
Dress Code: As a Disney Signature Dining experience offering fine dining, guests are expected to dress accordingly in attire that respects the restaurant's sophisticated and upscale aesthetic. Clothing should be clean, neat, and in good condition. Please no swimwear.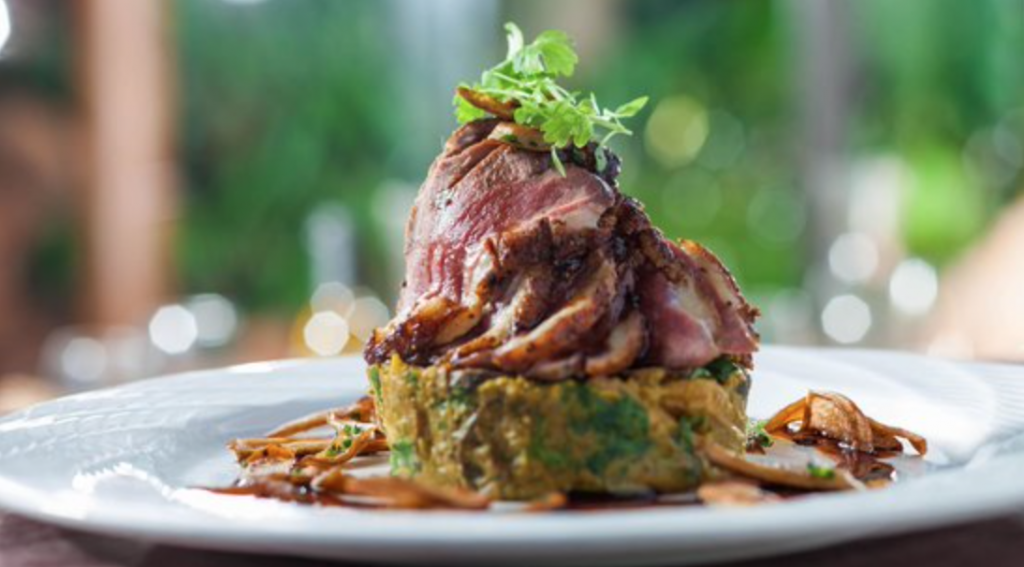 Menu  
Appetizers
Jiko Salad – $16.00
Quinoa, Radish, Petite Vegetables, Peaches, Pomegranate, Tangy Cashew Cheese and Lemon-Ginger Vinaigrette (Plant-based)
Braaied Wild Boar Tenderloin – $19.00
Creamy Pap, Chakalaka Tomatoes and Herb-smoked Oil
Seared Scallops with Nhopi and Groundnuts – $18.00
Diver Scallops, Blistered Peanuts, Nhopi, Chestnut Cream, Fennel-Apple Slaw and Cider Reduction
Duck Confit and Honey-Raisin Flatbread – $16.00
Preserved Duck, Rocket, Toasted Chickpeas, Mozzarella, Plump Raisins, Harissa and Spiced Honey
Roasted Squash Bisque – $14.00
Creamy Soup, Parmesan Crisp, Slow-poached Egg and Preserved Pumpkin
Entrées
Oak-grilled Filet Mignon – $54.00
Four-Cheese Macaroni, Rainbow Cauliflower and Chocolate-Red Wine Demi-glace
Moroccan Lamb Shank – $47.00
Braised Lamb, Parsnip Silk, Root Spinach, Medjool Date Chutney
Heritage Chicken – $37.00
Sumac-roasted Breast, Grains of Paradise-infused Carolina Gold Rice, Dukkha-dusted Broccolini, Peach Gastrique
Sustainable Fish – $48.00
Sustainable Fish, Eritrean Roasted Tomato, Rainbow Chard, Tomato-Beet Yogurt
Botswanan Seswaa Short Rib – $50.00
Slow-cooked Beef Short Rib, Hominy, Sea Peas, Mushrooms and Carrots
Injera Basket – $38.00
Seasonal Plant-based Stews featuring House-made Injera (Plant-based)
Seafood Tagine – $49.00
Saffron-scented Couscous, Prawns, Scallops, Squid and Littleneck Clams
Enhancements
Mozambique Peri Peri Prawns – $21.00
Lemon-Garlic Butter and Bird's Eye Peppers
Bobotie Mac & Cheese – $17.00
Four-Cheese, Waygu, Almonds, Raisins, Kachumbari and Red Wine Reduction
Zulu Oxtail Samp and Beans – $14.00
Cracked Hominy, Sea Peas, Fragrant Masala and Braised Oxtail
Desserts
African Drum 'Beets' – $14.00
Coconut-Strawberry-Beet Mousse, Chocolate Cake, Candied Beets, Balsamic Strawberries (Plant-based)
Kilimanjaro – $15.00
Single-Origin Ghanaian Dark Chocolate Mousse, Pistachio Financier, Pink Peppercorn Meringue, Cocoa Nib Crunch, Ras el Hanout Pineapples
Melktert – $12.00
African Milk Custard Tart seasoned with Cinnamon and Cardamom accompanied by Fresh Fruit
Angel Food Cake, No Sugar Added – $12.00
White Chocolate Panna Cotta, Fresh Compote and Citrus Gel
Malva Pudding Melktert
Ice Cream, Kataifi, Kanu Tuile and Cabernet Gelée – $13.00
Loose Leaf Specialty Teas
Thunderbolt Darjeeling – $9.00
From the Land of the Thunderbolts, the champagne of black teas.
Organic Pear Tree – $9.00
Organic Young Hyson green tea naturally perfumed with the essence of freshly plucked ripe pears
Floral Jasmince – $9.00
Our Floral Jasmine Green tea features fresh, mellow overtones with a slightly astringent finish.
Russian Earl Gray – $9.00
Black tea with an expansive, citrus infusion and zesty inspiration.
Organic Herbal Peppermint – $9.00
A stimulating and refreshing organic herbal infusion – aromatherapy in a cup.
Masala Chai – $9.00
Complex blend of top-quality, freshly hand-ground spices: cardamom, cinnamon, ginger, pepper, and cloves – and Indian black tea. – $9.00
Kids' Appetizers (à la carte)
Seasonal Fruit – $5.00
Seasonal Garden Salad – $5.00
Seasonal Vegetables and Dip – $4.00
Kids' Create-Your-Own Entrées (choose one)
*All entrées served with choice of two (2) Selections and choice of Small Lowfat Milk, Small DASANI® Water, or Small Minute Maid® Apple Juice
Market-fresh Fish – $17.00
Grilled Chicken Breast – $14.00
Shrimp with Kushari – $16.00
Steak Sosatie – $15.00
Macaroni & Cheese – $9.00
Cheese Pizza with Tomato Sauce – $9.00
Kids' Create-Your-Own Selections (choose two)
Seasonal Vegetables
Ancient Grains
Macaroni & Cheese
Seasonal Fruit
Not-So-Hidden Mickey Fruit and Yogurt
Vanilla Ice Cream
African Shield
Pumbaa's Dessert Grub
Kid's Speciality Drink
Specialty Character Drink – $6.50
Minute Maid® Zero Sugar Lemonade with flavors of Cotton Candy served in a souvenir Character Cup
Herbal Infusions (Caffeine-free)
Harmony- $9.00
Organic peppermint leaves, organic chamomile flowers, orange blossoms, and allspice. A fresh and minty herbal blended for complexity, balanced with the fragrant notes of allspice.
Vanilla Rooibos – $9.00
Certified organic rooibos, rose petal, and natural Madagascar vanilla flavor.
Kenya AA Coffee
Large Kenyan Press Pot Coffee, Featuring Freshly Brewed Joffrey's Coffee™ – $9.00
Small Kenya Press Pot Coffee, Featuring Freshly Brewed Joffrey's Coffee™ – $6.00
Dessert Wines
Klein Constantia Vin de Constance Constantia '08 – $110.00 / $24.00
After-Dinner Drinks
Nutty African – $15.00
Amarula Liqueur, Frangelico Liqueur and Coffee topped with Whipped Cream
Keoke Coffee – $13.00
Brandy, Kahlúa Liqueur, Bols Dark Crème de Cacao and Coffee topped with Whipped Cream
Zebratini – $15.00
Captain Morgan Original Spiced Rum, Godiva White Chocolate Liqueur, Frangelico Liqueur, Amarula Liqueur and a shot of Espresso in a Chocolate Zebra-striped Martini Glass
Cape Town Coffee – $14.00
KWV Van der Hum Liqueur, Kahlúa Liqueur and Coffee topped with Whipped Cream
Rémy Martin Louis XIII: 0.5 oz 90.00 | 1.0 oz 175.00 | 1.5 oz 250.00 | 2.0 oz 300.00
Brandies and Ports (2 oz pour)
Courvoisier VSOP – $16.00
Rémy Martin VSOP – $19.00
Hennessy XO – $40.00
Riebeek Cellars Cape Ruby – $11.00
Single Malts and Liqueurs (2 oz pour)
Oban 14 yr Western Highlands – $23.00
Lagavulin 16 yr Islay – $22.00
Laphroaig 10 yr Islay – $17.00
Glenfiddich 12 yr Speyside – $16.00
Grand Marnier – $13.00
KWV Van der Hum Tangerine Liqueur – $12.00
Grand Marnier 100 yr Anniversary – $34.00
Amarula – $12.00
The Macallan 12 yr Speyside – $18.00
The Macallan 15 yr Speyside – $40.00
Allergy menus available upon request. 
Map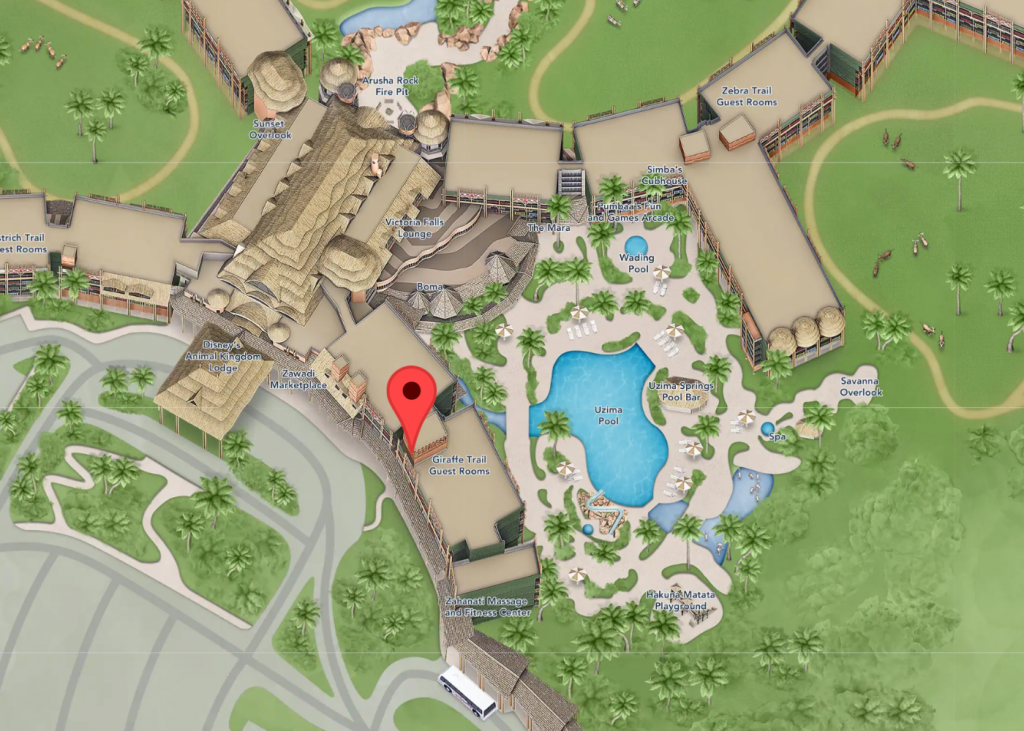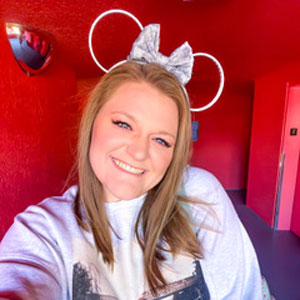 Written by
Gracie Waldrop
Contributing Writer
Gracie is a South Carolina native who loves to share the magic of Disney. In 2015 she began her Disney journey as a Cast Member and never looked back. She loves to put her knowledge and love of Disney to use by creating fun content and sharing helpful information. Helping others discover the magic of Walt's dream come alive in the eyes of children of all ages is what keeps her motivated. When she's not inside the parks you can most likely find her planning her next visit to the Most Magical Place on Earth.