Are you excited about going to Disney and buying a piece of the mouse but wondering, is DVC right for me? For many of my clients, this is the first question they ask when considering a DVC resale purchase. My answer to them is, yes, if you go to Disney every year or every other year, in most cases DVC will save you money in the long run. 
What Is DVC?
Disney Vacation Club (DVC) is Disney's version of a timeshare. DVC is a point based timeshare system that allows owners to book deluxe accommodations in DVC Resorts around the USA. DVC Resorts have a wide range of rooms to accommodate all different types of families. Rooms include Studios, 1-Bedroom Villas, 2-Bedroom Villas and the 3-Bedroom Grand Villa that sleeps up to 12. 
DVC Resorts offer a wide range of amenities and conveniences that every family can appreciate. 
Old Key West

, Disney's original DVC Resort, offers large rooms with plenty of space for big families.

Saratoga Springs

is within walking distance to Disney Springs. 

Bay Lake Tower

is a quick walk from the Magic Kingdom.

Polynesian

, with its island feel offers convenient monorail transportation to Magic Kingdom and Epcot.

Boardwalk Villas

and

Beach Club

are both a short walk from the back entrance of Epcot as well as all the amenities on the Boardwalk. 

Boulder Ridge

&

Copper Creek

, surrounded by woods, give guests the feeling of staying in the wilderness, far away from the hustle and bustle of the city.

Animal Kingdom

offers the unique opportunity to see giraffes and a myriad of other African animals from your balcony.

Grand Floridian

's perfect mix of Victorian seaside elegance is perfect for families and those celebrating special occasions.

Riviera

, DVC's newest resort, with its upscale, French feel is the perfect location for a luxurious Disney vacation.

Grand Californian

's rustic Western ambience is a two minute walk to Disneyland Parks.

And let's not forget the three DVC beach properties,

Hilton Head

in South Carolina,

Vero Beach

in Florida, and

Aulani

in Hawaii, each providing guests with Disney magic and quality service during relaxing beach vacations.
First Step Of Buying A DVC Resale
First things first, if you've decided that you'd like to become part of the DVC family, I recommend selecting your Home Resort first. Every resort offers different benefits, so do your research and pick the resort that will best fit your family now. But be sure to consider the future as well and how your family might grow or become smaller as your children leave home.
Keep in mind that some resorts are consistently difficult to book and require months of advance planning. For example, don't count on being able to secure a reservation at the Grand Floridian if you do not make your reservation 11 months in advance. Being a DVC owner does not mean your room is guaranteed, you are only promised your points each year.
I've Picked My Resort, Now What?
After you've decided on your Home Resort, you'll want to consider how many points you'll need for your vacations. I would start by reviewing the DVC Point Chart here. Spend some time and play with this chart. Find your chosen resort and consider when you might want to go to Disney. Think about your current lifestyle as well as how this might change in the future. Consider your kids' school schedules, their sports, kids that might be in college or going to college, retirement, etc. and how these life changes might affect your future vacation plans.
While reviewing the chart for your chosen resort, determine the number of points you'll need for the room size that will suit your family now and in the future. My recommendation is to purchase 20% more points than you think you'll need. Trust me, you'll want these extra points. If you don't purchase enough points now, you can also buy more in the future. However, you will need to find a contract that suits your needs, likely pay more for the points as prices continually increase and of course pay additional closing costs. If in the future you feel that you don't need all your points, you can always rent them out or gift them to charity.
Now that you've chosen your resort and the ideal number of points for your family vacations, let's find that perfect contract for your family. Visit DVC Shop Resales to start browsing listings today or continue reading more tips on How to Select the Right DVC Listing for You. If you're still wondering, "Is DVC right for me?" feel free to contact me anytime with your questions. 
Edited by: Katherine Rand, DVC Shop Editorial Team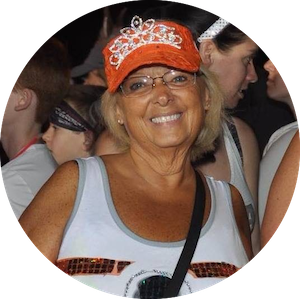 Written by
Bee Thaxton
DVC Shop Resales Broker
Bee has worked in all facets of the Real Estate industry in her 35+ years of experience. Her knowledge of DVC and the resale market is vast and her integrity and service to her clients has earned her a reputation of excellence. She lives close to the parks and loves to meet her clients. You may find her wandering around Epcot or in a fancy costume running a 1/2 marathon through Magic Kingdom.