Hop on The Incredicoaster to help the Incredibles on a high speed chase to catch Jack Jack! 
Incredicoaster Details

| | |
| --- | --- |
| Disneyland Resort Park | California Adventure |
| Location in Park | Pixar Pier |
| Height Restrictions | 48″ or taller |
| Age Interests | Teens and adults |
| Thrill Type | Big drops, thrill rides, loud |
| Hours | Park open to close |
| Wait Times | Medium |
| FastPass+ | Yes |
| Accessibility Information | Must Transfer from Wheelchair/ECV |
Attraction Overview
Are you ready for an adventure that's so incredible you'll never forget it? Then the Incredicoaster, at Disney's California Adventure, is a must for you. Come along and join your favorite superhero friends from The Incredibles as you enjoy a fast-speed roller coaster that brings you up, around, and upside down throughout the famous Pixar Pier.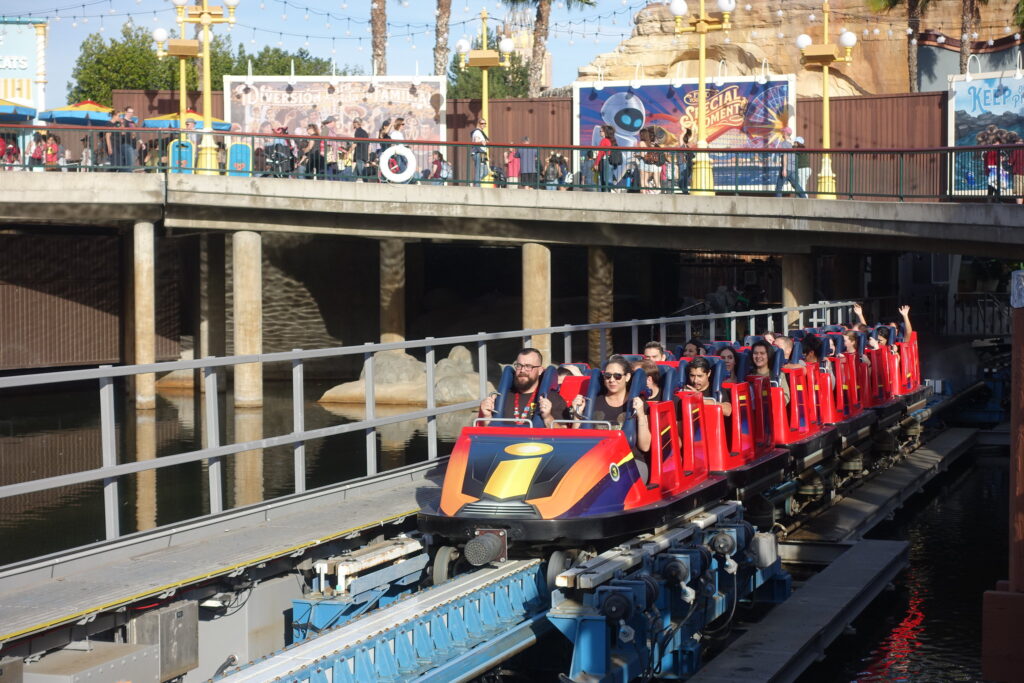 At the entrance of the Pixar Pier boardwalk, you will see this massive roller coaster as the centerpiece for this area. The Incredicoaster is an entirely outdoor attraction that features high speeds, big drops, and incredible loops. You'll find that this is the fastest attraction at The Disneyland Resort, going up to 55 miles per hour! It's also the only rollercoaster at the resort that features an inversion when the track turns upside down and immediately brings you back to the upright position. Shockingly enough, this is the tallest roller coaster in all of Disney Resort property! 
While at this attraction, you will see the story of how Edna Mode is babysitting baby Jack-Jack while the rest of the Incredibles crew is out to save the world. Things go a little haywire as Jack Jack's powers start to grow. You get to join the Incredibles by helping them find Jack-Jack and bring him home to safety. When going through this coaster, you will see The Incredibles using their superpowers such as force fields, fast speed, enormous flexibility, and even super strength.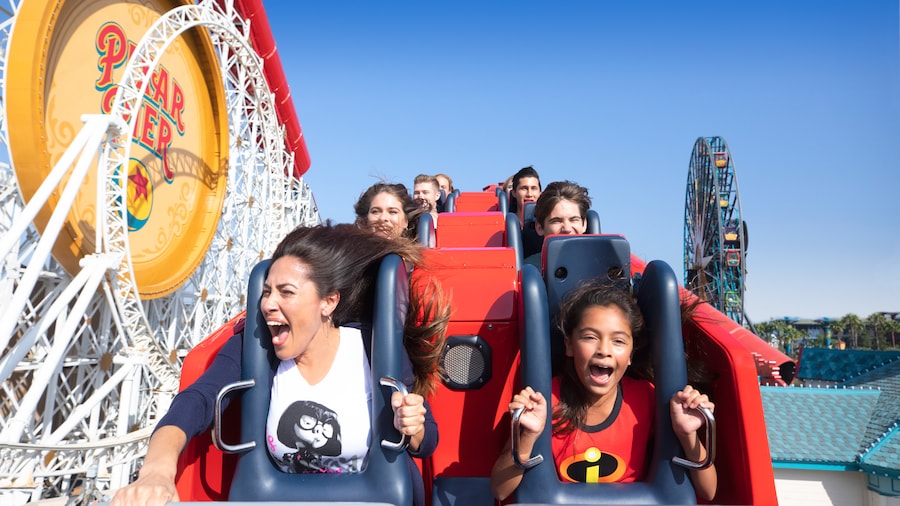 The Incredicoaster was initially called California Screamin' when it opened in 2001. At its time of being built, it was known to be the 8th longest roller coaster globally. Some other fun facts on this ride's history were named after the song California Dreaming by The Mamas & The Papas from 1956. Additionally, in 2007 the attraction was temporarily replaced with Rockin' California Screamin. Instead of the attraction's standard audio, it was replaced with Red Hot Chili Pepper's song Around The World. 
Map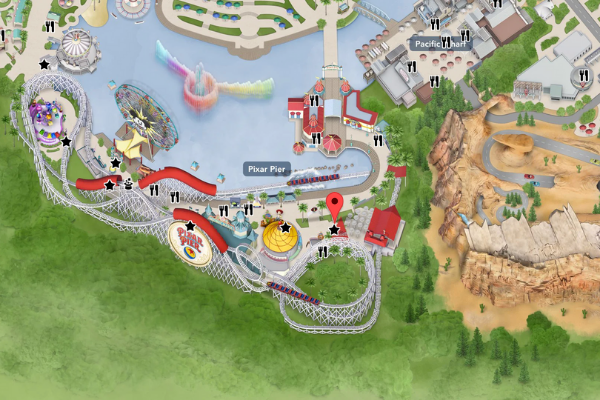 Location & Wait Times
You can find The Incredicoaster located in the center of Pixar Pier at Disney California Adventure Park. This attraction is neighboring Lamplight Lounge and Jessie's Critter Carousel. The Incredicoaster has medium wait times, usually of a standard wait of at least 30 minutes. However, there is a single rider line for those who want to ride the attraction by themselves. Depending on the nighttime shows, this attraction may close for a specific time per night, usually two hours.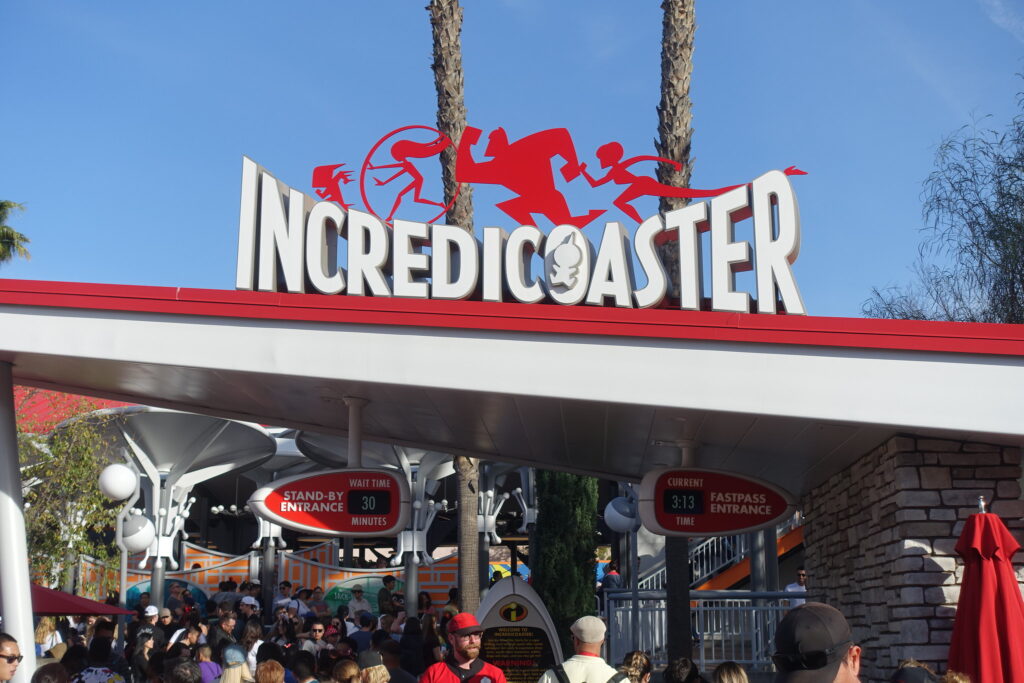 Queue Experience
The queue for The Incredicoaster is entirely outdoors and has shaded areas. Genie Pass is available to have a faster queue experience. While waiting for this attraction, you will see the guests ahead of you get launched off as they start their adventure on The Incredicoaster. Nearby you will see meet n greets of superheroes from The Incredibles movie such as Frozone, Mr. Incredible, and Mrs. Incredible.
Featured Photo: Flickr.com, Patrick Pelletier
Written by
Bobby Asen
Contributing Writer
Bobby has a strong passion for Walt Disney's stories and the Disney Parks. From taking vacations to the parks, to being an Annual Passholder, to working as a cast member for seven years at Magic Kingdom, his passion for Disney continues to grow. After visiting every Disney Park in the world, Bobby knew he wanted to share his experiences and his love for Disney in his writing.