EPCOT's International Food & Wine Festival 2022 is already underway, with some amazing food and drink items from all over the world. This festival is made for all Disney foodies, but if you have certain dietary restrictions, you may want to know ahead of time what food items you will be able to safely enjoy. We have the complete gluten free guide to EPCOT's International Food & Wine Festival 2022 for you! Let's take a look at some of the delicious gluten free items that are available.
Global Marketplaces With Gluten Free Offerings
Australia
The Australia Global Marketplace has a couple of options for those wishing to enjoy only gluten free options. The two dishes are:
Grilled Sweet-and-Spicy Bush Berry Shrimp with Pineapple, Pepper, Onion, and Snap Peas
Roasted Lamb Chop with Mint Pesto and Potato Crunchies
Both dishes are a meat option and pair beautifully with the fresh flavors of the produce.
Brazil
The Brazil Global Marketplace has one gluten free offering this year.
Pão de Queijo – Brazilian Cheese Bread
The Brazilian Cheese Bread, or Pão de Queijo, is such a unique textured food item. It is savory, yet light and incredibly cheesy. This item is not only gluten free, but it is also a part of the Emile's Fromage Montage.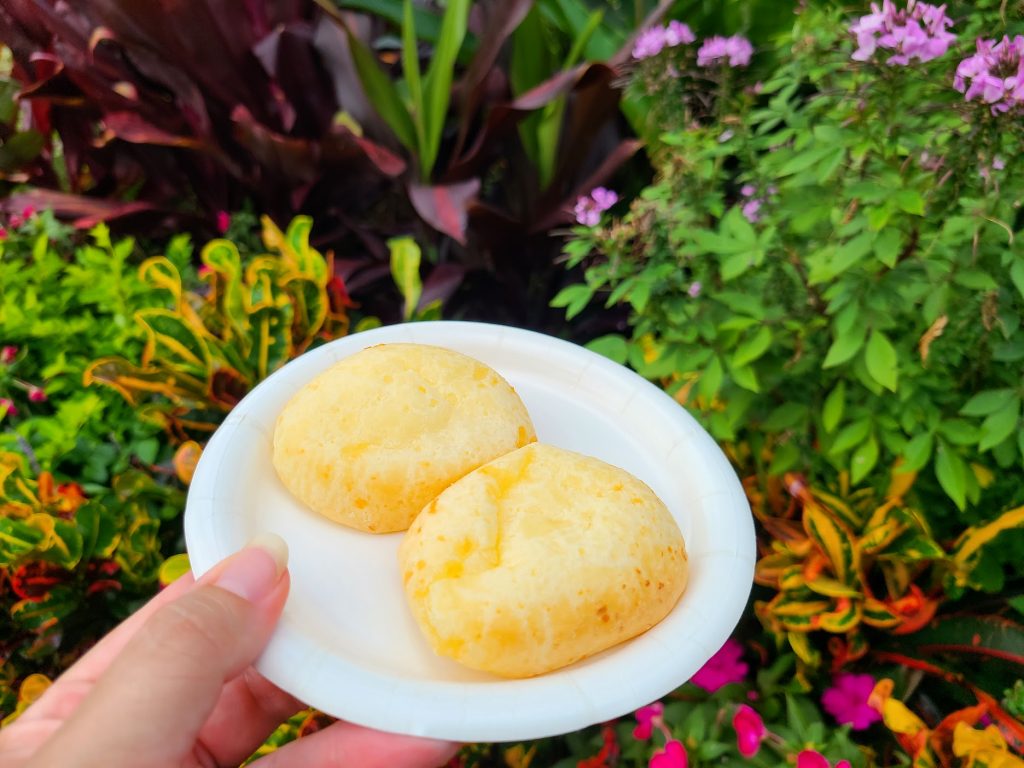 The Fry Basket
Fries are a common gluten free food item, but this new Global Marketplace is taking them to a different level with the following take:
Adobo Yuca Fries with Garlic Cilantro Aïoli
The Adobo Yuca Fries are similar in flavor to your standard potato fry, but the Garlic Cilantro Aïoli adds another dimension to it, making this food offering stand on its own rather than your average side dish.
Brew-Wing at the Odyssey
Who doesn't love wings? Brew-Wing at the Odyssey has two flavors of wings that are gluten free this year. Guests can enjoy the following at this location:
Garlic-Parmesan Wings with Celery and Ranch
Traditional Buffalo Wings with Celery and Ranch
Canada
For those looking for a more hearty gluten free snack around the World Showcase, look no further than the Canada Global Marketplace.
"Le Cellier" Wild Mushroom Beef Filet Mignon with Truffle-Butter Sauce
The Wild Mushroom Beef Filet is filling and the mushrooms are cooked nicely. The truffle-butter sauce is an excellent addition as well and gives it the elevated feel you would expect from something from Le Cellier.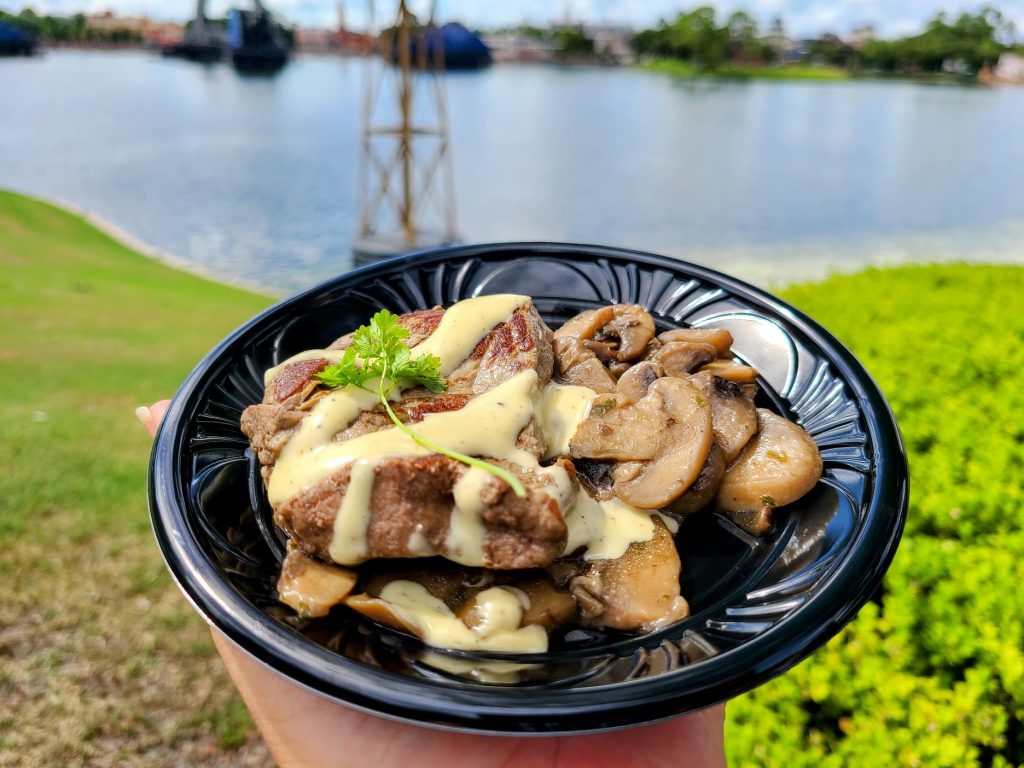 Greece
The gluten free offering at the Greece Global Marketplace is also a part the Emile's Fromage Montage.
Griddled Cheese with Pistachios and Honey
The Griddled Cheese is a delicious nutty and sweet flavor. The best part is that all of the ingredients are Greek as well!
Spain
The Spain Global Marktplace is one of the best stops for gluten free diners at this festival. Every food item that is offered here is gluten free!
Charcuterie with a selection of imported Spanish Meats, Cheeses, Olives, and an Herb Vinaigrette
Paella with Rice, Chorizo, and Shrimp
Seafood Salad with Shrimp, Bay Scallops, Mussels, Extra Virgin Olive Oil, White Balsamic Vinegar, and Smoked Paprika
Mexico
The Mexico Global Marketplace is always one of the favorite stops at every EPCOT festival, especially since they always have a couple gluten free options for guests to enjoy. The two gluten free food offerings this year are:
Taco al Pastor – Seared Pork Belly Pastor on a Corn Tortilla with Chipotle Black Beans, Pineapple, Pickled Onions, and Chives
Tostada de Barbacoa – Barbacoa Beef on a Fried Corn Tortilla with Chipotle Black Beans, Salsa Verde, Mexican Crema, Queso Fresco, and Chives
We have never had a bad meal at the Mexico Global Marketplace, and this year is no exception. Both food offerings are a perfect balanced in terms of their flavors and an amazing choice for anyone, including gluten free diners.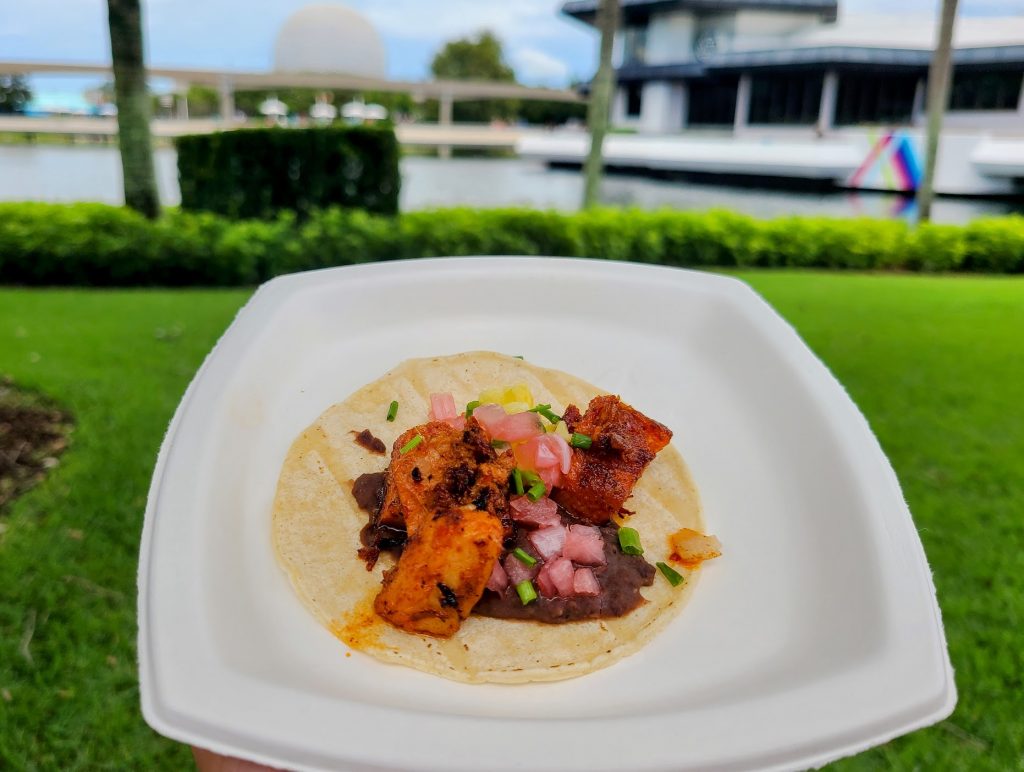 Kenya
For those looking for a hint of exotic spice in their life, head over to the Kenya Global Marketplace where you can find the following:
Kenyan Coffee Barbecued Beef Tenderloin with Sweet Potato and Corn Mealie Pap and Kachumbari Slaw
The Kenyan Coffee Barbecued Beef Tenderloin is a good sized portion for the price and is paired with some unique sides that make this a must try for gluten free diners.
The Noodle Exchange
Another amazing choice in this festival is The Noodle Exchange. Just like the Spain Marketplace, everything offered is gluten free!
Traditional Spicy Vietnamese Beef Pho with Shaved Beef, Mushrooms, and Thai Basil
Thai Shrimp and Coconut-Curry Rice Noodles with Shiitake Mushrooms and Thai Basil
Tofu Pho with Mushrooms and Thai Basil
The Swanky Saucy Swine
For the gluten free pork lovers, head over to The Swanky Saucy Swine for the following two dishes:
Crispy Barbecued Pork Rinds with Pimento Cheese
Grilled Pork Shoulder Lettuce Wrap with Charred Corn Salsa, Pickled Red Onion, and Cilantro-Lime Crema
The crispy barbecued pork rinds are such a flavorful snack, giving the feel of nachos and the pork shoulder lettuce wrap is another filling snack.
France
The EPCOT International Food & Wine Festival has a gluten free dessert offering this year!
Crème Brûlée Vanilla à la Confiture de Framboises – Vanilla Creme Brulee with House-made Raspberry Jam
The sugar topping is perfectly caramelized and the raspberry jam is light and sweet. The vanilla flavor is not over powering and overall it is a sweet, but not overly sweet treat to end your gluten free dining experience at the festival.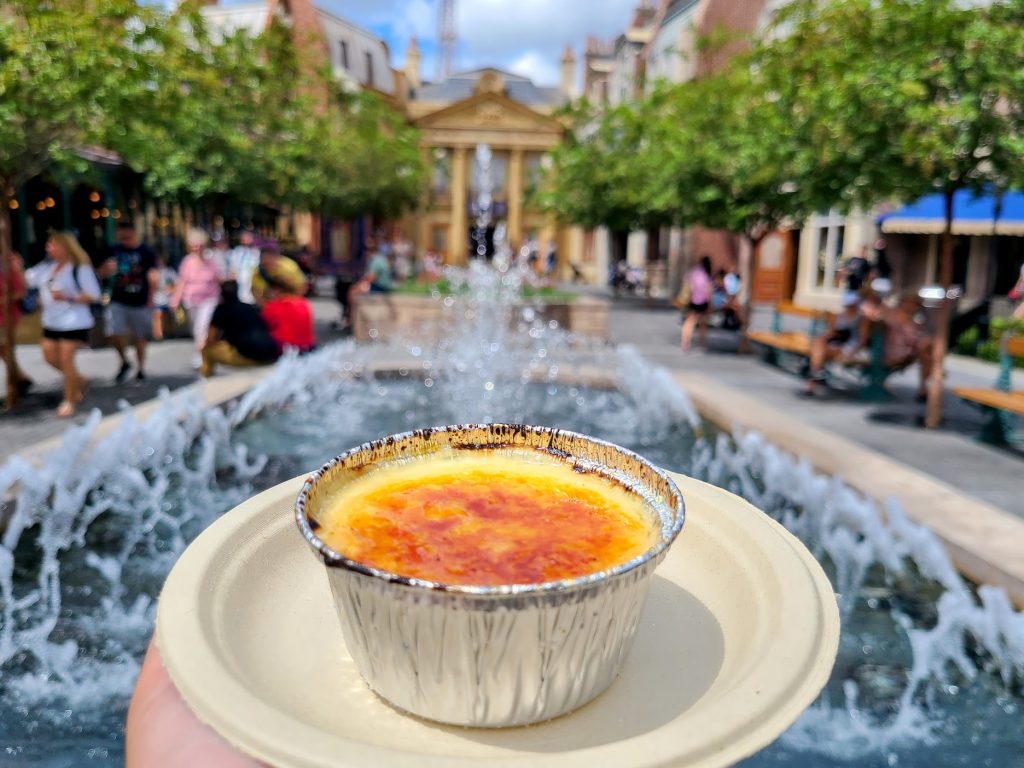 Let's Eat!
This year's International Food & Wine Festival at EPCOT has a ton of gluten free options and they are all delicious! Are you a gluten free Disney Foodie? Have you been able to attend the 2022 International Food & Wine Festival yet? If so, what was your favorite gluten free dish? Let us know in the comments below!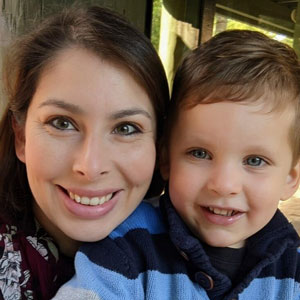 Written by
Rachel Van Norman
Contributing Writer
Rachel fell deeply in love with all things Disney as a little girl. Now as a wife and a mother herself, she shares this Disney obsession with her son and everyone around her. From her love of princesses to eating all the Disney food, Rachel spends her time radiating Disney magic and keeping everyone up to date on Disney news.