Find yourself on an adventure in the beautiful coral reef where you may see some familiar faces from Disney's Finding Nemo film.
Finding Nemo Submarine Voyage Details

| | |
| --- | --- |
| Disneyland Resort | Disneyland |
| Location in Park | Tomorrowland |
| Height Restrictions | Any height |
| Age Interests | Kids, Tweens, Teens, and Adults |
| Thrill Type | Slow ride, dark, and loud |
| Hours | Park open to park close |
| Wait Times | Average of 30 minutes |
| FastPass+ | No |
| Accessibility Information | May remain in Wheelchair/ECV |
Attraction Overview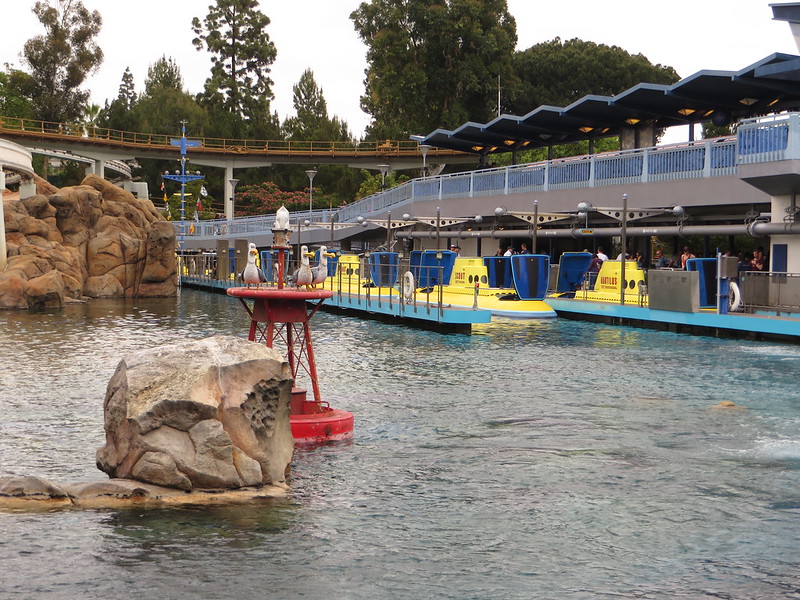 To begin your journey, you enter a yellow submarine that'll take you below the depths of the "ocean". The Nautical Exploration and Marine Observation Institute (N.E.M.O) gives tours in these submarines for guests of all ages to enjoy.
When entering your submarine, you'll notice a tight staircase that brings you to two rows of seats facing individual portholes. These portholes will be your eyes to what the ocean has to show you during your journey. Once the reef tour begins, your tour guide from N.E.M.O. will notice they're getting frequencies on the radio that give them the ability to understand what the marine life is saying. N.E.M.O. calls this frequency technology a sonar hydrophone.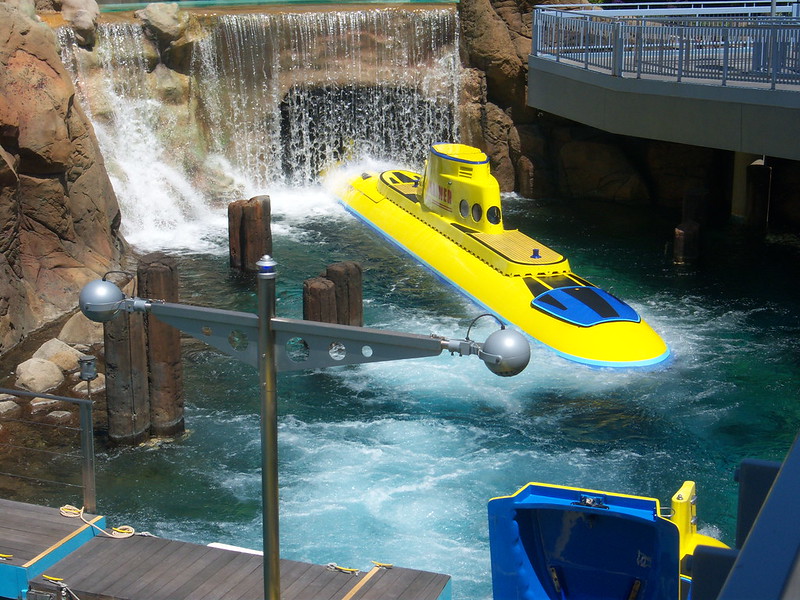 During your journey under the sea, you will be accompanied by friends like Nemo, Marlin, Dory, Bruce, Crush, and even Squirt. They'll be swimming around your porthole so you can see what it's like for them living in the "big blue world" we know as the ocean. Just like in the film Finding Nemo, Nemo will get lost, but you'll be there to help Marlin and Dory on their journey to reunite with Nemo and all of his friends. 
TIP
For those guests who do not do well with tight spaces, feel free to stay onshore. Luckily this attraction offers a "sub cam", which will show you a live video of what others see as they go through the attraction. If this seems like a better option for you, let the Cast Member at the entrance know you'd prefer this onshore option. 
Map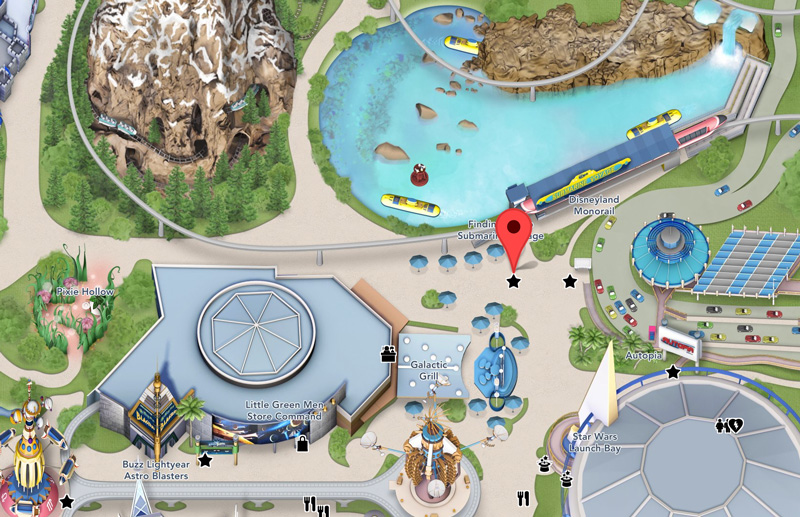 Location & Wait Times
Finding Nemo Submarine Voyage can be located behind Matterhorn Bobsleds in Fantasyland or right beside Autopia in Tomorrowland. This attraction has a stunning park view with bright blue waters. The attraction offers a scenic overview of Tomorrowland and Fantasyland to capture a perfect family photo before riding the attraction. 
Many guests will recognize this location as 20,000 Leagues Under The Sea, the original attraction at this location where you find Finding Nemo Submarine Voyage now. This previous attraction had closed in 1998 after operating for 39 years. But the submarine vehicles used nowadays are the originals from 20,000 Leagues Under The Sea!
The wait time can vary throughout the day, usually averaging at 30 minutes. It is known to get a lot less crowded after the sun sets and the closer it gets to park closing. Nemo Submarine Voyage is often a walk-on attraction. 
Queue Experience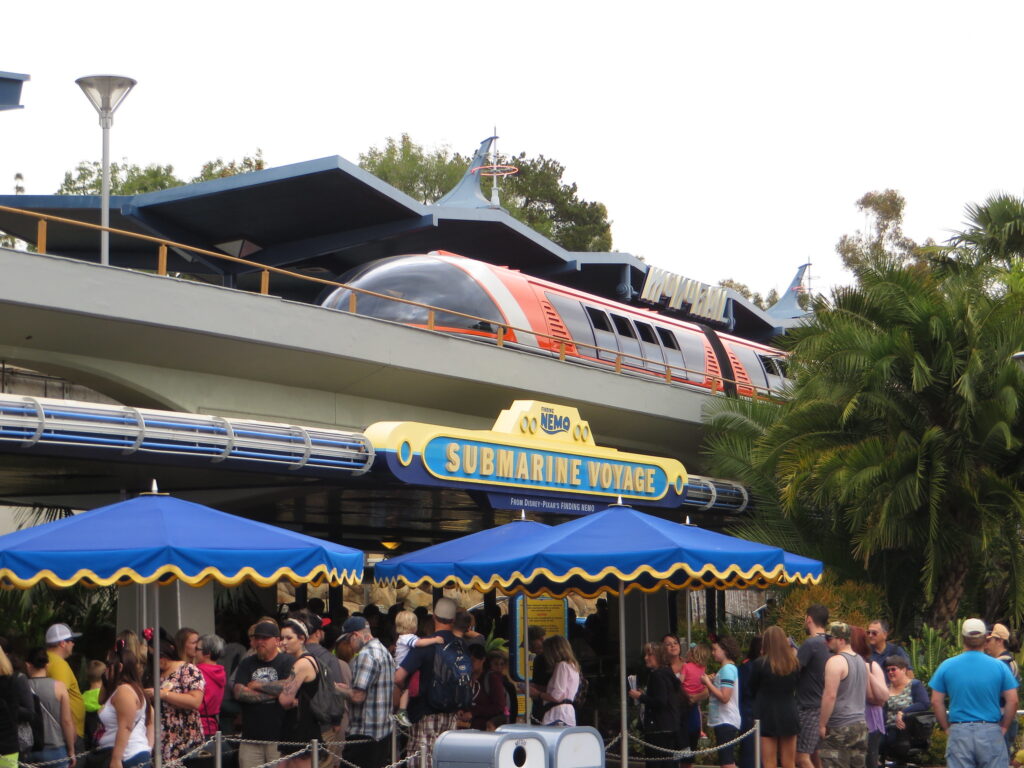 During your queue experience, you are entirely outdoors. A lot of shade is provided from the monorail station, which is located right above the entire queue. While waiting, you can view the submarines out in the sea. Additionally, you will see bobsled riders on The  Matterhorn and guests driving their vehicles through the winding roads of  Autopia.
Written by
Bobby Asen
Contributing Writer
Bobby has a strong passion for Walt Disney's stories and the Disney Parks. From taking vacations to the parks, to being an Annual Passholder, to working as a cast member for seven years at Magic Kingdom, his passion for Disney continues to grow. After visiting every Disney Park in the world, Bobby knew he wanted to share his experiences and his love for Disney in his writing.