Having so many restaurant and food choices might get a bit overwhelming when planning a Disney trip. Over the last few years my husband and I decided to start relaxing a bit on making reservations as a priority on our trips, which has led us to try more of the quick service options. Our latest adventure found us in Disney Springs and trying to decide what to eat. We've seen them, but never tried the Exposition Park Food Trucks and decided to give it a go. We were pleasantly surprised at the options offered. The four trucks that evening included Local Green Orlando, 4 Rivers Cantina Barbacoa Food Truck, Mac & Cheese and @Cilantro Urban Eatery. After looking at each of the menus, we decided to try something from each of the trucks. We were able to find a table and enjoyed watching the boats float by and the Aerophile Balloon float up and down, as well as families strolling along and enjoying the lovely evening while eating our dinner.
Healthy Options From Local Green Orlando
Our first choice was from Local Green Orlando, which focuses on healthy options featuring Vegetarian, Pescatarian and Vegan dishes. We choose the Elote Street Corn. It was very good. It wasn't quite as hot as I like corn on the cob to be, but we realized they probably let it cool a bit so the coating doesn't melt. We noticed others were ordering the Smoothies, Lemonades, and Rappers Delight. The average costs are $14-16 for meals and $6 for sides.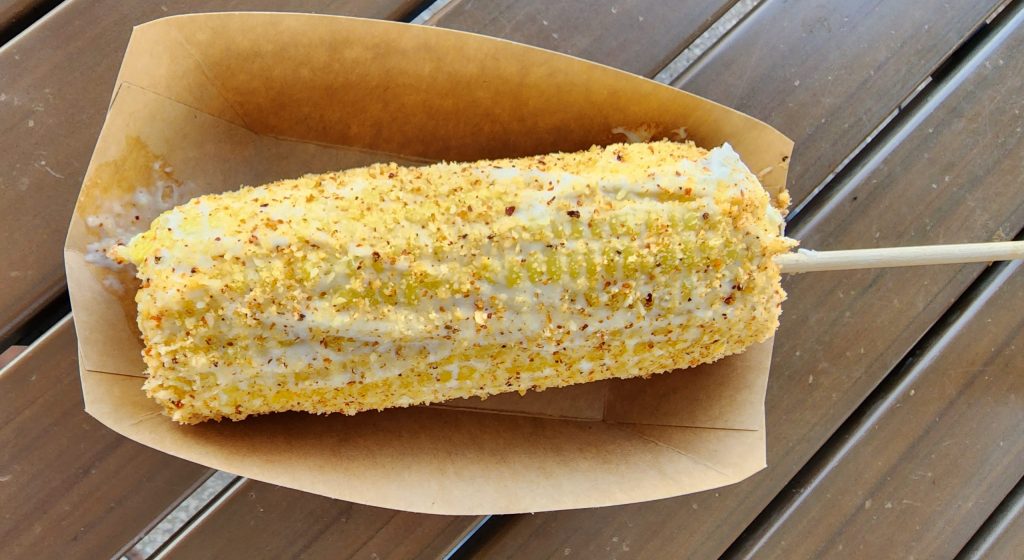 Featured Food Truck For Hispanic Heritage Month
My husband ordered the Pork Pibil Tostadas from the @Cilantro Urban Eatery, which is available from September 15-October 15th. We noticed a few gluten-free options and everything was fresh and bright.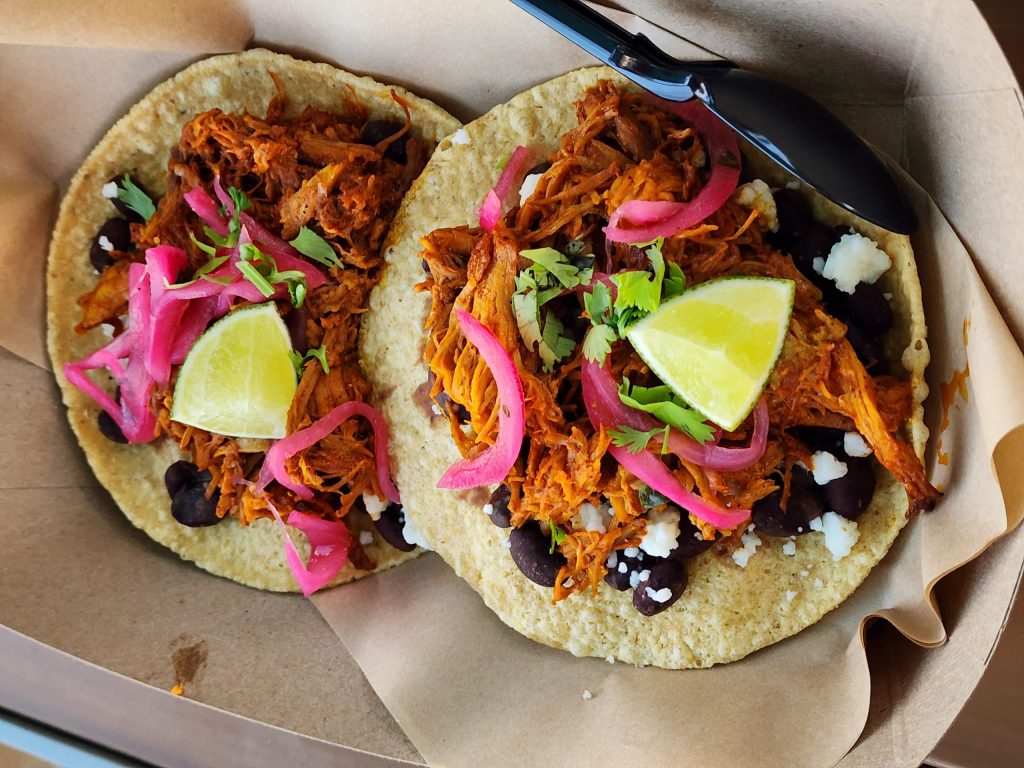 He enjoyed his pork tostadas and was happy with the price for what we received. I'm not a huge Cilantro fan, so it kept me from ordering anything, but I might try the fruit popsicles next time if they are still there. The main dish prices range from $10-14.
Mac & Cheese Is A Favorite Anytime
Walt Disney World provides the Mac & Cheese Food Truck. I ordered the Six-Cheese Crunchy Mac & Cheese. It features a topping of Crunchy Cheese Puffs and came out piping hot. The cheese was stringy, which is always a good thing to see with Mac & Cheese. It was very filling and I enjoyed it very much. We were sitting next to a lady who had ordered the Lobster and Shrimp Mac & Cheese and she said it was delicious. Price ranges from $9.50-14.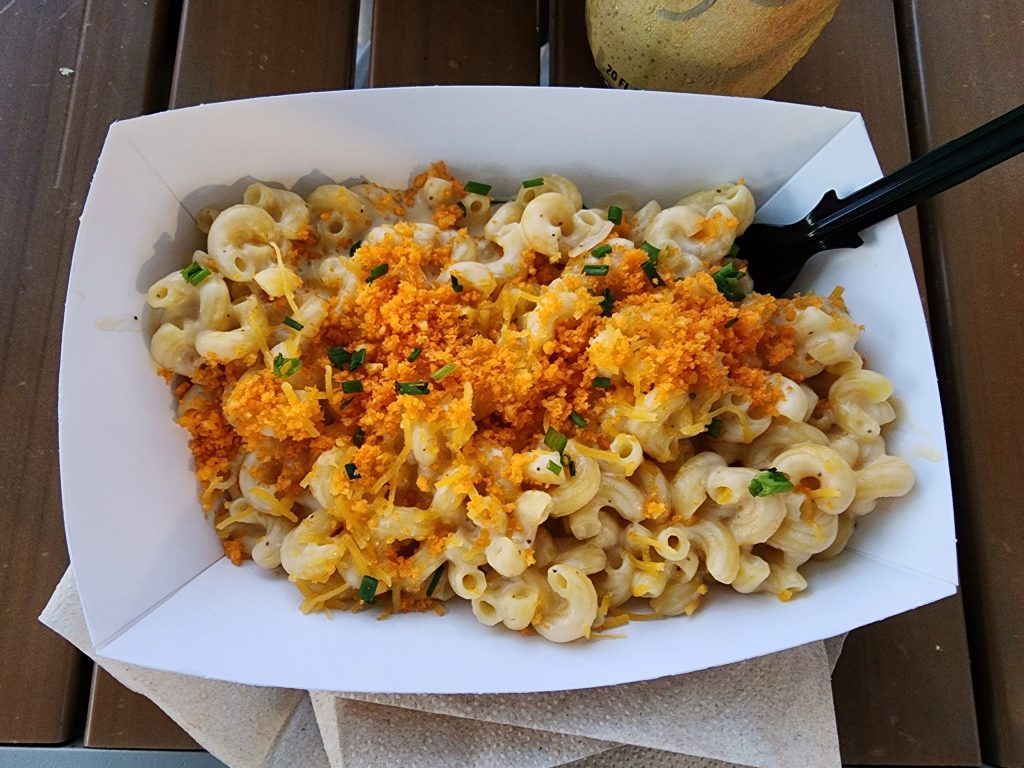 Street Tacos Are Popular At 4 Rivers Cantina Barbacoa
The most popular truck seemed to be the 4 Rivers Cantina Barbacoa Food Truck. This Mexican-inspired food truck was so popular I wasn't able to take a picture as it stayed busy the whole time we were there, so look for the bright red truck. We picked the Birria Tacos. They were so good that my husband gobbled them up before I could even try a bite.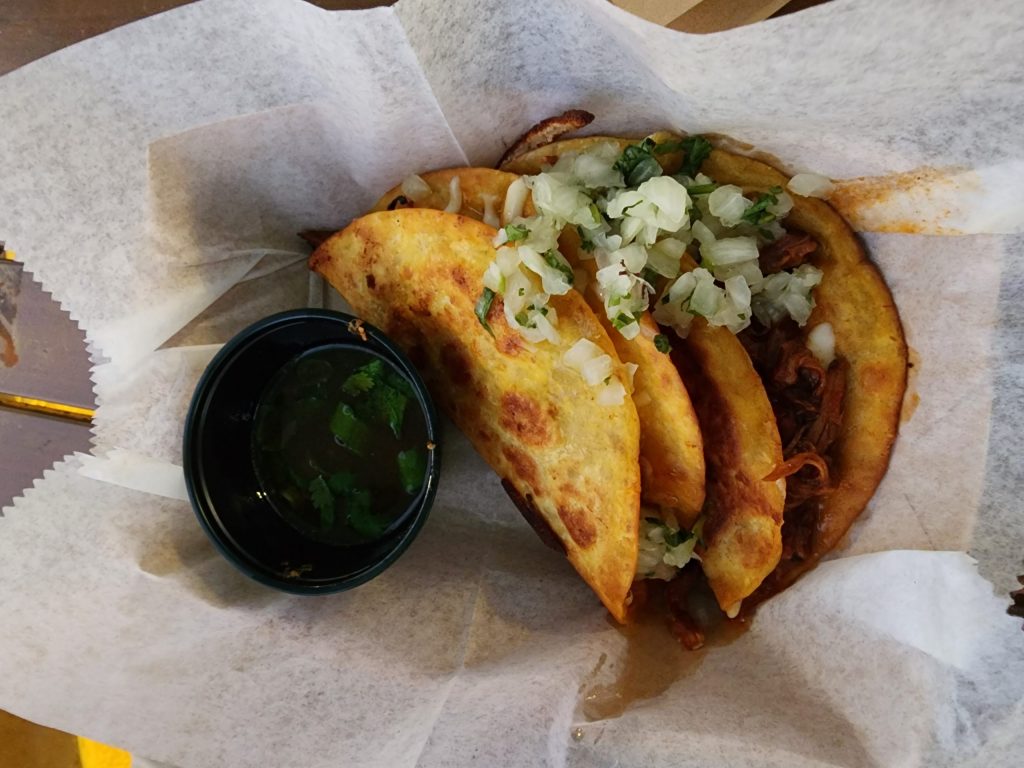 We saw many orders for the Burrito Bowl as well as the Street Tacos. Average prices are $11-12.
Overall, we enjoyed our experience trying items for our dinner. We never waited very long for any of the orders and thought it could be a great spot to get a quick bite before going to a movie or bowling or just relaxing as we watched all of the Disney Springs activities around us. Another seating option might be to walk back and listen to the live music at Sunshine Highline at the water fountain near Planet Hollywood. All of the trucks provided traditional food containers that were easy to eat from and walk with if you can't find a table.
A Couple Of Tips When Visiting Exposition Park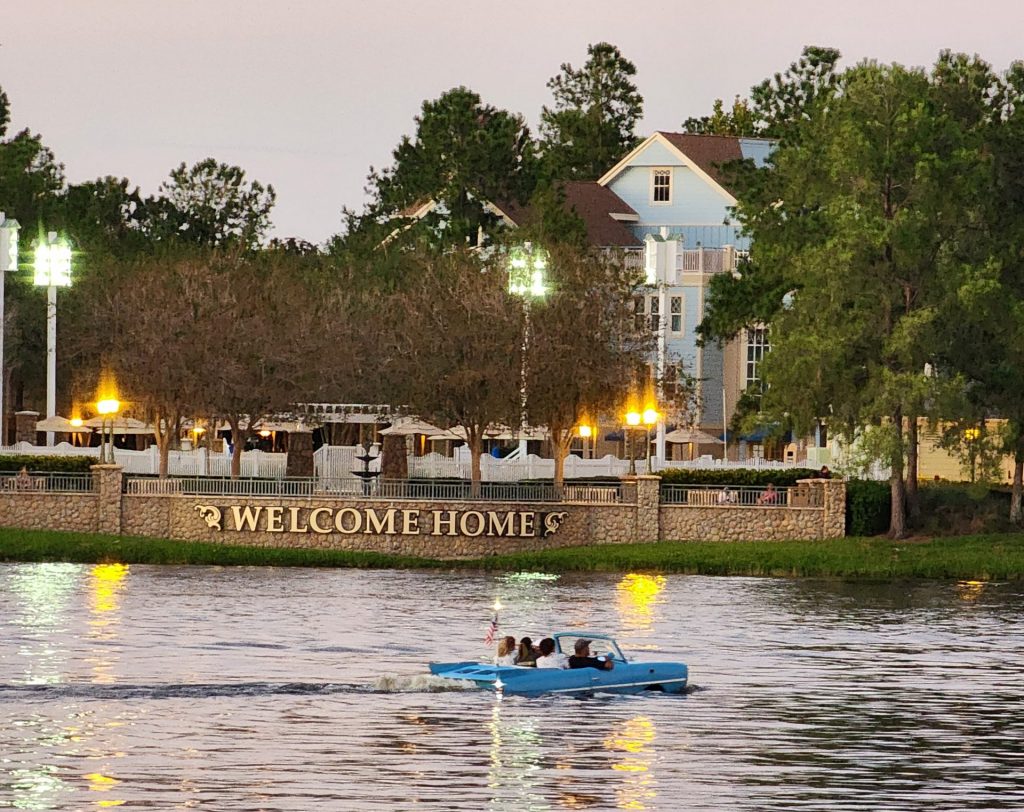 Exposition Park is located on the West Side, so parking in the Orange Garage is recommended. Surface parking in the evening is an alternative as well if you plan to visiting only the West Side. The current hours are Monday-Thursday are 5pm-10pm, Friday 3-10pm, Saturday and Sunday are 12pm-10pm.  If you prefer to use Disney Gift cards, only the Mac & Cheese truck took that form of payment, so be prepared to use other means of payment. There is limited seating with tables, but there is a ledge nearby where you can watch the boats and Aerophile Balloon. Food trucks may vary as to the season or festival so the website might not be up to date, but we like surprises and look forward to the next time to see what new truck will be there to choose from.
Featured Photo: Disney.
Written by
Karen Fountain
Contributing Writer
Karen has been a Disney fan her whole life and has been visiting almost yearly since 1997, when her daughter turned 4. She has become an avid cruiser with Mickey as well. Born and raised in the Washington, D.C. area, she recently she sold her business and with her husband, decided it was time to make the Orlando area their new home. They love being able to pop over to Disney on a whim and enjoy lunch or dinner at Disney Springs or catch a concert at Epcot.