Last November some very exciting news came from Brightline. Brightline, the Florida passenger train system launched in 2018, is bringing their high speed trains to Disney World! Travel by train from the Orlando International Airport will offer guests a way to get to Disney hotels and parks without having to rent or bring their own car. The proposed station at Disney World would be built in Disney Springs where guests can then take ground transportation to their designated hotel or to the parks! But what is the expected timeline for the train connecting Orlando airport to Disney World?
Brightline's Route To Orlando
First, the route to Orlando from south Florida must be completed. This project is well underway and according to a press release by Brightline on May 19, 2021, the route to Orlando has surpassed 50% completion! Brightline is expected to complete the route from south Florida to central Florida and even begin operations by the end of 2022! This is not only big news for residents of Florida, but also tourists who will be more easily able to extend their travels to the southern part of the Sunshine State in an eco-friendly way.
The Orlando station will be located in the south terminal at Orlando International Airport (MCO) and will first run south to existing stations in West Palm Beach, Fort Lauderdale, and Miami. Additional stations along the southern route are to include stops in Boca Raton, Aventura, and PortMiami cruise terminal.  This connectivity will be a huge benefit for those wanting to travel through the state for business and pleasure. The estimated cost of a ticket from Miami to MCO will be $100 with a travel of time of approximately 3 hours.
Disney Spring Station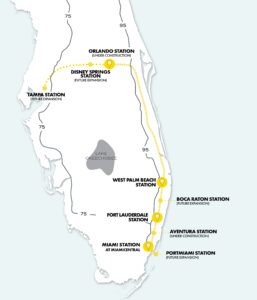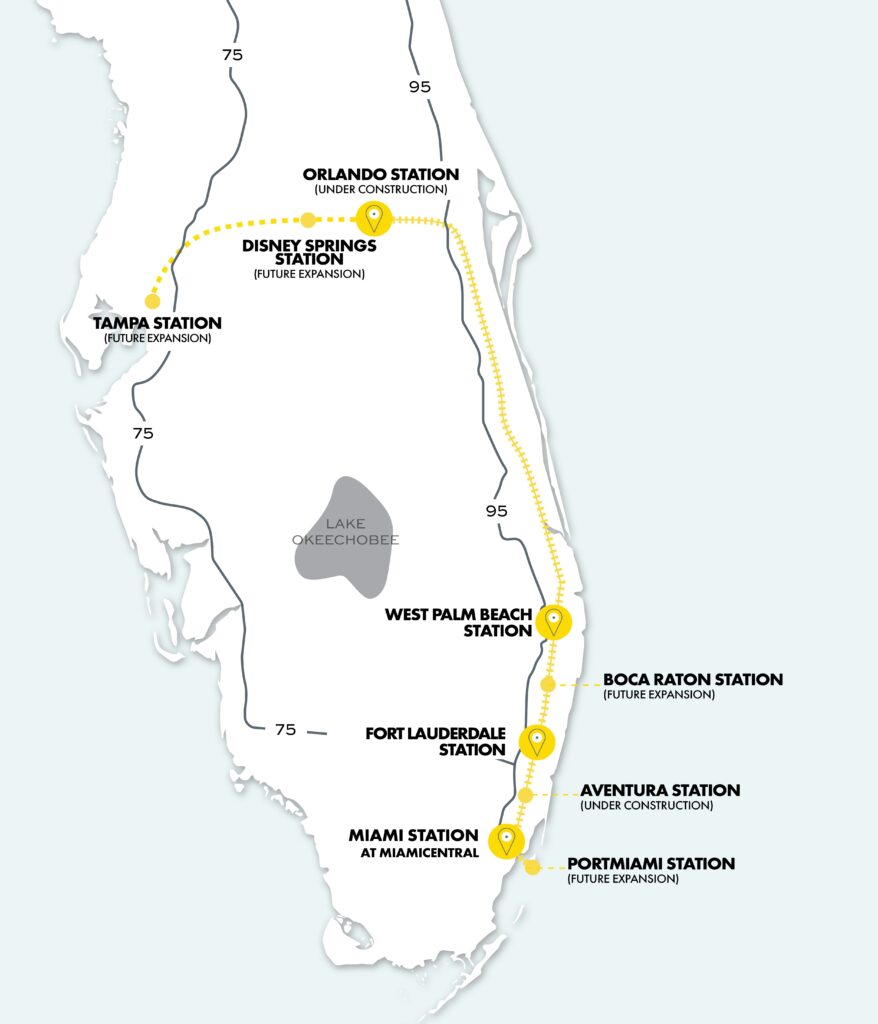 Next on the Florida expansion of Brightline is the stop at Disney Springs! Having a train station at Disney Springs is a HUGE advantage for guests of Walt Disney World. It will allow tourists from other states and countries arriving by airplane a car-free way to get to the most magical place on earth.
This is welcomed news since it was announced that the Magical Express bus service from MCO to Walt Disney World will end January 1, 2022. Mears Connect will replace the Magical Express opening its services the same day that the Magical Express will terminate. But having a second and potentially faster option to arrive will certainly be appealing to guests!
There are rumors that the proposed station will be located near the Orange Garage of Disney Springs, but this has not been confirmed by either Disney or Brightline. We should know more specifics very soon as Brightline has been given a deadline of July 31 to finish negotiations with local and state governments in regards to exact route and the compensations paid to affected public and private entities.
Expected Timeline And Proposed Routes
The two proposed local routes that are being considered are either along State Route 417 or along Taft Vineland Road and State Road 528. The first option would cost over one billion dollars less. If this all is confirmed by July 31, then Brightline has given an opening date of sometime in 2026!  While this may seem far away, the connectivity it will bring between the Disney Parks and MCO will be well worth the wait! No fare cost or expected travel time between MCO and Disney Springs has been released at this time.
Connection To Tampa
Lastly, Brightline intends to extend its service from Disney Springs westwards to Tampa.  This would provide a convenient option for in-state guests to arrive to Disney World stress-free without sitting in traffic between the two large cities of Tampa and Orlando. It would also offer access to MCO from Tampa without having to drive along I-4.
Will you take the train to Walt Disney World from the Orlando Airport once it opens?  What is your preferred method of transportation when traveling to Disney World?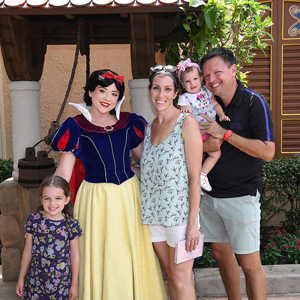 Written by
Shelley Wehler
Contributing Writer
Shelley is a stay-at-home mother of two girls living outside of Charlotte, North Carolina. Her love of all things Disney has grown even more as she sees the magic come alive through the lens of her young daughters. She spends her free time keeping up with the latest in Disney news and daydreaming of her next trip to the parks!